| Profiles |
It Sounds Simple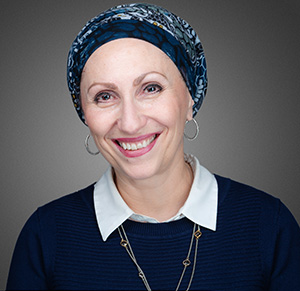 | October 10, 2019
Inside Joey Newcomb's melodies lie deep messages that resonate with a new generation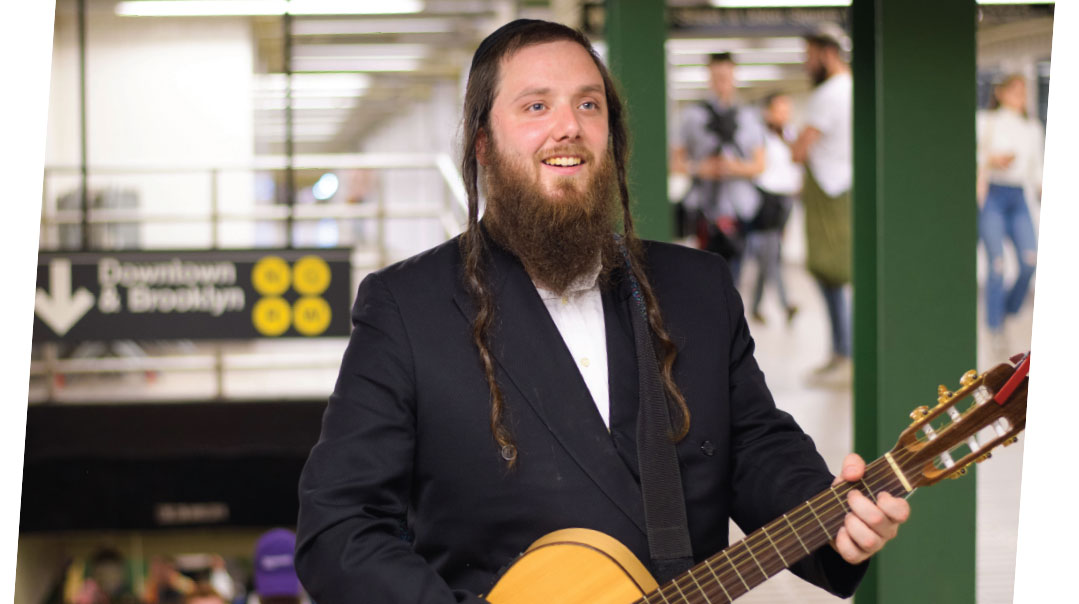 Photos: Naftoli Goldgrab
Nothing says New York like an impromptu performance in an underground train station, as humanity in all its stripes and types rushes by. The 14th Street–Union Square station in Manhattan is so busker-friendly there are hooks for musicians to hang their banners on a wall near the stairs to the Q, N, and R trains. On this September morning, there's a middle-aged black woman in jeans with a small speaker and mic, singing renditions of swing classics in a warm, pleasant alto.
Despite her enjoyable, if low-key, performance, few people pay attention. They have places to go, people to see — and the rumbling of trains one flight down often drowns out her voice anyway. But maybe she shouldn't feel insulted. When violin superstar Joshua Bell played his three-and-a-half-million-dollar violin in a D.C. metro station as part of a stunt for the Washington Post, only seven people stopped to listen in 45 minutes (one was a three-year-old boy).
But now the swing singer is packing up, yielding her space graciously to three guys in yarmulkes and white shirts who just floated in. They've got considerably larger equipage: a singer, a keyboard, a flute, a guitar, a speaker. As they set up, clearly comfortable with each other and pumped about playing, they draw curious glances from bystanders hurrying to catch their next train.
And then their music bursts out — a glorious mix of niggunim, jazz, and Jewish pop songs, the sound rising and filling the cavernous space of the subway station. The musicians play with such obvious delight and high spirits that people start pausing to listen, taking out their cell phones to record. Joshua Bell's multimillion-dollar violin may have gone ignored, but this is an undeniable curiosity: How often do you see those dour, insular religious Jews rocking it up in public (and doing it so well)?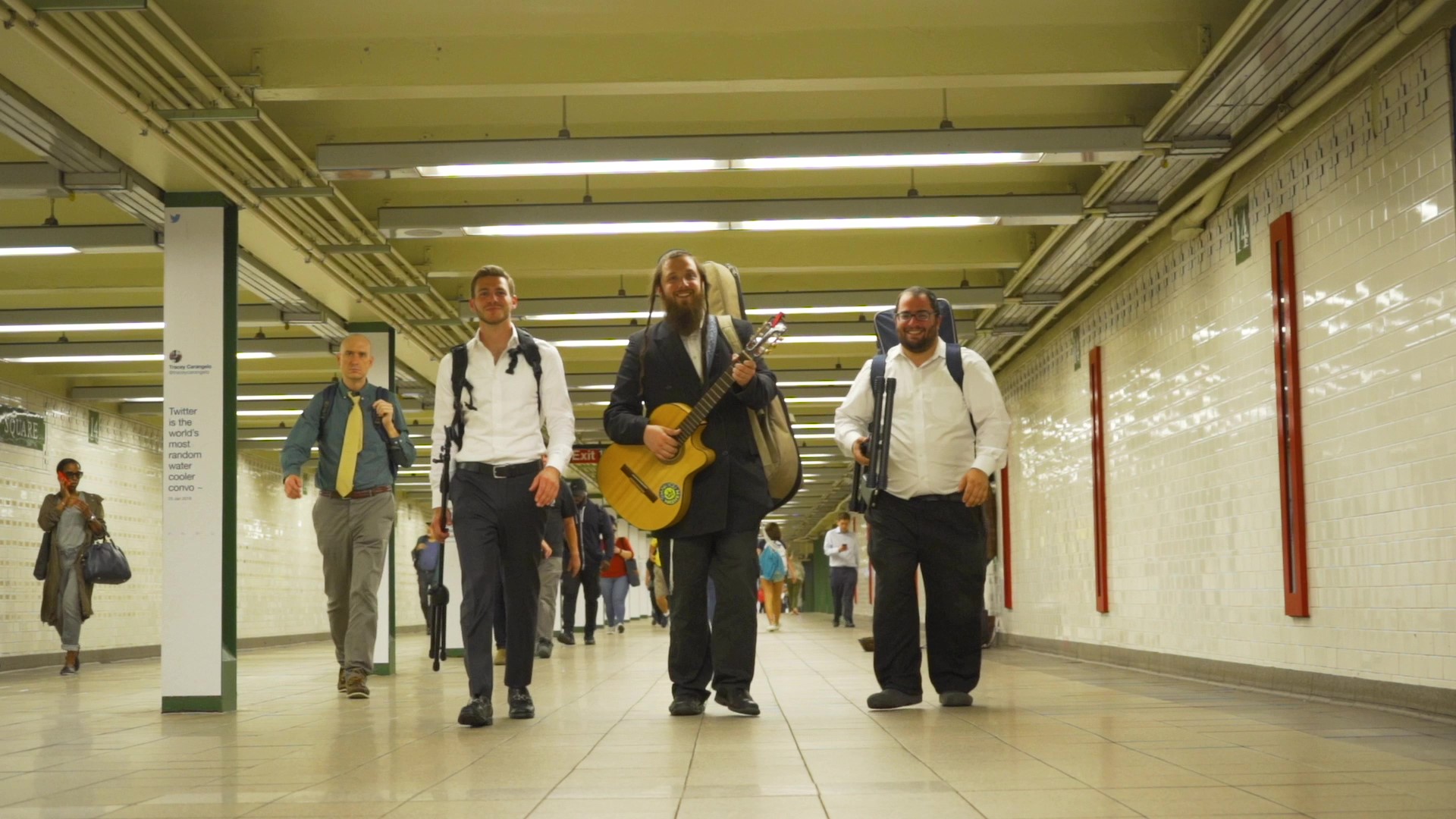 Meet Joey Newcomb and his musician friends, rising lights of Jewish music (Yaakov Zeines does the keyboard, and Meyer Rosenbaum plays flute). A 29-year-old rebbi by day, Joey's guitar and singing hobby has turned into a blossoming sideline. "If you told me when I got married I'd end up performing music, I would never have believed it," he says. He thought he'd learn, and maybe turn his talents to kiruv or teaching, something in klei kodesh.
After a few songs, Joey stops to address the crowd. "Hi, everyone!" he shouts over the noise. "I'm Joey Newcomb from Kew Gardens Hills, and we're here to spread a message of love and happiness!" He starts strumming again, and the band launches into his song "Thank You Hashem." Feet are tapping, people are smiling. A Muslim woman in a hijab is filming him, a big smile improbably plastered on her face. So is a Chinese woman and a tall guy in a black Stetson and cowboy boots. An older couple, with the slightly glassy-eyed look of tourists, stops for a few minutes to take in yet another exotic New York experience.
With his double-breasted black jacket, beard, and long trailing peyos, you might take Joey for a Breslover. But Joey says he grew up very mainstream in Queens, attending Talmud Torah Siach Yitzchok and Yeshiva Shaarei Arazim in Monsey for mesivta. His peyos actually predate his recent fascination with chassidic texts. "My father, who's a baal teshuvah, discovered that our family had been Belzer chassidim a few generations back," he explains. "So he chose to grow long peyos even though we're not officially Belz, and I grew them too." The peyos weren't a problem when he was a kid in Siach Yitzchok, which he describes as a "heimish" school, but as he got into high school they got shorter and shorter, till they almost disappeared. "They came back slowly," he says with a grin. "I've had the long peyos and beketshe since I got married, and fortunately my wife is totally on board with it."
(Excerpted from Mishpacha, Issue 781)
>