| Jr. Feature |
International Kosher | August 16, 2022
A Visit to the Hermolis Factory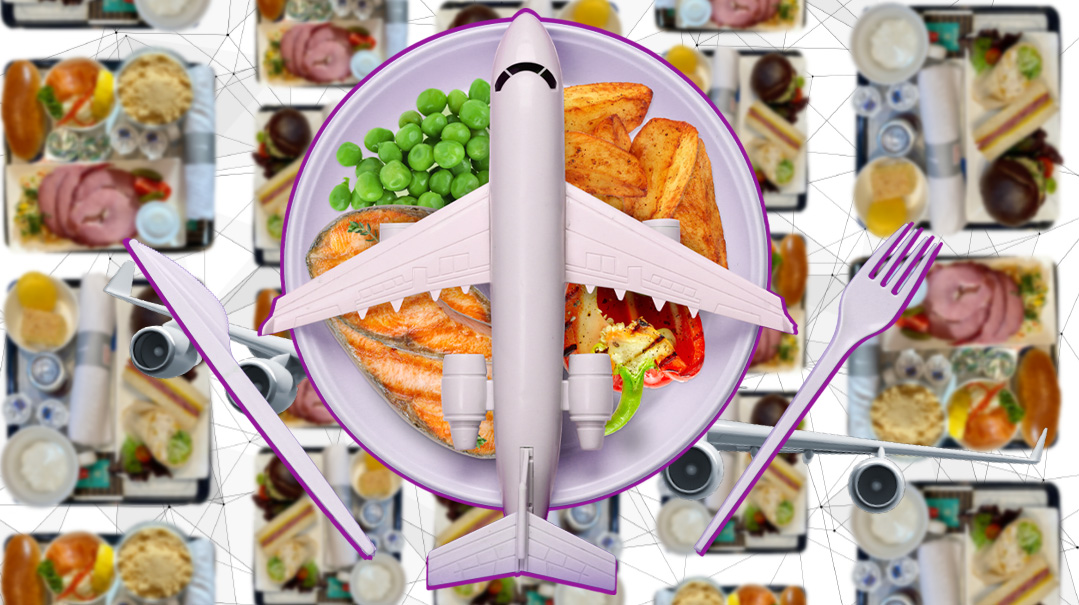 Photos: Hermolis
I was waiting at the gate in the airport, watching a catering company load a plane with airline meals. This made me wonder about what goes into preparing airline meals. Luckily, I knew just who to ask!
If you've ever traveled by plane to or from England, chances are you were served a Hermolis meal on your flight. Hermolis has been providing Jewish travelers with some of the best tasting kosher meals for more than 60 years. Hermolis COO (Chief Operation Officer) Avi Lisser very kindly gave me a tour of their factory in London, where they produce more than 10,000 meals every single day. And as it turns out, when it comes to Hermolis and kosher food, their airline meals are just the tip of the iceberg!
Brrrr
Our tour takes place on the hottest day that England has seen in decades — and Avi is wearing a sweater. Because right now, we're on the factory floor, which is basically an enormous fridge, even though it's almost 40o C (104o F) outside. The tour of the factory will follow a meal from ingredient delivery to product dispatch, so pretend you're a meal in the making, and come with me.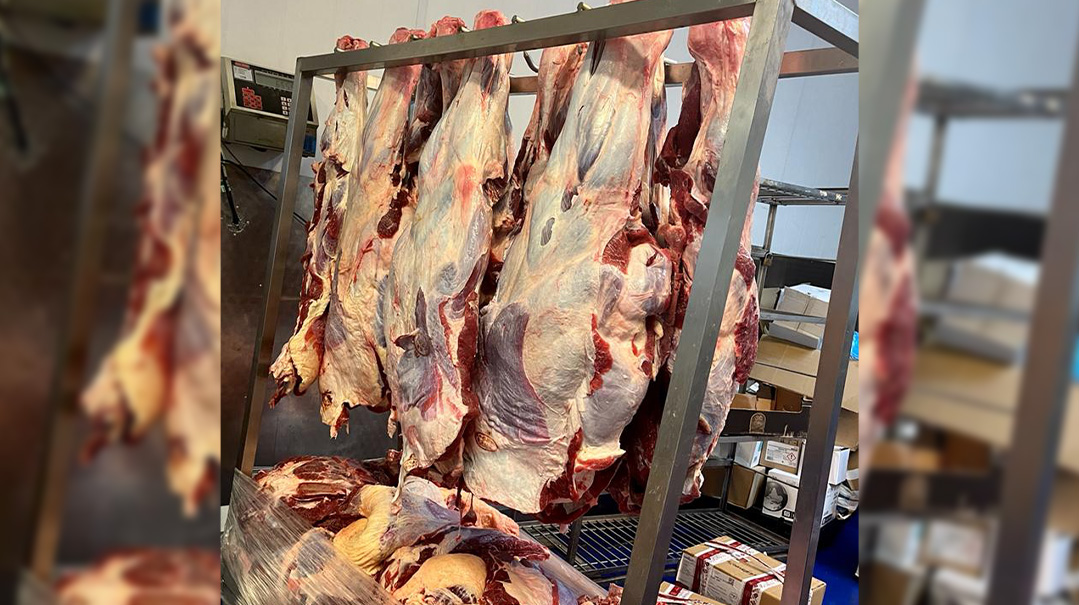 Hunks of meat waiting in the decanting area
There's a delivery
Our first stop is the "goods-in" department. Just as its name suggests, this is where all food and supply deliveries are dropped off. Employees in this department have the very important job of labeling every single food box with the date of delivery. All information is meticulously recorded. "It's called traceability," Avi explains. "This is how we can track every single dish from farm to table. If you're sitting down to a Hermolis meal of chicken and potatoes, I can tell you how long the parsley in your food was sitting in our fridge." Talk about nitty gritty!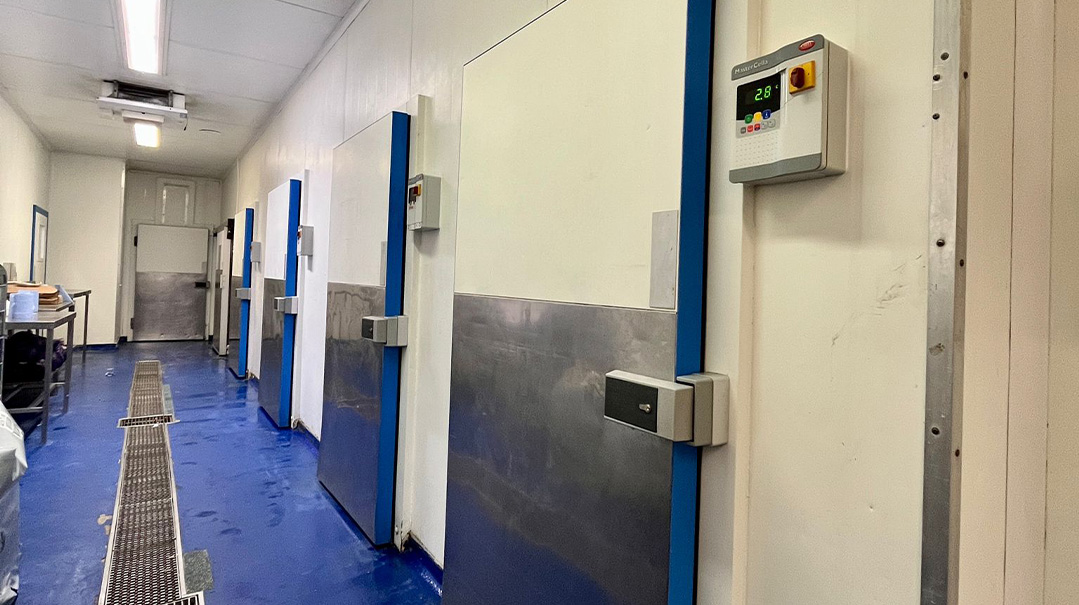 Those doors you see are actually fridges
Fridges galore
After everything has been labeled and recorded, the boxes of food are taken to the "decanting area." I'm amazed when Avi shows me a hallway that's lined with heavy doors. Behind the heavy doors are walk-in fridges, and there's a separate one for every food category: produce, fish, meat, dairy and baked goods. Hermolis orders most of their breads and cakes. They receive fresh deliveries each day, but the bread fridge holds stock for emergency orders. We take a peek into the fish fridge which is lined with polystyrene boxes. Avi pries open the lid of one box, and we see a whole fish relaxing on a bed of ice chips.
"What's that door on the other side of the fridge?" I ask.
"Let's find out," Avi says. He opens the door and we step into a whole new world.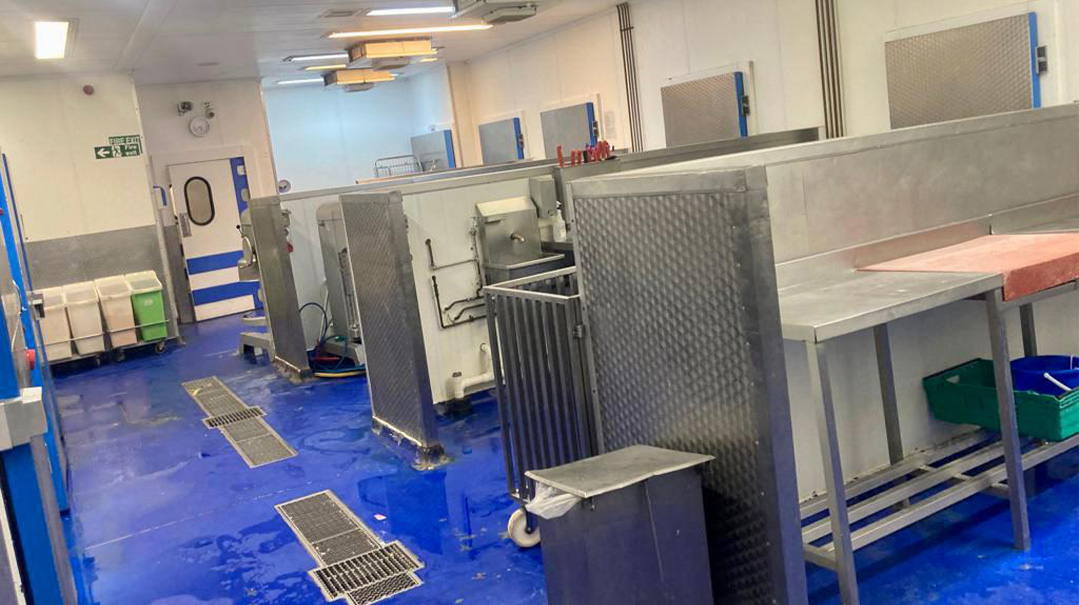 Prep stations in the raw kitchen. Can you spot the doors to the decanting fridges on the right?
Prep talk
Welcome to the "raw kitchen," where all the different foods are prepped before they are seasoned and cooked.
The raw kitchen is one large room that has been separated into different prep areas, one for each of the food categories. The folks at Hermolis are super organized, and everything is very clean. Each prep area is adjoined to its corresponding fridge, so it's quick and easy for the prep staff to take out fresh food supplies from the relevant fridge and prep them at their designated station. All the utensils, equipment and chopping boards are color coded, with a different color for each food category. Food hygiene is so important! And so is kashrus too!
We pass each prep area and watch how the staff expertly chops vegetables, slices open fish and quarters chickens. There's also a massive meat slicing machine for getting those steaks sliced just right.
Once the food has been prepped, it gets loaded into another walk-in fridge. And here again, each category of food gets its own fridge. Guess what's at the other end of the fridge? Another door, of course.
Feel the heat
Let's head into the "hot kitchen." This is a large room that has dozens of ovens, burners and fryers. One employee is using five frying pans to make omelettes. "How many omelettes today?" Avi asks him. "Six hundred!" the employee answers proudly.
This kitchen is in use 12 hours a day. At 4:00 a.m., the mashgiach unlocks the factory doors and lights the fires, which keep burning until 4:00 p.m., which is when the cooking winds down and the last of the dishes are readied for dispatch. In addition to the 600 omelettes, we also see 1,000 lasagnas being baked in vertical commercial ovens that look weirdly like fridges. Avi tells me that today, 6,000 meals are being sent out to prisons in the UK.
In this kitchen, food is cooked a little differently than it is in your home. Don't forget that most of these dishes will be frozen before dispatch, and then reheated before they are served.  Avi explains, "We don't cook the airline meals fully — only 97.5 percent. This ensures that any reheating on the plane won't dry out the food."
Did you know that our tastebuds are affected by high altitudes? Airline meals must have extra seasoning or else they'll taste bland.
We wave to the mashgiach and Avi shows me the chillers that the freshly cooked food is put into as soon as they come out of the oven. The chillers bring the food's temperature down very quickly, so there's no chance of them becoming contaminated with harmful bacteria.
Cold storage
Once the food is properly chilled, it's off to the main cold room — essentially a giant fridge — where the trolleys of food are grouped together according to how they'll be served on the trays. So, for instance, the schnitzel might be paired with a side of potatoes and green beans, and the trolleys containing all these foods will stand next to each other. The food waits here until it goes to be plated and packaged.
Chef today, Chef tomorrow
Most of the offices are upstairs, but there are a couple on the factory floor. We pass the Hygiene and Health Office, the department that's in charge of making sure that all the paperwork is logged correctly and that the fridges and freezers are working. Avi shows me a small office that contains two simple printers sitting on shelves. But these printers are anything but simple. In fact, they have their very own names!
Once an order has been placed with the sales team upstairs, it gets sent to one of these printers on the factory floor. Avi tells me that the printer on the bottom shelf is called "Chef Today" and the top printer is called "Chef Tomorrow."
"It's 11:36 a.m. right now," Avi says, looking at his watch. "An order could come in for an event tonight. It will be printed on Chef Today, and an employee will announce the details over the loudspeakers, so the chefs will know how many of which portions to prepare, and the staff will have it all packed up and ready for delivery by 6:00 p.m." Sometimes, the employees will need to stop what they're doing and focus on getting the new order cooked and ready on time.
If an order is printed on Chef Tomorrow, then everyone knows there's no rush.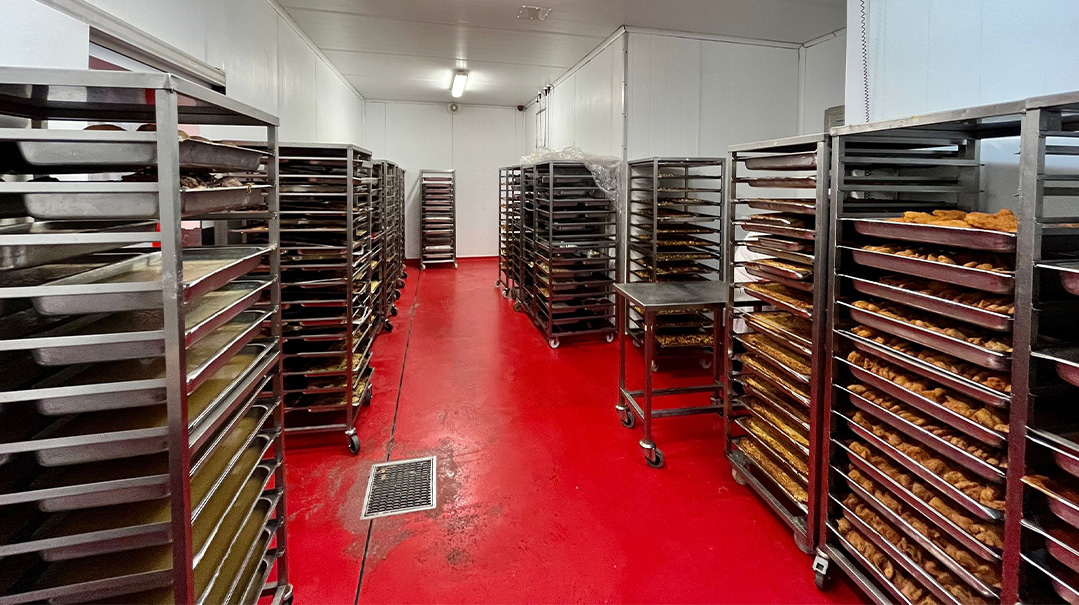 Trolleys of cooked food waiting in the main cold room
Meal make-up
Let's turn to the "meal make-up" room. There's no lipstick here. This room is where 5,000 pre-+packaged meals are put together and double sealed every day. We see the staff expertly spooning food into three compartment plastic containers, which I recognize from the freezer section of every kosher supermarket in England. Hermolis frozen meals are double wrapped and can be heated in the oven or microwave. They're so convenient for Jewish travellers, or even as a ready-to- go dinner at home. Avi says, "These types of frozen meals are sent to prisons and hospitals as well, although each client requests a different menu."
Apparently, prisoners are known to request kosher meals even if they're not Jewish, simply because Hermolis meals taste so good!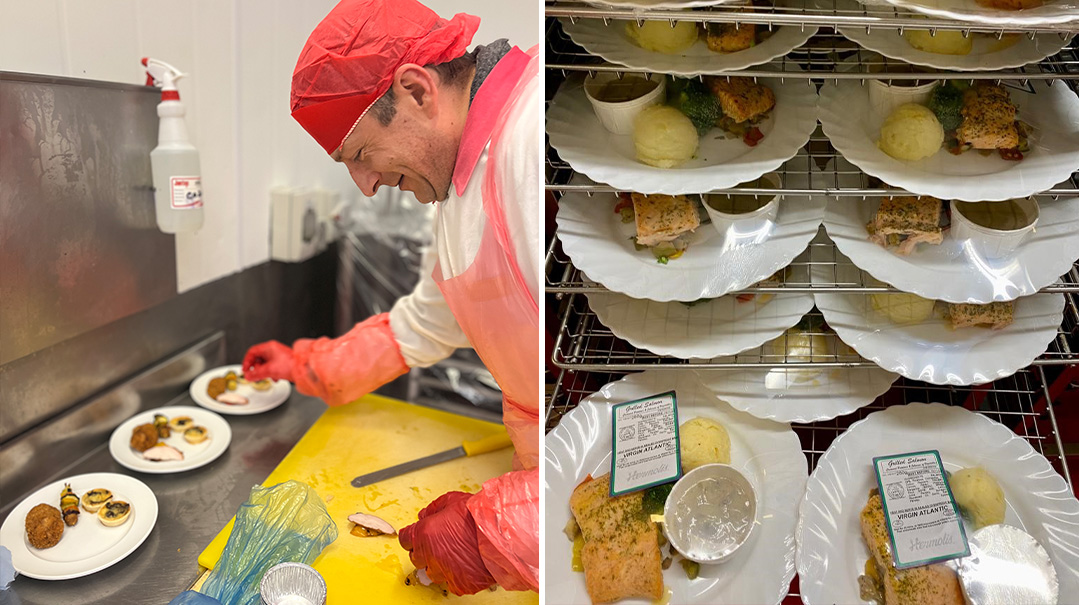 (Left) Plating some canapés for a fancy event; (Right) China dishes for Virgin Atlantic first class passengers
Airplanes and more
If there's a hot kitchen, there must be a cold kitchen. And that's where we head next. Here is where all the other dishes, including airline meals, are prepared and packaged.
We pass a cart that is loaded with real china plates and beautifully presented food.  The dishes are all tightly wrapped with a double layer of plastic. Avi picks one up, turns it over and nothing moves! These dishes will certainly reach their destination intact.
"The china dishes are for the business and first class airline passengers, right?" I guess.
"That's right," Avi replies. "But we also get lots of orders from hotels, non-kosher restaurants, businesses, clinics, museums, and private individuals. Many of these china plates are for Jews who are joining their colleagues for a business lunch or event. We send kosher lunches to Amazon and Google headquarters, and those are just a couple of the companies we supply on a regular basis."
Venues will usually ask Hermolis to match their menu, so that kosher customers will receive the same type of foods as their non-Jewish counterparts.
Hermolis sends kosher food to anyone who needs it, wherever they may be.  This week, Hermolis is shipping out meals for a cruise. If you want a getaway at a hotel somewhere in the UK, you can just order your meal from Hermolis, who will have it delivered to your hotel along with instructions for the hotel staff on how to heat it. You can choose from food that comes ready plated on real porcelain dishes, or in foil pans that are sent along with disposable plates and cutlery. "No job is too big or too small," Avi assures me. The guys at Hermolis are just as happy to feed two people on vacation as hundreds of people on a cruise halfway around the world.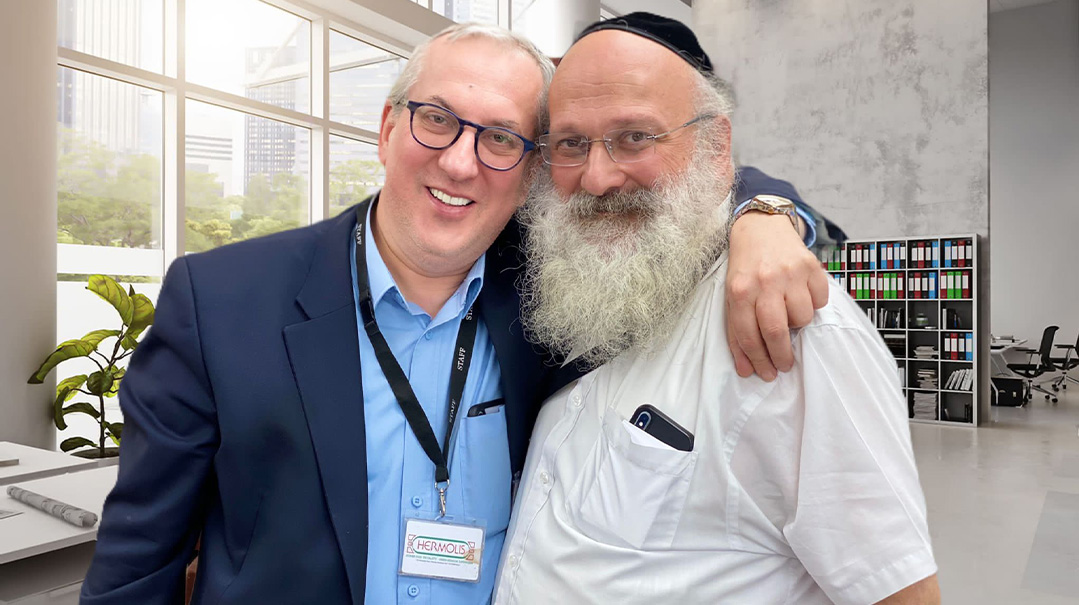 Hermolis directors, Moishe Lisser (L) and Mendel Kreditor (R)
How Hermolis Began
We watch the cold kitchen staff plate colorful bowls of fresh fruit . Avi tells me that one of the employees here has been working for Hermolis since before he was born. "Hi, Grandma," he tells her as we pass her work station. "She started working 45 years ago for my actual grandmother."
Mrs. Lisser, Avi's grandmother, opened a restaurant in 1956. The locals dubbed it the "Kedassia restaurant," after the name of the hechsher that it still carries today. Mrs. Lisser soon realized that there was a need for kosher airline meals. Previously, international travel was much less frequent and people had lower standards so they were happy to schlep their kosher food along. But things began to change, and more Jewish passengers started asking for kosher meals. In 1960, Mrs. Lisser decided to address the problem, and Hermolis was born. Here's a fun fact: "Hermolis" is named after Mrs. Lisser's two sons: Herschel and Moishe Lisser. Today, the company is led by Moishe Lisser  and his partner, Mendel Kreditor. In recent years, Moishe's son Avi and Mendel's son-in-law Moishe Roth have joined the company. Hermolis really is a multigenerational business.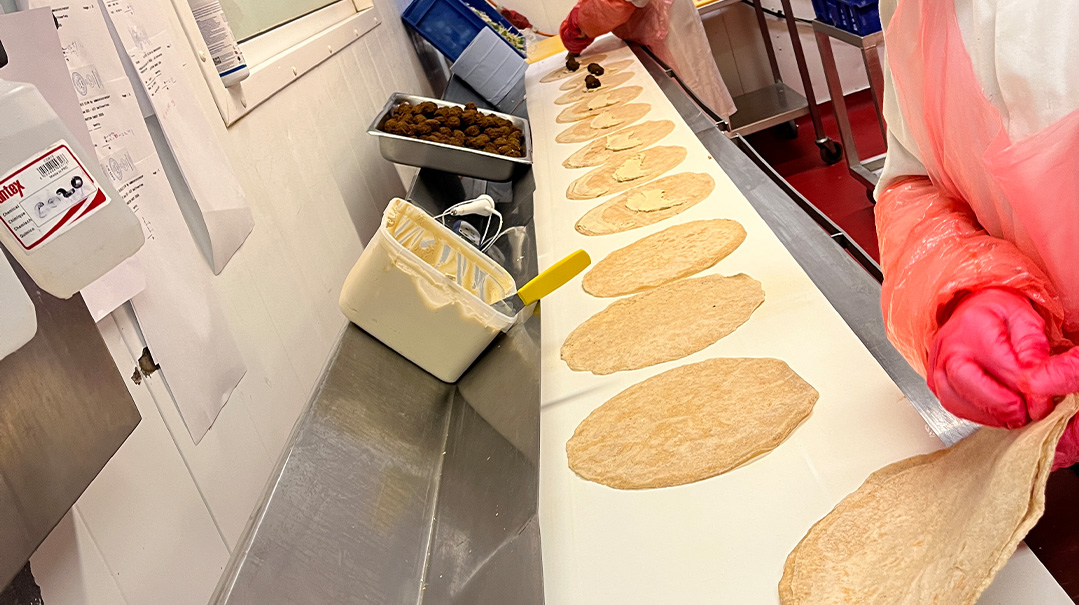 Falafel wraps in the works in the sandwich room
Bagels and spreads
Now we're off to the sandwich room, where 3,000 to 5,000 sandwiches, wraps, bagels and salads are prepared every day. In 2006, Hermolis bought DDs, a kosher sandwich company that sold sandwiches across the UK. Ranging from tuna bagels to falafel wraps to steak sandwiches, DDs sandwiches are available at supermarkets, airports and train stations all over the country. Hermolis also provides many schools with school lunches, which usually include a sandwich. In 2015, Hermolis purchased Weigh2Go, a company that made kosher sandwiches and salads for the health conscious customer. Wherever DDs products are sold, you're sure to see Weigh2Go products too.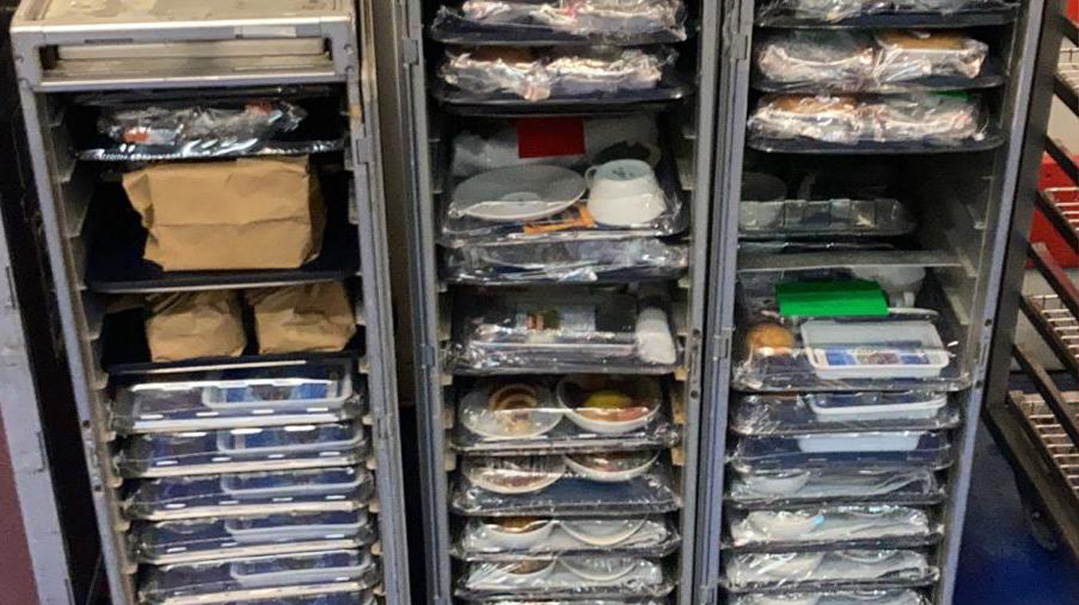 Airline trolleys all ready to be sent off to British Airways
Trays and trolleys
What have we here? Are those airline trolleys I see?  We're in the "airline tray setup" room. This is where all the components of airline meals are set up on the trays before being sealed.
"I didn't realize that you load the airline trolleys yourselves," I tell Avi. "Yes," he replies. "But we only do that for British Airways. All the other airlines get their trays delivered in boxes to a third-party catering company, which organizes the meals onto trolleys and has them delivered to the aircraft."
Hermolis supplies up to 3,000 meals a day to most of the airlines departing from the UK, as well as several in other countries, so about 40 airlines across the world serve Hermolis meals to their kosher customers. Airline customers include British Airways, Virgin Atlantic, Qatar Airways, EgyptAir, Air Canada and Etihad, to name just a few. If you're flying from Singapore to China on Singapore Airlines, guess what you'll be eating on the plane? Hermolis, of course!
In a huge storage room nearby, Avi shows me all the airline paraphernalia. Each airline sends Hermolis all the stuff they'll need for packaging the meals. There are trays, napkins, cutlery (plastic and stainless steel), cups — and everything has the airlines' logos. We also see new Wedgewood dishes for Singapore Airlines first class.
"Years ago, airport security was more relaxed," Avi tells me, "so Hermolis received the passenger lists and we labelled the airline trays ourselves. Nowadays, everything is sent to third-party catering companies — even the British Airways trolleys — and they do all the security checks and labelling."
I also learn another interesting tidbit. If you're lucky enough to travel with British Airways, you can rest easy in the knowledge that your kosher meal is as fresh as it gets. Hermolis sends out freshly cooked meals to British Airways twice a day, to arrive at 1:00 pm for the afternoon and night flights, and at 7:00 pm for flights leaving the next morning.
Just preparing the menus for the airline meals is a huge feat. Many airlines require Hermolis to match their non-kosher offering for each class. They also need to offer rotations , so that frequent travellers won't be served the same food every time they fly. The local airlines come to Hermolis to choose their seasonal menus. "In our last British Airways presentation, we had 85 different types of desserts they could choose from," Avi says. "The airline representatives were in our premises working on the options for two full days — tasting and ensuring that the quality was up to their high standards."
Red and Blue
Look carefully at the pictures that were taken on the factory floor. Can you spot the difference between some of them? If you're seeing red and blue, you're on the right track! But don't think "milchigs and fleishigs" (only about 10 percent of the food prepared at Hermolis is dairy, so there's no separate kitchen, just separate work stations). Instead, the red and blue floors indicate different zones related to food hygiene.
"We have low-risk areas and high-risk areas," Avi explains. "Food that is not yet cooked is at low risk of being contaminated with harmful bacteria, because it can still be cooked, which kills the bacteria. Cooked foods are high risk because they can become contaminated. The low-risk zones are blue, the high-risk zones are red, and the staff in each zone have blue or red hats and aprons. There is no crossing over between zones, and the factory is laid out to ensure a flow so that there's no going back and forth between fridges and stock rooms. Employees who need to cross into another zone must put on an lab coat first to cover their clothing."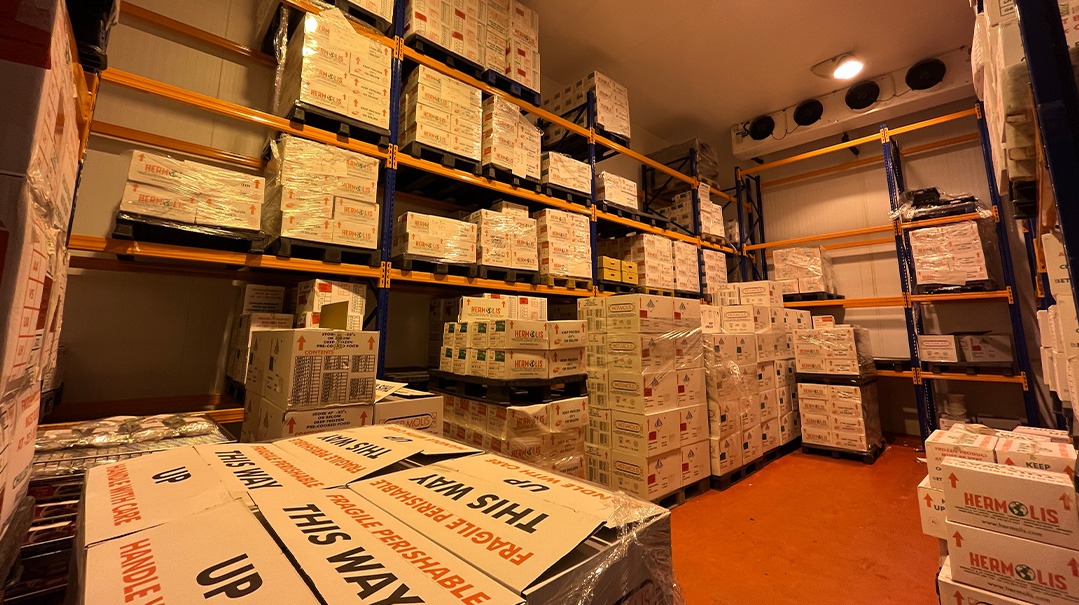 The dispatch area is full of Hermolis boxes waiting to be sent out for delivery.
Dispatch
Wow! We've made it to the "dispatch" area!  All the food has been prepped, cooked, assembled and packaged. Now, it's time to pack the boxes and load the vans and trucks that will deliver the meals to destinations in the UK and beyond.
This area is also where the meals that are being sent abroad get packed in dry ice. Fun fact: dry ice is actually frozen carbon dioxide! Avi tells me that exporting meals is a huge challenge, and that this week Hermolis is exporting to four different countries. "Exports involve endless amounts of paperwork as each country has its own requirements. Singapore, for example, requires traceability all the way back to the slaughterhouse. Shipments to Muslim countries must have Halal certification. But the biggest challenge is making sure that every meal reaches its final destination before it starts to thaw. That's under 48 hours."
Right now, Hermolis has five delivery vans on the roads , carrying delicious kosher food to about 40 destinations. Tonight, two more trucks will set out so that the food arrives by the time it's needed in the morning.
We bid the trucks safe travels. I'm glad it's lunchtime because for some reason, I'm suddenly really hungry! Avi — thank you so much for giving us a peek behind the scenes, and thanks to the team at Hermolis for making traveling kosher and delicious!
(Originally featured in Mishpacha Jr., Issue 924)
Oops! We could not locate your form.
>