| Inbox |
Inbox: Issue 886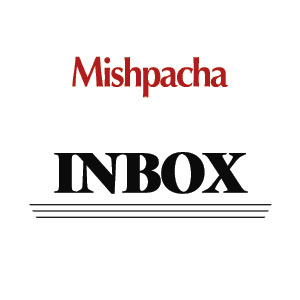 | November 16, 2021
"I was shocked to hear anyone in 2021 defend smoking, drinking, and vaping."
Why Idealize Materialism? [Inbox / Issue 885]
Last week, a letter writer shared her support of Rabbi Shafier's assertion that a wife's involvement in appearances is not the serious flaw her husband thought it was.
She correctly points out that young ladies are taught that looking good is part of their responsibility in marriage. However, most husbands will have no idea if their wives are wearing this season's colors or last, or if their sheitels are the current style or not. To claim that the many hours spent shopping and dressing up are l'sheim Shamayim, for the husband's benefit, is really stretching the limit of credulity.
I can also say with 100 percent certainty that the wife is not safeguarding the sanctity of her marriage by expending effort to match her daughters' socks and headbands.
The letter writer also asserts that by spending time on their appearance, young wives of bnei Torah ensure that teenagers see tzniyus in a positive, respectable light. I actually think that linking tzniyus with a specific, highly polished look is a terrible disservice we do for our girls. It emphasizes that a girl's appearance is the most important measure of her avodas Hashem, and that the in-town, Bais Yaakov "look," which tends to be expensive and quite dressy by the standards of the world at large, is the only one that embodies tzniyus. By harping on the right "look," we teach our girls that they will be judged by their externals, and that's where they should put their focus.
In the (wonderful, pnimiyus-oriented) Bais Yaakov where a friend of mine teaches, the students were asked to write a compliment for each of their peers. My friend told me that 28 out of 29 first-graders gave compliments that focused on an external aspect, such as hair, being cute, etc. Only one girl commented on a character trait. Yes, they are young — but I think this is the result of growing up in a culture that not only excuses materialism, but ascribes virtue to it. Let's not fall into that trap.
Elisheva Appel, Jackson, NJ
Awe-Inspiring Devotion [A Gift Called Alta / Issue 885]
Your article on the precious neshamah of Alta a"h hit me to the core. The extreme injustice done to this heilige family is something we just can't understand, just as we cannot understand Hashem's ways.
I am in awe of this young couple's love for and devotion to their child. Their selflessness, caring, and drive to save their child is something that can teach us parents to never give up on our children who are struggling.
I am a grandmother and have learned so much from this special young couple. May Hashem send them nechamah and shower them with only simchah and nachas.
F.N., Brooklyn N.Y.
How Dare They [A Gift Called Alta / Issue 885]
My heart goes out to the Fixsler family. I am angry at the very idea that a toddler was sentenced to death.
As a special instructor of infants and toddlers for over 31 years, I am appalled that Alta a"h was never given a chance to learn and show her personality. I have worked with children with tracheostomies, oxygen, nasogastric tubes, and the like. Why was Alta never allowed to enter the United States? How in the world does the NHS have the right to determine who is acceptable to live or not? How dare the judicial system deny Alta the right to live? If the country didn't want her, then let her come to a country that did want to try to help her live her best life.
In Brooklyn there are many early intervention programs, even in hospitals. I worked for several and still work for one. This toddler was cheated big time!
Additionally, whoever claimed that this little girl was in constant pain was probably not a good clinician. Most of the children I worked with did just fine. Did they have disabilities? Yes. That does not make them "less than." Their families deserve to love and care for them. As religious Jews, we see it as a chesed to care for such children and their families. I only hope that the religious community fights for life for children, and the secular world keeps out of the way.
May the Fixsler family find comfort in the fact that they did their best for Alta a"h. May their efforts to save her bring them nachas in the near future. I truly applaud them.
Phyllis L. Mandelbaum, MSED
Special Instructor for home care for Eis La'asois
Brooklyn, NY
The Only Way Out Is Through ,[Knowing and Growing / Issue 885]
I was very touched by Rav Reuven Leuchter's column on grief. He was so spot-on describing how well-meaning people will try to "sugarcoat" the mourner's situation. I loved how the rabbi said it does not help to use emunah to bypass the pain. He then suggests that our role should be to help them find what I understood to mean a constructive path to help them find meaning in their grief.
This is very beautiful, and at the same time I would, with tremendous hesitancy and respect, like to offer another angle. Shivah is a time for friends and family to be there for the mourners and allow the mourner to express their pain and speak about their loss. Hashem made us emotional creatures, and the only way to get past emotions is to go through them and allow ourselves to feel them.
If we try to suppress our emotions with intellectual emunah, it often won't work, because that would be suppressing the emotions. When we don't allow ourselves to feel the emotions, they go underground where we don't have conscious awareness of them, and they may come back to haunt us and negatively impact our functioning.
I have also found that men will often express their grief in concrete ways, whereas women may need more talking and connecting to help them process their grief.
It could take some time until people can get to the point where they can find meaning in their loss. Of course if they approach their rav to help them find meaning, that might indicate that they are ready for that step.
May we soon know the ultimate nechamah with bi'as Mashiach.
Naomi L. Franklin, LCSW, Monsey and the Catskills
Time to Get Involved [Inbox / Issue 885]
I was disturbed to read the Inbox letter from the daughter who takes care of her father singlehandedly, because her brothers won't get involved.
Your brothers should check the halachah of kibbud av. The mitzvah is on the sons only. Daughters are obligated in shalom bayis to their husbands. (The assumption is that the husband will allow his wife to take care of her father.) Therefore the sons and their wives should be taking care of their father.
My parents were in the Tamir Old Age home in Jerusalem for 15 years. My two brothers and their wives and I shared their care and were very involved in all aspects of their lives. Plus grandchildren and great-grandchildren greatly enriched my parents' last years.
We were very busy with them, but now don't regret all that effort.
Your brothers should start worrying about their Olam Haba and get involved.
Linda Grossbard, Jerusalem
Support Your Staff [Inbox / Issue 885]
I was gratified to see the letter last week calling on school administrations to support their teachers, especially the new ones.
In any other business in the world, it is understood that as long as someone works for you, they have your backing, especially when in public. Why is it, then, that in a school setting, teachers are hired and then left out high and dry when parents or students get involved?
There are not many girls entering the teaching field today. Those new teachers who do decide to enter this line of work are, well, new. As in every field, there is a learning curve. Maybe even more so with teaching, where the class is inherently more difficult because of the teacher's newness.
Barring a situation where a teacher is verbally or emotionally abusive or simply not doing her job, a teacher needs patience and support from her administration while being given the tools to gain mastery over her craft. However, what often happens is that kids act out, parents complain, and suddenly, the person on trial in the classroom is not the child acting out or being chutzpahdig, but the teacher — and the kids know it. The parents know it too.
When we treat new teachers that way, we are giving them the message that they are not cut out for teaching, their lack of experience is a liability that no one is willing to carry, and that the parents are in charge. Small wonder most girls these days are finding office jobs.
I am an experienced teacher, and yet without the advocacy and support of my mentor back when I started teaching, I'd be working an office job too, today.
So to all the schools out there bemoaning the difficulty in finding teachers, go get yourself some teacher advocates or mentors invested in the success of your new teachers. Without being a staunch advocate for your new teachers, you will never be able to give her the skills and confidence she needs to succeed.
Remember that every star teacher in your school was once a new teacher who believed they could be great one day. Invest in your future stars now, and then later you won't be lamenting your lack of teachers.
A teacher who was once new too
Why Should They Know? [Private Party / Double Take — Issue 885]
This Double Take story was fun to read because it was so relatable! I feel like whenever there is a family simchah, there is always an undercurrent of some family politics that no one knows about.
When one of my sisters got married, it was so exciting and so fun, but we still had a similar situation to this one — in which one sister was left out of loop. Plus there were many other arguments during preparations for the wedding. There must be some sort of thing where the yetzer hara gets super-involved to get rid of the shalom in the house when a family member is getting married.
Still, I emphasize with Esther, because the whole world knowing when you are dating and who you dated totally puts more pressure on you. Some girls tell a lot of people all about it when they are dating and if they break up, it is so much harder for them. After a stressful period of dating that ends with nothing but frustration, it would definitely be nice to not have people talking to you and about you in reference to it.
And if these people are your friends, that's one thing — but why should your sister's friend know your dating life when some of your closest friends don't? It just doesn't make sense. It sounds like Tzivi needed to back off a little bit and stop hocking about Esther to everyone. It seems like Esther was very nervous about dating seriously and breaking it off from her past experiences and Tzivi telling all her friends definitely only made it worse.
Tzivi clearly didn't get the memo that she was overstepping boundaries and sharing private information that was not hers to share. Esther just had to be smart and keep Tzivi out of the loop until she knew for sure she was getting engaged.
I honestly think Esther made the right decision and Tzivi has to get over herself. And even if Esther didn't make the right decision, girls who are seriously dating or about to become kallahs are emotional train wrecks. So she has a good excuse no matter what.
Sorry, Tzivi! At least you still get to wear long to the wedding!
A sister in shidduchim
Painful Demonstration [Private Party / Double Take — Issue 885]
I found this past week's Double Take story particularly jarring. Not because it was such a difficult situation or because I truly felt it did not have a clear-cut resolution (how can you nicely explain to your sister that you didn't want her involved in your life?). Rather because it was a painful demonstration of the damaging power of lashon hara.
First and foremost, Tzivi's friend had absolutely no business sharing the personal details of a shidduch meeting — with the subject of the discussion! There are many instances (especially in shidduchim) when it's appropriate or even obligatory to share private details about someone, but that by no means makes it muttar (or wise, for that matter) to go back and tell them what was said. What she did was not only tactless, but a violation of the halachos of rechilus, causing discord between two sisters.
Perhaps less obvious — but still problematic — was Tzivi's sharing of the story with her friends in the first place. Disclosing "secrets" can also be a form of lashon hara. Shidduch meetings I have been to consist of people sharing basic info about a single, with no name. No suggestions are made on the spot, but are instead discussed privately afterwards. These meetings can cause a lot of good, but if they aren't done with strict guidelines to protect the singles, they may bring about more harm than help.
This unfortunate situation (which I can imagine happens all too often in real life) could have been avoided had people considered the impact — and permissibility — of their words more carefully.
Mindel Kassorla
No Trust [Private Party / Double Take — Issue 885]
As someone who's suffered many times from a relative who divulges my private information, I have zero compassion for Tzivi. If you can't respect the privacy of your nearest and dearest, you shouldn't expect them to share information with you.
And yes, that means your daughters-in-law might wait until they're very far along before telling you that they're expecting a baby, that your grandchildren might be dealing with a complex learning issue and you'll never find out, or that you too will get a call the day that a close family member is getting engaged.
You might feel insulted or hurt, but honestly, you have no one to blame other than yourself. People who can't keep secrets won't be trusted with them.
B.W.
.
Where's the Hierarchy? [Made in Heaven / Issue 885]
I appreciate Rabbi Ben Tzion Shafier's marriage column and I'm sure that his intentions are l'sheim Shamayim. However, I would like to point out what I feel is a grievous error that many in our present climate fail to point out.
To describe the relationship between man and wife merely as "friends" is not accurate. The Torah describes the relationship differently: "v'hu yimshol bach," meaning the husband has a certain sovereignty over the wife, and it also describes the wife as an "ezer k'negdo," a helpmate. This nature has been implanted in humankind and any manipulation by man to alter it can't be successful.
To simply say no one is boss and both spouses should be "loving friends" is not what HaKadosh Baruch Hu had in mind. I'm sure that Rabbi Shafier wants to help couples, but this untrue approach will only make it worse. Somehow you have to find a way to deliver this message to today's generation in a palatable manner.
J.F.
Rabbi Shafier responds:
Thank you for writing. I greatly appreciate both the sincerity of your letter and the respectful tone in which you convey your sentiment. I must say this is something that is sorely lacking today. At the same time, I respectfully disagree. If you look at Rashi on the pasuk that you're quoting, you'll see that this refers to a specific aspect of marriage.
It could be that in previous eras, when there were different societal norms and expectations, men and women had different roles in the marriage. In our times, however, that is no longer the case. And anyone who decides to be an autocrat and be the ruler in their home is it going to find very little support from Chazal — and will experience a very difficult marriage.
But let us say for argument's sake that you are correct and that the man should be "in charge." What does he do when his wife doesn't agree? I don't think that his quoting pesukim is going to get them very far.
The true irony of this conversation, however, is that I find myself saying "no one is in charge" most often to women, not men. After counseling hundreds of couples, I have found more often it is the wife who becomes bossy and intolerant and the husband finds that he has little control, power, or even voice over many issues.
And so, while in theory, we could debate what the ideal situation should be, and how life will be when Mashiach comes, right now we have to deal with marriages as they are in our world. And on an operating level I have found the framework of "best friends who love each other" to be far more helpful and conducive to a successful marriage.
Seeking Healthy Outlets [Inbox / Issue 884]
I've been following with interest the recent debate regarding the need for yeshivah bochurim to unwind and find healthy outlets.
Being new to the yeshivish world (I was raised MO and moved to the right of my parents, and now find myself with a son who has moved even more to the right of us), I was shocked to hear anyone in 2021 defend smoking, drinking, and vaping.
While my husband and I have been thrilled with our son's experience in his post-high school yeshivah the past one and a half years, the one thing we don't understand is why the yeshivos don't provide kosher and healthy outlets for the boys — basketball, hockey, or football games; music rooms; exercise equipment; track; swimming, etc.
Our yeshivah bochurim are humans. Teenage humans. I suspect that if these boys had healthy and kosher outlets that weren't looked down upon, a few boys wouldn't be compelled to seek out their own unhealthy alternatives.
Just a thought.
I.F.
Share the Wealth [Inbox / Issue 884]
Hats off to the letter writer who wrote "Not a Bein Hazmanim Problem" in last week's issue.
He is right on target when he says that a bochur who finds it difficult to open a sefer or wake up at a decent hour during bein hazmanim is not experiencing the natural "burnout" that results from a long zeman, but is rather indicating a lack of fire and enthusiasm to begin with.
I think a large part of the problem is that yeshivos focus almost exclusively on Gemara and do not expose the disillusioned bochurim to the wealth of Torah that can be found in other texts — e.g. "non-yeshivish" masechtos, halachah, Nach, chassidus, mussar, machshavah, etc., etc. — the list is as endless as Torah itself...
The result is that a bochur that doesn't feel connected to what he is learning will at best reluctantly open a Gemara during bein hazmanim and daydream or schmooze until he has done his hour and can go home feeling good about himself.
Let's pull back the curtains and introduce our bochurim to alternative limudim that will help them find what speaks to them, with the hope that they will eventually come to enjoy Gemara learning as well.
Zev Landerer
Misleading Statement [Still Smoldering / Issue 884]
As a lifelong Manhattan resident who was working near Ground Zero on 9/11 and who has unfortunately known multiple people who have suffered due to their heroic efforts on that day, I was pleased to see your article describing the need to provide care and support for the survivors and first responders who continue to experience devastating illnesses from their exposures to the toxic environment around the fallen towers.
I was, however, considerably less pleased to see a very misleading statement about the politics of the federal government's support for treating these people. You wrote that "it took the Obama administration until 2010 to pass the Zadroga Act," without noting that: a) the Obama administration did not take office until January 2009 (nearly three years after the original Zadroga bill was proposed); b) the act was introduced in Congress in February 2009; and c) the act was delayed due to nearly universal obstruction by congressional Republicans.
There may be many reasons to dislike the Obama administration, but it should not be faulted for failing to do something it had no ability to do.
Elan Rieser
Middle-of-the-Road Wisdom [Sharing the Wealth / Issue 883]
Shira Werblowsky's article "Sharing the Wealth" is one that I clipped and saved and should be a must-read for anyone in the nonprofit world.
Just as Amazon Prime created an immediacy small businesses struggle to keep up with, standards in corporate America have put demands on the nonprofits. Oftentimes, board members are used to the business world and want to bring in more protocols and policies from there into the nonprofit sector — except that these don't always translate well to the clients serviced by a nonprofit. Conversely, there are nonprofits who get stuck with a "we are not corporate" approach and therefore have allowed some standards to be subpar.
I think the tone of the article left so much room for many middle-of-the-road approaches to thrive. Yes, nonprofits can learn how to research better, work with logical databases, and build out the best systems possible. Also, we can't afford to lose the energy and can-do craziness that got any of us into the nonprofit sector to begin with.
Here's to hoping we get more articles like this so that we can create conversation as a community and as nonprofits.
Sarah Rivkah Kohn
Founder & Director, Links & Shlomie's Club Wereinittogether.org
(Originally featured in Mishpacha, Issue 886)
Oops! We could not locate your form.
>