| Gourmet Vs. Everyday |
Hungarian Goulash with Nokerlach
| January 10, 2023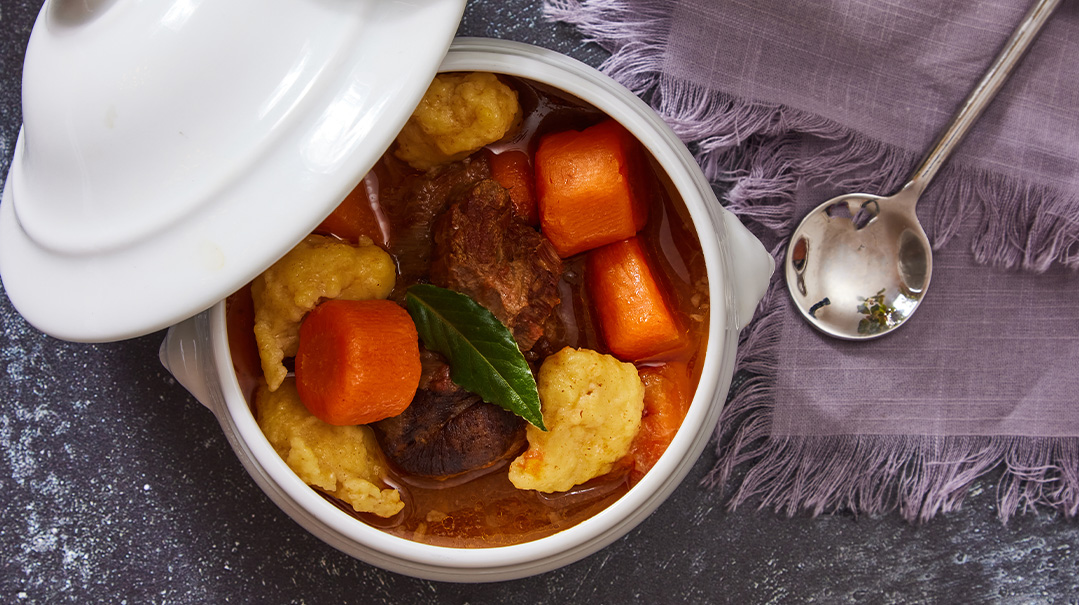 Food and Prop Styling by Shiri Feldman
Photography by Felicia Perretti
Chaya Suri Leitner
Goulash with nokerlach (egg dumplings) is an all-time favorite comfort food. The delicate, fluffy dough soaks up all the hearty goulash flavors. I make mine using sourdough discard (the excess sourdough starter that you would normally discard before feeding, often used to enhance the flavors and nutrition of foods containing flour). No starter? Don't worry, Sara's got you covered with her version of this fluffy delicacy.
Sara Gold
I was excited to make this recipe on a cold, rainy Sunday, since it screams comfort food in a bowl. It came together quickly and the house filled up with a delicious smell. We all couldn't wait to try it.
Hungarian Goulash with Nokerlach
SERVES 6–8
3 Tbsp oil
2 large onions, diced
3 large carrots, peeled and cut in chunks
2 lb (910 g) beef stew
2 tomatoes, diced, or 1 14.5-oz (410-g) can diced tomatoes

I used the can. I also added 1 large zucchini, cubed, for more nutrients.

4 Tbsp paprika
2 Tbsp garlic powder

I used 4 cloves fresh garlic, minced, instead.

1½ Tbsp salt
½ tsp black pepper
6 cups water
Nokerlach
2 eggs
1 cup sourdough discard

No sourdough starter in this house, so I upped the flour to 1½ cups instead,




as per Chaya Suri's instructions.

½ cup seltzer
1 cup flour
½ tsp salt
Place the oil, onions, and carrots in a large pot and let cook for 5 minutes.
Add the rest of the ingredients except for the water. Cover the pot and let it cook on medium heat for 15–20 minutes.
Add water and bring to a boil, then lower heat and cook covered on low for 3–4 hours.
Alternatively, you can place all the ingredients into an instant pot and cook on high pressure for 30 minutes.
Prepare the nokerlach: Whisk all the ingredients together until you have a wet batter.
Bring the goulash to a boil. Drop spoonfuls of batter into the bubbling goulash. Cook for 10 minutes.
If using an instant pot, cook it on sauté function.
Side note:



I had some leftover batter from the nokerlach. Instead of throwing it out,
I decided to add a little sugar and some oil and bake them as mini cupcakes. 
We were pleasantly surprised when they came out amazing!! My kids were begging for more!
Sara Gold
This goulash came out absolutely delicious! In my head goulash equals meat and potatoes, but this felt like a lighter, healthier version, and we all really enjoyed it. The nokerlach brought back memories of my childhood, when my mother used to make them occasionally.
(Originally featured in Family Table, Issue 826)
Oops! We could not locate your form.
>