| Recipes |
Hummus, Two Ways | August 14, 2019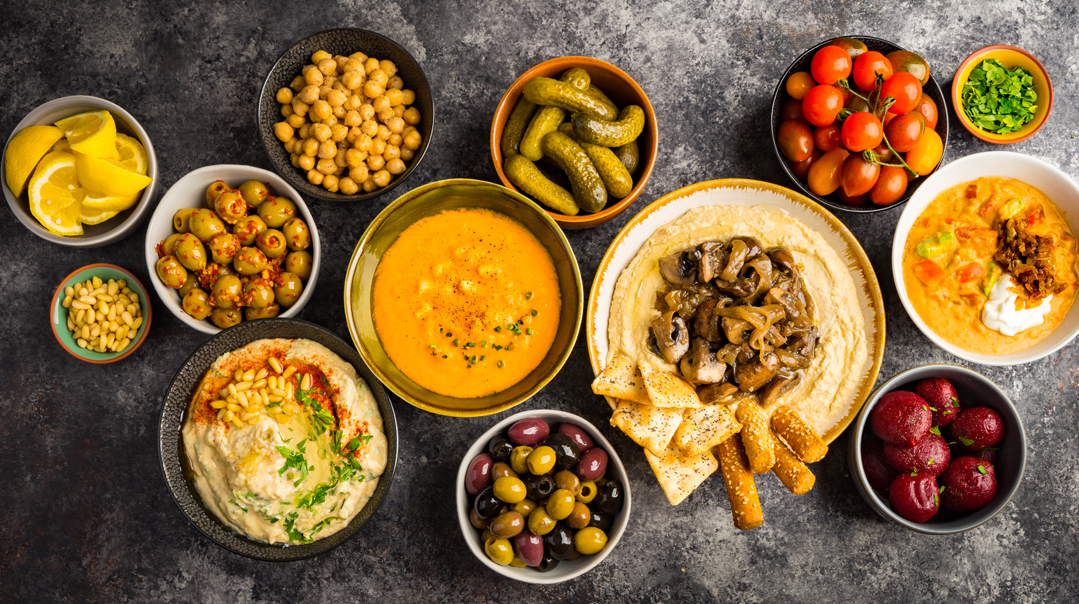 Recipes, Styling, And Photography By Chavi Feldman
When I mentioned to my daughter that I'm working on a hummus recipe for Family Table, she said "Who's going to bother making hummus if they can buy it? Besides, that's the one dip that I always have left over after my Shabbos guests leave." Well, Shaindy, if you would venture to try either of these delicious homemade versions, I think you'll have your answer. And I don't believe there would be any leftovers either. At least there weren't any at our table!
Yield: Each hummus recipe base will yield roughly a 2-lb (1-kg) container of hummus. Either the mushroom topping recipe or roasted eggplant recipe amounts will work for one recipe of hummus base.
Hummus Base
½ cup freshly squeezed lemon juice (don't substitute with store bought)
½ cup tahini (not prepared techina; I used Achva brand)
2 small cloves garlic, minced
4 Tbsp extra virgin olive oil
1 tsp ground cumin
salt, to taste
2 15-oz (125-g) cans chickpeas
3–4 Tbsp water
Place lemon juice and tahini into the bowl of a food processor. (Make sure to stir the tahini  very well before measuring, as the contents may have settled and separated.) Process for 30 seconds, scrape down bowl, and process for an additional 30 seconds until well blended.
Add the next four ingredients, mixing well until combined. Place chickpeas in a colander, drain, and rinse well. Add to food processor bowl, along with the water, and process until you achieve a smooth and creamy consistency. You may want to add some more water, depending on how thick or thin you like your hummus.
You can choose from the following two versions of additions to your hummus. If you're making the mushroom version, remove the mixture from the food processor at this point and set aside until serving. For the eggplant version, you may want to start by charring the eggplant in advance. The cooled eggplant will get processed into the hummus mixture.
Version 1: Caramelized Mushroom Hummus
2 Tbsp oil
2 medium Spanish onions, sliced thinly into rings
3 cloves garlic, minced
16 oz (450 g) baby bella mushrooms, washed, dried, and quartered
1 tsp sugar
½ tsp salt
pepper, to taste
1 Tbsp white cooking wine
1 tsp balsamic vinegar
extra virgin olive oil, for drizzling
Place oil and onions in a large nonstick frying pan. Sautי, over a medium-low flame, stirring every couple of minutes until onions caramelize and are soft and a deep golden brown. (This may take about 30–35 minutes.)
Add garlic, and cook 3–5 minutes. Add mushrooms and sautי for an additional 10– 15 minutes, until soft. Add the next five ingredients, mix well, and cook until all of the liquid has evaporated from the pan.
Serve the topping warm over prepared hummus base, and drizzle with extra olive oil right before serving. This is best served on hummus that has been warmed (in the oven or microwave), or brought to room temperature.
Version 2: Smoky Roasted Eggplant Hummus
2 medium eggplants, washed and dried • olive oil, for brushing
1 tsp salt
1 Tbsp freshly squeezed lemon juice
½ clove garlic
5 Tbsp chopped fresh parsley, plus more for garnishing
pine nuts, for garnishing
paprika, for garnishing
extra virgin olive oil, for drizzling
To roast the eggplant, remove two stove grates, and line stovetop with strips of aluminum foil around each burner (to make cleanup easier). Prick eggplants in several spots with a fork or knife. Place each eggplant directly on top of a burner, and turn heat to medium. Using a pair of tongs, rotate the eggplants every 5 minutes, until skin is evenly charred. This can take 15– 20 minutes, depending on the size of the eggplant.
Preheat oven to 450°F (230°C).
Slice eggplants in half vertically, brush with olive oil, and place in a baking pan, skin-side down. Roast for 20–25 minutes, or until eggplant is deflated and flesh is soft. Set aside until eggplant is cool enough to handle.
Scoop out the flesh, and add to the prepared hummus in the food processor, along with the salt, lemon juice, and garlic. Blend until fully incorporated. Remove mixture from food processor and stir in chopped parsley by hand. Refrigerate until ready to serve.
Garnish with an additional drizzle of olive oil, chopped fresh parsley, pine nuts, and a sprinkle of paprika.
(Originally featured in FamilyTable, Issue 655)
Oops! We could not locate your form.
>