| Profiles |
How Does Your Garden Grow?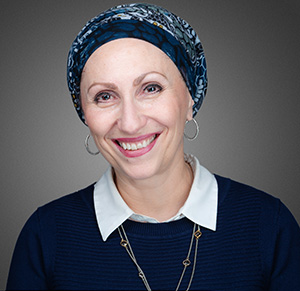 | July 6, 2016
Pulling up in front of Ruth Pinkenson Feldman's wide fieldstone house on a leafy street in Bala Cynwyd Pennsylvania this New Yorker's first thought is: How quiet it is! The only noise this spring morning comes from spirited exchanges of birdsong. Ruth's front lawn turns out to be not a patch of grass but a mosaic of flowers and plants with flagstones meandering toward the front door.
Ruth emerges from a swing chair on one side of the porch where she's been ensconced with a book. She greets me warmly and it's evident she spends a lot of time on this spacious porch furnished with comfortable-looking wicker couches and ornamented with potted arrangements and a coffee table scattered with gardening books and her siddur.
With her short blonde sheitel clogs and artsy jewelry Ruth's appearance immediately intimates her various roles as an early childhood educator artist gardener and community member. The inside of the house as we enter likewise breathes education and art: the living room coffee table holds children's books art books and seforim and Ruth's canvases in both abstract and more traditional styles are everywhere — on the walls stacked against the piano propped up against the dining room walls.
The mother of three married children and a passel of grandchildren Ruth "retired" recently after years of busy career and family life. (She still consults occasionally.) But an eishes chayil's hands are never idle and her days filled quickly. A longtime gardening aficionado she began expanding her gardening ambitions in ways she hadn't had time for previously. "I love flowers and loved the idea of growing my own vegetables " she says. "I'm no farmer — I'm not looking to grow all my own food! I just want people to see and appreciate the magnificence of Hashem's Creation and taste homegrown food."
With her children and grandchildren living in other cities Ruth felt prompted to pay forward her wisdom and skills to the other new generations in her midst. Using gardening as her motif she developed the concept of the "Green Bubbie" — i.e. a spiritual mentor who passes on her wisdom love and skills to the next generation of "sprouts." She compiled her ideas into material for a book The Green Bubbie published this year through Amazon.
The Road to Bubbiehood 
It's ironic that the author of a Bubbie book never met her own Bubbie. Ruth's father was 40 when she was born and she never knew her grandparents. "I'm named for my grandmother" she says. "As a child I thought grandparents were simply the people you got your name from." Unfortunately her mother didn't get much chance to enjoy the pleasures of Bubbie-hood passing away when Ruth's oldest was seven but Ruth maintains that her own love and intergenerational friendship comes from her mother's unconditional love and teaching.
Ruth grew up in a family that was observant but not part of an Orthodox community; her parents belonged to the local Conservative synagogue. "But we were the most religious people I knew" she says "and my parents were very into outreach hosting community Seders and such."
Her husband Rabbi Dr. Gedalia Feldman came from an Orthodox home and after their marriage they moved to Bala Cynwyd to live in a more Orthodox neighborhood. In The Green Bubbie Ruth credits her continued spiritual development to the many women in the yeshivah world who continue to be her role models and to her friend Dr. Rivke Ausubel Danzig a"h who taught her that Judaism is much more than observing laws and holidays. Through Rivke she discovered the power and practice of prayer and "what it means to have a soul a neshamah … a more profound powerful and sustaining source for personal and interpersonal growth than either the psyche or the intellect."
Ruth's lively intellectual curiosity led her to study philosophy and education. She earned a Masters from Bank Street College and spent five years running a play-oriented exploratory early childhood program at the Germantown Jewish Center while working on an Ed.D. at Temple University. Her doctoral thesis explored the effects of Jewish day schools not on children but on parents.
After spending a year in Israel with her family as a Jerusalem Fellow Ruth returned to the United States to become the Director of Early Childhood Education for the Jewish Community Centers of North America a position that involved developing curricula and traveling extensively to the hundreds of centers in the network.
Two notable programs she created included This New Month (teaching children about the Jewish calendar) and An Ethical Start a Pirkei Avos-based program for parents teachers and children. (Ruth goes to a closet and pulls out two rag dolls: "This one is Peer K and this one is Dafna").
Ruth's house remains child-friendly: a large bin of wooden blocks sits next to her living room couch toys await in the closet and the front porch boasts round planters garnished with ceramic frogs and birds. "I put them there in the same way we put out the ka'arah and read the Haggadah on Pesach" Ruth says: "The idea is to get children to ask questions."
Oops! We could not locate your form.
>