| Windows |
Hocus Pocus    
| March 7, 2023
I'm about to toss the dough when something keeps me back. Is it maturity, or perseverance, or age or time?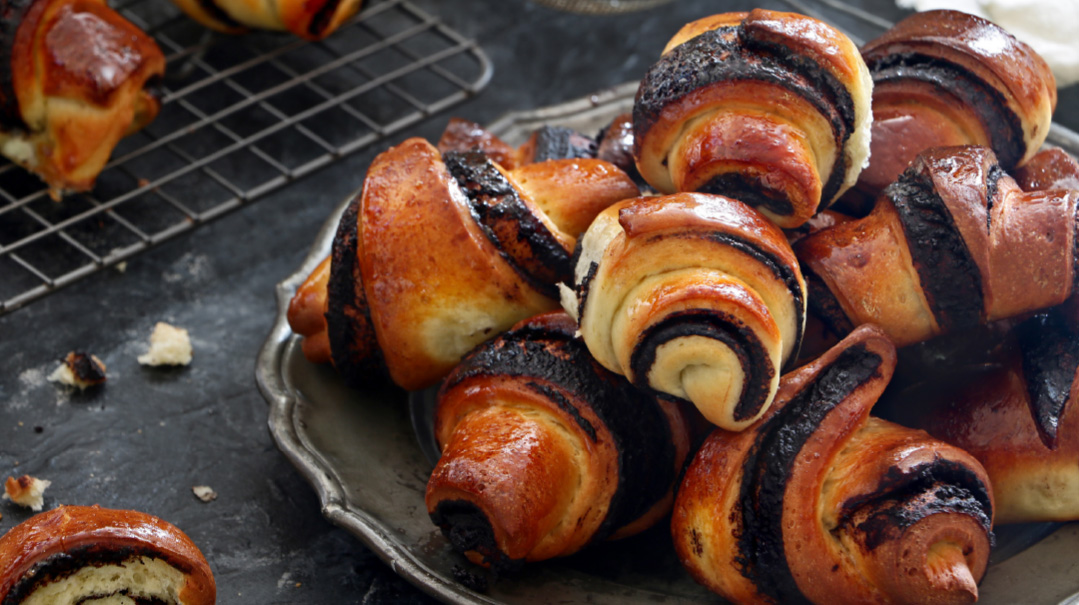 "H
ocus pocus," she says in a mysterious lilt, rolling her raised arms. "Chiri mokush." A smile tickles her face as she rubs her hands briskly. "Zoom, zoom, zoom, zoom." And out pops a rugelah.
A little boy, her son, opens his eyes wide. The rugelah is warm in his hands, and the chocolaty sweetness melts in his mouth.
I'm mesmerized by my husband's wide-open eyes as he recounts his mother's daily ritual when he'd come home from cheder as a little boy. It had taken him some time to figure out that the rugelah didn't appear by magic. It popped out from under his mother's elbow. It took him even more time to discover that the storefront downstairs where his mother checked eggs and sprinkled flour was her dough factory. The idea to develop, manufacture, and sell frozen dough had been Ma's brainchild back in the 1960s, and aptly, she called her baby Fine Frozen Pastry.
Fifteen-some years ago, dementia crept up on Ma, leaving me in the middle of a relationship. I was in my thirties then, just starting to mature enough to appreciate her. I longed to hold on to her, this soft-spoken woman I'd hardly gotten to know. So I asked her for the recipe for her famous flaky dough that she'd used to make rugelach, or kifli, as she called them. Ma rattled off the kifli ingredients and measurements as I scribbled furiously on a paper plate.
Back home, I carefully copied the prized recipe into my blue-bound cookbook and whizzed on my Bosch. Flour made contact with margarine and eggs and sugar, yeast stirred things up, but for all my efforts to blend them together, the lot simply wouldn't merge for a deep, meaningful relationship. Obviously, Ma, in her compromised state, had missed a thing or two in the recipe. The dough was greasy and dryish and wouldn't hold together. I tossed it.
Last year, Ma passed on. During shivah, I sat with my sisters-in-law, some of whom are old enough to be my mother, and listened to them talk about Ma. Ma had taught one daughter-in-law how to make hearty green pea soup with nockerlach (dumplings). She lovingly filled freezers, served kifli, and peeled pears. As the youngest, my husband recorded it all, the long rendition of memories. I felt forlorn as I contributed my own. Me, the youngest daughter-in-law, who never had a chance to soak in her embrace and enjoy her for more than a decade.
The shivah kindles a longing for Ma, to connect with her in a meaningful way and to help my husband grieve his loss. What better way to do it than to make Ma's kifli? I think. I'm a little wiser now than when I made it the first time. What made me think Ma had made a mistake with the recipe? I'm sure it had been my mistake.
Out comes my blue-bound cookbook. I rope my husband in to decode the recipe; he inherited Ma's skill. He pores over the ingredients and measurements, compares them to recipes of other famed chefs, and deems it safe and sound. I start.
Flour. Margarine. Eggs. Yeast. Blend and bond. I shut the Bosch and grimace. The dough is… greasy and dryish and doesn't hold together. I was right after all. Ma hadn't given me everything I needed to be able to make her kifli.
I'm about to toss the dough when something keeps me back. Is it maturity, or perseverance, or age or time? Maybe all of the above. But I don't toss the dough. Instead, I offer it flour as I roll, sprinkle with chocolatey sweetness, and put it into the warm oven.
The kifli comes out… bah. So much for my effort. My husband comes into the kitchen, ahs at the aroma. I warn him that the kifli is not what it seems to be. He takes a bite. His mouth puckers, brow slowly creases.
"Leah!" he exclaims, "this is not Ma's kifli recipe." He raises a finger in triumph. "It's kindle!"
"What?"
He gives me a crash course in food science. The kindle dough is dryish to invite in the jam that holds the chopped walnuts.
Oh.
Ma was right in the end. And so was I.
Ma's shloshim falls out on Taanis Esther. That night, I sneak away to the freezer where I'd hidden my goods, bring out the glass tray that holds Ma's love, and carry it to the dining room where my husband waits.
"Hocus pocus," I say.
His eyes open wide. "Kindle?"
"Kindle."
L'illui nishmas Miriam Leah Wachsler, on her first yahrtzeit, yud gimmel Adar Alef
(Originally featured in Family First, Issue 834)
Oops! We could not locate your form.
>