| Fiction |
Her Turn to Shine
| July 3, 2019
She took a rueful look at Leah's flower arrangement, at Meira and Chana's gowns, then at Yehuda's back. "I guess not everyone read the memo about the color scheme," she commented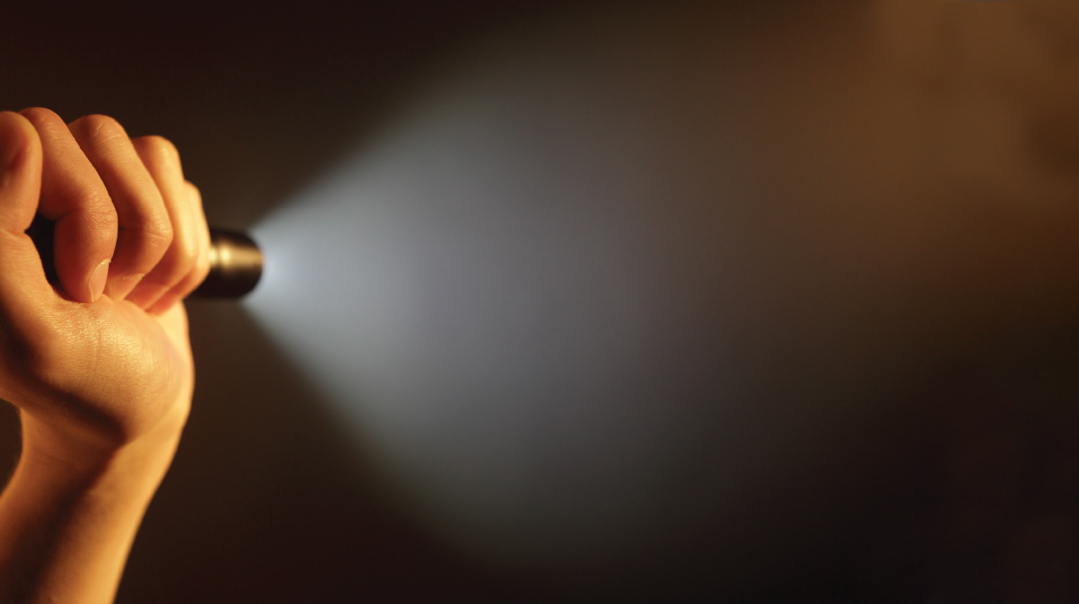 ightning streaked across the sky, brighter than the flash of the photographer's camera. Leah shivered in her white gown and struggled to maintain her smile and the tilt of her lilac-and- lavender bouquet as thunder boomed.
The weather forecast had promised her special day would be partly cloudy, but the clouds looming overhead as she posed for pictures were a thick, dark gray.
The storm had begun brewing earlier in the afternoon, when her siblings arrived at the wedding hall. Lavender was the color scheme, and you might've thought her siblings could find gowns and ties to match. But no, Meira was wearing champagne, and Chana, navy. Even Yehuda's tie was red. The looks Meira and Chana received from the siblings who went to great pains to find purple outfits were like bolts of electricity. Leah wrapped her disappointment up tightly inside of her.
A droplet splashed against her arm, and the photographer's assistant holding her train announced that it looked like it would pour. They retreated indoors, and by the time everyone reassumed their positions for family portraits, the rain was pounding against the windowpanes.
Even inside, the photoshoot couldn't continue as planned. Chana's twins were crying, and she left the room to quell her children's tears. Though her absence meant one less person in the family photos was breaking the color scheme, her departure inspired a wave of mutiny among Leah's siblings. Miriam spotted a good friend walking in early and rushed to greet her, and Mordechai and Yehuda began pilfering sushi from the smorgasbord tables as the waiters were laying out the platters.
"We need everyone's attention!" the photographer called. The assistant clapped twice and waved her hands in Leah's direction, trying to lure them back to the photoshoot.
"They won't come," Leah murmured to herself, looking down at her bouquet, grateful that at least her mother was still standing at her shoulder. A lifetime of being the youngest child meant she was often treated as an afterthought, but she'd hoped that at least on her wedding day she'd have a chance to be at the center of everything.
"Leah'le, do you want some sushi?" Yehuda asked, looking up from his stacked plate. All Leah could see was his red tie.
"Of course she doesn't want sushi, Yehuda," her mother retorted. "She's fasting. And she can't ruin her makeup."
"Yeah, sushi isn't where it's at now," a voice from the entrance of the wedding hall called out, and Leah turned to see Batya — her closest friend since childhood — walking in. Yehuda rolled his eyes and returned to his sushi, and Leah was grateful she didn't have to look at his horrible tie anymore.
"Batya!" Leah waved across the hall at her friend, freeing one hand from her bouquet she'd been squeezing tightly. Batya always managed to ease the tension Leah felt when her family wouldn't, or couldn't, pull themselves together the way she wanted.
"You look absolutely stunning," Batya exulted. "And I decorated the most gorgeous cup for you to drink from when dancing starts. And I didn't forget the pink lemonade."
She took a rueful look at Leah's flower arrangement, at Meira and Chana's gowns, then at Yehuda's back. "I guess not everyone read the memo about the color scheme," she commented.
At least her best friend could be relied upon!
The rain tapped out a steady rhythm at the doors of the wedding hall. Guests began to arrive, tracking wet footprints into the hall, shaking droplets of water off black hats and sheitels. The coat racks were soon filled with dripping layers of drenched jackets. Then a waiter cleaning up from the smorgasbord accidentally spilled an entire pitcher of water across the dance floor, and two nephews immediately began splashing in it, soaking their mini-tuxedos.
"Where's Yehuda?" Leah's mother hissed at Mordechai. Yehuda was supposed to be organizing the kibbudim under the chuppah. Mordechai just shrugged his shoulders and gestured at the band. Yehuda was talking to the bassist.
The chuppah passed without major mishap. Leah managed to circle her chassan seven times without tripping, but she was relieved her veil was thick and she was oblivious to anything taking place outside of the canopy. As she was told afterward, Meira received an urgent phone call in the middle of krias   and made a "quiet" exit from the front row. Miriam sent her three-year-old across the aisle to the men's side, but he threw a tantrum mid-aisle and had to be rescued by an older cousin. And Mordechai found a couple of his old yeshivah friends and was having a conversation on the sidelines without realizing how loudly he was speaking.
Soon, the chassan and kallah entered the ballroom for the first dance. Leah spun with her mother, her mother-in-law, her grandmothers, sisters, and aunts, and varying combinations of guests and relatives. Batya did decorate the drinking cup beautifully; the sides were covered with sequins and beads. A dutiful friend, she darted in to the main circle occasionally to offer Leah a sip of pink lemonade.
Leah danced and danced, her gown spinning along with her. She smiled and grasped hands and received well-wishes over the music. She didn't know how many hugs she'd given the girls from her high school class when there was a sudden crack of lightning and roll of thunder — and the lights went out.
For a heartbeat, there was silence: startled silence, as everyone processed the sudden darkness; polite silence as they waited for the lights to turn back on; expectant silence as they waited for the band to continue playing and the singer to continue singing. Hands, joined in a circle, gripped each other more tightly and then a flurry of murmurs welled into a rush of commentary.
Over the rising volume of heightened anxiety, a man from the other side of the mechitzah called out, "Does this hall have a generator?"
No one answered, but a toddler started crying for his mommy. Although no one could see him, Yehuda tapped at the silent microphone as though that might somehow restore order.
Leah stopped spinning. Her swirling white gown came to a rest at her feet. There was a crash and several shouts; someone had bumped into the photographer's ladder — it had fallen over, but don't worry, no one was hurt.
All at once, the guests at the wedding were strangers. People were introducing themselves to each other, disclosing their affiliation to the kallah as though they needed to justify their presence in this unfortunate predicament.
"I went to seminary with her."
"Oh, we were in the same bunk in sleepaway camp."
"I'm her great-aunt."
"Leah…" People were calling her name. Leah recognized her mother's worried voice, and Miriam's and Chana's.
"I'm right here," Leah said, and she was, in the center, the garish red lights of the exit signs reflecting off her dress. Hands steered her to a chair; she sat down and clutched her decorated cup tightly.
Wedding guests were finding their way back to their tables, guided by the faint candle centerpieces flickering among the chinaware and silver. Cell phone flashlights were beginning to emerge, hundreds of little beams twinkling around the hall like stars.
The crying toddler was returned to his mommy.
Yehuda somehow managed to get the microphone working. In the dark, his voice resounded through the hall.
"Now that we've all made our introductions," he began. "It's time for the fun to begin."
Leah felt her mother's hand tighten against her shoulder, but there was no stopping Yehuda.
He outlined the itinerary for the rest of the evening, enjoying his captive audience. Emphasizing that he was open to suggestions, he informed the guests that their options included sitting in a circle and starting a kumzitz or listening to campfire horror stories. There were several cheers at that, and Yehuda assured them that he had a plethora of horror stories to share.
"We can also," Yehuda said slowly, "play a game of laser tag. The prime targets are the chassan and kallah, of course. Everyone wave your flashlights — there we go." Wedding guests obliged. Leah found herself laughing out loud when she was suddenly surrounded by tiny beams of white light, her own fragmented spotlight.
Yehuda kept talking into the mic and was starting to tell the wedding guests about a new shampoo he was using until someone succeeded in removing the microphone from his hand and returned it to the singer.
"Was the shampoo the beginning of one of his horror stories?" someone asked.
Several people laughed.
It didn't matter anymore that the lights were out. It was almost as though Leah was little again, playing hide-and-seek with her siblings. It was always Chana who'd hide with Leah, while Meira would search for them. They'd crouch in the basement closet while Meira found Miriam and Yehuda and Mordechai. In the darkness of the basement closet, hidden among the toys, Chana would find Leah's hand and squeeze it reassuringly, making sure she wouldn't be afraid.
Chana found her hand again.
"Are you okay?" she asked. To Leah, her older sister's voice was as reassuring as it always had been.
Leah nodded and then, realizing her sister couldn't see her move her head, answered, "Yes."
"This is just like when we used to play hide-and-seek when we were little, isn't it?" Chana said with a laugh. She pulled Leah to her feet and for a moment they stood together on the darkened dance floor.
"But I would always find both of you." Meira suddenly pushed her way forward into the circle. "It was almost as though you thought the basement closet was a good place to hide."
"It was!" Chana insisted.
"Where are all of you?" Miriam's voice broke out from the crowd of wedding guests. "This wedding is like a game of Marco Polo."
Miriam joined hands with the rest of her sisters. The dancing started up again, slowly, and without working speakers, the band resumed playing at a lower volume. Someone called Chaveirim — Leah later found out it was Yehuda — and they brought in floodlights and set them up in the corners of the wedding hall. Soon enough, everyone's eyes adjusted to the half-darkness. Leah was raised, carefully, carefully, onto a chair and into the air. She saw Yaakov waving a flashlight at her from over the mechitzah and she beamed back a light at her chassan.
Soon she was brought back to the ground. Her feet touched the floor and she was twirling again, holding the warm hands of people whose faces she could make out in the shadows. The beads on her gown and in her hair glinted in the flashlights. Her heart was pulsing to the beat of the drums and the rhythm of the dancing.
Second dance was over and somehow the guests managed to find the dessert tables.
Someone was grasping Leah's hands. "I got you a plate of watermelon."
"Who is this?" The question was no longer awkward.
"It's Batya."
Leah squeezed her friend's hands gratefully.
"The colors of their gowns didn't really matter in the end, did it?" Batya said in a half-whisper.
"Oh, stop smiling," Leah grumbled.
"You can't even see if I'm smiling," Batya countered.
"True. But I can hear it in your voice."
"And I can hear it in your voice, too."
(Originally featured in Family First, Issue 649)
Oops! We could not locate your form.
>