| Fiction |
Her Turn to Shine
| July 3, 2019
She took a rueful look at Leah's flower arrangement, at Meira and Chana's gowns, then at Yehuda's back. "I guess not everyone read the memo about the color scheme," she commented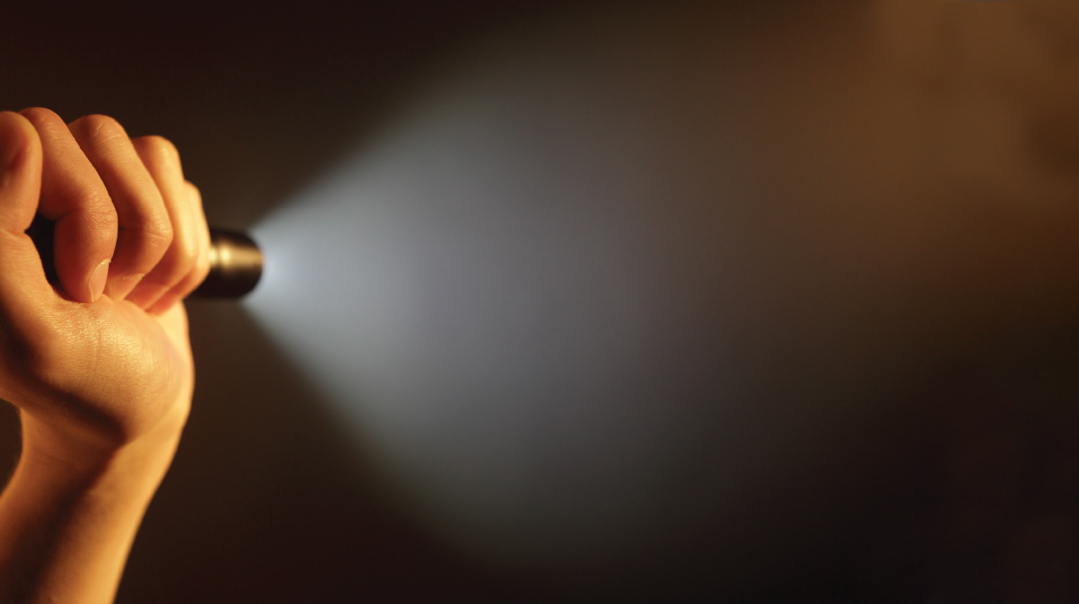 ightning streaked across the sky, brighter than the flash of the photographer's camera. Leah shivered in her white gown and struggled to maintain her smile and the tilt of her lilac-and- lavender bouquet as thunder boomed.
The weather forecast had promised her special day would be partly cloudy, but the clouds looming overhead as she posed for pictures were a thick, dark gray.
The storm had begun brewing earlier in the afternoon, when her siblings arrived at the wedding hall. Lavender was the color scheme, and you might've thought her siblings could find gowns and ties to match. But no, Meira was wearing champagne, and Chana, navy. Even Yehuda's tie was red. The looks Meira and Chana received from the siblings who went to great pains to find purple outfits were like bolts of electricity. Leah wrapped her disappointment up tightly inside of her.
A droplet splashed against her arm, and the photographer's assistant holding her train announced that it looked like it would pour. They retreated indoors, and by the time everyone reassumed their positions for family portraits, the rain was pounding against the windowpanes.
Even inside, the photoshoot couldn't continue as planned. Chana's twins were crying, and she left the room to quell her children's tears. Though her absence meant one less person in the family photos was breaking the color scheme, her departure inspired a wave of mutiny among Leah's siblings. Miriam spotted a good friend walking in early and rushed to greet her, and Mordechai and Yehuda began pilfering sushi from the smorgasbord tables as the waiters were laying out the platters.

"We need everyone's attention!" the photographer called. The assistant clapped twice and waved her hands in Leah's direction, trying to lure them back to the photoshoot.
"They won't come," Leah murmured to herself, looking down at her bouquet, grateful that at least her mother was still standing at her shoulder. A lifetime of being the youngest child meant she was often treated as an afterthought, but she'd hoped that at least on her wedding day she'd have a chance to be at the center of everything.
"Leah'le, do you want some sushi?" Yehuda asked, looking up from his stacked plate. All Leah could see was his red tie.
"Of course she doesn't want sushi, Yehuda," her mother retorted. "She's fasting. And she can't ruin her makeup."
"Yeah, sushi isn't where it's at now," a voice from the entrance of the wedding hall called out, and Leah turned to see Batya — her closest friend since childhood — walking in. Yehuda rolled his eyes and returned to his sushi, and Leah was grateful she didn't have to look at his horrible tie anymore.
"Batya!" Leah waved across the hall at her friend, freeing one hand from her bouquet she'd been squeezing tightly. Batya always managed to ease the tension Leah felt when her family wouldn't, or couldn't, pull themselves together the way she wanted.
"You look absolutely stunning," Batya exulted. "And I decorated the most gorgeous cup for you to drink from when dancing starts. And I didn't forget the pink lemonade."
She took a rueful look at Leah's flower arrangement, at Meira and Chana's gowns, then at Yehuda's back. "I guess not everyone read the memo about the color scheme," she commented.
At least her best friend could be relied upon!
(Excerpted from Family First, Issue 649)

>