| Recipes |
Heavenly Hot Pastrami Salad
| September 19, 2023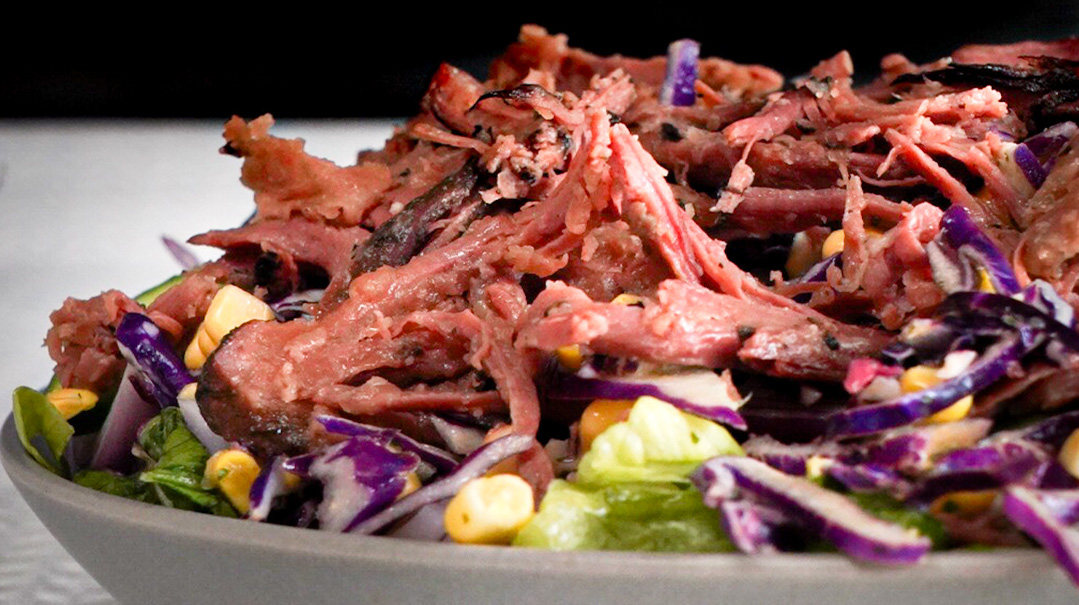 Styling, and Photography by Menachem Goodman
Did I just reinvent the classic deli salad? I think I did, and it's a winner! Cook the pastrami in your cholent and remove before the meal. Add it to a salad, and you have an elevated deli salad that didn't take any extra work. Serve as an appetizer this Shabbos Chol Hamoed — I bet your family and guests will go crazy over it, and they won't even know how simple it was to prepare.
SERVES 8 AS AN APPETIZER
1 16-oz (450-g) bag romaine lettuce
1 8-oz (225-g) bag shredded red cabbage
kernels from 2 ears of corn
3 Persian cucumbers, thinly sliced
1 small red onion, thinly sliced in half-moons
½–¾ cup Honey-Mustard Vinaigrette (recipe above) or classic Caesar dressing, divided
1–2 lb (450–910 g) pastrami for the cholent, cooked according to pkg instructions and shredded
½ cup yellow soup croutons (mandelen; optional)
Place lettuce, cabbage, corn kernels, cucumber, and red onion in a large bowl. Pour in half the dressing and toss well.
To assemble: Transfer to a serving bowl and top with hot pastrami, and soup nuts if using. Drizzle remaining dressing over the top. Serve immediately.
Note: If you'd rather not cook the pastrami in the cholent, place the vacuum-sealed packet into a 9x13-inch (23x33-cm) baking pan filled halfway with water. Cover well and place in a 300°F (150°C) oven; bake for 4–6 hours. To serve warm on Shabbos (or Yom Tov), heat on the blech or hot plate until warm, just be sure that the meat is not yad soledes bo when added to the salad.
Honey-Mustard Vinaigrette
This dressing is perfect for any salad that has a protein that's high in fat. The tanginess of the mustard and the acidity of the vinegar help balance the protein, and the combo makes for the perfect bite every time.
YIELDS 1 LB (450 G)
½ cup pure honey
2 Tbsp Dijon mustard
¼ cup white vinegar
¼ cup olive oil (or avocado oil)
½ tsp pepper
1 tsp kosher salt
2 tsp dried parsley
Place all ingredients into a 2-lb (910-g) container. Using an immersion blender, blend the ingredients together until fully combined.
(Originally featured in Family Table, Issue 861)
Oops! We could not locate your form.
>