| This Way That Way |
Grilled Chicken
| July 27, 2021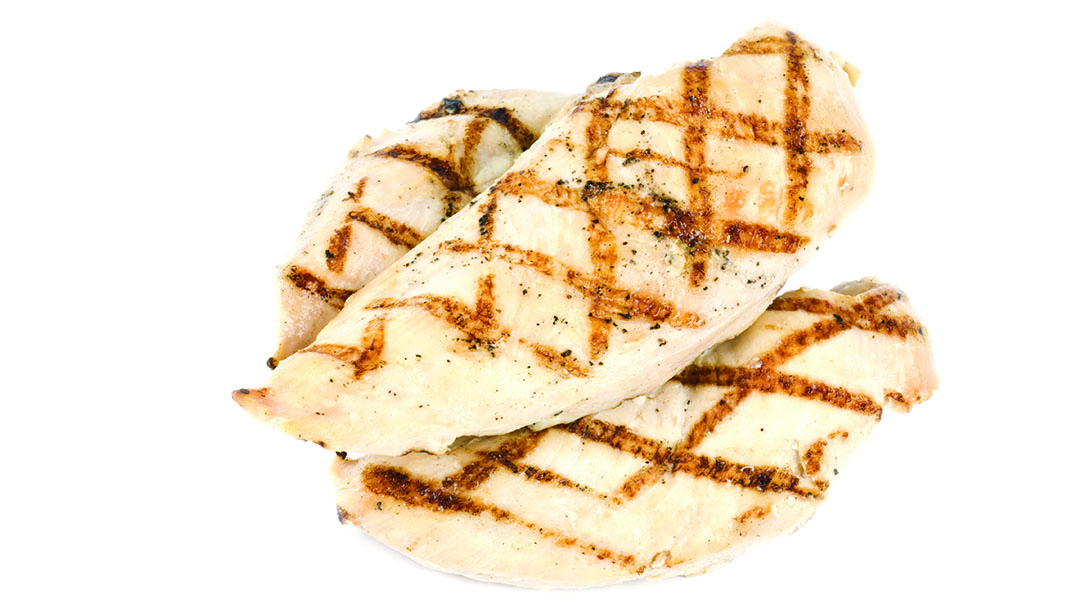 Some call it the humble protein. We call it the barbecue hero. Chicken is easy to prepare, diverse in flavor, and a great last-minute foundational item to add to your summer meals. Here are some of our favorite marinades: the delicious factor is a 10 out of 10, the seasonings can be prepared far in advance, and ten minutes later, no one's the wiser!
Chicken Lickin'
Feel Good
Chicken contains the amino acid tryptophan, which has been linked to higher levels of serotonin (the "feel good" hormone) in our brains.
History
The beginning of grilled chicken can be traced back to the 17th century, to the Arawak tribe of the Caribbean and South America.
Marinate
Aside from imparting flavor and preventing the chicken from drying out, an acidic marinade reduces the harmful chemicals caused by cooking in high heats.
Winning Chicken Marinade
Recipe by Danielle Renov
Grilled chicken (well, grill pan chicken, to be exact) is my go-to dinner!
Sometimes I serve it thinly sliced in wraps with sautéed onions, tons of vegetables (roasted and raw), and smear of Caesar dressing. Sometimes it's chopped into a giant family-sized salad with the works. Think homemade croutons, all kinds of veggies, maybe a grain, and, if I'm feeling fancy… some crispy Facon bits! Then there are days where it's just grilled chicken, couscous, and Israeli salad, which just so happens to be my children's favorite dinner.
However I do it, I keep the marinade simple so that just in case there are leftovers (spoiler alert: there aren't), I can repurpose them the next day. This is one of my simpler yet absolute addictive marinades.
12 thin chicken cutlets
3 Tbsp avocado oil (or any neutral oil)
¼ cup Montreal steak seasoning
1 Tbsp paprika in oil (or regular, but paprika in oil is yummier!)
1 tsp ground mustard
juice of 1 lemon
Add everything to a bowl besides the lemon. Mix well to combine. Marinate for at least 45 minutes or up to overnight. Five minutes before grilling, add lemon juice.
Grill the chicken cutlets on the first side for 3 minutes. Then flip and grill another 1.5 minutes. Serve hot and enjoy.
Savory Grilled Chicken
Recipe by Chavi Feldman
I found this recipe online a few years ago, and it's really yum!
SERVES 6–8
2 lbs (910 g) chicken cutlets
¼ cup olive oil
2 tsp paprika
1 tsp chili powder
1 tsp ground cumin
¾ tsp salt
½ tsp garlic powder
½ tsp ground pepper
2 Tbsp red wine vinegar
1 Tbsp honey
Combine marinade ingredients and add chicken. Allow to marinate at least 30 minutes to an hour, then grill.
Sweet and Spicy Grilled Chicken
Recipe by Chanie Nayman
These flavors always match up! You can flesh out this recipe by adding sauteed vegetables such as mushrooms and peppers to the frying pan or grill.
SERVES 6
1½ lbs (680 g) chicken cutlets
¼ cup soy sauce
1 Tbsp sriracha
1 Tbsp sesame oil
1 Tbsp honey
1 tsp cornstarch, dissolved in 2 tsp water
½ tsp salt
½ tsp garlic powder
⅛ tsp pepper
1 onion, sliced
Combine marinade ingredients and add chicken. Allow to marinate for at least half an hour or up to overnight, then grill.
(Originally featured in Family Table, Issue 753)
Oops! We could not locate your form.
>