| On Site |
Gold Standard
| July 5, 2022
In Yossi Makais's little Baltimore workshop, precious metals are transformed into holy objects fit for the King's table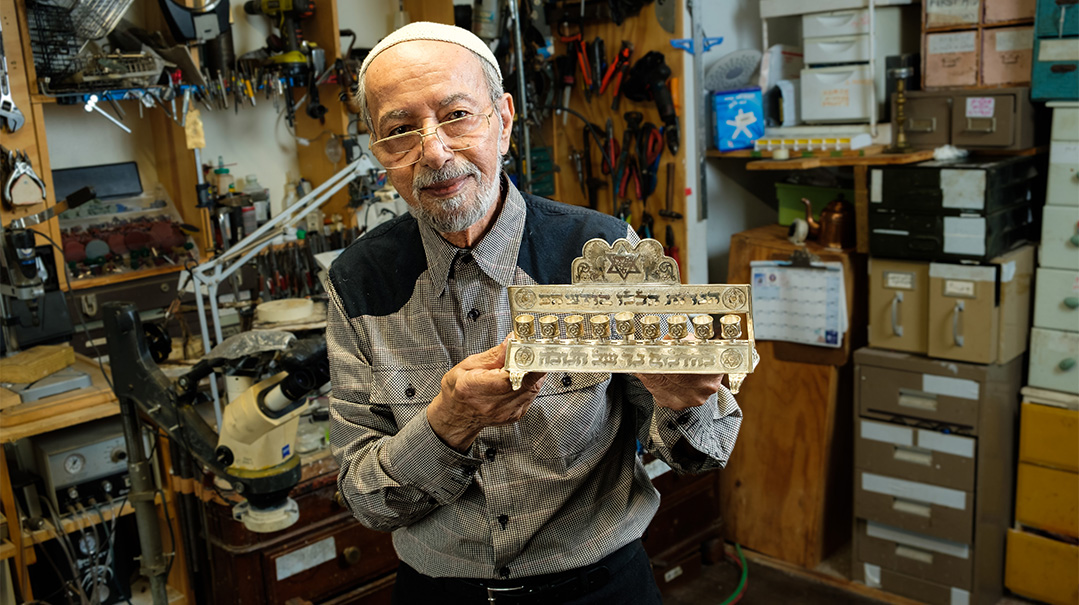 Photos: Eli Greengart
With his talent outmatched only by his humility, you might never have heard of Yerushalmi artisan Yossi Makais. But in his little Baltimore workshop, precious metals are transformed into holy objects fit for the King's table
As a longtime Judaica and Jewish art collector, I'm always on the lookout for undiscovered artifacts and esoteric treasures. So when I came upon the precious metals workshop of world-class craftsman and artisan Yossi Makais, a seventh-generation Yerushalmi living in Baltimore whose extreme modesty always kept him out of the public eye, I knew I'd found a hidden gem.
His is the story of two life journeys: a journey that began with a gift from Hashem — a talent of artistic design making beautiful jewelry and eventually, ritual Judaic items; and a second journey — realizing that Hashem was in his life all along, directing his path and pushing him forward.
Silver Lining 
Yossi's father's family came to Eretz Yisrael from Morocco back in 1830, and his mother, born in Baghdad in 1927, settled in Jerusalem in 1930. She was a young bride — Yossi, the oldest of 12 siblings, was born in 1945 when she was just 18. Yossie's parents were traditional, but not strictly practicing Jews, raising their large family in Jerusalem's Bukharian Quarter where Yossi lived until he was 25.
Yossi was just a young kid when his mother noticed his talent for drawing and painting. His parents enrolled him in a boarding school headed by famous Israeli educator Moshe Tokayer, where for five years he developed his art talent mainly in drawing, sculpture, and painting. Tokayer recognized Yossi's gifts, and personally took him under his wing, providing him with special instruction to maximize his potential.
"My father worked for the Jerusalem municipality and was in charge of creating and hanging the posters around the city announcing events, theater shows, movies and public activities," says Yossie. "I worked for my dad for a few years before joining the IDF, and after my discharge, I began experimenting with various forms of artistic expression — I even tried ice sculpture." But he'd soon discover that silver and gold fabrication of Judaic art was his calling.
It was a new field for him, though, so he approached two teachers from the Betzalel Academy of Arts and Design who also had a private studio, and asked them if they would teach him the art of silversmithing. They were quite skeptical because he had no formal training in the skill, but agreed to show him the basics of working with wax, explaining that whatever you can make in wax you can cast in silver. They gave him a wax block and told him to create a sculpture. After three days, he returned with a magnificent, tiny sculpture — David holding Goliath's head. The teachers were so impressed that they gave Yossie unlimited access to the Bezalel library, where he became completely self-taught, studying everything available on the art of silver and gold silversmithing and sculpturing. It wasn't long before he began created exquisite pieces for a jewelry manufacturer.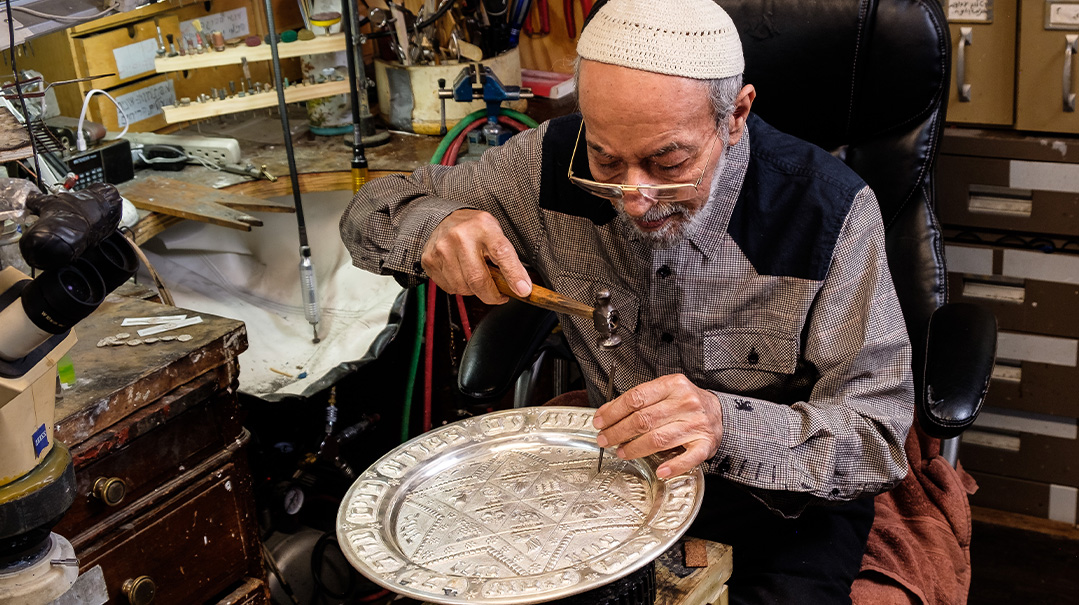 When I came across Yossi Makais's gold and silver workshop, I knew I'd found a precious gem
All That Glitters
"I was busy making jewelry, but what really tugged at my heart was a desire to create ritual Judaica items from gold and silver," Yossi says. He was pulled into it after creating his first Judaic ceremonial piece, a Torah yad (pointer), of silver and gold.
Meanwhile, Yossi married and had four children, but several years later the marriage ended. (Even after moving to America, he kept in close contact with and financially supported his children — three daughters and a son — and after he became frum, they all joined him in becoming shomrei mitzvos.)
Yossi eventually moved into the inner circle of craftsmen and Judaica dealers in Jerusalem. "At some point I heard that Jews in America were buying Judaica items from China and Japan, which horrified me," he relates. And so, in 1985, he decided he'd try his hand at producing his Judaica in America. With $680 in his pocket, he arrived in New York, took a room at the YMCA, and found a job in a jewelry shop on Flatbush Avenue in Brooklyn.
He taught himself English reading comic books, but realized that he'd have to shelve his dream of US-made Judaica items for the time being. "I needed money, and the easiest way for me to earn it was through jewelry designing: making rings, bracelets, necklaces, and ornate pins for jewelry stores," he says. He worked with gold and diamonds, first sketching his design pieces, and then creating them.
But he never gave up his dream of saving enough money to buy the equipment he would need to set up his own workshop. A year later he left New York and took a position in Baltimore, Maryland at $250 a week, at a jewelry shop on Howard Street. His outstanding work was finally recognized by a Philadelphia jeweler who hired him for five times that much, and Yossi spent the next four years in Philly, eventually saving up enough to strike out on his own.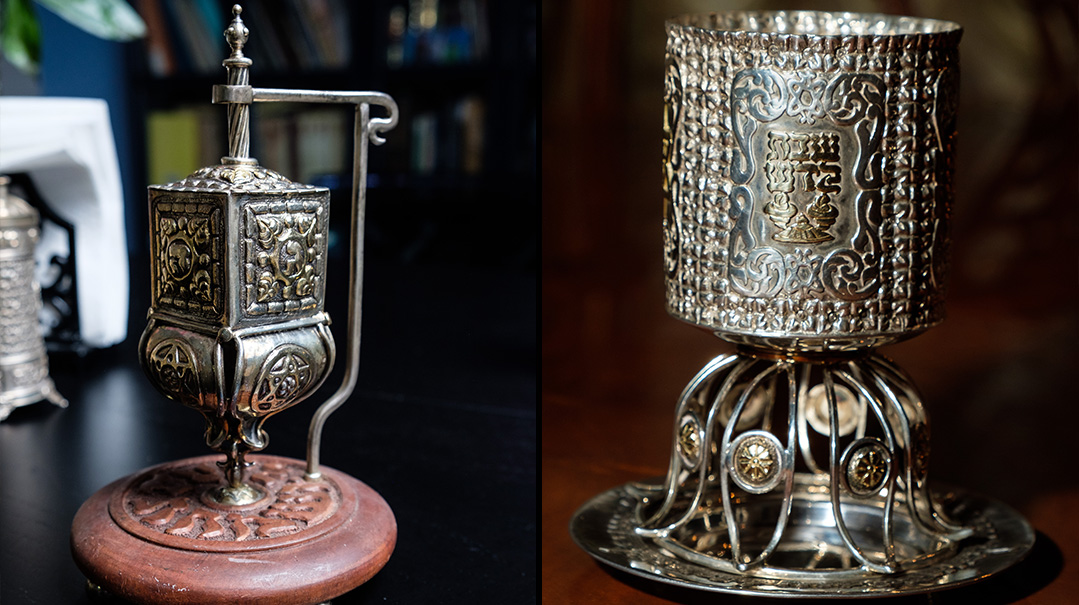 The easy money was in creating jewelry, but Yossi's real desire was to create ritual Judaica items. In his tucked-away, treasure-trove of a shop, that dream has finally come true
Hidden Treasure
Yossi placed an ad about his jewelry expertise and desire to partner with someone who would be interested in his workshop. The ad was answered by Mary Beth (Mira Baila) Plansky of Pikesville, Maryland, just outside of Baltimore. Mary's mother owned an antique store in nearby Ellicott City, and she hired Yossie from the ad, which would result in a great deal more than just a job — it would result in creating a new Jewish home. Yossi and Mary Beth soon married, and Yossie had a small workshop in the back of his new mother-in-law's shop, where he made his unique jewelry. Soon the couple would buy an antique shop of their own, back in Baltimore City, at Fleet and Broadway streets. They bought the property for $63,000 and lived in three small rooms above the store.
Meanwhile, Yossi traveled back to Israel to visit his parents, who were in poor health — and none too soon. They both passed away within a few weeks of each other.  Although not Torah-observant, Yossie was raised traditional and was strict about saying Kaddish for them every day — and then his life began to change.
"I said Kaddish in the Sephardi shul on the corner of Park Heights and Fallstaff Road, which had a lending library of cassette tapes by Rav Nissim Yagen," Yossi relates. "The tapes dealt with such topics as 'A Life of Torah' and 'The Power of Teshuvah,' and each week I would borrow 10 tapes, listening intently to the shiurim and inspiring talks while I worked in the workshop," Yossi says. "Rav Yagen would say, 'If you close your shop on Shabbos and give tzedakah, Hashem will reward you with brachah and parnassah.' So I decided to test that theory — I closed my shop on Shabbos and began to give tzedakah."
The test worked, just as Rav Yagen said it would, and Yossie, a man of integrity, had no choice: he was committed to becoming shomer mitzvos.
Becoming frum meant Yossi not only closed his store on Shabbos, he also began to learn Torah (today he keeps sets of seforim above his desk in his workshop). His new wife, Mary Beth, supported his new path and decided to take the journey together with him. They eventually moved uptown to Pikesville and joined Rabbi Emanuel Goldfeiz's Sephardic Congregation Beit Yaakov on Seven Mile Lane.
Yossi even became a baal korei, leining for over a decade at the Bnei Israel shul on Lloyd Street, using the Sephardi trop he learned from his grandfather (who lived until 103).
Over the last three decades, Yossi not only changed his own life, but that of his family back in Eretz Yisrael. Even after he moved to the US, he stayed in close touch with them, traveling back often (and they coming to visit him in Baltimore as well), and as he moved toward a life of Torah and mitzvos, he influenced his children to make changes in their lives, too.  Today, all his children are frum, and so is his ex-wife — and they've celebrated weddings and other family simchahs together.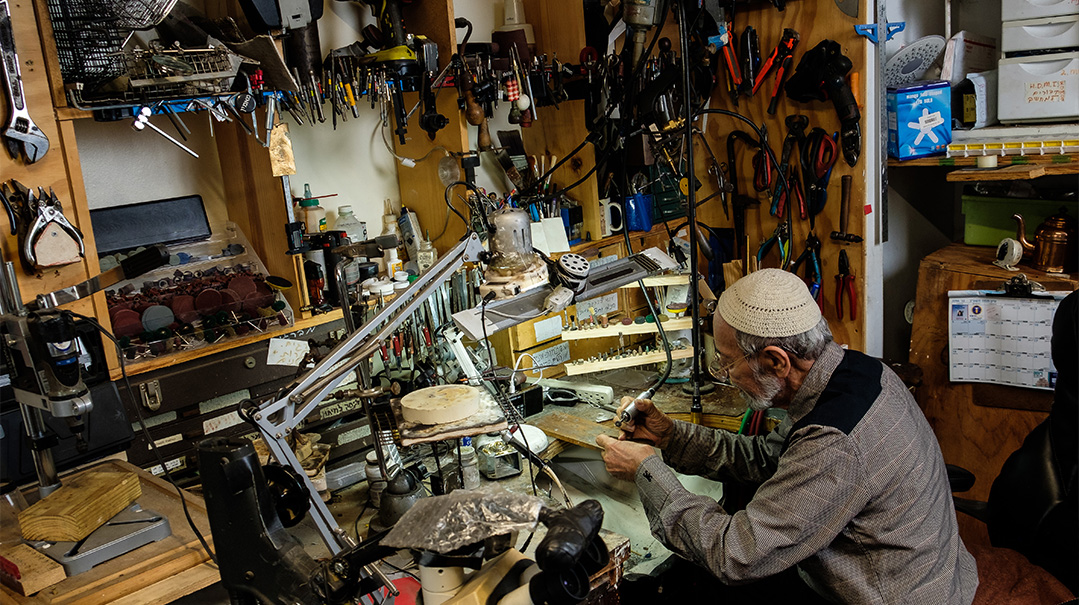 Rav Yagen would say that one who closes his shop on Shabbos will see much brachah. "So I decided to test the theory, and it worked"
By the Hour
When Yossi started out creating ritual pieces, most of the customers for his Judaic art were secular Jews looking for display pieces. But he never charged art collector prices, even as he only used the finest materials of silver and gold. Long ago, even before he became frum, he fixed his prices: $26 an hour for his work, plus materials. (26 is the gematria of yud, hey, vav, and hey, Hashem's name, so how could he go wrong?) Yossi has never changed his hourly rate — he says he doesn't believe in inflation.
How long does it take Yossi to create one of his precious pieces? He worked four-and-a-half months on a Megillah case and over a month on a Kiddush cup that I purchased last November. The Kiddush cup contains an ounce of pure gold (the gold alone is worth a little over $1,800 today). And the Megillah case came together with an antique Megillah, at least 175 years old. I paid $3,600 for the Kiddush cup, and a good few thousand for the Megillah and case, both of which I consider a real bargain.
Yossi has just completed a very detailed, heavily engraved silver Seder plate that took him 195 hours to make, and a menorah that took him 75 hours to make. His workmanship is all hand-etched and the detail and calligraphy are truly spectacular.
Yossi says his inspiration comes from two Betzalel artists, Zeev Raban in drawing, and Boris Schatz in sculpture. He might draw inspiration from others, yet his menorahs, tzedakah boxes, dreidels, Seder plates, Kiddush cups, Torah yads and Megillah cases are truly one of a kind, original art pieces. The intricate workmanship and detail are remarkable, every piece hand-chased and engraved. Before fabricating a piece, he draws intricate detailed sketches of the exact way he wishes to fashion the piece, including the calligraphy and designs that will be hand-etched onto it.
He generally uses a process known as "lost wax silver casting," an ancient art in which a plaster mold is built around an extremely detailed carved wax model, and after the mold is set, the wax is melted out, forming a cavity where the molten metal flows in.
"For me, every piece is kodesh," says Yossi. "And that means that the person buying the item and the joy the buyer has in owning the piece is more important to me than the money I earn. My real profit is the joy of the customer."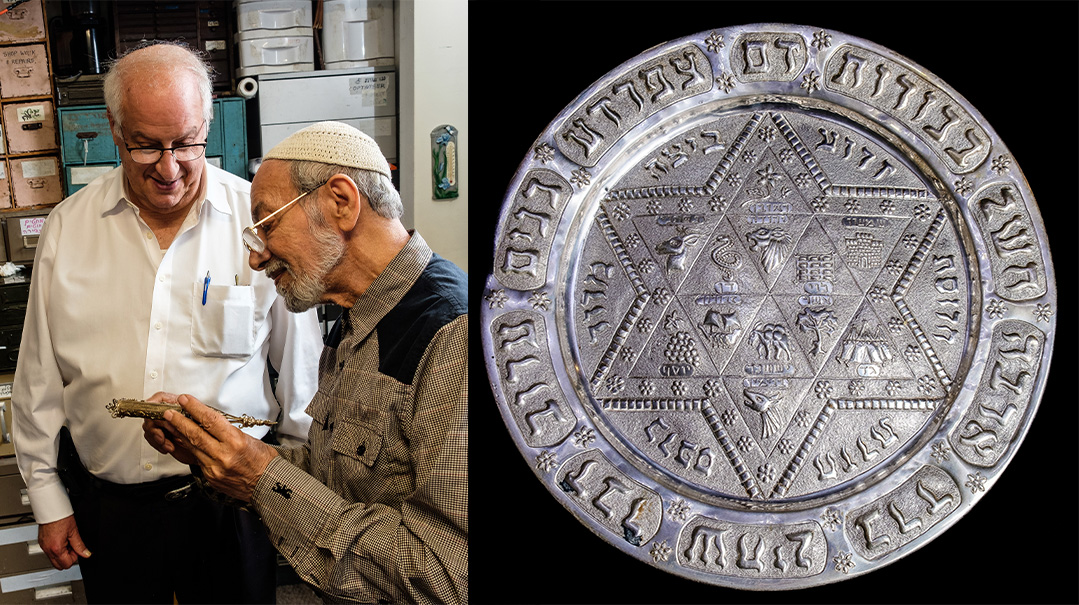 As a collector, I feel privileged to own several of Yossi's pieces, including a Kiddush cup and a Megillah case, both of which I consider to be a bargain
The Real Thing
There are many fake and fabricated Judaica pieces around. Years back, Sotheby's even stopped putting out a Jewish catalogue, as they were having a hard time with identifying the fakes from the authentic old Judaic art. Fraudulent dealers would make newer pieces look old, and credibility of Judaica became a huge issue.
I've been a Judaica silver and art collector for well over 50 years, and although I'm not an especially sophisticated collector, I purchase and collect Judaic art and Judaic paintings that, in my eyes, have intrinsic beauty. I deal with many wonderful craftsmen and extremely talented artists, and I love to invest in those who are connected to their Jewish souls. Yossie Makais is one of the finest, most talented, and humblest artists I have ever met. Now living in Baltimore with a workshop in his apartment, Yossi continues to craft magnificent works of art, with detailed handiwork rarely seen in Judaica today. But his beauty goes far beyond his art — the way he leads his life today is his true masterpiece.
Eli W. Schlossberg is a Judaic art and Judaic silver collector, Baltimore community activist, and president of Castle Consulting Group, specializing in kosher and specialty food distribution in the US and Israel. He has authored two books, The World of Orthodox Judaism (Jason Aronson, 1995), and My Shtetl Baltimore (Targum Press, 2017).
(Originally featured in Mishpacha, Issue 918)
Oops! We could not locate your form.
>