| Family First Feature |
Full Harvest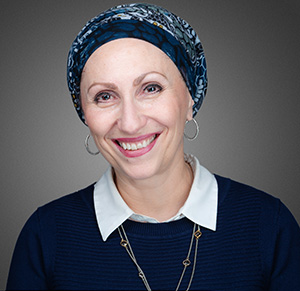 | January 6, 2021
Tamar Klompas was born a Catholic in a tiny German town. The stirring of her soul, and slow but steady growth, led her to a new life as a Jewish wife, mother, and master gardener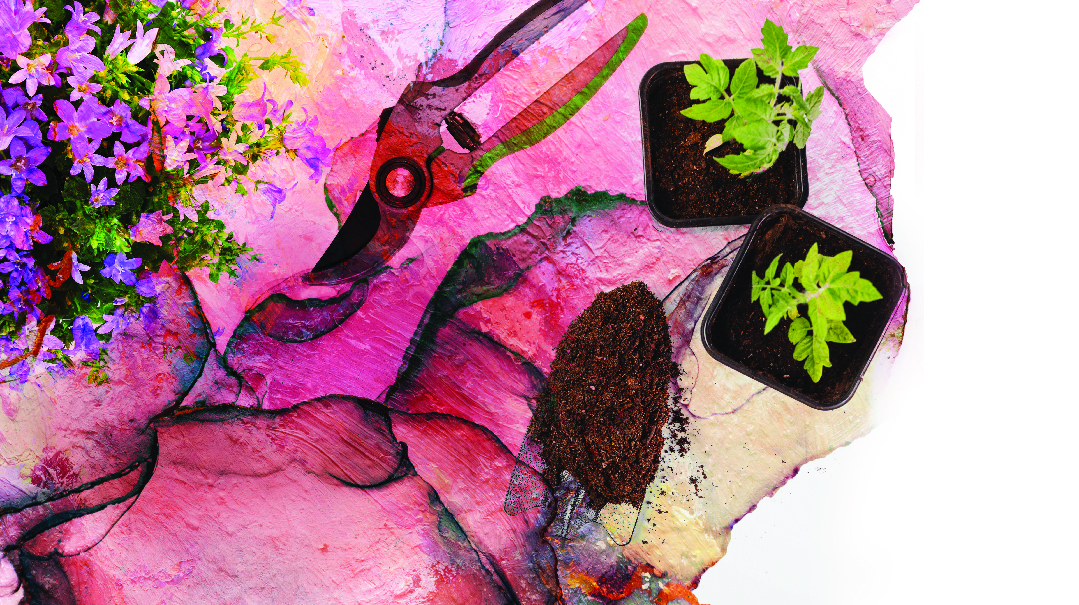 The little patio outside Tamar Klompas's home in Brighton, Massachusetts is a pleasant place to be on a summer evening. Just beyond the screen door, in the buttery light of the living room, her children are clustered around a laptop, absorbed in a science documentary. At the little table where we sit, wind chimes stir in the breeze, and a cat slinks around the garden just beyond. It's a small but well-tended space, since Tamar trained and qualified as a Master Gardener. She now helps clients design and manage their gardens, and maintains a gardening blog.
Tamar came to Brighton 12 years ago, as a 32-year-old bride. She's tall and fair, with blue eyes; she has a serene, thought-out way of speaking and moving. Today a mother of four, including a set of twins, she's well ensconced and happily settled into her life here.
Tamar's husband, Dr. Michael Klompas, is the chief of epidemiology at Brigham and Women's Hospital. Essentially, he's become the COVID czar of the hospital, their equivalent of Dr. Fauci, leading the team that manages COVID in coordination with the CDC. With his master's in public health in addition to his medical degrees, it's up to him to set policy and guidelines and make decisions for the hospital.
The Klompases met at a destination wedding in Italy neither was sure they'd attend. Tamar was a friend of the Italian kallah. Michael was a cousin of the chassan; he's a South African whose family moved to Toronto when he was growing up.
"At that time, America wasn't on my radar at all," Tamar says. "I was hoping to return to Eretz Yisrael." But they clicked at the wedding, and after a period of long-distance dating, Tamar took a deep breath, married Michael, and moved to Boston, where he had a position.
But Tamar's story really begins in a small town in Bavaria, a long distance from Jewish Brighton geographically, culturally, and spiritually.
Restless Spirit
Tamar describes her childhood home, a village 45 minutes south of Munich, as quiet and sheltered. It had a tiny population — just under 1,000 people.
"It was stifling," Tamar recalls. "Everyone has a role to perform in the social fabric of the village, and it's easy to incur disapproval." Her parents were Catholic, her father a civil servant.
Tamar describes herself as having been an introspective, contemplative teenager, prone to losing herself in brooding philosophical novels. She was intrigued by Judaism even then.
"There were no Jews in my village, and my first impression of Jews was that of victims," she says. "That inspired my empathy, and eventually made me wonder, 'Who are these people?' Most of my impressions came from the movies I saw, where I perceived Jews as refined, high-minded people with elevated values."
The Gulf War broke out during her high school years, and piqued her interest in the Middle East in general and Israel in particular. She even toyed with the idea of converting, but it was a phase that cooled and dissipated. Nevertheless, her interest persisted, and when she went to university, she signed up to learn Hebrew to gain a closer understanding of Middle Eastern culture. She majored in sociology and political science.
Shortly after she finished her exams, in 2001, her father passed away. "That was a crisis moment for me," she says. "He'd been ill for many years, and his death wasn't unexpected, but it still came as a blow. I found myself looking for answers."
The university offered an exchange program with Israel, which would allow her to pursue a master's degree in sociology and political science at Hebrew University. The following year she was on a plane to Israel.
Once in Jerusalem, Tamar made an attempt to reconnect with Catholicism. She tried going to the German Catholic Church near the Zion Gate in the Old City. "It didn't help me. It felt empty, flat," Tamar says. "Instead I felt myself drawn to the Kotel. The first time I went, I felt a real spiritual connection. I found myself going over and over again."
She fell in love with Israel, meeting Israelis of many different types. After a childhood in Germany, with its more reserved, formal style of social interaction, she enjoyed the openness of Israeli society and the feeling that everyone was part of one large, lively — if often contentious — family.
She ended up spending four years in Eretz Yisrael, making what she calls "slow, rational" progress towards Judaism. When she moved to an apartment in Ramat Eshkol, she became friendly with her landlords, Americans from Milwaukee. They and other families in the area would invite her for Shabbat meals, giving her exposure to Shabbos, kashrus, and Jewish family life. Some of her German friends had come to Jerusalem on the same scholarship program, and one of them, who'd found a Jewish boyfriend, opted to convert.
But that wasn't what Tamar wanted for herself. "I felt like many conversions there were processed one after the other, factory style," she says. "I worried that if I converted in Israel, I might be doing it for the wrong reasons — like maybe I just wanted to fit in with everyone else."
Instead, she slowly deepened her acquaintance with Judaism while working on her master's thesis. Her topic was an exploration of what goes on psychologically when men who've finished army service go back into miluim, the reserves.
When she returned home, she took an office job working for the Jewish community in Munich. At that point, in 2005, the Jewish population was about half Russian, a result of the waves of Russian Jews who poured westward in the 1990s. The other half was a mix of Jews who'd come for business, quite a few of them Israelis, and an older group who'd spent time in DP camps after the war and either couldn't procure the paperwork to go elsewhere or started businesses while waiting and opted to stay.
When she sought out a place to go to shul, Tamar found a situation she describes as "surreal." The shul was small and entered only through a backyard, with security guards keeping close tabs on who came and went. She wasn't allowed in without a letter from the kehillah, which she was finally able to obtain.
Since then, she says, they've built a huge edifice; in 2006, the community opened its Jewish Center, which houses not only a spacious shul but a kosher restaurant, a museum with its own café, a research library, an auditorium, and a mikveh.
The Chief Rabbi was Rabbi Steven Langnas, a Philadelphia native who'd married a woman from Switzerland and led the congregation in Munich. The chazzan was Israeli. Both gave shiurim, and Tamar became close to them and their families, while continuing her progress towards conversion. Since she'd already had so much exposure to Judaism — four years of living in Israel, plus her mastery of Hebrew — the process went more quickly than usual. After a year, her conversion was finalized.
"The end was relatively fast, but I went very slowly, and I'm glad," she says. "It might have been too overwhelming to take on too much too fast. When people become infatuated with something or someone too fast, they risk becoming disillusioned and giving up because the relationship isn't strong enough yet. I was able to enjoy and appreciate my growing discovery of Judaism without being focused purely on the finish line of conversion."
She chose the name Tamar because she'd had an inspiring friend at Hebrew University by that name, and she liked the way it sounded. People had always called her Tina, and the name Tamar was close enough to give a nod of acknowledgement to her parents' choice.
"I'd always liked the story of Tamar in Tanach," she says. "It shows that things aren't always what they seem; you can't judge people by their appearances."
Two years later, Tamar attended a destination wedding in Italy where she met her husband. There was a whole weekend program after the wedding, and through that, she got to know not only her husband, but his entire family. A long-distance shidduch ensued, and when things began to look serious, Tamar took two weeks of vacation to visit Boston, where Michael had been living and working for eight years.
Boston is a good fit for a European. It's clean, orderly, and historic in the manner of many European cities. It's small enough for the community to be close-knit, and the crowd is academic, cosmopolitan, and tolerant. People help each other out a lot. "My husband was already well-integrated into the hareidi community here when I arrived," Tamar says.
Nevertheless, the beginning months were hard. Michael was Canadian, not American, hence she was only able to obtain a spousal visa, not a work visa. She arrived during a particularly snowy winter, so not many women ventured to shul.
"It was isolating," she admits. "It's not easy to marry a doctor — they have such crazy hours." She'd spend time Skyping with her mother (not easy, since reception was spotty), and looked for shiurim.
But now, she says firmly, Boston is home, and she wouldn't see herself anywhere else except Israel. "It's really hard to raise healthy Jewish kids in Germany," she says. "I don't see much of a future for Jews there. In Munich there's one Jewish school, and it's like a fortress, with police stationed outside. People feel threatened and isolated, and they're afraid to show their Judaism publicly."
Tamar and Michael now have four children ages ten through five, including their five-year-old twins. "My mother came when the children were born to help out," Tamar says. "She's trying to learn English, and I've taught my kids some German, and they manage to understand each other. The Bavarian German we speak is actually pretty close to Yiddish."
Her mother has been very accepting of Tamar's conversion — she even accompanies the family happily to shul — although Tamar's brother in Germany, who leads a completely secular lifestyle, has a harder time understanding her choices.
Tamar's in-laws come in from Toronto several times a year, and Michael's sister lives in Boston not too far away.
Tending Her Garden
By the time she was a mother of two, still without a work permit, Tamar realized her chances of going back to work were slim. A creative person who likes to dabble in new recipes (baking challah is one of her favorite mitzvos), decorating the house for Jewish holidays, and knitting, Tamar decided to pursue her interest in gardening by enrolling in a master gardening course with the Boston Horticulture Society.
It was a surprisingly intense course of study that involved ten weeks of study during the spring and fall, and volunteer hours in various locations during the summer, with an exam at the end. She learned about specialties in gardening, gardening in different seasons, plant diseases, even how to deal with clients.
Tamar started a blog about gardening, and began accepting clients to help with their gardens. "I don't do landscaping," she qualifies. "I'm not one of those people who come with the big machinery to reshape the terrain." Instead, she advises people on what sorts of plants to use in what areas, how to combine them most effectively, and how to care for them.
When she started, she had a small space in front of the building where their condo was located, but the local dogs and salt from the sidewalk in winter wreaked havoc on anything she planted there. She created a solution by installing raised wooden planters, where her flowers and plants thrived and attracted butterflies and bees. When they moved to their current house, she finally had a small backyard where she was able to start a real garden.
We descend several steps from her little terrace into the backyard, where the back fence and the area just in back of the house are lined with plant beds. A trellis of roses grows against the back of the house, and Tamar has a very large variety of plants given the small space: hosta, hydrangea, coral bells, bleeding hearts, forsythia, day lilies, black-eyed Susans, pink-blossomed Echinacea. There are vegetable plants too — pea plants and potato plants. "My son's project," she says proudly.
A small structure that looks like a birdhouse is actually an insect "hotel." "Today's gardens are so sterile; they don't allow places for beneficial insects to hide. But gardens need them," Tamar explains. "For example, some insects protect plants from other pests. I had aphids on my parsley and basil, so I ordered a bag of lacewing eggs. I hung it up, and when the lacewings hatched, they ate up all the aphids.
"We call this integrative pest management," Tamar says. "You have to be respectful of nature, and use your seichel to manage it. After all, it's the bugs' environment. We just take care of it." One of her friends nearby has a beehive, and the bees fly to Tamar's garden and pollinate her plants.
The suburbs of Boston are prey to visits by rabbits, wild turkeys, and even the occasional coyote. The family's large cat, Mittens, helps keep them out, despite her well-fed, complacent air (she slinks around the garage as we approach, disappearing like a puff of gray smoke).
Tamar and Michael have inculcated a love of nature and the outdoors in their children. Her sons belong to an Orthodox chapter of the Cub Scouts, and every year — usually Memorial Day weekend — their contingent goes on a Shabbos campout near the Delaware Water Gap with other shomer Shabbos troops.
The boys enjoy hikes, birding, and minyanim in fresh air; they kasher the kitchen facilities and put up an eiruv. "The Scouts teach good values that tie in well with Jewish ones," Tamar says, "like showing respect for nature and for other people, and giving back to the community."
This summer, due to COVID-19, her children have been home with her. "It was Camp Mommy," Tamar says cheerfully. "Fortunately, my kids don't seem to need camp. I have a large enough house and yard for them to play. I decided to put work aside and just focus on enriching our time together. It actually ended up being a magical time — we bonded in a great way."
As we speak, Dr. Klompas arrives home now (he's put in a long day, since it's close to 9:00 p.m.) He enters the backyard from the driveway, and Tamar introduces me.
At the sound of his voice their four children come tumbling out of the house in pajamas, jumping on him in their excitement and babbling one over the other in their eagerness to relate their day. It's a lovely scene, a family reunited as their heroic father returns from battling a national scourge.
Boston, Judaism, a lively family — all this is so far from the place Tamar started out. Yet like the flowering plants behind her, Tamar has put down strong roots and blossomed.
Care for Your Garden Off-Season
While fall and winter may seem like sleepy times for gardens, there's lots a good gardener does to ensure she'll have bright blooms in the spring. Here are Tamar's top tips:
As the fall and winter months approach, a gardener still has many things to take care of. Shrubs and small trees — which are often upstaged by flowers and seen as background — now take center stage. Strategically placed, they provide a focal point in otherwise barren yards. Choose their location wisely, taking the sunlight requirements and soil conditions into account, and make sure the plant's mature size and natural shape can find full expression in its designated spot.
Many deciduous shrubs and small trees put on an amazing show of fall foliage: wine-red oakleaf hydrangeas, gold and copper "amber jubilee" ninebark, maroon-purple viburnums, and red, orange, and yellow witchalder (fothergilla). Opt for contrast with a splash of color: dark red winterberries against the snow, or crimson red-twig dogwoods. Evergreen shrubs keep their foliage year round, and create an eye-soothing green oasis in the winter landscape.
"Bedtime" for your garden
Fall and winter are a perfect time to take stock. What did well in the past growing season? Which plants died, and which are taking over the garden bed? You may need to move some plants so that they grow better, or prune out plants that grew too much. Spend some of those long winter evenings with a plant catalog or a gardening book and plan for spring.
Put your garden to sleep and tuck it in well, making sure your plants don't go to sleep in a "messy room." Remove all spent, diseased, and dead plant material, which is crucial to prevent pest larvae, fungal spores, and diseases from cozying up under a protective layer of debris and taking over your garden beds. Remove invasive plants and noxious weeds.
A one-to-two inch layer of compost makes a nice, cozy blanket for your beds and borders. Over time, with winter rains and snow melt, nutrients will leach into the soil and prepare it for a successful new growing season.
Mulching adds a protective layer. You want to apply two inches of mulch as soon as the soil is frozen. Make sure not to mulch all the way up to or over your plants.
Give your garden a good drink of water before it goes to sleep. Evergreens in particular need to be well hydrated before and in between those killing frosts. The main damage these plants suffer over the winter is not frost damage, but winter desiccation. If their moisture isn't replenished, the needles will turn brown and die. Occasional deep watering (slowly trickling water for an hour or so) is important during late fall and winter, during periods when the soil isn't frozen.
As Spring Approaches
In the late winter, inspect your shrubs for winter damage and cut out all dead and injured stems. Next, tidy up and shape your shrubs as desired. Remove dead foliage and leaves that have accumulated around your plants. Perennials stalks left over the winter should be cut down to make room for new growth. This should be done carefully, as tender shoots sometimes hide in between spent stalks and foliage.
Once the danger of severe, killing frosts has passed, remove thick layers of old mulch and use a cultivator or your hands to work the lower layer of decomposed mulch into the soil. Applying compost or an organic fertilizer around your plants can give them a nice boost.
Although it's tempting, it's not a good idea to start working the soil too early. Soil that's still saturated with melting snow compacts easily and makes root growth difficult. You can start new seeds indoors. This is a great activity to get young children involved, and it gives everyone satisfaction to watch a plant develop close up.
On Bulbs
Packages and labels will give you an idea how tall your flowers of choice will grow. A rule of thumb is that the bigger the bulb, the bigger the bloom. Make sure to give the little snow drops and croci a chance to shine by placing them in the foreground, while planting taller flowers in the back.
A healthy bulb is firm and heavy for its size. There shouldn't be any dark patches or light splotches. Bulbs that seem very light are likely dried out and may not be viable. Soft, spongy spots are signs of rot and better discarded.
To prepare the planting site, loosen the soil to the appropriate depth (five to eight inches, less in very heavy clay soils). You might want to add some compost to boost your soil's nutrients and organic matter. Bulbs hate "wet feet," and too much soil moisture will make them rot. They thrive in sun (remember, we're talking early spring, and many spots that will be shady later in the season will be sunny now).
Cluster your bulbs to get more bang for your buck, avoiding "lone soldiers." Not all spring bulbs bloom at the same time. There are early-season, mid-season, and late-season bloomers. It can be charming to group them in a way to have different spots "pop up" at different times, or even to plant early and late bloomers in the same cluster for a full-season show of color.
(Originally featured in Family First, Issue 725)
Oops! We could not locate your form.
>