| Recipes |
Fresh Tuna Tacos 
| October 10, 2019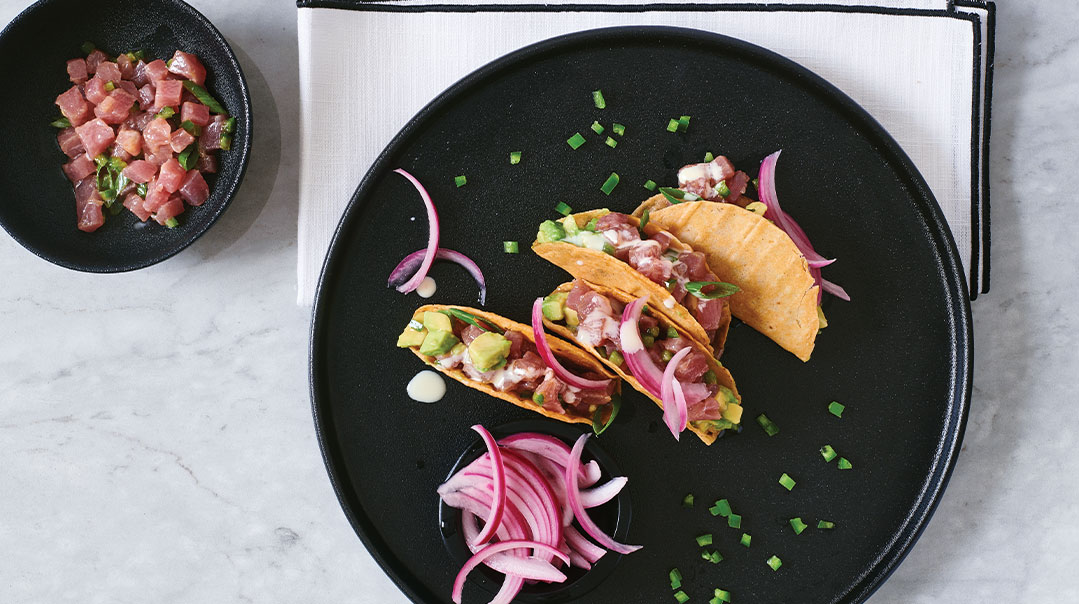 Food And Prop Styling By Renee Muller Photography By Cayla Zoharan And Moshe Wulliger 
Fresh Tuna Tacos 
These tasty tacos are fabulous served as a snack, as an appetizer, or served alongside a slice of salmon to bring the presentation to another level. Any way you decide to serve them, they're guaranteed to be a hit. 
YIELDS 18 MINI TACOS 
1 lb (450 g) sushi-grade tuna, diced finely
¼ tsp ground ginger
3 Tbsp lemon juice
2 Tbsp olive oil
2 Tbsp soy sauce
2 Tbsp mirin
1 Tbsp rice vinegar
1 Tbsp sesame oil
2 Tbsp honey
2 scallions, diced finely
1 jalapeño, diced finely
QUICK PICKLED ONIONS
½ cup hot water
¼ cup Lieber's cider vinegar
½ Tbsp sugar
¾ tsp kosher salt
1 red onion, thinly sliced into half-moons
WASABI AIOLI
½ cup mayonnaise
2 Tbsp rice vinegar
1 tsp wasabi powder
1 Tbsp honey
FOR SERVING
3 pkgs Del Campo mini taco shells
guacamole
additional diced scallions and jalapeño,for garnish (optional)
Place diced tuna in a medium-sized bowl. Add remaining ingredients. Stir well until tuna is evenly coated. Let sit for 20 minutes to allow flavors to meld.
For the quick-pickled onions: In a 1-cup measure, mix water, vinegar, sugar, and salt until sugar and salt are mostly dissolved. Place sliced onions in a small bowl. Pour pickling mixture on top. Allow to sit for 30–60 minutes.
For the wasabi: Whisk all ingredients in a small bowl. Refrigerate until use. (Can be refrigerated for up to 2 weeks.)
To serve, fill taco shells three-quarters of the way with the tuna mixture. Top with guacamole and pickled onions. If desired, garnish with additional scallions and jalapeño bits. Drizzle with wasabi aioli.
(Originally featured in FamilyTable, Issue 663)
Oops! We could not locate your form.
>