| Recipes |
French-Toast Grilled Cheese
| December 21, 2021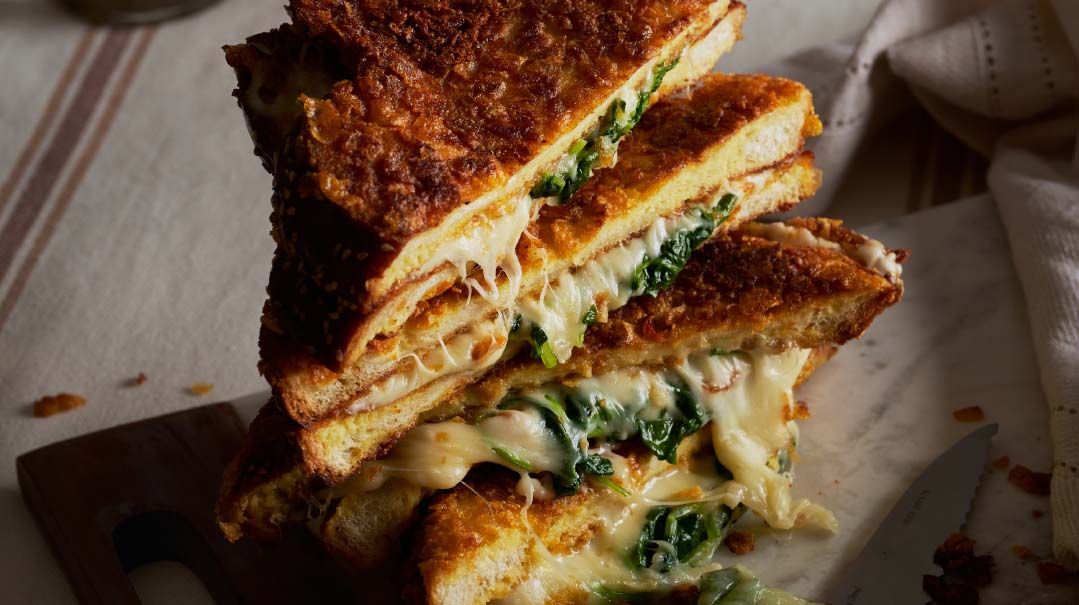 Props and Styling by Mindy Rubin
Photography by Hudi Greenberger
This recipe was inspired by my last vacation trip to Miami, when I did brunch at Zak the Baker. I ordered a grilled cheese sandwich, which was prepared on French toast bread and then pan-fried into a sandwich. I took this a step further and coated the French toast in cornflakes, then pan-fried it into a grilled cheese sandwich stuffed with sautéed baby kale for that extra Melaveh Malkah crunch!
YIELDS 3 FAT SANDWICHES
6 slices challah
4 eggs
¼ cup milk
½ tsp salt
hand-crushed cornflakes
3 Tbsp olive oil (or butter), divided
6 slices mozzarella cheese
Sautéed Baby Kale
1 Tbsp olive oil
2 cloves garlic, crushed
pinch or 2 salt
2 handfuls baby kale (or baby spinach leaves)
Prepare the sautéed baby kale: Heat olive oil in a small pan. Add crushed garlic and salt, then add baby kale. Mix for a few minutes until it's nicely wilted. Remove from heat and set aside.
Prepare your sandwiches: Whisk the eggs with milk and salt. Dip the challah slices into the egg mixture, then coat in crushed cornflakes.
Heat a frying pan over medium heat and add 1 Tbsp olive oil or butter. Place 2 slices of coated challah in the pan and let them brown for 2–3 minutes. Flip only 1 slice of challah. Place 1 slice of mozzarella on top, then add a third of the wilted baby kale and another slice of mozzarella. Lift the second slice of challah over the cheese (the browned side should be on the cheese). Cover your pan for 2–3 minutes. Flip the sandwich and cover again for another 2–3 minutes. The cheese should start melting by now (you'll hear it in the frying pan). Remove to a plate and repeat with the next two sandwiches.
And like they say, the rest is history.
(Originally featured in Family Table, Issue 773)
Oops! We could not locate your form.
>