| This Way That Way |
French-Fried Onions
| November 29, 2022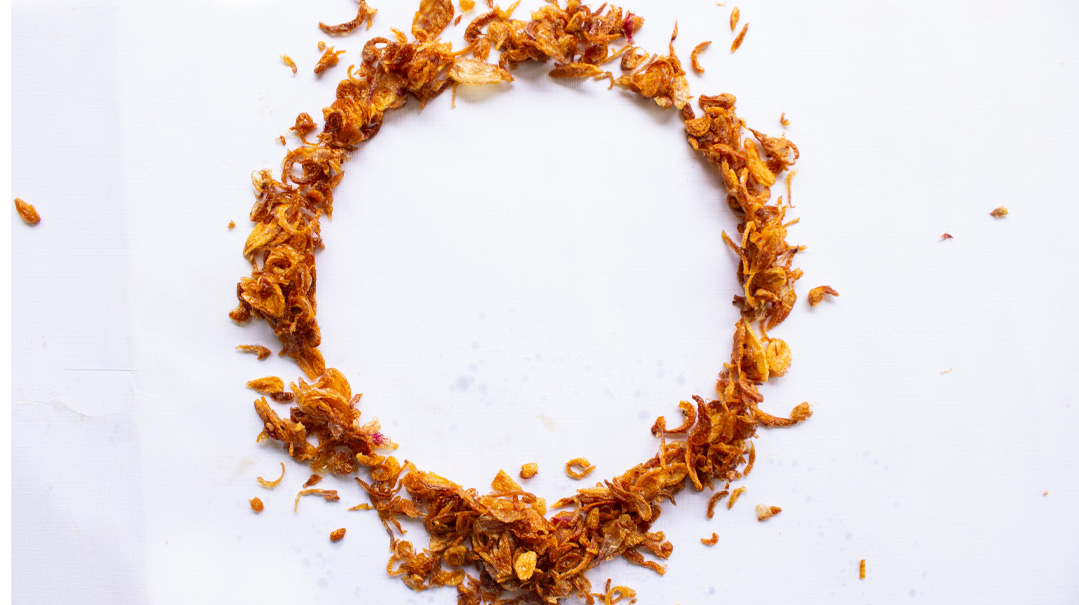 French-fried onions, those crispy little dish enhancers that are a quick and handy upgrade in both texture and flavor, are a pantry staple that can be used in a whole host of ways! They're great as a salad crunch, crushed and added to breading, added to mashed potatoes, or sprinkled over a frittata; your imagination is the limit.
Keep It Crispy
Name Game
French-fried onions are also referred to as "onion straws" or "onion strings."
Origin Story
They're not actually French but are cooked the same way French fries are — aka deep fried — and are most commonly produced by the French's company, to make things even more confusing.
Worldwide
Scandinavian countries use crispy fried onions as a hot-dog garnish, and Indonesia's bawang goreng (crispy shallot) is a garnish on rice dishes, stews, and soups.
Savory Crumbed Vegetable Bake
Recipe by Faigy Grossman
I love the savory taste that the mustard adds to these crumbed veggies; a salty spiciness that had me reaching for doubles and triples and… Oops — the bowl was empty!
SERVES 8
¾ cup bread crumbs
4 Tbsp oil
½ cup French-fried onions, chopped into small crumbs
½ tsp mustard powder
1 lb (450 g) frozen chopped broccoli
1 lb (450 g) frozen chopped asparagus
5 oz (140 g) shredded carrots
2 tsp onion soup mix
½ tsp salt, or to taste
1 tsp mustard
Preheat oven to 350°F (175°C).
In a large skillet, toast bread crumbs in oil until light brown and crisp. Add in French-fried onions and dry mustard. Stir to combine and then set aside.
Place remaining ingredients in a 9x13-inch (23x33-cm) oven-to-table casserole dish or baking pan and stir until well combined. Cover tightly and bake for 50 minutes, or until vegetables are tender, yet still a little crisp.
Uncover and mix gently until pan juices are evenly distributed; sprinkle crumbs over vegetables. Return to oven for an additional 10 minutes, uncovered. Remove from heat and serve.
Note: This can be served at room temperature too.
Feta-Topped Red Cabbage Salad
Recipe by Brynie Greisman
I like to combine fresh and cooked veggies in a salad for optimum flavor and texture. Here red cabbage is dressed with a light, creamy dressing and topped with sautéed peppers, feta cheese, and crispy fried onions. This recipe makes enough for a crowd so adjust the quantities to your needs.
SERVES 20
2 Tbsp olive oil
2 red peppers, diced
2 yellow peppers, diced
1 light green pepper, diced
2 generous handfuls dried cranberries
1 2-lb (910-g) bag shredded red cabbage
Dressing
⅓ cup mayonnaise (I used light)
2 Tbsp silan
2 Tbsp brown sugar
2½ Tbsp lemon juice
4 cloves garlic, crushed, or 4 cubes frozen garlic
½ cup water
½ cup sugar-free applesauce
½ tsp salt (or to taste)
Garnish
4 oz (110 g) feta cheese, grated
crispy French-fried onions
roasted sunflower seeds (optional)
Spray a large frying pan with cooking spray and heat olive oil. Add peppers and sauté for 10 minutes or until lightly softened. Add dried cranberries and continue sautéing, stirring occasionally, for 10 more minutes. Remove from heat and cool.
Mix all dressing ingredients together in a medium-sized bowl, preferably with an immersion blender.
To serve: Place cabbage in a large bowl. Add peppers and dried cranberries and mix together gently.
Add dressing and stir to coat.
Sprinkle feta cheese over the top. Garnish with crispy fried onions and/or roasted sunflower seeds.
Crunchy Honey-Mustard Salmon
Recipe by Naomi Nachman
This recipe will make your picky eaters want to try salmon! The crunch and flavor of the onions makes it a winner with everyone.
SERVES 8
1 2-lb (910-g) side of salmon
1 Tbsp Dijon mustard
2 tsp soy sauce
1 tsp oil
1 Tbsp honey
3 cubes frozen garlic
½ tsp kosher salt
1 cup French-fried onions
Preheat oven to 350°F (175°C). Place salmon on a baking sheet lined with parchment paper.
In a small bowl, mix together the mustard, soy sauce, oil, honey, garlic, and salt. Pour over salmon.
Top the salmon with French-fried onions.
Bake for 20–25 minutes, until cooked through.
(Originally featured in Family Table, Issue 820)
Oops! We could not locate your form.
>