| Recipes |
French Fried Onion Salmon | October 23, 2019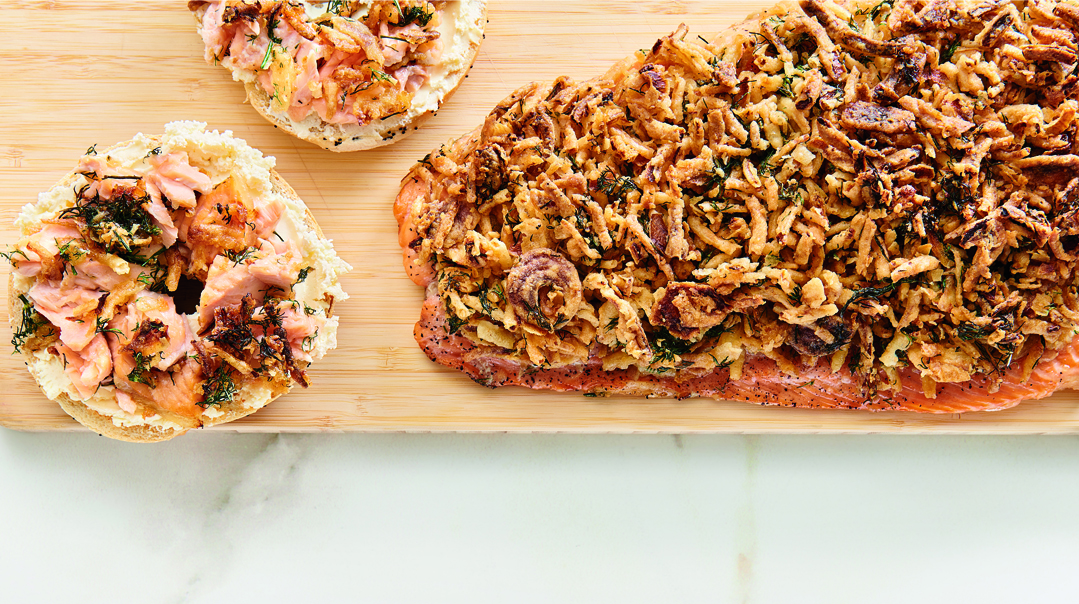 French Fried Onion Salmon 
YIELDS 6 SERVINGS 
1 skinless, boneless side of salmonor 6 individual fillets (about 2 lb/1 kgtotal)
kosher salt
black pepper
1½ cups French fried onions
¼ cup chopped fresh dill
1 Tbsp extra light olive oil
2 cloves garlic, minced (about 1 tsp) • 2–3 Tbsp honey
Preheat oven to 350°F. Line a large rimmed baking sheet with parchment paper.
Place salmon onto prepared baking sheet. Sprinkle generously with salt and pepper.
In a medium bowl, stir together onions, dill, oil, garlic, and honey. Spread mixture evenly over salmon.
Bake, uncovered, for 12–18 minutes, or until salmon flakes easily when pierced with a fork. Serve hot or at room temperature.
Salmon Bagels 
Prepare recipe as directed. Slice open 6–8 bagels; spread with cream cheese. Top with chunks of salmon. Great for brunch.
(Originally featured in FamilyTable, Issue 664)
Oops! We could not locate your form.
>