| Fork in the Road |
Fork in the Road
| May 8, 2019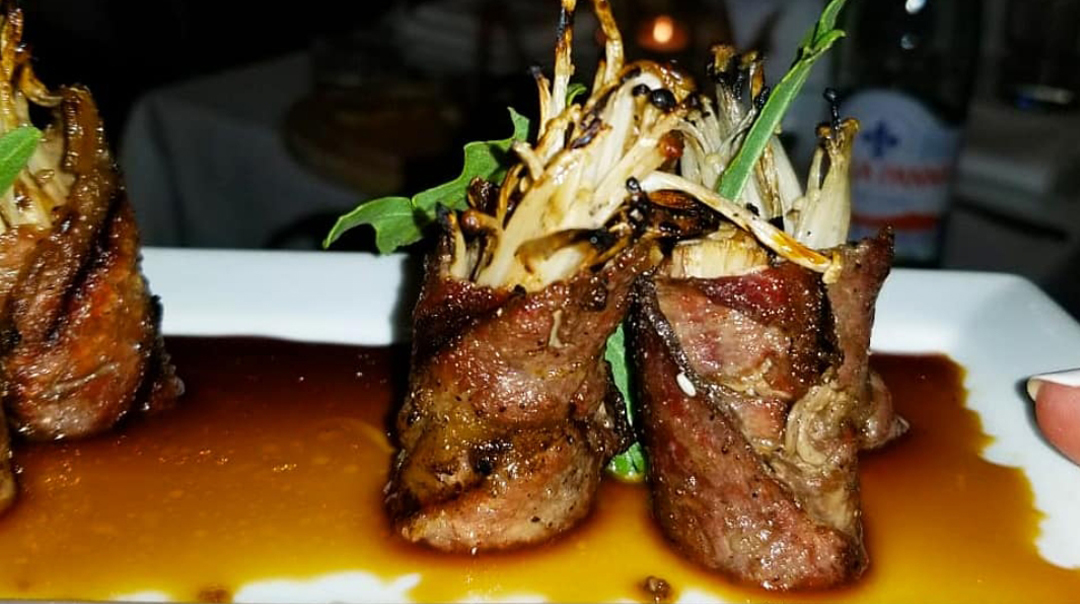 Text And Photography By Rivki Rabinowitz
Marron Bistro:
948 EGLINTON ­AVE­ W
TORONTO ONTARIO ­M6C 2C5
HASHGACHAH: COR
Hi, I'm Rivki Rabinowitz, and I love enjoying or creating a great meal, speaking in adjective-heavy run-on sentences, and speaking in adjective-heavy run-on sentences about a great meal. You may know me as a fitness enthusiast whose excitement for colorful vegetables elicits comments like, "Have you ever even tried a cinnamon bun?!" But you can also know me as someone who enjoys indulging in a fabulous spread with friends
and family, at our table. Our family table.
Family Table unites writers and readers worldwide, and our ability to connect as a team never ceases to amaze me. And so, Michal — I'll sit here and enjoy this meal in your stead, and next column, we dine together. Do we have a deal? Now, if you were to ask me the kind of restaurant that would encourage repeated visits, I would probably say it should feel unpretentious and welcoming, and the service should be friendly but professional. And the food? It should carry with it the familiarity of a good meal once had, yet excite the palate enough to feel like a treat out. Call me a mathematician, but add the sum of these factors, and it will become clear to you too why Marron Bistro has stayed a consistent force in the unpredictable Toronto food scene.
A quaint red doorway opens up to the small dining area that seats 40. The lighting is dim enough to feel like fine dining, but not too dim as to become irritating. (It can't just be me that finds it annoying when my eyes start training to see that beet emulsion, can it?) We are greeted by the owners, Armando and Enny Cohen. They are the power couple behind D-Lites, a dairy eatery opened twelve years ago, and Marron, now three-and-a-half years old. The calmness here is a treat, since a frenetic maître d' will easily negatively affect the mood of the dining experience. As busy as it gets here (and it certainly does get busy!), Armando greets each guest with a warm hello — truly calm, truly enjoying himself, and the atmosphere reflects the love with which he runs the restaurant.
Jeffrey, Marron's long-time server, begins the night with two cocktails. Now, I don't really have a go-to drink (if you were to ask me, I might stutter "red wine"), but these cocktails were a hit, with that perfect spot between sweet and refreshing. Marron's take on a Negroni stood out. It was made of gin, Cinzano, Drambuie, orange juice, and ginger syrup, and that gives me five reasons right there that I am feeling pretty pleased with myself for having come equipped with a notebook. I direct a barrage of questions at the bartender, and scribble with a single mindedness like it's Olympic trials for note-taking.
Each item on the menu is made in-house, an attention to detail not lost on us. We begin the meal with grilled sardines on bruschetta, topped with salsa verde and quick-pickled onions. You know this dish is a success because neither of us is saying, "Are these the same as the ones in the can?" (No, NO, just no.) The bite is crisp, salty, and briny, and complex.
Nothing quite excites me the way an interactive dish does, like, say, fondue. So when the tapas platter arrives, I'm pretty much bouncing in my seat. A huge board, Marron's platter is an amalgamation of charcuterie, Mexican appetizers, and vegetable starters. Armando and Jeffrey guide us through the impressive platter. My first bite is the duck prosciutto over cornbread and cranberry relish, and I delight in the fall flavors. There is a turkey terrine with pistachios and cranberries that's well-seasoned and smooth. While at ­first I imagined I'd take delicate little samples of everything, everything is too good to stop at small tastes. There is the grilled merguez, turkey and lamb salami, and adorable little lamb sliders. Of course, my husband slathers his with the bone marrow and I know he's found his favorite bite… so far.
I continue my way through the platter, enthused at the trio of dips, pickled cauliflower, cabbage, and pineapple, as well as the f­laxseed-walnut bread smothered with onion jam that I keep coming back to. The combination of the dense, seeded loaf and caramelized onions, together with the creamy liver mousse, makes for a layered ­flavor bomb. Whenever I see roasted eggplant on a menu, it's on the order. Marron's version is an umami explosion, with a miso and maple-caramelized exterior, and a creamy and soft ­flesh. I realize that we might have had to come to terms with the fact that there's no more left when our forks begin shredding the peel.
Armando begins to tell us his origin story, and the prevailing theme is simply this: He loves what he does. In a day and age where complaining about the stressors of one's job is the new small talk, it's refreshing to see the excitement he still has in the restaurant business — one he has been involved in for 18 years. While living in Israel, attending university, and serving in the Israeli army, he managed Rienzi (Fine Dining Experience 1868 is now in its stead), and even managed to utilize the sommelier course he'd taken to win wine competitions for the restaurant. It's with the same drive and multitasking abilities that he's tackled the food business in Toronto. One of the most beloved appetizers at Marron is their beef-wrapped enoki mushrooms. Often, I order something other than meat when I go out to eat (you can silence the gasps now). However, this appetizer hits the spot because I'm getting all the ­flavors I crave in red meat, but in mini-sized. The hoisin marinated meat gives it a crispy bite, since it's cooked to a perfect medium-rare. Jeffrey brings out one of their newest dishes, which is a salute to Latin-American street food. Its components are from a cuisine I've long admired for its unabashed usage of bold seasoning: tequeñas, semolina ­lour dough wrapped around merguez, the fun bite I didn't know I needed; arepas, a crispy pancake-like little sandwich stuffed with braised chicken (aka "tinga") and pickled vegetables; and empanadas stuffed with chorizo. I found the arepas to be at that perfect juncture between crispy and indulgent, and bright and fresh. Memorable!
Just when I started humming Dayeinu, out comes the pièce de résistance. (Did I hear trumpets accompany its descent to our table?) The smoked platter plate was aromatic, tempting, and simply divine. First I had to simply gaze at the pepper-crusted beef cheek, smoked tongue with sriracha barbecue sauce and lemon garlic aioli, and barbecue beef ribs; then I dug in as I waited for my husband to emerge a good few minutes later from beef-induced bliss.
To add to the excitement of the experience was the enthusiasm of the staff as they presented each dish and their passion in explaining every homemade condiment,rub, and detail; and the sum total of all these minutiae is what helped create Marron's signature homey ambiance.The harmony between the chef, kitchen staff, and servers is obvious in the warm service and wonderfully presented dishes.
Has it become repetitive when people say that they don't expect much from pareve desserts? Okay, I'll rephrase. Generally,I don't expect as much from pareve desserts as I do from ones made with cream, butter, dreams, and rainbows. But Marron's house-made double chocolate cake, apple pie, and coconut pudding with tropical fruit sauce took a wonderful meal and cemented it as being even one degree greater than wonderful. I am partial to all things coconut, and particularly enjoyed the richness of the pudding. I would be remiss if I didn't mention that this got washed down with our after-dinner drink:amaretto, sparkling wine, lime, and lychee juice. Of course, the bartender must have known I would be ambitious enough to try and recreate the negroni, so he threw this digestif my way. Checkmate.
A positive food experience can have the ability to simultaneously push boundaries and evoke feelings of nostalgia like nothing else can. When analyzinga dish down to its core and considering its positive components, it is often the abstract that creates the success: attention to detail, creative output, the adrenaline of a new idea, patience as it comes to fruition,and a team working harmoniously to execute it. From my experience at Marron, it's the combination of all of these factors, and simply the great f­lavors of the food, that keep the cogs turning, and that's why there's no such thing as a customer who doesn't return.
FAVORITE­ DISH:
The combination of cornbread,cranberry relish, and duck prosciutto was a real hint of nostalgia for me. These are flavors I could return to for every meal.
TRYING­ THIS­ AT­ HOME:
The flaxseed walnut bread had that wholesome nuttiness I love,and with its versatility in flavor I can see it going well with hot almond butter, or onion jam, or even roasted red peppers.
WORTH­ COMING ­FOR:
The smoked beef ribs were a meat lover's paradise. I say this justifiably: my husband (said meat lover) was legitimately in paradise.
LOW-KEY­ DELICIOUS:
Miso eggplant. Creamy fresh +crisp outer layer + full-bodied flavor = addictive.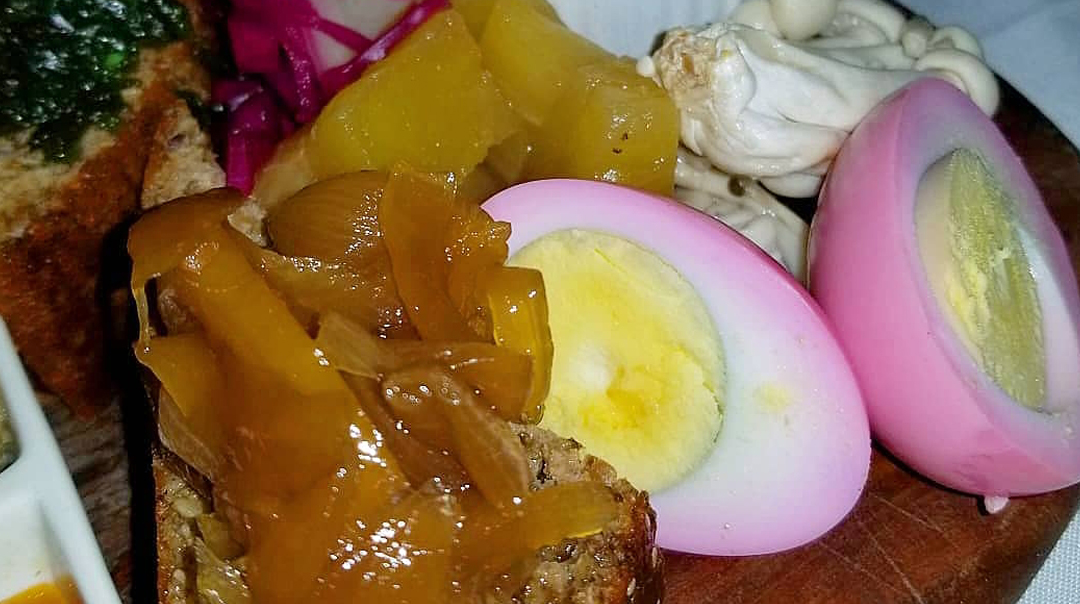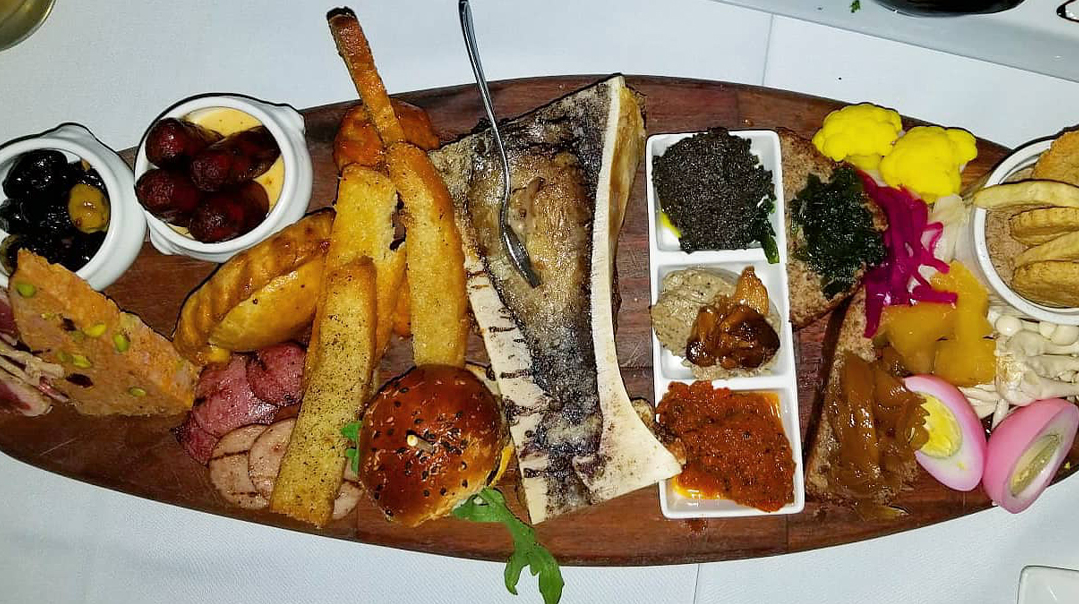 (Originally featured in FamilyTable, Issue 641)
Oops! We could not locate your form.
>