| Family First Serial |
For Granted: Chapter 9
| September 19, 2023
"Because obviously I'm totally incapable of doing any serious job on my own," she muttered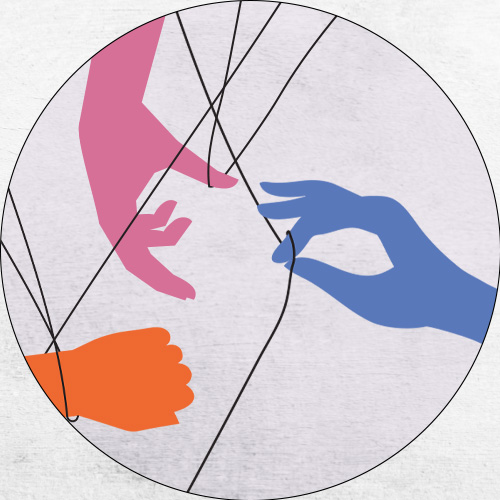 Dini squinted at the logos that Michal, the graphic designer, had sent her.  Blue or red? Angled or rounded font? The one with the hands or the one with the heart? She tried to picture each one on a brochure or website or email signature. Which would look most attractive? Most professional?
Which would make someone as savvy as Adele Samson sit up and take notice?
Dini tapped her finger on the desk. How was she supposed to know? She needed to consult with someone. Ayala? Dini frowned. Ayala had left this project in Dini's hands; Dini fully planned on handing her a finished, highly polished work, to justify her friend's trust. Besides, Ayala had many amazing qualities, but a flair for style was not one of them.
Her family? It made sense to solicit her parents' and siblings' opinions — after all, they were exactly the population she was looking to target. But did she really want to give them a seat at the table?
She could picture exactly what would happen. The family chat would explode with everyone's opinion — her father's, her mother's, her brothers', Eliana's — and they would argue back and forth about which option was best, until concluding that none of the logos were professional enough, and what had Dini been thinking, hiring some no-name Israeli graphic artist? ("No-name," of course, meaning no one that they'd heard of. What did it matter if Dini had done hours of research speaking to friends who owned businesses?) The family consensus would inevitably be that she needed to scrap them all and hire Top Designer X, who only worked with the most exclusive clients and generally had a six-month waiting list, but don't worry, Tatty or one of her siblings would arrange it. And presto! Her family would swoop in to save her project, and all she'd need to do was sit back and be grateful.
"Because obviously I'm totally incapable of doing any serious job on my own," she muttered.
"Do you usually talk to yourself when I'm not home?"
Dini jumped as Shuki sauntered into their guest room, which she was using as an office. He was grinning.
"Shuki! You almost gave me a heart attack! I didn't hear you come in!"
He sat down on the bed. "I bought the Grill Bar special platter, and it was too much for me to eat alone." He winked. "Also, I figured you were so busy working on your project, you'd probably forgotten to eat lunch. So…." He waved a hand toward the open doorway. Leaning over, she spotted several take-out bags sitting on the dining room table.
She turned back to him, wide-eyed.  Why did she forget just how thoughtful her husband could be?
"Thanks," she said, smiling back at him. "That was really nice of you. And I'm starving!"
"Good, 'cause I am, too."
"Busy morning?" she asked as she stood up.
He shot her a quick glance, as if trying to decide whether or not she was being sarcastic. Dini wasn't sure herself; the realization made her blush.
"Yeah, actually," he said as he walked into the dining room and began unpacking the food. "Spitzer, you know, in the cubicle next to me, was having some issues with a client. The guy was driving him nuts, nothing was good enough, he kept adding more work to their original project, everything needed to be done immediately. You know the type."
Dini nodded, even though she didn't know the type. What experience did she have with clients, nightmarish or otherwise? For that matter, what experience did Shuki have with nightmarish clients? He worked for his father!
But he said he'd had a busy morning. Did that mean listening to Spitzer vent for hours? Did guys do group therapy sessions?
"So, where'd you come in?" she asked.
Shuki pulled a lamb chop out of the container. "He needed coaching. How to talk to the client, set boundaries. Be assertive without sounding aggressive."
"And you were able to help him? Wow."
He raised an eyebrow. "Sounds like you're surprised."
Dini took a bite of steak and chewed as she thought. Why should she be surprised? Shuki was fabulous at interpersonal skills; he always knew the right things to say and the right way to say it.  She still remembered the incident during their shanah rishonah, when several families in their building had gotten into a fight over one apartment's renovations. That was back in their old building, when Ayala had been their neighbor. Ayala's husband, Naftali, had quietly stayed out of the fray, and Dini had expected Shuki to do the same. After all, they were only renting; what did they care?
But instead, Shuki had jumped right in, somehow convinced all the warring parties to meet, and, in his easy, persuasive style, managed to restore shalom. With his broken American Hebrew.
Dini still remembered that glow she'd felt, that feeling of pride that this was her husband. When had it faded?
(Focus on his good qualities, her marriage mentor used to tell her; why did she have so much trouble doing that?)
"Not surprised," she answered quickly. "Just that I didn't know you did, like, corporate coaching." She laughed lightly, adding, in an attempt to make up for doubting him, "Hey, maybe you can start a business."
Shuki's lip curled. "Great idea. How much of a salary cut are you willing to stomach?"
Dini blinked. "No, I meant… y'know, on the side. In your spare time."
Shuki took a bite of his lamb chop. He waited to swallow and wipe his mouth before saying slowly, "You mean, since I don't have any real work to do anyway." His face flushed slightly.
Hers flushed deeper. "No! That's not what I meant! I know you're busy with — with, uh, billing and inventory and stuff…."
"Yes, I am. Believe it or not."  His eyebrows crinkled slightly as he stared down at his plate for a moment. Then he looked up, and Dini was relieved to see his usual smile back on his face.
"But enough about me. How's your big project going?"
Glad for the change of subject. Dini said brightly, "Great. The graphic designer sent me a few logo options. Now I need to choose one. It's confusing. I really need some advice. I was thinking of asking—" She hesitated, wondering if she should let him in on her deliberations about her family.
Shuki cleared his throat. "Want me to take a look?" he asked, a bit too casually.
Her eyes widened. She hadn't thought to consult with Shuki. Now she wondered why not; Shuki had an awesome sense of style and trends, and knew what spoke to people.
She grinned at him. "That would be amazing!"
Later that evening, Dini opened the email from Michal.
Thanks for the feedback, your comments were really on target. Here are the updated logo options, with your requested changes. Tell me what you think!
She eagerly opened the document, and immediately felt a quickening of excitement. Yes! This was what she'd had in mind! She smiled to herself; Shuki had really done it. She'd been astounded by his perception, by the way he'd looked at the different logos on the screen and instantly identified which colors were off and what tweaks needed to be made.
She walked into the living room. Shuki had just come home, and was lying on the couch, eating the leftover home fries from lunch.
"How was your chavrusa?" she asked.
"Good. His shver is coming soon for a visit, and wants him to book a tzimmer up north for a week. I was giving him some suggestions."
So nice that he has so much schmooze time with his chavrusa. Dini bit her lip and frowned at herself. Had she always been such a critical person?
She sat down on the edge of the couch, Shuki shifting his feet to make room.
"I actually came to tell you how brilliant you are. The graphic designer sent back new logos, based on your suggestions, and, OMG, they are perrrfect! You gotta come look."
Shuki lifted his head from the couch cushion, his face lighting up. "Yeah? Glad to hear."
Dini shook her head. "Seriously, I can't believe I've never discovered this talent until now!"
He made a self-deprecating face, but she persisted. "Really. I think Chesed Tzirel should hire you as our marketing consultant. Not that we have a budget to pay you. But, y'know, you'll get your payment in Olam Haba." She giggled.
"Better work on saying that line without laughing before you try your fundraising pitch." Shuki propped himself up on his elbows. "But, if you're serious about wanting my input… "
He paused and looked at her questioningly.  She responded with an eager nod.
"Well, then, I'd be thrilled to help."
Ayala's daughter Chumi had once drawn a picture in gan of her family, and the Mommy had had an earpiece attached to her ear. Ayala thought of that embarrassingly accurate portrayal now as she finally plugged her phone in to charge, after hours of use. She'd done laundry, helped with homework, made and served dinner and even — she winced to think about it — put her kids to sleep, all while on a running back and forth conversation with her brother, her mother, her father, and his doctor.
She was more than ready to disconnect for the night.
As she waved goodnight to Naftali — had she even said hello to him when he'd come home? — his eyebrows furrowed. "You look like you haven't sat down all day. How about I make you a cup of tea, and you fill me in on how your father's doing?" She wavered — tea and sitting down with her husband was inviting, but her bed was much more so — when her phone rang yet again.
Ignore it, her brain screamed, but, of course, she couldn't.  Even when she looked at the number and saw it was only Dini.
"Hi," she said, though the word was swallowed in a huge yawn. "What's up? Is this urgent Chesed Tzirel business? Because I'm totally wiped."
"Well, yeah," Dini said. "I'm calling to tell you good news — we've got a logo. That graphic designer I found gave us some nice options, and then my husband really fixed it up. He has a real eye for these things, who knew?"
Ayala caught the note of pride in Dini's voice, but wasn't sure why she needed to know all this.  Or why Dini considered a logo urgent chesed business.
"Very nice," she said, stifling another yawn.
There was a pause on the other end, as if Dini was expecting something more, but Ayala's brain was too fuzzy to feign excitement she didn't feel.
"Anyway," Dini said, in a slightly more subdued voice, "I just emailed it to you. I want you to approve it before we finalize."
Ayala sighed. She wanted to push herself, but she simply couldn't. She'd passed her limits. "I'm sorry, but if this isn't about some medical emergency, can it wait until tomorrow?"
This time the pause was much longer — and the hurt in Dini's voice obvious, as she said, "Sure. No problem. It's not an emergency."
Ayala hung up the phone and closed her eyes. Didn't Dini realize how difficult her day had been… and how little she cared about things like logos?
To be continued…
(Originally featured in Family First, Issue 861)
Oops! We could not locate your form.
>