| PlateArt |
Flour of Fun | May 23, 2023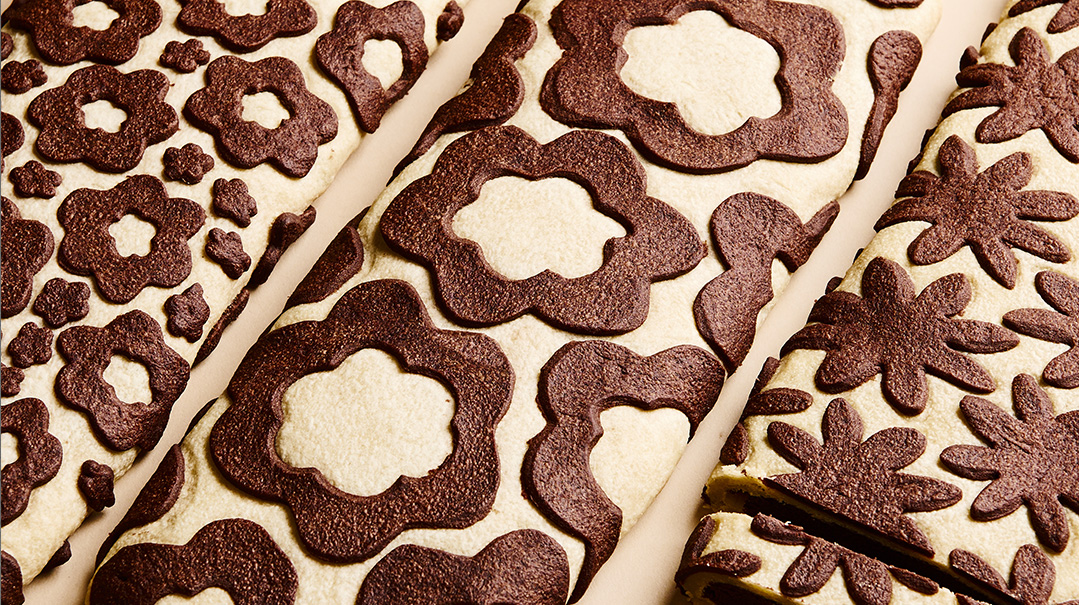 Text and Styling by Esther Ottensoser
Photography by Sina Mizrahi
Here are some beautiful ways to enhance two simple and classic baked goods this Yom Tov. These masterpieces are sure to add panache to your Shavuos dessert table.
Botanical Brownie Bars
These brownies were so much fun to design. They aren't hard to make, but cutting out the flowers does require a bit of patience. Presented here are three different patterns, using different sized and shaped flower cookie cutters. Have fun and watch your handiwork blossom!
Recipe from the Nitra Ladies Auxiliary Cookbook
YIELDS 3 BROWNIE BARS
Dough + Design
1 lb (450 g) margarine
1 8-oz (225-g) container pareve whipping cream
4⅔ cups flour, divided
¼ cup sugar
⅓ cup cocoa powder
Brownie Filling
2¼ cups sugar
2¼ cups flour
4 eggs
4 Tbsp oil
5 oz (140 g) margarine
⅞ cup cocoa powder
2 tsp vanilla sugar
Prepare the Dough
Combine the margarine, pareve whipping cream, 4 cups flour, and sugar. Knead until smooth.
Divide the dough into three equal parts.
Place two parts of the dough back into your mixing bowl and add the remaining 2⁄3 cup flour. Knead until smooth. Remove from mixing bowl.
Place the final third of the dough together with 1⁄3 cup cocoa into the same mixing bowl. Knead until smooth.
Refrigerate both doughs for 1–2 hours.
Preheat oven to 350°F (175°C). Divide the white dough into three parts.
Roll out each piece on a piece of Palisades Parchment Paper into a rectangle measuring approximately 8x12 inches (20x30 cm). Set aside.
Roll out the chocolate cookie dough as thinly as possible, but make sure that you can lift it off your work surface easily. (You can use flour if necessary for rolling, but add the flour slowly as you don't want the dough to become too dry.)
Using flower cookie cutters, cut out flower shapes. (Dip the cookie cutters in some flour if you need help lifting the shapes out neatly.)
Place the chocolate flowers on the white rolled-out rectangles. Cover with a second piece of parchment paper and gently roll your rolling pin over the paper. You want to blend the two doughs together without losing the flower shapes.
Keeping the piece of parchment over the dough, carefully flip the dough so that the flowers are now on the bottom, then remove the top piece of parchment paper.
Prepare the Filling
In a mixer, combine the ingredients for the filling, mixing well.
Arrange the filling lengthwise down the center of each strip. Fold sides and ends over and press to seal.
Place the filled, decorated rolls seam-side down onto cookie sheets. Bake for approximately 18 minutes. Do not overbake!
If desired, drizzle with chocolate.
Note: According to halachah, one cannot cut into a meaningful image on Shabbos or Yom Tov. To avoid this issue, one should slice the brownies entirely before Yom Tov.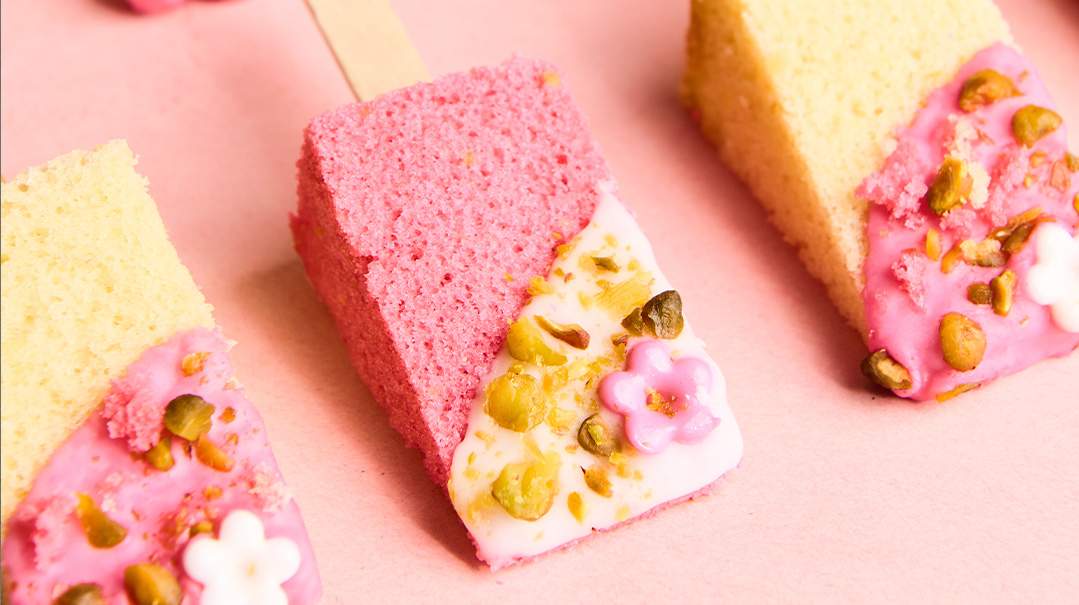 Petite and Pretty Cake Pops
Here's an impressive-looking confection for the simplicity of the ingredients and effort involved. These adorable cake pops are made out of small cake wedges. They can be made in any flavor and with any flavor icing.
You will need:
white cake batter (recipe below, or use your own)
pink food coloring
icing (see note)
fondant flowers (see instructions below) or sprinkles
crushed pistachios
cake crumbs
mini popsicle sticks
Divide cake batter in half. Add plenty of pink food coloring to one half.
Pour each half into a 9-inch (23-cm) round pan. Bake both cakes.
Once baked, freeze the cakes until firm and pop out of the pans.
Cut cakes into 1-inch (21⁄2-cm) wedges. Trim the sides of each slice, as shown in the photo. Insert mini popsicle sticks into each slice, then decorate with icing and toppings.
Note: For the icing, I mixed confectioners' sugar and water until it reached a good consistency. I used a spoon to spread the icing on. The icing should be thick, but loose enough to spread easily. Add food coloring to one part.
Fondant Flowers
You will need:
fondant
fondant flower plunger
Roll out the fondant and punch out the flowers using the flower plunger.
White Cake
9 eggs
3 cups sugar
3 cups flour
3 tsp vanilla
3 tsp baking powder
1 cup oil
¼ cup orange juice
Preheat oven to 350°F (175°C).
Line the bottom of two 9-inch (23-cm) round pans with parchment paper and grease lightly.
Add all ingredients to mixing bowl and mix until combined. Pour into prepared pans.
Bake for 45 minutes to 1 hour, or until toothpick comes out clean when inserted in the center.
(Originally featured in Family Table, Issue 844)
Oops! We could not locate your form.
>