| This Way That Way |
Flounder
| May 31, 2022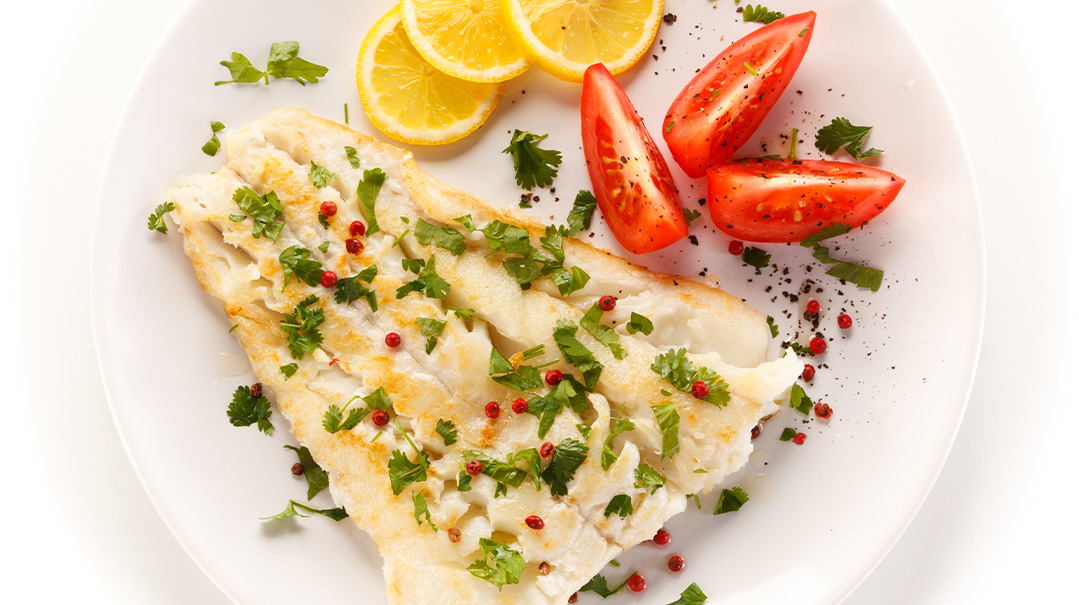 Beyond salmon and tuna are a myriad of other fish that are fresh and flavorful, like flounder. We've enjoyed it lightly seasoned with lemon and herbs or battered and turned into fish sticks. Here are some ways our team has been using flounder of late.
Floundering Fish
Chameleonic
Flounder are usually brown-colored with various red, orange, green, and blue markings on the body. They can change their body color to blend with the colors of their environment in 2–8 seconds.
Many Fish in the Sea
There are around 30 species of flounder that can be found in the tropical and temperate coastal waters of the Atlantic and Pacific Oceans. Despite accelerated pollution of the sea and excessive commercial fishing, the wild population of flounder is still large and stable.
Living Wild
Flounder can survive 3–10 years in the wild.
Flounder in Toasted Spices
Recipe by Sarah Faygie Berkowitz
This is my favorite way to cook delicate white fish; heating the spices (also known as blooming) brings out the aromatics in the various flavors and yields a soft and super tasty piece of fish — with minimal oil and minimal effort!
SERVES 4
2 lb (1 kg) small flounder fillets
1 Tbsp turmeric
1 Tbsp garlic powder
1 Tbsp dill
1 Tbsp onion powder
salt and pepper, to taste
olive oil spray
Place all the spices into a paper muffin cup (or other small dish) and mix. Spray a frying pan with olive oil and sprinkle the bottom of the pan with some of the spice mixture. Place pan over medium heat, and when spices are hot, add the fish and cook several minutes on each side. Cook the fish in small batches so as not to crowd the pan. When the fish is a nice golden color and smells fragrant, it's done! (I like to wipe out the pan in between each batch and spray with fresh olive oil and more spices.)
Note: This method works great for tilapia too!
Orange Flounder
Recipe by Michal Frischman
I find that the stovetop is the way to go for certain flaky fishes, including flounder. This one is light, fragrant, and delicious.
SERVES 4
2 lb (1 kg) flounder fillets
1 tsp salt, plus more for seasoning
½ tsp pepper, plus more for seasoning
flour, for dredging
2 Tbsp butter or olive oil
2 juicing oranges
2 tsp fresh thyme or ½ tsp dried thyme
Season fish with salt and pepper, then dredge in flour.
Heat a large frying pan and spray with cooking spray. Brown the flounder in batches until it flakes easily, about 3 minutes per side. Remove to a platter.
In the same pan, melt butter, then squeeze the oranges directly into the pan. Add 1 teaspoon salt, 1⁄2 teaspoon pepper, and thyme, and bring to a simmer.
Taste and season as necessary. Allow to simmer until lightly reduced and the flavors have come together, about 2 minutes.
Pour sauce over flounder and serve.
Flounder Marinara Tents
Recipe by Naomi Nachman
I used to make these for my kids when they were little — they enjoyed opening the "tents." Cooking the fish in the foil pouches seals in the moisture and makes it a really soft and delicious little package of food.
SERVES 4
4 slices flounder
2 carrots, shredded
6 scallions, finely chopped
4 small zucchini, sliced
salt and pepper, to taste
1 cup marinara sauce
Preheat oven to 400°F (200°C). Rinse fish under cold water and pat dry.
Prepare 4 sheets of aluminum foil large enough to completely wrap fish and vegetables. Place each fish slice in the center of each piece of foil.
Evenly divide the carrots, scallions, and zucchini and place on top of fish. Season with salt and pepper and pour marinara sauce over vegetables.
Bring edges of foil together, fold, and crimp together to close completely. Place foil packets on a baking sheet and bake for 20 minutes or until fish slices are just opaque throughout. Remove from oven; serve hot.
(Originally featured in Family Table, Issue 795)
Oops! We could not locate your form.
>