| Whats Cooking |
Fill Up with Greens | May 10, 2022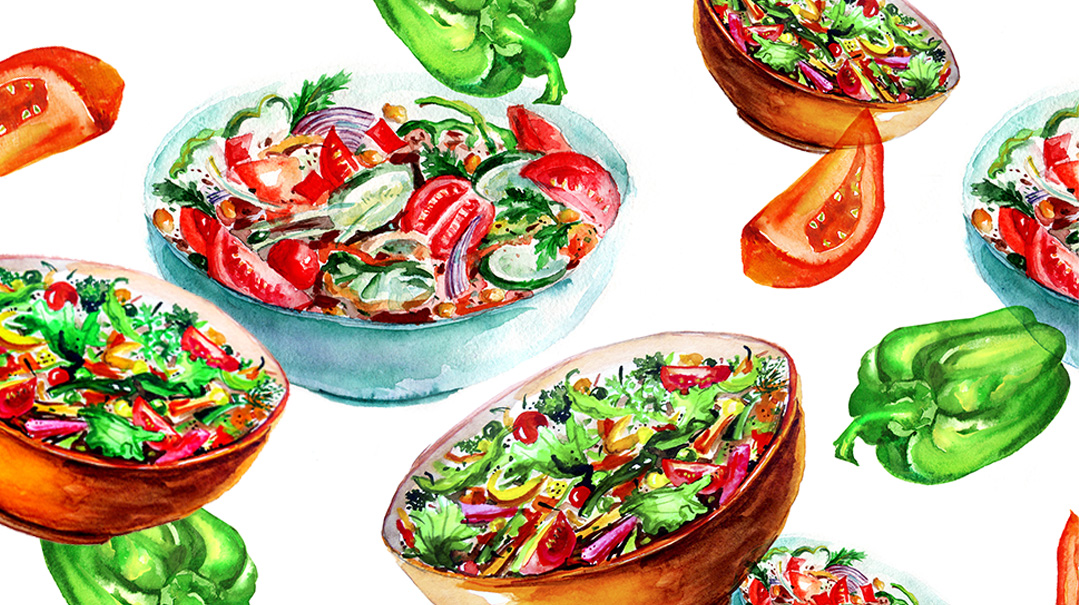 Sometimes we're craving a hit of nutrition that satiates and tastes delicious. These protein-packed salads fill exactly that need: they're diverse, nutrient dense, and not to mention thoroughly delicious!
Asian-Inspired All-in-One Salad
I love the colors and textures in this salad, and how I can always change it up to suit my menu and the preferences of the family/guests eating it. It's lightly dressed, so you can double the dressing if you'd like.
8 oz (225 g) shredded red cabbage
½ cup chopped fresh parsley
½ cup sliced scallions
1 large carrot, coarsely grated
½ firm but ripe avocado, diced
½ cup mango cubes (frozen is fine)
10 oz (280 g) Mehadrin Feta Cheese, cubed, or baked tofu cubes (recipe below)
Baked Tofu Cubes
300 g tofu, drained well
1½ Tbsp olive oil
1 Tbsp cornstarch
¾ tsp Himalayan salt
½ tsp garlic powder
black pepper, to taste
Dressing
1½ Tbsp olive oil
1 Tbsp apple cider vinegar
1½ tsp soy sauce
2 tsp honey
½–1 tsp sesame oil
¼ tsp freshly ground ginger
⅛ tsp garlic powder
black pepper, to taste
Garnish
½ cup roasted cashews
black and white sesame seeds
chow mein noodles (optional)
To prepare the tofu cubes: Preheat oven to 350°F (175°C). Cube tofu and place in a small bowl. Toss with olive oil. Sprinkle rest of ingredients and toss together. Turn onto a small tray lined with parchment paper. Bake for 15 minutes. Flip and bake another 15 minutes. Remove from oven and add to salad.
Shake all dressing ingredients together in a small container. This can be done a few days in advance.
To assemble, place all salad ingredients in a large bowl. Top with feta or tofu cubes. Drizzle with dressing. Garnish with cashews, sesame seeds, and chow mein noodles, if desired.
—Brynie Greisman, recipe columnist
Chicken, Quinoa, and Breaded Eggplant Salad
This salad is elevated enough to be served at any restaurant and easy enough to prepare and enjoy at home. In my book, that's a win/win!
SERVES 6
Marinade
3 Tbsp oil
3 Tbsp lemon juice
2 tsp dried rosemary
1 clove garlic, crushed
Quinoa
1 cup red quinoa
2 cups chicken broth (or 2 cups water + 2 tsp chicken soup mix)
Seasoned Eggplant Sticks
2 Tbsp extra-light olive oil
1 medium onion, diced
1 tsp kosher salt, divided
1 clove garlic, crushed
1 16-oz (450-g) bag frozen breaded eggplant sticks, defrosted
½ tsp chili powder
¼ tsp cumin
¼ tsp black pepper
¼ cup finely chopped fresh parsley
juice of 1 lemon (2 Tbsp)
Place all marinade ingredients in a ziplock bag along with the chicken cutlets. Allow to sit at room temperature for 30 minutes.
Rinse quinoa and place in a small saucepan with chicken broth. Bring mixture to a boil, then simmer covered for 15 minutes. Turn off heat and remove pan. Allow to stand 10 minutes. Fluff with a fork and set aside.
Meanwhile, heat oil in a large skillet. Sauté onion over moderate to high heat with 1⁄2 tsp salt until golden (about 6–8 minutes). Add garlic and sauté 1 more minute, while stirring. Add defrosted eggplant sticks with remaining 1⁄2 tsp salt, chili powder, cumin, and pepper. Stir for 2 minutes.
Stir eggplant mixture into quinoa mixture. Cool to room temperature. Add chopped parsley to salad, along with lemon juice. Mix until well combined.
Remove chicken from marinade and fry, grill, or broil for about 3 minutes on each side. Slice into thin strips. Top salad with chicken strips.
Note: Some brands of red quinoa cook more slowly. Just look to see that all the liquid has been absorbed before turning off the heat. Regular quinoa may be used too.
—Rivky Kleiman, recipe columnist
Mix-and-Match Salads
I always need a protein in my salads! If it's a dinnertime salad, I'll add in grilled chicken, sliced leftover schnitzel, or chopped up hamburgers (great way to use leftovers!).
For a lunchtime salad, I vary between roasted (or even canned, rinsed, and drained) chickpeas, a black bean crumble (see recipe in my cookbook), or some sort of cheese or hard-boiled eggs.
My go-to dressings are usually bright and acidic. Either lemon- and/or vinegar-based with some olive oil and salt and pepper to taste!
—Danielle Renov, recipe contributor
Plant-Based Protein Salad
My lunch salads are full of greens and other plant proteins. I like adding chickpeas, sprouts, and hemp or flax seed, and to really up the salad game, some baked salmon or roasted portobello mushrooms slices for extra nutritional punch. These salads are literally the envy of anyone who sees them. Yes, they take a few minutes to prep, but if you check a big container of greens on Sunday, the hardest part is over and you have a head start the rest of the week!
—Sarah Faygie Berkowitz, columnist
Artichoke Skirt Steak Salad
This is one of the first recipes I published in Family Table. It was part of a make-the-salad-into-a-meal set, along with three others. It will probably remain my favorite!
SERVES 6
1 lb (450 g) skirt steak, soaked 3 times and rinsed to remove salt
1½ cups teriyaki ginger sauce (see note)
7 oz (200 g) frozen artichoke bottoms, cooked according to pkg directions (see note)
1 red pepper, sliced
1 pkg mixed greens, arugula, spinach, radicchio, or the like
1 Tbsp hot water
1 Tbsp olive oil, or to taste
sprinkle of sea salt (optional)
Soak skirt steak in the teriyaki ginger sauce for half an hour. Remove from marinade but do not discard marinade.
Grill skirt steak for 41⁄2 minutes on each side, depending on the thickness. (If it's really thin, then no more than 4 minutes on each side.) Transfer to a baking pan and tent with foil for 10 minutes to let it cook to desired tenderness. (I like it medium rare.)
Brush artichokes and red pepper with marinade and grill for 2 minutes on each side. Set aside.
Heat remaining marinade in a small saucepan until it comes to a boil. Add 1 Tbsp hot water and remove from heat.
Cut the artichokes into chunks and place in a salad bowl, along with the greens and peppers. Slice grilled skirt steak into pieces and add to the bowl. Drizzle salad with boiled marinade, a drop of olive oil, and a sprinkle of sea salt until salad is dressed but not soaked.
Note: In place of the teriyaki ginger sauce, you can use 11⁄2 cups sesame teriyaki sauce + 1⁄2 tsp ground ginger or 1 cube frozen ginger. In place of the frozen artichoke bottoms, you can use 1 11–14-oz (300–400-g) can or jar of artichoke bottoms, drained and thoroughly rinsed to remove brine.
—Chaia Frishman, columnist
Grilled Chicken Salad
This is a crowd-favorite in our house. For a quick grilled chicken salad, I mix sliced grilled cutlets with romaine lettuce, cherry tomatoes, and any other vegetables that we're in the mood of. For the dressing, I mix equal parts mayonnaise, honey, and mustard.
—Esti Vago, production
Sushi Salad
Sometimes for Shalosh Seudos or a weekday lunch, I'll make sushi salad. That offers the opportunity for protein add-ins to your taste.
1 cup raw sushi rice, cooked according to pkg directions
thinly sliced cucumbers, shredded carrots, cubed avocado, or cubed cooked sweet potato
shredded cooked salmon, kani, chickpeas, or edamame
Layer lettuce, rice, and your choice of protein and veggies. Top with soy sauce, spicy mayo, or honey mustard dressing.
Honey mustard dressing
1/2 cup honey
1/4 cup olive oil
1 Tbsp mustard
Whisk until combined.
Enjoy!
—Chaya Perel Nojowitz, graphics
Lettuce, Cucumber, and Chickpea Salad
I got this recipe years ago from a nutritionist. I never measure amounts, but it's yummy! For 1 8-oz (225-g) bag of lettuce, add 1 large or two small sliced cucumbers, 1 cubed mango, and about ½ cup chickpeas along with 2 Tbsp diced red onion. The dressing is equal parts oil and lemon juice, along with some salt and a bit of Splenda, to taste. Adjust to your liking!
—Faigy Grossman, recipe columnist
Skirt Steak Caesar Salad
This is our favorite Shabbos-day salad. I make it often during the summer months.
1 2-lb (910-g) skirt steak, soaked in water for 2 hours (change water after an hour)
¼ cup olive oil
2 cloves garlic, crushed
Dressing
1 cup mayonnaise
2 cloves garlic, minced
1 tsp fish-free Worcestershire sauce
¼ cup freshly squeezed lemon juice
¼ tsp kosher salt
¼ tsp black pepper
Salad
6 cups romaine lettuce, torn into bite-size pieces
1 pint cherry tomatoes, halved
½ cup Terra Stix
Prepare the meat: Combine meat, oil, and garlic in a ziplock bag; marinate in the fridge for 2–4 hours.
Heat a grill pan over a high flame. Grill for 5–6 minutes per side, for medium rare. Set aside to cool completely.
Prepare the dressing: Whisk dressing ingredients together in a small bowl until combined.
Assemble the salad: Add lettuce and tomatoes to a large bowl. Cut steak into thin slices and add to bowl. Top with Terra Stix.
Add dressing just before serving; toss to combine.
—Naomi Nachman, columnist
(Originally featured in Family Table, Issue 792)
Oops! We could not locate your form.
>