| Recipes |
Ferrero Rocher Ice Cream Pie
| May 23, 2023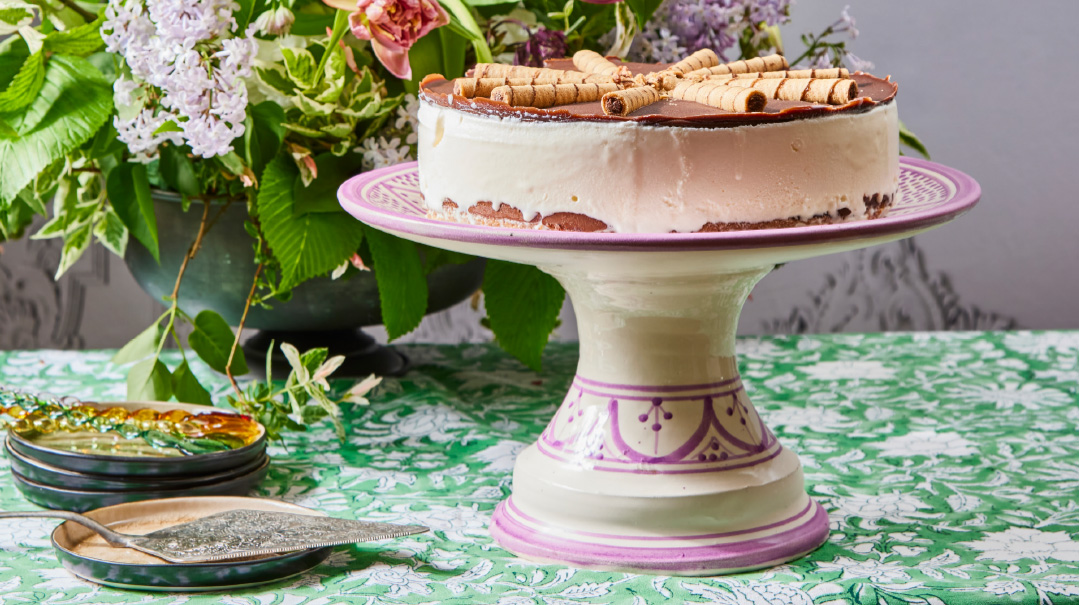 Food and prop styling by Shiri Feldman
Food prep and styling by Chef Suzie Gornish
Photography by Felicia Perretti
An ice cream pie that boasts a Ferrero Rocher-inspired chocolate brownie base and a decadent dairy vanilla ice cream center, finished with a crunchy chocolate hazelnut cream ganache… This is a dessert that will leave you dreaming for more.
SERVES 10–12
Brownie Layer
2 oz (55 g) dairy Rosemarie or Torino chocolate, chopped
¼ cup butter
2½ Tbsp sugar
2½ Tbsp light brown sugar
1 egg, room temperature
½ tsp vanilla extract
½ cup flour
¼ tsp kosher salt
¼ tsp baking powder
6 nougat- or hazelnut-cream-filled wafer rolls, chopped
¼ cup crunchy hazelnut cream (I used Baker's Choice) or dairy praline, softened
½ gallon dairy vanilla ice cream
chopped or whole wafer rolls, for garnish
Crunchy Hazelnut Ganache
2 oz (55 g) dairy Rosemarie or Torino chocolate, chopped
½ cup crunchy hazelnut spread or dairy praline spread
⅓ cup heavy cream
To prepare brownie layer: Preheat oven to 350°F (175°C).
Line a 9-inch (23-cm) springform pan with Palisades Parchment Paper. Spray bottom and sides with baking spray.
Melt butter and chocolate in a microwave in 20-second increments. Mix well.
Add sugars, egg, vanilla, flour, salt, and baking powder. Stir until combined. Stir in the chopped wafer rolls.
Pour batter into the springform pan. Bake for 15–17 minutes.
Remove pan from oven. Spread 1⁄4 cup warm hazelnut or praline spread over the warm cake. Set aside to cool.
Spread softened ice cream over cooled base and freeze until firm.
To prepare the ganache: Place chopped chocolate and hazelnut spread in a small bowl. In a small saucepan (or in the microwave), heat heavy cream until bubbles form around the edge of your pot or bowl. Pour over chopped chocolate and hazelnut spread. Allow to sit for 5 minutes. Stir until combined and glossy.
Spread over frozen ice cream layer. Garnish with additional wafer rolls. Freeze until ready to serve.
To serve: Heat a knife and slide around the edges of the cake. Release springform. Slice and serve.
(Originally featured in Family Table, Issue 844)
Oops! We could not locate your form.
>