| Fiction |
Fast Forward | April 16, 2019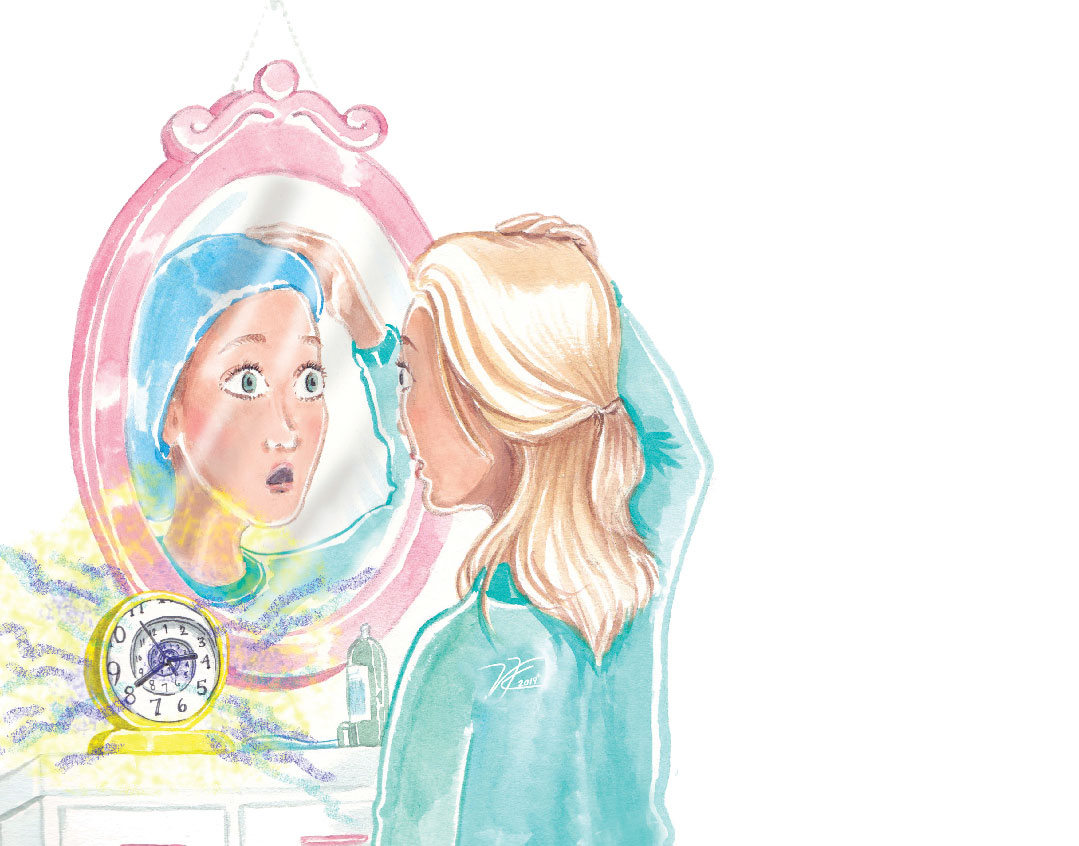 P
leasantly and well-suited I walk,
Whither I walk I cannot define, but I know it is good,
The whole universe indicates that it is good,
The past and the present indicate that it is good.

—Walt Whitman, "To Think of Time"
Avigail 
"He's an idiot if he takes this long." Tzippy cracked her gum loudly, and Avigail winced. "He's not worth it. He's crazy! My friend, same thing happened—"
"They got married?" Avigail interrupted.
"No."
"You're not helping." She'd called the shadchan last week to reignite a shidduch that had crash-landed months ago, but regretted her decision as carefully buried memories of their two-month dating saga now exploded like hot lava.
"So he said he's kind of busy, huh?" Tzippy was still snapping gum in her ear. "Gosh, what a wuss. You believe that, seriously, after he keeps the shadchan on the phone for 40 minutes? That's just an excuse to waffle out of a decision. These guys and their imaginary dates." She popped a bubble. "She should've said straight up, oh yeah, dude, who are you busy with anyway, Charlie Brown? Listen, I have another friend—"
"Did they get married?"
"Well, no—"
"You're not helping!"
Tzippy rolled her eyes. "Okay, okay! I have another friend, she has a friend, they got married! Massive commitment issues, girl this time, dated four months and dillydallied — she needed to think. The last week, at midnight, she decided she's ready, shadchan called the boy ASAP because she might renege on the deal the next morning. Guy was already sleeping but they managed to pull off a l'chayim." She shook her head. "Girl was 57, boy was 62. Massive mazel tov. My friend forwarded l'chayim pictures from Simcha Spot — girl in sparkly black dress, guy in polka-dotted pajamas—"
"Fifty-seven?" Avigail gaped at her, then exploded. "Tzippy! You're not helping!"
Tzippy threw up her hands in surrender. "Listen, I'm just trying to—"
"Get out!"
Tzippy left and Avigail looked morosely outside, noticing a woman in a pink headband, engrossed in her flip phone, walking down the avenue.
"I can't take this, the waiting!" she muttered. "Just wake me up when I'm married…"
From across the street, the woman looked up, and smiled.
The smell of fried eggs tickled Avigail's nostrils. She stretched, luxuriating in the soft quilts, a hint of morning light filtering through the window shades. She opened one eye lazily, then the other.
Wait. Where was she?
Confused, she rolled over, fumbled for her slippers, tugged on an unfamiliar-looking bathrobe and padded into the kitchen.
A man was standing in front of the stove, his back facing her, wielding a spatula and frying an omelet.
Gut in Himmel. Who IS that?
He turned around and smiled, and all she got was a glimpse of beard before she fainted.
Dovid
He arrived, bleary-eyed, 20 minutes late to seder.
"What's up, Stern?" his chavrusa Moshe greeted him.
Dovid shook his head, sliding onto the bench. His phone buzzed. His face changed expression as he registered the caller, and he disappeared, returning ten minutes later, ashen-faced.
"What's up?"
He shook his head again miserably.
Thirty minutes later his phone buzzed again, and he surreptitiously checked his text, looking guiltily at his chavrusa. Moshe stopped talking mid-sentence and waved his hand generously. "Go ahead, answer it. Pikuach nefesh."
Dovid frantically played at his keypad then firmly shut his phone and sighed. "Oy. Just wake me up when we're married…"
At that moment, a woman in a pink headband, holding a flip phone, passed by outside the window.
Something was weird.
Yellow window shades? This wasn't his room.
He fumbled to put on his glasses. That certainly wasn't his wig on the dresser, either.
Wait. What was that picture on the nightstand? Brown-haired girl, face radiant, clad in a wedding gown, smiling. She looked familiar; he'd seen her before. Who was she?
It hit him in a flash, and he sprung out of bed, stunned. He had seen that picture before.
Attached to a resume.
What was it doing on his nightstand?
And then he glanced at the beaming man beside her and let out a panicky yelp.
Chumi
"I'll daven for you, Chumi." Esti hugged me. "For clarity, menuchas hanefesh. It stinks, the Shidduch Pit, I know."
"The Shidduch Pit doesn't even begin to describe this emotional Gehinnom." I extricated myself from her embrace morosely. "Daven for him, too. Goldfing — uh, Fireworks Man."
Fireworks Man. I think it was Esti who'd coined the term, and it somehow fit. Hard to explain why, but ask all those people who've experienced an explosive shidduch parshah with commitment issues and what-ifs surfacing at its three-month peak, and they'll understand the term, guaranteed. He needed some time "to think about it," as he'd told Mrs. Bleich.
"Kaboom." Esti grinned. "Really, g'luck. I'm keeping you in mind."
"Maybe I should pull out," I told her. "The two of us, seriously? What happens when the terrified-of-marriage girl dates the commitment-phobe?" I bit my lip. "We're not a shidduch; we're like some kind of Laffy Taffy joke. If this plotzes, I'm marrying the next klutz who comes along." I scrunched my eyes shut, grimacing. "For real, this time."
"Kaboom."
Outside the window, a woman in an unmistakably synthetic wig with a pink headband pocketed her flip phone and waved.
I waved back. New neighbor? I didn't recognize her.
My phone chirped, crashing me back to shidduch reality, and my face blanched.
"Mrs. Bleich." I'd customized a bunch of ring tones — Fireworks Man included — so I knew it was her before glancing at the caller ID. "Omigosh. The shadchan is calling the shadchan is calling the shadchan is calling—"
"Pick up," Esti commanded. "I'm right here."
"I didn't hear back from Goldfinger," Mrs. Bleich announced when I answered the call, and my heartbeat slowed to almost normal. "Will keep you posted."
To my mortification, tears pricked the corners of my eyes. I angrily pushed them away. I refused to cry over Fireworks Man and his commitment issues.
"I hate this," I whispered, hanging up the phone. "I hate this. Just wake me up when I'm married…"
Something was exploding.
My phone.
I reached out from under my covers to grab it.
"Hullo?" I croaked.
"Everything under control?" a male voice asked. "The heater, you figured out how it turns on? I called Sammy — he'll stop by at 5 p.m. to fix the boiler. I'll be home late. Don't buy challos for Shabbos because I picked some up at Bingo. I met Morris Schwartz in the elevator, he delivered another ten-minute mussar schmooze about tossing Kleenex in the toilet, they stuff the pipes—"
"Pardon me," I said. "Do I know you?"
In the long pause that ensued, my mind registered two facts simultaneously: One, the clock on the wall, showing 7 a.m., was completely unfamiliar. And two, I was wearing a snood.
"Chumi?" I heard the voice say, confused. I slammed down the phone, washed up, threw on some clothes, and barreled out of the apartment.
The woman with the pink headband was sitting on a bench outside, texting on her flip phone. When I came rushing from the building, she headed towards me, and I listened, disbelievingly, as Mrs. Rochela Kokosh introduced herself with a slightly British accent and explained what happened.
"So I woke up in the future?" I asked, mouth agape. "I just…bypassed the past?"
"Actually, life is a succession of lessons which must be lived to be understood. All is riddle, and the key to a riddle is another riddle." She smiled. "Ralph Waldo Emerson, circa 1860."
"Huh?"
"You bypassed the Present, actually, fast-forwarding to the future. As you asked."
"As I—" Just wake me up when I'm— "Oh. Oh!"
"Occasionally, we need that fast-forward… All questions of the Present are answered behind time. You're familiar with the block universe theory, I suppose?" I shook my head, and she tsk-tsked. "String theory ?"
I blinked. "Bottom line, this guy who called me — he's my husband?" I nearly sagged in relief. "Wait, that means I have a husband! I'm married! So I ended up married?" An indescribable feeling soared inside me. "I ended up married! Ha!"
"Mazel tov, dear," Mrs. Kokosh said.
"You have no idea," I told her, giddy with relief. "Wow. Wow. Do I like him? Was he the next klutz who came along? Wait. I don't even know what he looks like! He was out when I woke up."
She played with her flip phone, extending it to show me a photo. Black hair with a neat, close-cropped beard, a weird whitish-reddish streak along one side. Glasses. Brown eyes.
He didn't look familiar.
My face crumpled.
"I don't recognize him! So he didn't turn out to be—?" My mind exploded in a frantic bubble of hysteria. "There was this guy…"
"That's not necessarily the case," she interrupted. "You're in the future right now. By definition, there is no past here. Tell me. Do you even remember what he looks like?"
"Of course I—" I stopped abruptly, chills crawling up my spine.
"Kaboom," she said, slowly.
I don't remember his name, either.
I don't remember his name.
I returned to my apartment — my husband wasn't home yet — still processing my conversation with Kokosh, as I explored my new surroundings. A second-floor apartment. Tiny kitchen, barely enough counter space to navigate cooking, but cute. Mostly empty refrigerator and poorly stocked cabinets; gosh, I'm a terrible wife. I wonder if we eat here every night or if we normally sit in the airier dining room.
We. What was his name, anyway?
I spent 15 minutes combing the apartment, searching for our wedding invitation, benchers, mail, anything that would reveal his name. Nada.
I sat on the couch and closed my eyes, conjuring up the image from Kokosh's flip phone.
"Hello, husband," I whispered, eyes still closed, fingering my cell. I wanted to call him, to hear his voice again, talking about broken boilers and supermarket shopping and all those delicious mundane things that make up married life after the roller-coaster hoopla of engagement and chasunah is over. The number was restricted, though.
Oh well. I opened my eyes, staring at the pantry's bare shelves.
In the meantime, I'll stock up on groceries, so I have what to feed this guy.
I met Avigail in Seasons. Maybe it was the skittish way she looked around as she examined chicken thighs, maybe it was the way she held them like they were about to attack, maybe it was how she self-consciously touched her sheitel every 50 seconds; but somehow, I knew she'd fast-forwarded into marital future too.
I sidled next to her, holding the phone to my ear. "Hi, Mrs. Kokosh?" I said loudly, and when her head snapped back to stare, I ended my pretend call and struck up a conversation.
After exchanging stories — she'd reinitiated a shidduch with her Mr. Almost and had been waiting for his response when she'd fast-forwarded over — we arranged a time to meet in Kloisters Cafe. Returning to my apartment, I restocked the fridge, set up a chicken and rice stew in a slow cooker, and headed out.
"I don't get it," I said, taking a sip of my latte, Avigail across from me. "My present is past now? Over?"
Avigail stirred sugar into her coffee. "Not sure. Kokosh said," she cleared her throat, "still here I carry my old delicious burdens… it is impossible for me to get rid of them — Walt Whitman, circa 1891." She frowned. "I don't understand any of this, honestly. She mentioned the block universe theory of time — you get this stuff? Like, wormholes? Einstein-Rosen bridges?"
"I went to seminary with a Rosen. From Atlanta. Nice girl." Avigail gave me a look. "Um, nope."
"I might be saying this wrong." Avigail stared into her coffee cup, furrowing her forehead. "This theory — past, present, future, they coexist. So, we're here now, but on some time plane, I'm still stressing over that shidduch."
"I'm still stressing over my guy?"
"Different scenarios, different guys, same Shidduch Pit, right?" She snickered. "Avigail Ackerman, circa whenever."
"Chin up," I told her seriously. "We're married now. Even if it took us a trip down an Einstein-Rosen bridge, whatever that is." Avigail smiled. "I can only imagine what the tolls are like," I added, and we burst into laughter.
"On some time plane, we're still stressing out, though," she said, after we settled down. She gestured around us. "All these people! On some level, all jumping out of their skins every time a text comes through."
"Losing weight, eating only bananas from stress."
"Afraid to take showers in case the shadchan chooses just that moment to call."
"The Shidduch Pit. Ugh." I winced, a familiar knot of anxiety forming in my stomach. Then I slammed down my mug so abruptly its contents sloshed over the rim. "Wait. I have an idea…."
"Okay, I know him," Avigail whispered. "My neighbor down the block. And whoa, she's my cousin! I would never have—" She stopped. "Okay, whatever, not my business. Leah Samuels, Dovid Stern, write that down."
I obeyed. Avigail had enthusiastically jumped on board with my plan, and an hour later, we'd headed out to explore the neighborhood, spying on couples, working out who married who. It was a small world. Between the two of us, we'd know at least a few couples from the Past — and then we'd e-mail out the names of their respective spouses. We'd just be expediting things, I'd explained to Avigail. In some parallel world, they're stressing over these shidduch decisions; if they'd know who they'll end up with, the stress is basically gone.
"She mentioned she keeps a list of names and contacts hidden in her apartment on Walden Street," Avigail had said when I initially told her my plan. "We could go straight there, turn over her place, send out a zillion e-mails, and end the Crisis."
"Right. Chloroform her, stuff her mouth with a sock, tie her to a chair, and lock her in a closet? Elementary, my dear Nancy Drew."
She'd giggled, and we'd headed out instead. So far, we'd spied several familiar faces, including a former coworker, shopping alongside a boy I'd dated in the past; two girls Avigail had gone to college with, and—
"Esti! Omigosh!" I yelled delightedly, spotting my friend across the avenue and running to hug her. "Hey! You got married! Mazel tov! Wait." A sense of urgency took over. "Tell me his name, fast—"
"You having a stroke or something?" She extricated herself from my embrace. "Chani just turned two. Listen, the Kidichic sale—"
Avigail dragged me away from her. "Catch you later!" I called.
We spent an hour wandering the neighborhood, then headed back to Avigail's place at 4 p.m., where we both booted up our computers — I'd schlepped along my laptop — and started furiously drafting e-mails. We'd only determined seven couples, but at least it was a start. I still planned to discover Esti's husband's name; she'd been thinking about vacation, I remembered, joining that tour to India. I wasn't sure when she got married, but if she's already got a two-year-old…
I jotted off an e-mail, looking up when Avigail started giggling. "Leah and Dovid Stern," she said, shaking her head. "Who woulda thunk. So now he can steal her parking spots — hey, fix your snood."
I grimaced, excusing myself.
"Listen," I said, when I returned. "Not to be selfish… But what about us?"
"Yerachmiel Cohen." She blushed slightly. "We met this morning, plus I found an electric bill with his name. I already e-mailed myself."
"I don't know my husband's name! I tried to find it this morning—" It hit me in a flash, and I jumped up excitedly. "Hang on! Fireworks Man! He's Fireworks Man! No, wait." I slumped back down. "Right. I don't know his name."
"We'll get it."
"How? I literally combed the apartment."
Avigail lifted her eyebrows. "Yours?" she asked carefully. "Or—"
"We're not breaking in to Kokosh's place!"
"We can." She stopped. "Your phone was making crazy noises before."
I lunged at my cell, crushed by frustration when I saw the missed call from a restricted number.
Avigail noticed my expression. "Husband?"
I nodded dejectedly, setting the ringtone to the highest level. I'm not missing him again, even if my eardrums explode. Even if the world's eardrums explode.
"I'm sorry." Avigail considered me again. "She keeps her door open. A huge 'Welcome' sign. I'm serious. She's welcoming us, I promise." She grabbed her coat. "Let's go!"
Fifteen minutes later, we were inside.
Actually, only I broke in, if you could call it that; Kokosh's door was wide open, revealing a table set with rugelach, a hot water urn, and coffee, with a handwritten sign: Trespassers, Help Yourselves. Avigail stationed herself outside as a lookout, in case Kokosh unexpectedly returned.
A huge clock was fixed on the dining room wall, across from the set table. Gam zeh ya'avor, the face read, This too shall pass. I grimaced, remembering Shidduch Pit anxiety. These two shall pass out, more likely.
Where did she hide the list?
The clock chimed, and I studied it again.
Gam zeh ya'avor.
All questions of the Present are answered behind time…
The key to a riddle—
I walked over, lifted the clock off the wall and peered behind.
An envelope was attached.
Avrumi. Tears poured down my face, post-traumatic stress relief, spilling onto the paper in my hands. I have a husband, and he has a name, Avrumi, and we have an apartment and a fully stocked fridge and a broken furnace and a landlord.
I texted Avigail his full name, wiping my eyes.
I found Esti's name too, then I pocketed the list. I'd copy it, then return it and hope Kokosh wouldn't realize. I texted Avigail that I was leaving; she hadn't responded to my first text, and I was getting antsy.
I met Mrs. Kokosh halfway down the block.
"How are things?" she asked, beaming.
"Great." Still no sign of Avigail. A thought struck me. "Are there some people," I swallowed, "who, like, never wake up? Say, ten percent of every graduating class, something like that?"
She chuckled. "Busy with our math, aren't we? Pity this busy monster, manunkind — never mind, read the rest yourself, everyone dislikes E. E. Cummings, poor chap. Circa 1944. The main thing is you met your husband in your Future." She withdrew a small pocket watch and considered it. "You could have, in theory, also traveled to the Past to meet him, on some level, but we're forbidden to go there."
"Forbidden?"
She waggled her eyebrows and put her finger to her lips. "We don't even speak of it. But remember this, always: Your Present, difficult as it may be, is cushioned between a Past and a Future. Chumi," she said, without giving me a chance to react. "Before you go. The paper."
I froze. "Huh?"
She gestured at my pocket. "That's insider trading, I'm afraid. We have strict rules about that."
My jaw dropped.
"But we're helping them!" I argued, fist tightening over the list inside my pocket. "They could be married faster! They could—"
"You're missing the point of what the Present means."
"The Present stinks." To my surprise — I was married now — that familiar anxiety swelled all over again. "Mrs. Kokosh, you don't know what it means, the Shidduch Pit! We'll be helping people!"
She   extended her hand, palm up. "Paper, dear."
Reluctantly, I withdrew the crumpled list from my pocket and handed it over.
She ripped it into shreds, letting the pieces loose, and I watched as hopeful slips of future danced in the wind and disappeared.
"It was a good try, I guess," I said finally.
The emails. She didn't know about those. My heartbeat quickened. I needed to get back, to make sure Avigail sent the emails we did have. Mine, in particular. She still hadn't answered my text. "The main thing is, I'm married now! It's over, the Shidduch Pit! Right?"
There was a long pause.
"No!"
"Chumi dear, you couldn't possibly have thought—"
"I'm not going back!"
"Twelve hours only, a preview."
"I'm not going back!"
Mrs. Kokosh's gaze was gentle. "Life is lived in the present, that's where you belong. In the process. Sometimes people need a glimpse of a future to help get them through, like reading that last chapter of a story to make sure all ends well.
"But the future… it's not a fixed reality, but a construct to help us manage the Present. It never really happens, the future; by the time it would, it simply isn't. We get closer and closer but never actually reach there, like an asymptote of reality."
I exhaled slowly. It hurt. "Who said that one?"
She smiled. "Me. Chumi, you don't get to stay here forever."
"Why not?"
"Sheifeleh," she said slowly, enunciating each syllable as though she was talking to an idiot, "because it didn't happen yet. Obviously."
"I don't understand."
"People never do." There was a note of sadness in her voice. "People wish to be settled; only as far as they are unsettled is there any hope for them. Emerson, circa 1841. Life is a journey, not a destination. Also Emerson.
"If you knew how many lives were lived in the future… or in the past… You wouldn't believe how much traffic goes on here, these Einstein-Rosen bridges." I blinked. "But remember, Chumi: the present, difficult as it may be, is always cushioned between a Past and a Future."
I was silent for a moment, staring at the ground. "Emerson again?" I asked finally, looking up.
Her gaze softened. She didn't answer.
"I'm not going back. Please. I can't. Please."
"You can stay here," she said, and my heart leapt. "But only if—"
"I'm staying."
"—you agree to fast-forward another 30 years."
I stilled.
Thirty years.
Thirty years.
I'd be in my sixties then. Stable, secure, with my husband, hopefully kids, maybe grandchildren. A mortgage paid; diapers and sleepless nights with crying babies, all done. It would be a good life, I knew.
I hesitated.
I never did meet my husband yet, in my Future.
I never stumbled over our engagement, our first year, our first argument. I never wept along with my baby, exhausted, on insanity's brink amid piles of dirty diapers and laundry. I never number crunched over finances.
I'd prayed for marriage in my distant Past; but I will have never prayed for its success; for the health of my children; for my own health, and my husband's; for help with the struggles embedded within this30-year interim. I'd have had no struggles.
A good life.
The pocket watch chimed, seven times. 7 p.m. I'd woken up at 7 a.m.
Twelve hours.
I swallowed. "It would be good," I whispered. "But… I don't know. What's the point—"
"Exactly, dear."
The watch sounded again, six chimes this time.
And a beat later, five chimes.
The reality of what was happening dawned. Kokosh reached out her hand, questioning.
Four chimes.
I hesitated. And then I extended my own to grasp hers.
"Because the point of Life," she said, meeting my gaze, "is to live it."
Her other hand withdrew her flip phone. "Let us, then, be up and doing," she said quietly. "With a heart for any fate. Still achieving, still pursuing…." She squeezed my hand. "Learn to labor and to wait. Henry Wadsworth Longfellow, circa 1838."
I held on tightly.
"Will I remember him?" An image of his face crossed my mind, and I desperately tried to memorize those brown eyes and stubby lashes and closely trimmed beard with that funny streak on the right side, to imprint that face in a memory that didn't happen yet, but even as I asked the question, I felt the image slowly melt away.
"Not really." She exhaled, considering. "A little something, maybe. A feeling of recognition, perhaps, when you meet again. But nothing more than that."
"Can I tell him goodbye, at least?" I whispered.
Three chimes, then incessant, relentless ringing.
She caught my eye and shook her head, slowly, and I started to cry.
It was like being ripped apart.
A cacophony of an alarm clock ringtone and chimes sounded as Kokosh pressed a button on her flip phone and the floor began to shake. A sob wrenched out as I reached my arm and tried to grab her other hand, to hold onto something from that beautiful world, fingers closing in on a small trinket encased in her grip; and then the ground spun around me and I screamed, echoes reverberating over thunderous screeching of what sounded like an underground train careening a turn too quickly on the tracks, and there were two blinding flashes of light and then absolute, deafening stillness.
Ringing, ringing. My alarm clock was ringing.
Monday mornings. Ugh.
I staggered through my morning routine, quickly checking my texts — still none from Bleich — and headed to the kitchen for coffee. Checked my texts again. Still nothing. I wonder if it's broken, my phone. Or maybe hers is and she e-mailed a response instead.
I logged into Gmail. A message from my boss about deadlines. An e-mail from an old classmate. An e-mail from myself — why don't I remember sending this? — with the subject line, Tell Esti — don't book tickets to India yet!!
Weird. Nothing from Bleich, though.
The next email was from A.A ., with the subject line, shidduchim.
I clicked it open.
Hey! See attached. Husbandry in Heaven!! Shakespeare's Macbeth, circa 1606 😉
I snorted. Seriously now, shidduch viruses? I hit delete.
The email disappeared.
Something made me hesitate, and I heard a voice, somewhere in the distant recesses of memory, a British inflection, calm, soothing.
All questions of the Present are answered behind time…
I clicked open my Trash folder and eyed the e-mail, tickles of memory surfacing the cobwebs of my brain. I hesitated again, mouse hovering over the message.
And then I shook my head and hit delete again.
Thunderous chirping from my phone made my heart nearly leap out of my chest.
"He's contacting you!" Mrs. Bleich announced, without preamble, when I picked up her call.
"To say what?" My hands were shaking.
"No idea. I'm sorry, Chumi, he really didn't say."
She hung up, and I sat down, frozen, staring sightlessly ahead of me.
Wait. There was something familiar on the counter.
I picked up a small pocket watch. Gam zeh ya'avor, the face read.
I sat there, gazing at it, for a long time.
I'm in that moment now; restless, churning, swirling with anxiety and stress. But there's a comfort in knowing that it'll pass. That a tornado melts into the sea and that a Monday becomes a Tuesday and that time marches onward but the pain doesn't have to, because any present, difficult as it might be—
My phone vibrated. An earsplitting, frenetic-sounding siren filled the room, followed by banging, the bloodcurdling crow of a rooster, and what sounded like a series of explosions.
Fireworks Man.
I reached out to answer, as present slid into past and future crystallized into now.
I'd be okay.
Because any Present, difficult as it might be, is always cushioned between a Past and Future.
—Chumi Shulman, circa 2019
(Originally featured in Family First, Issue 639)
>