| Family Farce: Purim 5782 |
Family Farce Inbox
| March 8, 2022
"Picky eaters? That concept was invented circa 2010; it simply did not exist when we were raising children"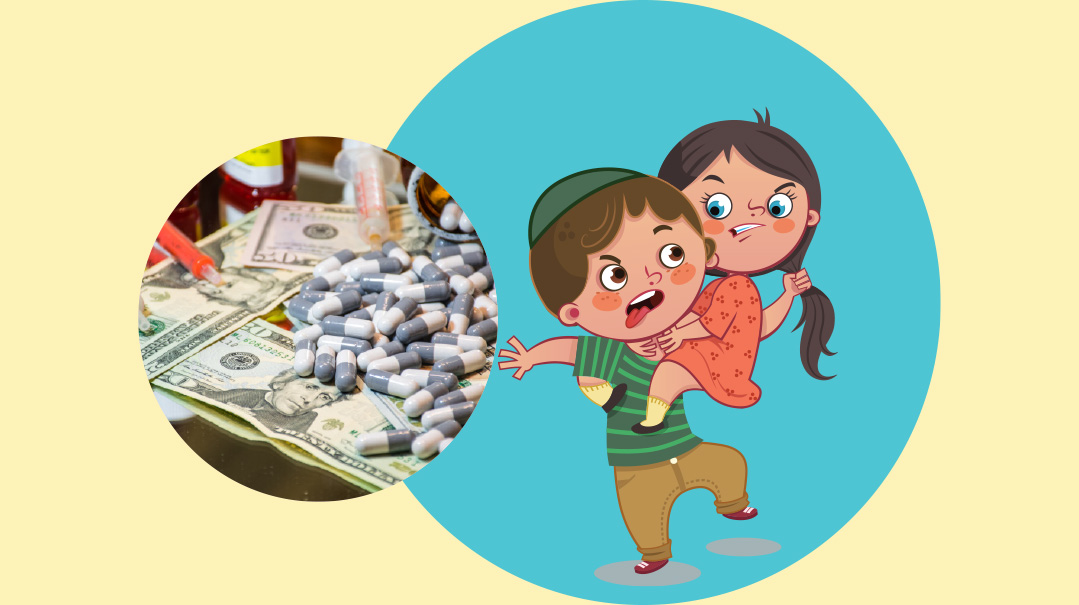 Destroying Our Children [A Mother's Self Care / Issue 423]
Your magazine worries me. You know, when I was raising my kids, no one subscribed to this narishkeit that you should be taking care of yourself at the same time you were taking care of all those children, not to mention the adult child you married.
In my day, you had a baby and the good mothers checked themselves out of the hospital the same day to greet their kids as they came off the bus and make them a fresh hot supper that night. Picky eaters? That concept was invented circa 2010; it simply did not exist when we were raising children.
Our children were perfect! They turned out amazing! So how on earth did they grow up to be self-obsessed self-care lovers with no backbone or sewing abilities? I can only surmise that since my entire generation did an excellent job, it's the influence of the magazines that really did our precious children in. Please refocus your content to highlight what mothers should be doing for their children instead of searching for "fulfillment" in ridiculous places.
Gitty Gutstein
A Creative Proposition
I wanted to start off by saying that I truly love the magazine. As I was reading it this past Shabbos, a brand-new idea dawned on me; I know it's crazy, but hear me out.
Maybe you should put headshots of women? Like, in the magazine? I don't know if you've ever considered it but I think it would be a totally uncontroversial and pretty straightforward process to implement. I'm sure everyone would universally love it. What could go wrong?
Lynn Morgan
Think of the Children [Family Living / Issue 628]
I really love your magazine, and do you know who else does? My 11-year-old daughter. She reads it front to back every week.
Therefore I implore you to keep her in mind and not print suggestions for Chanukah presents, teenage bedroom decor, snacks kids could easily make in the kitchen, and Purim costumes that would require me to purchase a Cricut.
Seriously. Please.
Anonymous (my daughter would be mortified)
We All Know You're Paid Off by Big Pharma [Medical Mystery / Issue 976]
I know people usually start off by saying they love the magazine. But in your latest Medical Mystery, you attributed a patient's unexplained muscle pain, decreased energy, and increased hair loss to thyroid disease, while everyone knows those are extremely common symptoms for any healthy postnatal mother.
Why are you whipping people into a frenzy over nothing? Does Big Pharma pay you to incite fear in the hearts of your readers?
I once read about a woman who ate cauliflower at midnight for a year straight and she cured her whole family's lead poisoning issues. (Whether or not lead poisoning is a real illness or just a construct of the medical community or is a separate letter, which I will send to you immediately after I send this one.) Not everything needs to be medicalized.
Skeptical Suzie
Help Wanted [Family Room/ Ad / Family Living/ Lifetakes / Maybe Binah, actually?]
Love the mag. I think you guys had some gorgeous furniture items a year or two ago that really match my living room. Can you send the links? It was in the design section or possibly an ad, or maybe just in the background of a tablescape.
Thanks.
S. M.
Seeking a Solution [Family Reflections / Issue 712]
Dear Mrs. Radcliffe,
Your column is so wise. I have a full binder of clipped articles that I read in my hour of child-rearing need. Which is pretty much hourly, incidentally. I was wondering if you could help me understand why despite my reading your advice in the recent article about sibling rivalry very carefully (I underlined and highlighted all the relevant passages and hung a photocopied version on my fridge, my bedroom mirror, and my office bulletin board), a week later, for some reason, my children are still bothering each other. Sometimes on purpose!
Why doesn't your advice fix the issues for once and for all?
Perplexed Perri
Diet Diary [Family Table]
My husband's current diet requires him to restrict salt, spices, liquids, and also some solids. He can't have sugar, but he looooves desserts. Could you start a column with recipes that would work for him? I'm sure this would helpful to thousands of readers!
Simi Klein
Mothering Messages [Fiction: My Bitter Return to Work / Issue 528]
I looove your magazine. But you recently had a fiction story about a mother who went back to work when her baby was five weeks and five days old.
I was wondering if the woman in question spoke to her doctor about the risks associated with premature return to work, especially in this current climate where work from home options abound. And did she confer with a psychologist regarding the long-term effects of children whose mothers chose work over caring for them?
Please be more careful regarding the insidious messages given over in your fiction stories.
Respectfully,
Name Withheld
(Originally featured in Family First, Issue 784)
Oops! We could not locate your form.
>