| Encore |
Encore: Chapter 50 | October 28, 2020
For a second, Shuey thought the boy was hurt, but when Shuey said, "Yeah, you," Dovi's face lit up and he stepped forward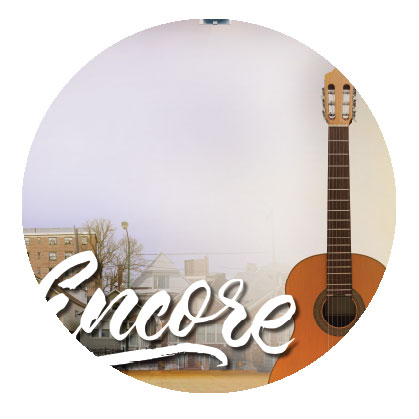 Late on Motzaei Shabbos Chanukah, a soft snow started falling outside. Well-fed and relaxed after their various Chanukah parties and family get-togethers, the boys trooped into the studio and brushed the snowflakes off their coats.
Shuey's old producer, Raffi, had given them studio time at Perfect Pitch as a gift, but he'd made it clear that he wanted the job done in two hours. No more. Good memories and all that, Shuey was his boy, but time is money and there were plenty of takers for those hours and did Shuey know that Neiman was coming out with his ninth album, remember Neiman? He'd been a kid back then, right?
Raffi had been kind enough not to mention all those long-ago repeated requests to Shuey Portman to join him as a partner in the studio but just in case he remembered the offers, Shuey made sure to tell him how much he loved the work at the yeshivah and how he'd never been happier. This was his calling, he said, and Raffi was glad to hear it.
Raffi himself had welcomed them, but then left, leaving the engineering to a young Israeli kid named Dani with bangs covering his eyes.
Shlomo Bass had prepared the music tracks in his own basement studio last week. Now he leaned over the computer with Dani, clicking and pointing and explaining, until suddenly the sound of a guitar strumming filled the studio. Shuey assembled the boys around the mics in the wood-paneled room, adjusted his headphones, and signaled to Dani to begin the first run-through.
Within a few minutes, though, it became painfully obvious that instead of talking to Shuey, Dani was directly addressing Shlomo Bass, whom he'd judged had a better sense of music — and who of course spoke a perfect Hebrew too. All those European types did, Shuey thought. It was Bass who decided to repeat the high part at the end — "just copy and paste the music over there" he'd instructed — Dani nodding so that his bangs flapped up and down.
The song was great, even if Shuey wasn't in charge. The boys sang with heart and emotion, and the spontaneous decision to give out some solos didn't meet with any resistance. All the boys just seemed excited to be part of it. After they'd done a few rounds, Shuey was ready to practice his own solos. He stepped up to the mic, imagined that scene back in Modena — the boys crammed into the laundry room, the camaraderie created by a song — and let his voice soar. This was what music could do.
There was an available solo and Shuey decided that it was appropriate to ask Dovi Korman to sing it — if not for Avi Korman, there would be no yeshivah — so he tapped the boy on the shoulder and nudged him forward.
"Me?" Dovi whispered. "Me, for a solo?"
For a second, Shuey thought the boy was hurt, but when Shuey said, "Yeah, you," Dovi's face lit up and he stepped forward. He didn't have the greatest voice, but he could carry a tune and Shuey thought it would add to the appeal of the song, a real yeshivah bochur singing with the authenticity of a real yeshivah bochur. It would make the song more yeshivish, and maybe the rosh yeshivah would appreciate that.
Shuey felt a little stab of remorse when he thought about the rosh yeshivah. He'd been the one to sell Rabbi Wasser on the idea of a single, and he knew now that his motivations had not only been for the yeshivah's good. Rabbi Wasser had trusted him at first and gone along with it, but something had shifted when he'd felt it was causing bittul Torah. Yesterday, he called to wish Shuey a gut Shabbos and then added on his brachos for the song. "It should be with hatzlachah, the oilam should sing well, and the main thing is, it should bring more kavod Shamayim, not less."
Shuey had understood. He couldn't apologize, but he could reassure. "Reb Sholom, the oilam is so excited, we practiced last night and they were so happy to be together, even out of yeshivah. They all have this incredible sense of belonging, of achdus, it was very nice. They called the boys who weren't in Lakewood so that they could be part of the matzav, just for fun. It's very special to see."
"Very nice, takeh very nice," the rosh yeshivah said, but his voice was missing its usual enthusiasm.
That was then.
Now, as Shuey Portman waved his arms like a color war general and led the bochurim in the high part for the 23rd time, he felt the familiar joy coursing through him and he let it wash away the guilt. He was giving these bochurim something perfect and pristine: the chance to experience the magic, singing together, making music together, living in a song. They would remember it forever and the rosh yeshivah would see its effects once they were back in yeshivah.
And maybe, Shuey reflected, maybe, this would somehow lead to the yeshivah making money. Deep down, he knew the chances were slim.
Shimshy Lieber's married sister did graphics and she'd been drafted for the cause, committed to designing the cover art. The mix was meant to be done within two weeks, and Shuey wanted it ready to go. He'd spent the Sunday morning after Shabbos Chanukah trying to decide what to call the single — Aromimcha, or Forever & Ever — and he'd been doodling on a pad most of the afternoon, trying to decide which looked better on paper.
Forever & Ever was a better name, but it was less yeshivish. Aromimcha wouldn't offend the rosh yeshivah as much.
"I know you're working," Henny called out, "but we really do need to do something with the kids today, it's their vacation too."
He felt guilty about the paper covered with fonts and music notes — working, ha! — and folded it up.
"Yes, maskim, where are we going?"
Henny looked at him for several moments and said nothing.
"Shuey," she finally said, "I know you work hard, but you flit in and out of this house. You come for Shabbos, basically, and then you're tired. I drive them and pick them up and feed them and do homework with them. Last night you were home, but you were out with the bochurim until two thirty in the morning. Do you think that you can figure out where to go today?"
It was getting to her. He knew that he wasn't home enough and that the commuting thing wasn't really working out as smoothly as he'd promised. There was a January payroll to worry about and no real funding sources and three voice mails and two texts from the Monsey caterer, who wanted to be paid.
He nodded, as if to let Henny know he understood her.
"Hen, you're a million percent right. A billion percent right. I'm on it and I'm excited to figure this out, I'll take them somewhere great. The whole Lakewood will be at SkyZone, of course, and the ice-skating place at Howell will be a minyan factory, so I'll try to be original, okay? I'm on it."
She looked grateful and he felt badly, as was happening too often lately.
He'd let down the rosh yeshivah with the song. He'd let down Henny by escaping reality and getting lost in the song.
One of two things could happen now, he reasoned. The song would come out and no one would care about it, or it would be a hit. That sometimes happened and he'd long ago stopped trying to predict why some songs made it and others fell flat.
If the song flopped, he would have to make a decision if Modena was the answer or if it was time for change, yet again — but if the song made it, maybe a new door would open? Maybe Shuey Portman the singer wasn't done yet?
He stood up and went to pick up a circular from the pile on the kitchen table.
"What about the Police Museum, does that sound exciting?" he asked.
to be continued…
(Originally featured in Mishpacha, Issue 833)
Oops! We could not locate your form.
>