| Recipes |
Eggplant Beef Rollups
| September 20, 2022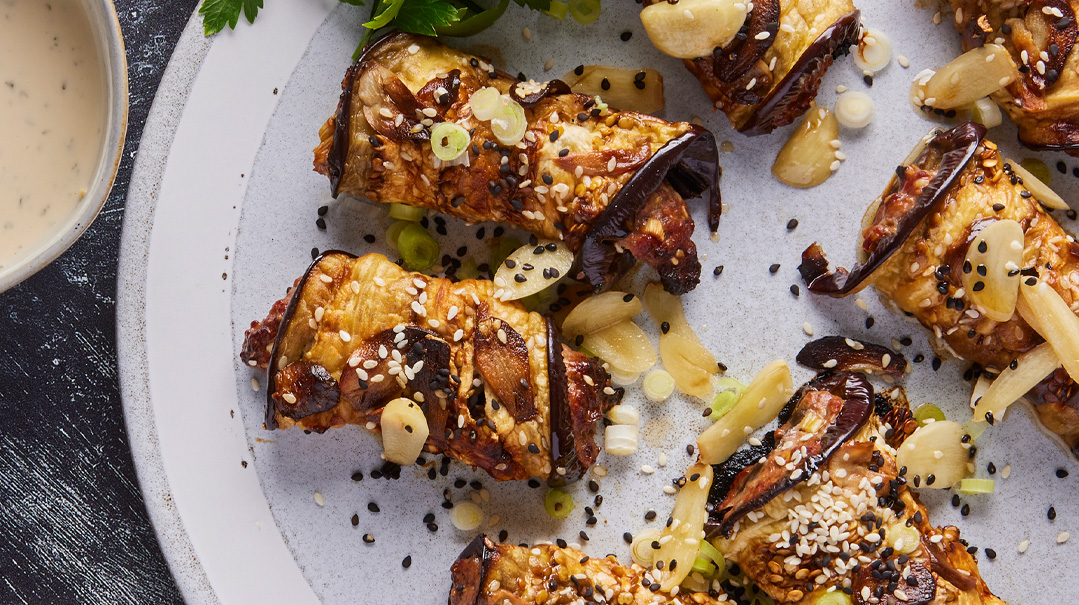 Food and Prop Styling by Chana Rivky Klein
Food Prep and Consultant Chaya Surie Goldberger
Photography by Felicia Perretti
These are like little meat raviolis that use eggplant instead of pasta and sesame seeds instead of tomato sauce! So maybe not like ravioli at all, but you understand my mind's direction. Serve these rollups with a side of spicy mayo or oyster sauce to create an appetizer that's both fun and different, and ever so slightly reminiscent of Italian cuisine. But again, not really at all.
SERVES 8–10
2 long eggplants, cut vertically into very thin slices
salt, for sprinkling
Meat Mixture
1 lb (450 g) lean ground beef or lamb
¼ cup soy sauce
2 Tbsp honey
1 Tbsp teriyaki sauce
3 cubes frozen garlic
2 cubes frozen ginger
2 Tbsp sesame seeds
1 bunch scallions, cleaned and diced
½ tsp salt
¼ tsp pepper
Topping
6 cloves garlic, sliced
2½ Tbsp toasted sesame oil
salt, for sprinkling
sesame seeds, for sprinkling
Preheat oven to 425°F (230°C).
Place eggplant slices on a paper towel and liberally season with salt. Allow to rest for an hour. Dry the water droplets off the eggplant.
Meanwhile, mix sliced garlic with sesame oil and set aside.
Place ground meat in a bowl with soy sauce, honey, teriyaki sauce, garlic, ginger, salt, pepper, sesame seeds, and scallions. Season with salt and pepper. Mix so that everything is evenly distributed.
Put a tablespoon of the meat mixture on the wide part of the eggplant and roll it up, placing it seam side down. Stick in a toothpick to hold the roll together.
When all the eggplant slices are filled, smear the tops of the rollups with the garlic/sesame oil mixture. Season with salt and sesame seeds.
Bake for 40 minutes, or until meat is cooked through and eggplant is charred. Remove from oven halfway through cooking time to drain accumulated liquid.
(Originally featured in Family Table, Issue 811)
Oops! We could not locate your form.
>