| Eternal Wall: Pesach Theme 5782 |
Dream Come True | April 11, 2022
And there in the women's section sat Sara, her elderly mother at her side, tears rolling down both their faces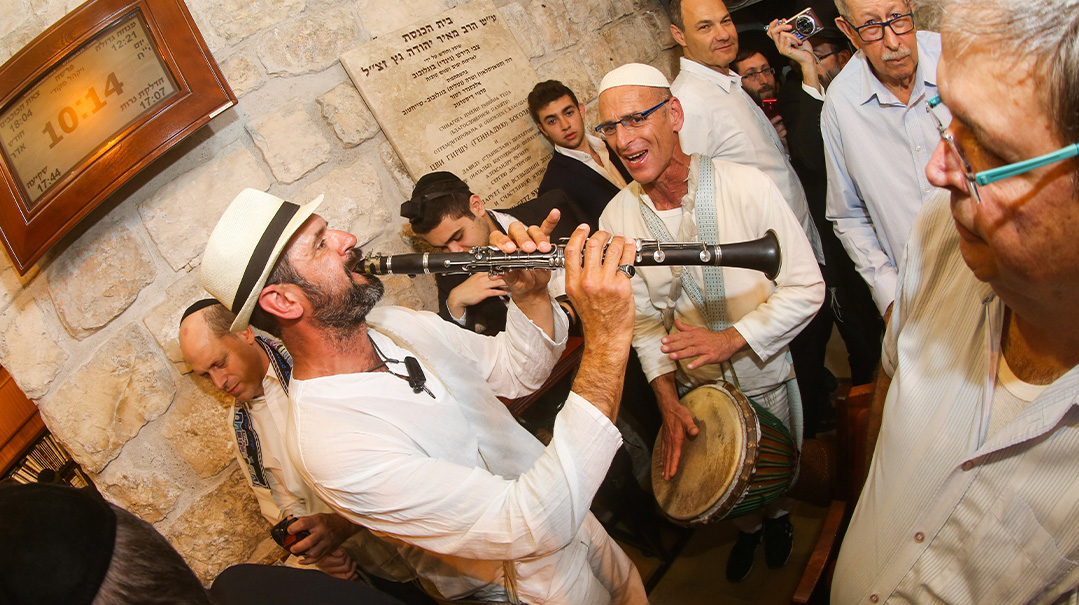 As told to Ariella Schiller by Ruth Buchler
They say you don't work a day in your life if you love what you do. And I love what I do.
Event planning in Israel, at locations like the Old City and the Kosel, is both rewarding and enjoyable work. I love Yerushalayim and I love sharing my passion with my customers. My team and I have coordinated some incredible, high-end events for clients who like to pull out all the stops.
When Sara* called from New York to say she wanted to plan her son Dovi's bar mitzvah, I expected the usual: high-end venue, personalized design theme. Sara was so sweet, and sounded so excited about this bar mitzvah, that something drew me to take her on despite it being a hectic time professionally. Maybe I sensed that there was a certain urgency in her request, something beyond "give us an incredible time." I found myself promising to do my best to make Dovi's bar mitzvah unforgettable.
Dovi has a twin sister, she told me, and before the twins came triplets. They'd done the triplets' bar mitzvah in Israel three years ago, and it had been magical.
Well, that sounded hard to top, especially as they were definitely not looking to break the bank, but I was going to give it my all. I began negotiating with vendors, designing a logo, throwing in extras like water bottle labels.
The whole shebang was coming together slowly, and I was getting to know Sara via texts and phone calls. There was something very elevated about her, something I couldn't quite put my finger on — and I thought I detected a quiver of emotion just beneath the surface of our correspondence. Then, during one of our conversations, she mentioned, almost casually, that one of the triplets, Shlomo, was undergoing treatment for a brain tumor. "Thank G-d he's doing OK," she said, "and we promised we'd bring the whole family to Israel to celebrate."
The pieces all fell into place now, and I was left in awe of this strong, positive woman, doing so much to show Hashem hakaras hatov for her son's recovery.
One point we were stuck on was the venue for Dovi's very first aliyah l'Torah. The bar mitzvah was going to be in March, and as any Jerusalemite will tell you, there is no telling what the weather will be like then. Cold, hot, raining, snowing? We needed an indoor venue for davening, and I wanted it to be special.
I mentioned to Sara that I had once done an event in the breathtakingly beautiful, but tiny Rav Getz shul under the Kosel, opposite the spot of the Kodesh Kedoshim. I even sent her a picture… and she fell in love. The architecture, the Roman columns, the unearthly atmosphere — something about the location spoke to her in a very deep way. All this time, she had felt a pull to bring her simchah to the Holy Land. Now she could bring it to its climax in this holiest of locations.
What I hadn't told her was that having that last event in the Rav Getz shul took well-placed connections, and a lot of protektzia. I wasn't sure I'd be able to pull that all off again. But this was Sara's dream… I knew I had to try, for the sake of this special mother and all that she'd been through.
Sara and her family arrived in Israel and began their itinerary of trips and touring. Behind the scenes, I was scrambling — how could I make her dream come true? As the family hiked and toured, I shared Sara's story with several well-connected donors, who were moved by the family's ordeal. And permission was obtained. We could hold davening in the Rav Getz shul!
I called Sara. She was in the middle of a tour in Gush Etzion, but she held the phone to her ear and I could hear her unabashed sobbing.
The bar mitzvah day dawned blustery and rainy. Thank you Hashem for our perfect indoor venue! We met at the Kosel and descended to the shul, cognizant of our strict instructions: entry limited to immediate family and participants. I had asked permission to bring in some authentic Israeli-experience shofar blowers; they could come, I was told, but there was to be no blowing inside.
Sara and her husband had hired a singer who led them in a beautiful davening. Soon enough a round of spontaneous dancing broke out. The brothers seized each other's hands and the small assemblage joined the circle. The shofar blowers were swept away by the electric atmosphere; they let out joyous blasts and no one stopped them. It was the most heartfelt, honest expression of ecstasy I'd ever witnessed.
And there in the women's section sat Sara, her elderly mother at her side, tears rolling down both their faces. I've seen a lot of high emotion but this time, I cried too.
Several months later, Sara texted me.
"You don't know what you've given us," she wrote. "The memories of the bar mitzvah keep us going through some very trying times that have come upon us suddenly."
I'm so glad I was able to give Sara and her special family something for the tough times. Because we all have our journeys, and the dark path is that much brighter when you have a piece of Yerushalayim to illuminate the way.
Ruth Buchler is the founder and Event Consultant of Tourus, which is a play on her name. "Tour Rut" is all about experiencing Israel with Ruth's direction, advice and hands-on attention to every detail, ensuring a smooth-sailing dream trip for her clients. 
(Originally featured in Mishpacha, Issue 907)
Oops! We could not locate your form.
>