| Double Dance |
Double Dance: Chapter 39 
| July 8, 2020
"You did it!" Rikki jumped up and threw her arms around her sister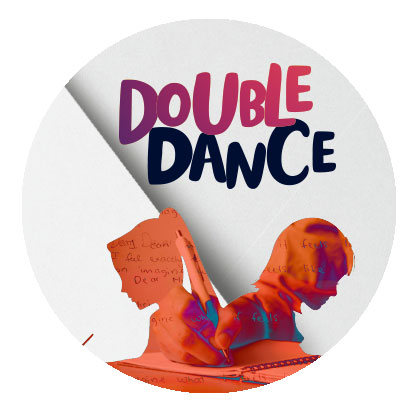 "Tatty!" Rikki shouted. "I'm so happy you're home!" She shifted her backpack to her other shoulder and leaned down to hug him.
"It's good to be home."
"How are you feeling?"
"Baruch Hashem. A little achy, but okay. Ma told me how much you helped her while I was in the hospital."
"There wasn't really that much do."
"I heard what a nice time you had with Chaya, too."
"Yeah. It was kind of nice. Did Ma tell you that she sang with Ruchie and me?"
"She sure did. Maybe later, you can sing with her, so Ma and I can hear it."
"Okay. You're not going to believe it!"
Mrs. Levy entered the living room with a tray in her hands. "Oh, hi, sweetie pie. Surprise, Tatty's home." She placed the tray on the coffee table.
"Looks delicious, Rena," Mr. Levy said.
"Fresh out of the oven." She glanced at Rikki. "There's more in the kitchen if you want."
"Yum. Thanks, Ma."
Rikki followed the mouthwatering aroma to the kitchen. Chaya and Maddy were sitting at the table, eating hot muffins.
"She sure likes blueberries."
"Who doesn't?" Rikki dropped her backpack on a chair, then plucked a muffin from the platter and sat down.
Chaya grunted, and Maddy laughed. "Guess I'm not quick enough." She stuck a fork into a piece of muffin and popped it into Chaya's waiting mouth. "She can probably eat it on her own, but I already changed her top twice today."
"You like it, Chaya, don't you?" Rikki said.
Chaya eyed her sister, then reached for the muffin Rikki held.
Rikki gently took hold of Chaya's hand. "Like, hi, that's mine. You have your own."
Chaya held Rikki's fingers, and Rikki squeezed her hand playfully. Chaya smiled and squeezed back.
"Okay, you win, again." She slid her muffin closer to Chaya.
"Why don't you feed it to her?" Maddy said.
"Me? I don't know. I'm not so good at those things."
Maddy placed the fork down in front of Rikki. "You know what they say, 'practice makes perfect.' "
"No, really Maddy, I can't."
Maddy hopped out of her chair. "Oh, I just forgot, I left something upstairs. I'll be back soon."
Rikki opened her mouth to protest, but Maddy was out of the kitchen in a flash.
Chaya took the muffin and slowly brought it to her mouth.
Rikki held her breath, scared any sound would break Chaya's concentration.
Chaya leaned forward and took a bite.
"You did it!" Rikki jumped up and threw her arms around her sister. The muffin fell from Chaya's hand onto her lap, and Rikki caught it before it tumbled to the floor.
"Oh, sorry, Chaya. Here." She set it back on the table.
Chaya didn't reach for it.
"Come on. You can do it. You did it before."
Chaya's arms remained motionless at her side. She looked at Rikki longingly.
"No," Rikki shook her head. "I can't feed you. You'll have to wait for Maddy."
Chaya stared at Rikki, and Rikki's resolve weakened. "Oh, okay."
She cut the muffin into smalls chunks as Maddy had. "You're just being lazy, you know."
Chaya immediately opened her mouth.
"Hello! Chaya!" Rikki laughed. "I guess I'm also not fast enough!" She picked up a chunk with the fork. "Okay, okay, here."
Mrs. Levy stood off to the side of the doorway, watching her girls. "Thank you, Hashem," she whispered. Slowly the pieces of muffin disappeared into Chaya's mouth. She saw Chaya point to the plate in the center of the table.
"No way!" Rikki said. "I mean, I know Ma makes the most heaven muffins, but you have to save some for the boys and me. And I'm sure Ta is going to want another one. These are his favorite."
Mrs. Levy clasped her hands to her bursting heart. It sounded like ordinary sisters talking together. "Let's sing instead," she heard Rikki say. She stood as still as possible.
"How about the song I sang with Ruchie? You like that one."
Mrs. Levy could see Chaya sway slightly as Rikki began to sing. Soon Chaya's humming melded with Rikki's voice.
She grasped the wall for support as her daughters sang together.
Chaya clapped her hands when the song ended.
"Rikki!" Mrs. Levy entered the kitchen. "That was beautiful. I'm amazed!"
"Oh, Ma, I'm so happy you heard it."
"If I wouldn't have heard it with my own two ears," Mrs. Levy dabbed her eyes, "I wouldn't have believed it."
Chaya's hand shot out and grabbed another muffin from the plate. She took a huge bite from the top, and Rikki and her mother laughed.
"By the way, she loves them, Ma."
Mrs. Levy rubbed Chaya's back affectionately. "Not such a big bite, sweetie, it's dangerous."
Chaya munched; her cheeks puffed to their limit.
"Ma, would you mind if we had the eighth-grade Melaveh Malkah here?"
"Here?" Joy filled her mother's voice. "Seriously?"
"I gave it a lot of thought, and I really want to have it here. Also, if it's here, Chaya can come too."
"You want Chaya to be there? I'm shocked. I mean, in a good way. Of course, you can have it here."
Rikki didn't tell her mother about Ruchie's idea that they all perform together. She hoped to surprise her mother.
"There's just one problem. First, Mrs. Horowitz said we should have it here, but then after Ta got hurt, she changed her mind. She's looking for another house."
Mrs. Levy was already flipping through the phonebook. "No such thing. I'm going to tell her it's a hundred percent fine to have it here."
"Thanks, Ma. I hope she says yes."
Mrs. Weiss returned to the car with three strawberry ice creams. "Sorry it took so long. The line was forever. Doesn't anyone work anymore?"
Miri laughed. "Maybe everyone else is sick too."
"Thank you, Leah," Mr. Weiss said. "This looks delicious." He took a bite from his ice cream cone.
Mrs. Weiss winced. "Doesn't it hurt your teeth and give you brain freeze?"
"No. I never understood the whole brain-freeze thing. I always bite into my ice cream."
"Here you go, Miri." She handed her an ice cream cone over the backseat then took her milkshake out of a bag.
"No cone?" Miri asked her mother.
"Uh, uh, too messy in the car." She took a sip then caught Miri's eyes in the rearview mirror. "How is it going down?"
"Hurts a little, but it's delicious. Thanks."
"Don't force it, Miri," her stepfather said. "We can always go for ice cream when you feel better."
"Okay. Maybe I'll save it then."
Mrs. Weiss saw Miri close her eyes and rest her head against the soft leather of the seat. Her husband's head was on his headrest too.
"I'd better get you two home," she said. "Maybe going for ice cream wasn't such a good idea."
But the smile on her lips as she started the motor told a different story.
to be continued…
(Originally featured in Mishpacha Jr., Issue 818)
Oops! We could not locate your form.
>