| True Account |
Disappearing Act | October 30, 2019
Something was so strange about this little girl and her request. Something didn't add up. What was bothering me so much?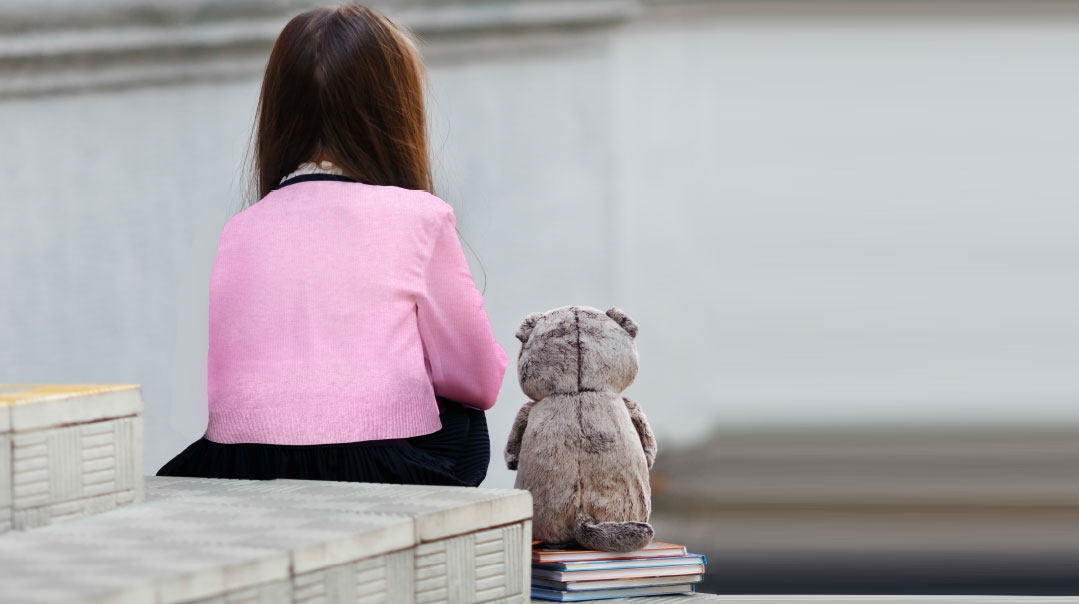 I zipped up my coat a little higher as the chill hit me. The sky was a flat expanse of gray as I walked quickly toward Golda Meir Boulevard. Any minute now it would start raining; I just wanted to be at the office already. As I headed out of my quiet neighborhood and onto the busy street, a little girl appeared.
She was probably around nine years old. Neat ponytail, cute pink sweater, straight denim skirt, and fashionable suede booties. She looked at me nervously and in a soft voice asked, "Which way is the Harmony Center?"
"Harmony?" I said. "I don't know any place like that around here. Do you know where it is?"
"Harmony," she said again.
"I'm so sorry, I don't know."
"So where's the bus stop?" She was clearly nervous.
"Well, which bus are you supposed to take?" I said. "There are bus stops down there, in the middle lanes of the street — you can walk down one block and you'll see them."
The little girl looked in the direction I was pointing. Then, to my surprise, she began sprinting down the sidewalk.
Something felt funny. I kept an eye on her as I walked toward the traffic light. The pink sweater kept moving quickly ahead. Then the little girl suddenly veered left, crossed the busy boulevard, and turned up a little-used path that led… actually I had no idea where it led. It seemed to end in a rocky outcropping.
I stopped for a minute, watching the little figure get steadily smaller, then continued on to work.
Something was so strange about this little girl and her request. Something didn't add up. What was bothering me so much?
Suddenly I realized. She wasn't wearing a coat.
There are all kinds of kids and all kinds of parents in Israel, and it wasn't really freezing that day, just chilly. But this seemed to be the kind of kid who had responsible parents who cared about dressing her well, who made sure her ponytail was neatly done and her shoes appropriate for the season. Not the type of parents who would send out their kid without a coat on a cold winter day.
Where had she said she was going? The Harmony Center — what was that?
I entered the office, turned on my computer, watched as the e-mails started coming in. I quickly realized that I wouldn't be able to focus. I have a good imagination and whenever I meet an interesting person or see an interesting scene, I can imagine all kinds of dramatic stories. Sometimes that tendency gets me in trouble. This time I decided to do something I never do. I called a woman I know who's an experienced social worker.
"I'm so sorry to bother you, and this is going to sound so weird," I told her. Then I described my morning encounter. "Did you ever hear of this place, the Harmony Center?"
"Sure," she said. "It's a center that provides activities for special-needs kids. And it's in Rechavia, nowhere near your neighborhood."
"So you think this little girl has special needs?"
"Probably."
"And she was supposed to be going to Rechavia?"
"Sounds like it."
"Do you think I should call the police? I don't want to get her parents in trouble or anything."
"I don't think it would hurt to call the police," she said.
I felt surreal as I dialed the police. I'm just a regular frum woman who was walking to her office on a regular winter day. Mystery and intrigue don't happen to me.
The woman who answered my phone call was attentive and professional. She listened to my story, which sounded pretty innocuous. "But the thing was," I tried my best to explain, "this girl looked so put-together, so well-tended. It didn't make sense that she didn't have a coat. And then she started running, and she disappeared."
"Okay, we took down the information, thank you for calling."
I had done my duty, I'd seen something and said something, and now it was time to work.
About an hour later my phone rang. "Shoshana ? We're calling from the police. We want to hear a little more about this girl you saw. We have a patrol car outside your office. Can you come down and talk to us a bit?"
This was getting stranger and stranger. I headed downstairs and spoke to the Ethiopian policewoman inside the car, describing the little girl yet again, explaining where I'd met her and where she's disappeared.
"Is there a little girl who's gone missing?" I asked.
"Nothing right now," the policewoman said coolly. "Thank you for your time."
"You'll let me know?"
Why in the world would they let me know? Because I couldn't stop wondering and worrying about the nameless little girl? Because I couldn't focus on my work? Because I kept wondering how cold she was?
I headed back up to the office and tapped away at my screen.
My workday wound down and I found myself back on Golda Meir Boulevard. Of course she wouldn't be there anymore, but I stared at the rocky path where I'd last seen the little girl. Where was she going? What was she searching for? What had been going through her mind?
Busy preparing supper, doing laundry, talking to my kids, I wasn't sure whether to mention what I'd seen. Then my phone rang.
"Hello, is this Shoshana ? My name is Gabi Cohen and I work for the police. I'd like to show you a photo of a missing girl. Where are you right now?"
My kids were all excited and apprehensive to have a real policeman in uniform visit our home. What would the neighbors think? Would he have a gun?
Gabi was pleasant and direct and didn't stay for more than a minute. He took out his phone and showed me a picture of a familiar little girl with that same pink sweater and denim skirt. "Is that her?"
"Yes, it's her. Is she missing?"
"Yes, she's missing. She has special needs, she doesn't communicate so well, and she slipped out of the house this morning. We're doing our best to find her."
I swallowed hard. "You'll let me know what happens?" I begged.
He nodded and shut the door.
Now my children were worried too. We continued our routine, subdued. It was getting darker and colder, and that lost little girl didn't have a coat. Who knew what she was enduring?
When my phone rang again, the kids crowded around. "Shoshana ? I'm calling from the police. I work with the hidden cameras here in Yerushalayim, and I want to speak to you about where you saw the little girl today. Can you meet me down on the street? I'll be on a motorcycle, but without a uniform."
The mystery cameraman asked me to describe exactly where the little girl had gone. He gave me a paper and pen and I mapped out her route.
"You have cameras around there?" I asked.
"We have cameras everywhere," he said. "We're going to figure this out."
He zoomed off. I davened that he was right.
"Are we ever going to find out what happened?" my kids asked as we finished supper and started bedtime.
"Probably not," I told them. "It's not our business anyway." But my stomach was clenched in fear. By now it was completely dark, and very cold. Yerushalayim is a big city, and she was such a little girl. I didn't even try to distract myself anymore. I just kept imagining the worried face, those suede booties.
When the phone rang, my older kids jumped. "Shoshana ? It's Gabi Cohen." His voice was warm, strong, positive. "We found her. I thought you would want to know."
"You did? Oh, wow, thank you for calling me. And — she's okay?"
"She's okay. We have her. Thank you for your help."
That was it, that was all. I would never know what the little girl went through during the many hours since my morning walk to work. I would never know if she'd found a bench and curled up to sleep, or kept walking determinedly for hours in strange surroundings, or whether she'd been mistreated or hurt on that gray, gray day.
But one thing I do know. If that little girl had had some physical sign that she couldn't navigate the world as well as everyone else, I would have never let her walk down Golda Meir by herself. If she had had Down syndrome, I know I would have held her hand, taken out my phone, and offered to call her mother. If she had had some physical disability, I would have made sure to stay with her until she was safely on a bus.
I remember reading a quote from the mother of an autistic little boy. She described the way her son sometimes behaved in a pizza store — loud, disruptive, messy — and how she wished she could announce to everyone there, "My son has autism, don't judge him, don't judge me." But he looks just like everyone else; he has no outward sign that his inner world is different. Those beautiful blue eyes and neat features are a blessing, but also a curse. They withhold society's usual allowance and acceptance from a child who desperately needs them.
Never before had I understood a parent's terror at sending out a challenged child into the big gray world. Now I thought of those parents, and the constant trepidation they must face, trying to give their child security while giving her independence. I hope they realized that the almost-perfect picture of normalcy had deceived me, and that I would never have let their pretty little girl go missing if I'd known that behind the well-tended exterior was a struggling person who couldn't find her way home.
(Originally featured in Mishpacha, Issue 783)
Oops! We could not locate your form.
>