| World Travelers |
Destination: Scotland 
| March 15, 2022
Scotland seemed like a great choice — majestic castles, gorgeous scenery, charming culture, and numerous distilleries (where liquor is manufactured)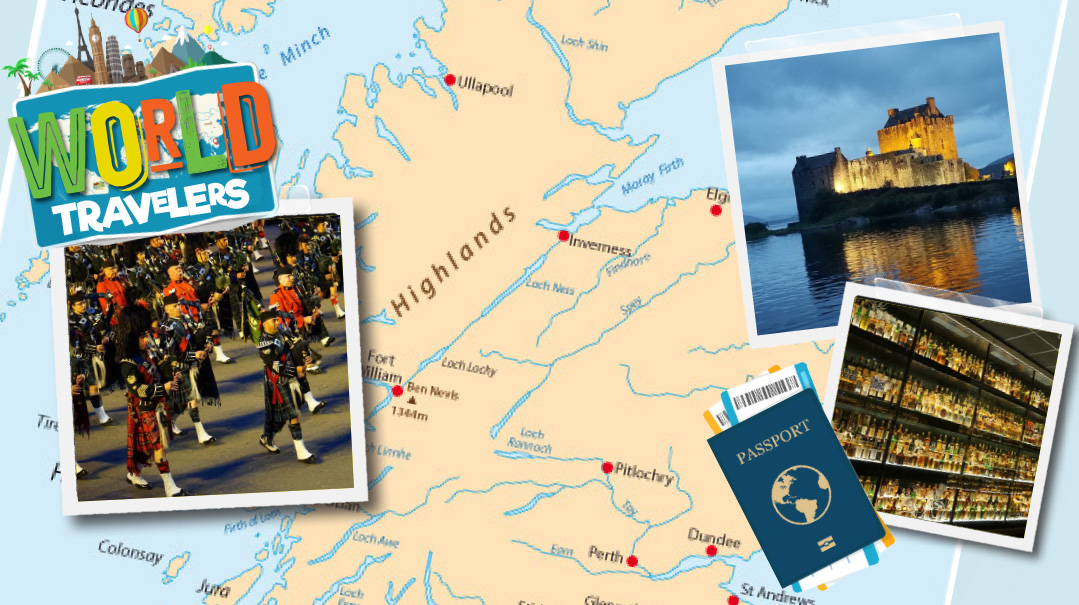 Where: Scotland
When: August 13 – 21, 2019
Who: Rabbi Alport, Dr. Alport, Moshe Aharon (18), Yosef Meir (11), Devora Leah (5)
After traveling extensively in the US for many years, we wanted to head overseas for this summer's big trip. Scotland seemed like a great choice — majestic castles, gorgeous scenery, charming culture, and numerous distilleries (where liquor is manufactured). The ability to buy kosher food at Mark's Deli in Glasgow and spend a memorable Shabbos Nachamu with Chabad of Edinburgh sealed the deal.
Inveraray Castle 
Scotland is famous for its many castles, so we began our trip at picturesque Inveraray Castle, the home of the 13th Duke of Argyll. It has been standing on the shores of Loch Fyne for centuries, and the current castle was built in the mid-1700s. It took us longer than expected to reach the castle, because in Scotland they drive on the other side of the road, and with no medians and very narrow shoulders, getting around took some getting used to.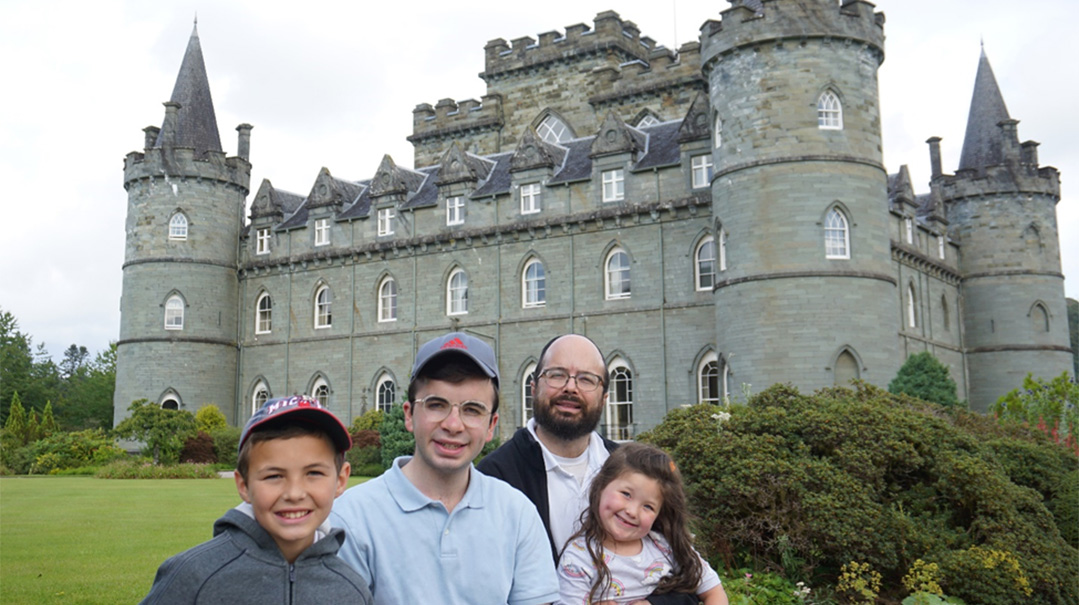 Castle Weapons
Some of the castles are just facades without much to see inside, but in addition to its magnificent exterior, Inveraray Castle also has an impressive weapons room displaying the muskets, spears, and swords shown here.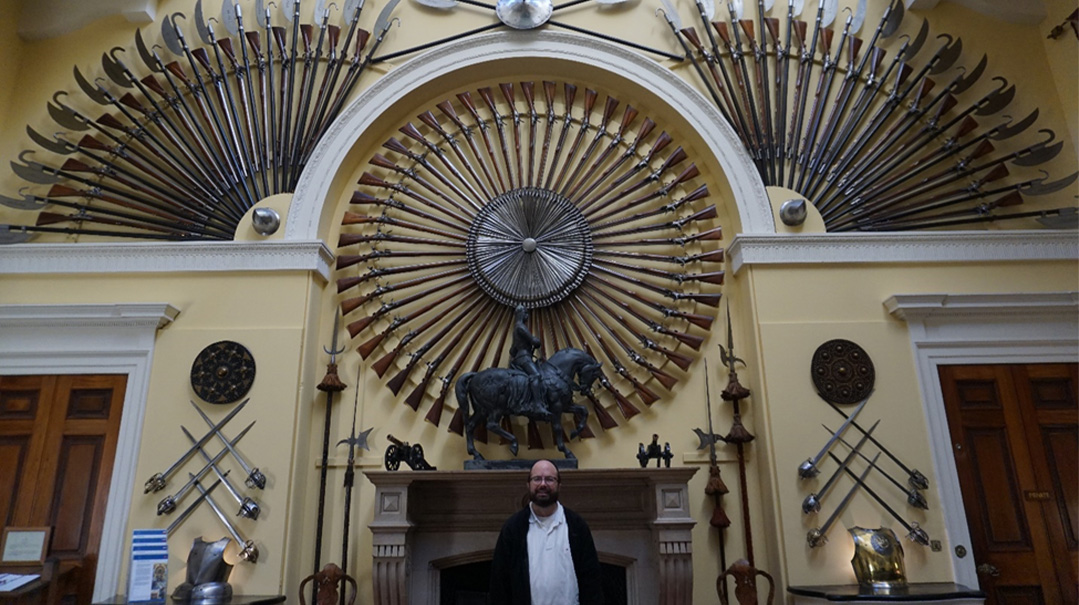 Loch Ness Monster
One of the first things that comes to people's minds when they think of Scotland is the Loch Ness Monster, known locally as "Nessie." Legend has it that Nessie was spotted in 1933 in Loch Ness, a large freshwater loch (lake) in the Scottish Highlands, and there are several museums and boat tours dedicated to the search for her. Alas, despite driving the length of the lake, we have no photos of Nessie to share, so we instead photographed Devora Leah in front of her likeness to commemorate our pursuit.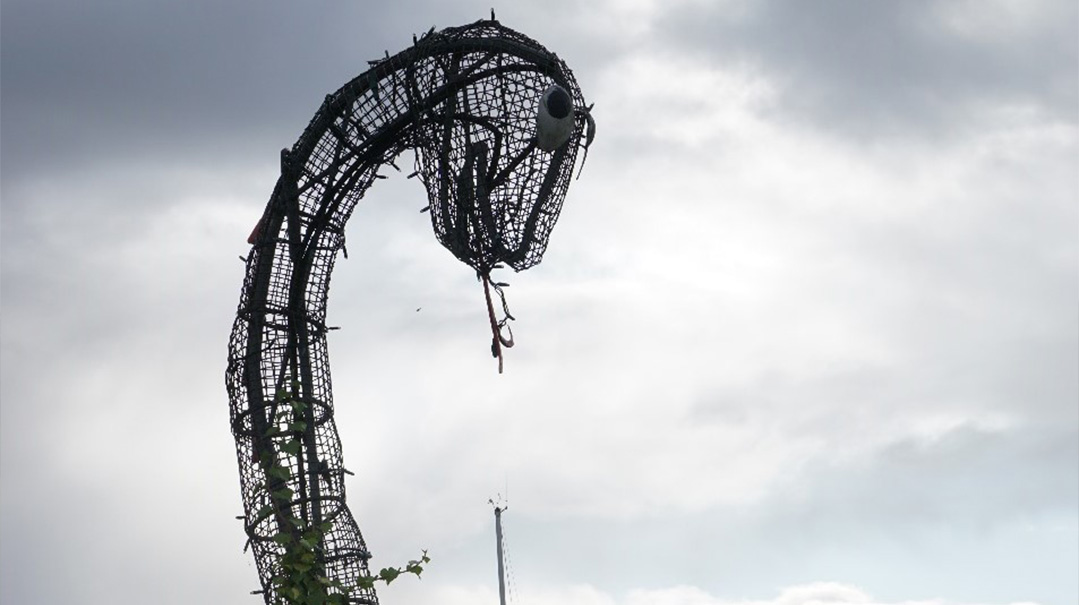 Eilean Donan Castle
Off the Scottish mainland on the remote Isle of Skye, Eilean Donan castle was originally built in the mid-13th century. By the time we got there after a long drive, it looked majestic as it was illuminated at night, helping us appreciate why it is the most photographed castle in Scotland.
Glenfiddich Tour
Wherever we travel, we always try to experience what our destination is known for. Since Scotland is renowned for its scotch, we decided to take a tour of the Glenfiddich distillery, which we were surprised to learn is pronounced "Glenfiddick." Besides producing one of the most popular brands of scotch for Jewish simchahs, Glenfiddich conveniently allows children on their tours, unlike many other distilleries. The tasting room at the end was our favorite part of the tour.
Stirling Castle Stirling Castle is one of Scotland's grandest and most historic castles, dating back to the 1500s. It is surrounded on three sides by steep cliffs, perfect for defending itself from attacking armies. In addition to its role as a military fortress, it was also used as a royal palace where numerous kings and queens were crowned, including Mary, Queen of Scots in 1542, six days after she was born. Here we are in the queen's regal private chamber, along with a worker dressed in period costume.
Isle of Skye
We had a wonderful time exploring and hiking around the hills of the magical Isle of Skye, where we watched the sheep graze on the lush green landscape.
Military Tattoo Despite its unusual name, the Military Tattoo was one of the most unique and amazing activities we have ever done. For a few weeks in August, a dozen different military marching bands from around the world take turns performing on the grounds of Edinburgh Castle with their local costumes, music, and dance over the course of a two-hour show, followed by a magnificent fireworks finale. This photo shows a small part of the Scottish contingent marching in their kilts and bagpipes.
Scotch Whisky Experience— Edinburgh's main street, the Royal Mile, begins at Edinburgh Castle and runs downhill for one mile, ending at Holyroodhouse, where Queen Elizabeth vacations every summer. One of the many unique stores and activities along the Royal Mile is the Scotch Whisky Experience, which teaches how whisky is made and showcases the largest collection of Scotch whisky in the world. This is just a partial view of its 3,384-bottle display!
Kelpies About 45 minutes northeast of Glasgow are two unusual horse sculptures known as the Kelpies. At almost 100 feet tall and weighing 300 tons each, they are the largest horse sculptures in the world. Although you can pay extra to get a guided tour inside them, we were content to enjoy the view from the outside.
Indoor skiing At the end of our visit to Scotland, we enjoyed some indoor skiing in Glasgow. It wasn't exactly world-class powder, but we were more than happy to take advantage of the opportunity to ski anywhere in the middle of the summer!
Meet you next time!
(Originally featured in Mishpacha Jr., Issue 903)
Oops! We could not locate your form.
>