| Recipes |
Dairy Vegetable Soup
| December 21, 2021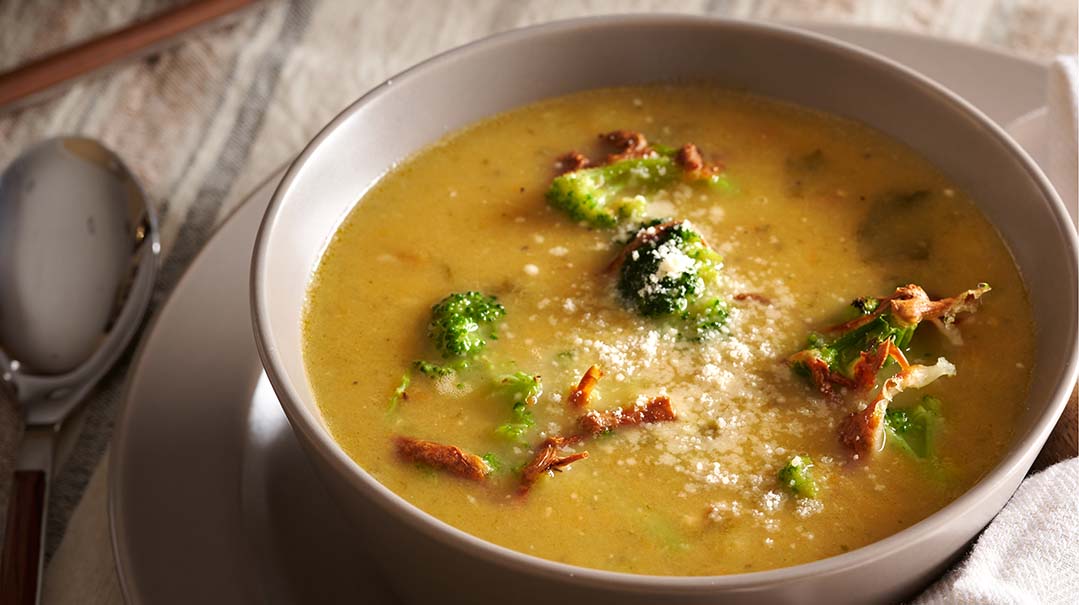 Props and Styling by Mindy Rubin
Photography by Hudi Greenberger
When I prepare Motzaei Shabbos at home, my kids (and neighbors) are always asking for a good pasta, and my wife always asks for a simple soup. My wife likes the soup chunky; I like it blended. This is how I prepare it, so we can keep our shalom bayis!
SERVES 15
½ cup (1 stick) unsalted butter
3 carrots, diced
1 parsnip, diced
3 stalks celery, diced
1 large onion, diced
1 potato, diced
8 cloves garlic, minced
2 large zucchini, diced
2 cups frozen riced cauliflower/butternut squash mix
¼ cup yellow split peas
¼ cup red lentils
2 Tbsp salt
½ tsp black pepper
14 cups water
2 cups fresh parsley
Cheesy Broccoli Garnish
1 cup shredded mozzarella cheese, divided
2 cups mini broccoli florets
salt, to taste
Parmesan cheese, for sprinkling
Melt the butter in a 7-quart soup pot. Add all the ingredients besides the parsley and water and sauté for 10 minutes over medium heat. Add water and bring to a boil, then let it simmer for an hour and a half over a medium-low flame. Add the fresh parsley and let it simmer for another 15 minutes.
Use an immersion blender to carefully blend the soup (use the pot cover to prevent it from shpritzing all over the place). I only blend it halfway so it stays a bit chunky.
To make the garnish: Preheat oven to 450°F (220°C). In a small baking pan, place half the shredded mozzarella, then add the mini broccoli florets, then top them with the rest of the mozzarella. Sprinkle with a little salt and bake for 10 minutes, or until you see the cheese and broccoli browning. I like it a little crispy. Garnish your soup bowl with the cheesy broccoli and Parmesan cheese.
(Originally featured in Family Table, Issue 773)
Oops! We could not locate your form.
>