| Recipes |
Crispy Gnocchi Salad with Creamy Pesto Dressing
| May 31, 2022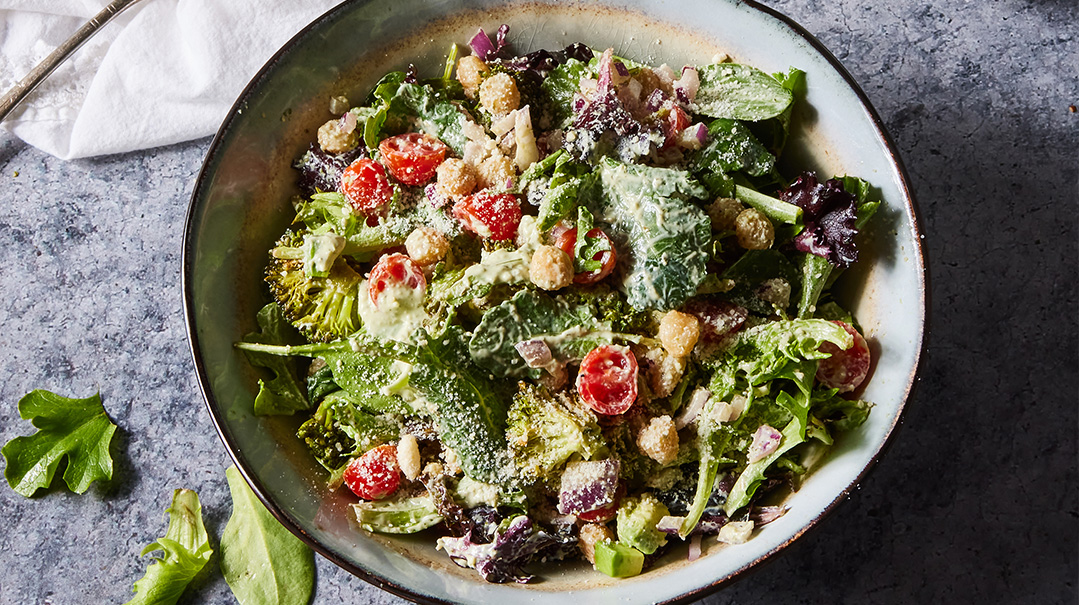 Food and Prop Styling by Goldie Stern
Photography by Felicia Perretti
This delicious salad with its unique topping requires a bit of extra effort but the results are so worth it! Pan-frying the gnocchi makes them soft and tender on the inside yet light and crispy on the outside. Once you try them this way, you may not go back to just plain boiled — don't say I didn't warn you!
SERVES 6–8
1 lb (450 g) frozen broccoli florets, defrosted
olive oil, as needed
salt, garlic powder, and onion powder, for sprinkling
1 1-lb (450-g) pkg mini gnocchi
2–3 Tbsp butter
1½ Tbsp Parmesan cheese
Dressing
½ cup mayonnaise
½ cup Mehadrin Sour Cream
½ cup milk
½ tsp lemon juice
4 Tbsp store-bought or homemade pesto
2 Tbsp Parmesan cheese
½ tsp salt
Salad
6 oz (170 g) spring mix lettuce
30 grape tomatoes, halved
1 ripe avocado, diced
½ small red onion, diced
salt and pepper, to taste
Preheat oven to 400°F (200°C).
Grease a baking sheet lightly with olive oil and spread out broccoli florets in a single layer. Drizzle with some additional oil and sprinkle with salt, garlic powder, and onion powder. Toss to coat. Place baking sheet on center oven rack and roast broccoli for 30 minutes, or until edges are lightly browned.
While broccoli is roasting, prepare the rest of the salad components: Create the dressing by whisking together all ingredients until smooth; set aside. Combine salad ingredients in a large bowl.
Bring 4 quarts of salted water to boil in a large pot. Add gnocchi and cook for 2–3 minutes, or until they float to the top. Drain well.
Melt butter in a large frying pan until browned. Add half of the gnocchi and spread so that it's in a single layer. Pan-fry 5–6 minutes on a medium-high flame, without turning them over. Toss and fry an additional 5–6 minutes until crispy and about half of them are beginning to brown. Remove from frying pan and place in a large bowl. Pan-fry the rest of the gnocchi and add to the bowl once complete.
Sprinkle warm gnocchi with Parmesan cheese and additional salt, garlic powder, and onion powder, tossing well to coat. Add the roasted broccoli and crispy gnocchi to the salad, drizzle with some of the dressing, and toss well to combine. Serve immediately.
(Originally featured in Family Table, Issue 795)
Oops! We could not locate your form.
>