| Pantry Makes Perfect |
Cracker Chicken with Orzo
| March 7, 2023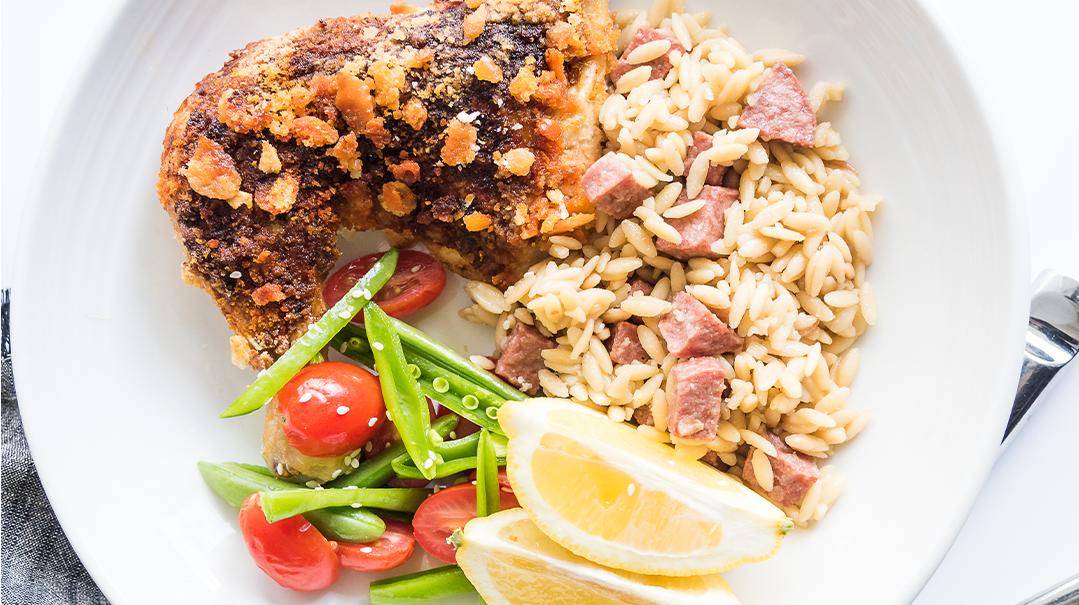 Photo: Sonya Kaplan
I know I'm not the only Jewish woman who serves "clear the pantry" dinners for the last couple of weeks leading up to Pesach.
How many ways can you use the excess chometz before your family catches on? This chicken dish is one I remember my mother making when I was a child. I don't think I've ever actually made it before, and now I know not to wait until Erev Pesach to make it again. It's worth buying the crackers for!
SERVES 4
4 chicken bottoms
2 Tbsp mayonnaise
salt, pepper, garlic powder, onion powder, and paprika, to taste
1 sleeve crackers (Snackers, Saltines, or something similar), lightly crushed
2–3 Tbsp honey
Orzo
2 Tbsp oil
2 cups raw orzo
4 cups chicken stock
1 lb (450 g) salami, diced
⅓ cup brown sugar
2 Tbsp soy sauce
Preheat oven to 375°F (190°C).
Lay chicken bottoms in a pan. Smear each piece with mayonnaise and season generously with spices.
Sprinkle crushed crackers over the tops of the chicken, covering well. Bake uncovered for 1 hour.
Remove from oven, drizzle honey on top, and bake for another half hour.
To make the orzo: Heat oil in a medium saucepan, and brown the orzo. Add chicken stock and bring to a boil. Lower heat and allow to simmer for 10 minutes.
Heat a small frying pan. Add salami cubes and sauté, stirring often to allow salami to crisp up. Add brown sugar and soy sauce to the pan and stir continuously until salami is well coated and sticky.
Mix salami with the hot orzo.
Tips
You can substitute any grain you're looking to use up in place of the orzo.
I would not suggest using a drier cracker like Shibolim in place of the Snackers, but I did try it with the low fat version of saltines and it was perfect.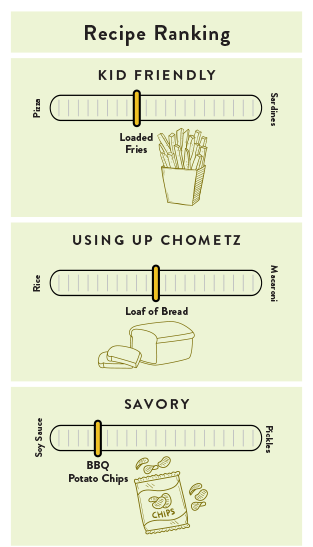 (Originally featured in Family Table, Issue 834)
Oops! We could not locate your form.
>