| This Way That Way |
Couscous
| January 18, 2022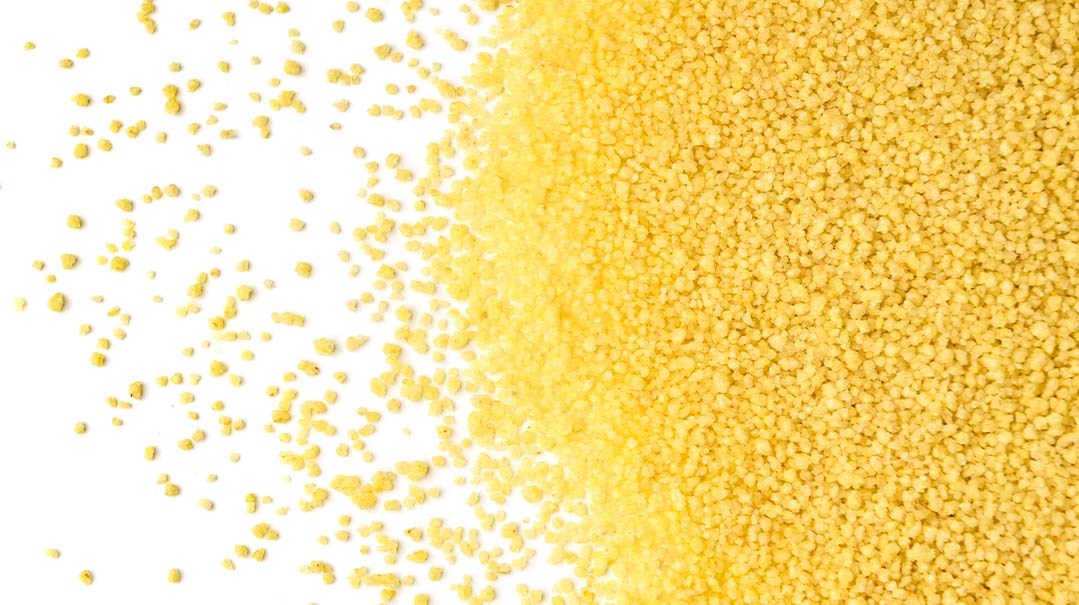 Comforting, classic, and crowd-pleasing, couscous (or the more familiar farfel) is a side dish so many of us have grown up on. Did you enjoy it under a bed of chicken with crispy skin? Do you associate it with colorful diced vegetables, or simply prepared with some salt? Here are the recipes our staff keeps making, time and again.
Tasty Tidbits
All in a Name
The original name is derived from the Berber seksu or kesksu, meaning "well rolled," "well formed," or "rounded."
Varieties
There are three types of couscous: Moroccan, which is the smallest and cooks very quickly; Israeli, which is larger and takes much longer to cook; and Lebanese, larger still, which is the size of small peas.
Fine Flour
Couscous is made from semolina. Originating from the wheat's inner seed, and containing all the rich goodness and protein of the wheat germ, semolina is wheat's finest product.
Easy Oven-Baked Farfel
Recipe by Faigy Grossman
Ever since my sister-in-law Chumi gave me this recipe, I've been using it as my "I don't have to think about this" side dish for any and every occasion (and non-occasion). Super speedy and tasty, it really works! Thanks, Chumi!
SERVES 6–8
1 10-oz (280-g) pkg farfel

3 scant cups water

⅓ cup oil

1 scant Tbsp sugar

1 tsp salt

pinch paprika

¾ tsp garlic powder
Preheat oven to 400°F (200°C). 
Place all ingredients into a 9-inch (23-cm) round baking pan. Cover tightly with foil and bake for 50 minutes to an hour. Remove from oven and stir to combine flavors.
Colorful Couscous Salad
Recipe by Estee Kafra
Couscous is one of my favorite side dishes. Roast the beets up to three days ahead, and this salad becomes a beautiful, quick, throw-together dish. Try to dice the vegetables into uniform pieces to create a nice effect.
SERVES 6
1 large yellow beet 

1 large purple beet 

2 Tbsp olive oil, divided, plus some for rubbing beets

½ cup finely chopped onion

¾ tsp cumin 

1½ cups whole wheat couscous, raw 

¾ tsp kosher salt

1½ tsp freshly ground black pepper 

1½ cups boiling water 

3 Tbsp freshly squeezed lemon juice

1 cucumber (unpeeled), diced

¼ cup fresh mint leaves, chopped

½ cup fresh flat-leaf parsley, chopped

2 cups baby spinach leaves

tahini, for drizzling
Preheat oven to 425°F (200°C). 
Rub the beets in olive oil and wrap each one separately in aluminum foil. Bake for 50–60 minutes (less for smaller beets). Unwrap. When the beets are cool enough to handle, rub off the skins, dice, and set aside. 
Heat 1 Tbsp olive oil in a large skillet over medium heat. Add onions and cumin and sauté until translucent. Add the couscous, salt, and pepper, and stir, coating the couscous pieces in the oil. Add boiling water and turn off flame, cover, and let stand for 15 minutes. Fluff with a fork and transfer to a large serving bowl. Add the diced beets, lemon juice, cucumber, mint, parsley, and remaining 1 Tbsp of oil. 
When ready to serve, toss with the spinach leaves. Serve at room temperature. Drizzle with tahini, if desired.
Fresh Couscous Salad
Recipe by Chavi Feldman
I've always loved the combination of lemon and dill, and this flavorful couscous salad is no exception!
SERVES 10–12
1 pkg Israeli-style couscous, cooked, drained, rinsed, and cooled

1 can corn, drained

1 red pepper, diced

¼ cup chopped fresh dill
Dressing
½ cup lemon juice 

⅓ cup oil

1 tsp salt

½ tsp garlic powder

dash white pepper
Combine the couscous, corn, red pepper, and dill in a large bowl. In a separate bowl, whisk dressing ingredients together and pour over couscous. Stir well to combine. Refrigerate for several hours to allow flavors to blend.
(Originally featured in Family Table, Issue 777)
Oops! We could not locate your form.
>