| Recipes |
Coffee Peanut Butter Sheet Pan Dessert | August 28, 2019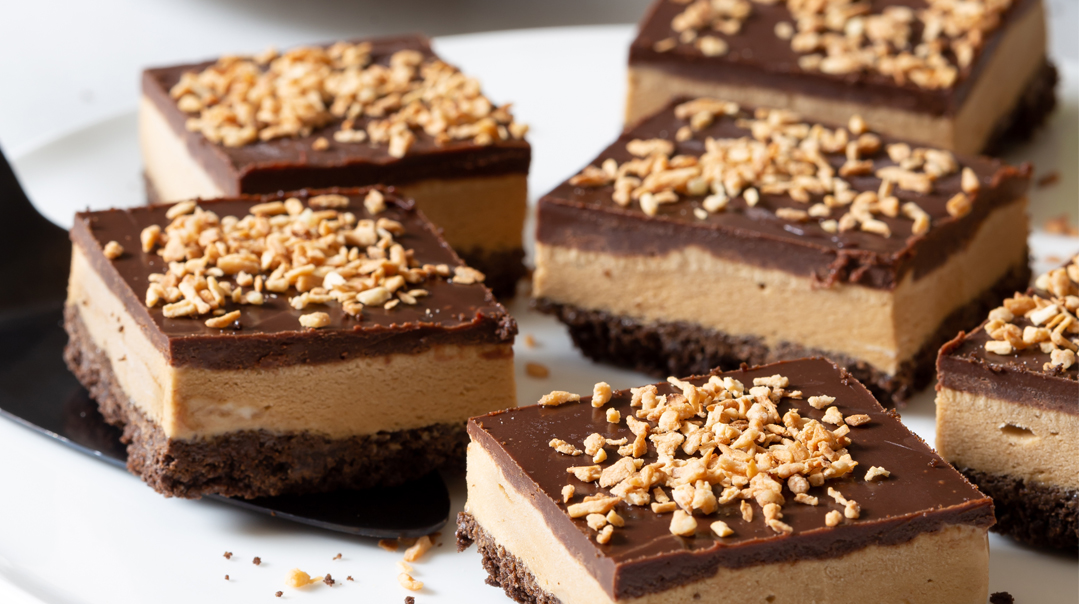 Food And Prop Styling By Renee Muller Photography By Moshe Wulliger
Coffee Peanut Butter Sheet Pan Dessert
Coffee and peanut butter might not have been a match you would have made in your head, but I always wanted to try it in a dessert and this was amazing. The photo shoot team told me I better get the message across about how good it is!
SERVES 20
CRUST
2 14 oz pkgs chocolate sandwich cookies
½ cup (1 stick) margarine
ICE CREAM

2 quarts (2 kg) pareve vanilla ice cream
6 Tbsp instant coffee dissolved in 2 Tbsp boiling water
CHOCOLATE PEANUT BUTTER TOPPING
10 oz (280 g) chocolate (I used 52%)
½ cup peanut butter
1 cup pareve cream (either coconut cream or pareve whipping cream)
nut crunch, for topping (I used Baker's Choice)
Preheat oven to 350°F (175°C).
Place the sandwich cookies and margarine into the bowl of a food processor, and pulse until fully ground. (Alternatively, you can place the cookies and margarine in a ziplock bag, and roll over it with a heavy-weight rolling pin.) Press onto a parchment-lined baking sheet, and bake for 15 minutes. Allow to cool.
Allow ice cream to melt slightly, and fold dissolved coffee into it. Spread ice cream over cooled crust. Place in freezer to set.
To make the ganache topping, heat chocolate, peanut butter, and pareve cream in a double boiler until chocolate is melted and ingredients are combined. Remove from heat and allow to cool to room temperature, stirring occasionally. Pour ganache evenly over the ice cream layer. (An offset spatula works well.)
Top with nut crunch.
(Originally featured in FamilyTable, Issue 655)
>