| Diary Serial |
Close to Home: Chapter 1    
| June 28, 2022
     

 "Just find us a house. I trust you. Get whatever you want and I'll be happy"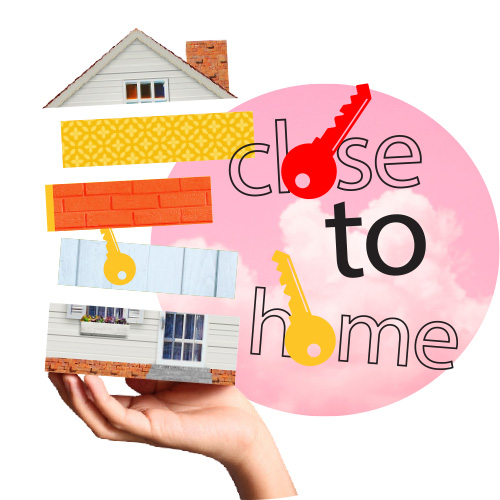 Nechama Norman with Batsheva Berman
I was in a field in Indiana when I got the call that would launch my career.
It was summer, and I was running a teen sleepaway program. We'd just moved to Lakewood after having spent seven glorious years in Eretz Yisrael. Wanting to settle down, we were looking for a house. And since I was seven hundred miles away, my husband was trying to get my input on crucial decisions.
The problem was that reception in Indiana was patchy at best.
"How important is—?" was all I heard.
And then, a minute later: "…open-plan kitchen or…"
This wasn't going to work.
"Just find us a house," I told him, as soon as his voice came back on the line. "I trust you. Get whatever you want and I'll be happy."
"That's what you're saying now," he said, "but you're going to be living here. You need to love it. It's important that…"
I never did find out what was important, because at that point, our call dropped. And I was left with a single thought: We need a really good real estate agent. Someone we can trust who can walk us through this — even if I'm three states away.
Four weeks later, I was back in Lakewood.
And we still didn't have a house. The school year was fast approaching and we wanted to be settled before the kids started school. We didn't have the biggest budget, but we were flexible and willing to be pioneers.
I got actively involved in the search. And I discovered that finding a house wasn't my biggest problem. Finding a decent realtor was.
There was Meira. She was nice, but was always on at least two simultaneous calls. So conversations with her would sound something like this:
"The house needs a little work, but for the price they're asking— well, a huge backyard is a big plus— no, they don't have a big backyard; I wasn't talking to you, but the front yard isn't bad— I know an island in the kitchen is crucial to you, and even though there isn't one now, you could for sure fit one in— no, not you, that house has a galley-style kitchen, but think of that beautiful view of the backyard…"
There was Michael, who spent a lot of time telling us that our budget was ridiculously low. The fourth time he said, "Well, if that's all you're spending, what on earth do you expect? Honestly, if you want something nice, you need to be willing to spend at least a million. This is the most important purchase you'll ever make! You need to invest!"
Well, if you're willing to pay my mortgage, then I'd be happy to spend a million was what I thought.
"It may be time to be move on" is what I said to my husband.
When another agent yelled at us — literally yelled — I wanted to throw in the towel. I was willing to put up with a lot to find a home, but being yelled at seemed too high a price to pay.
It took nine agents.
We finally found an open-plan home with a big yard in Toms River. Back then, the area was mainly populated by non-Jewish professionals. There were McDonalds rather than minyanim, perfectly manicured lawns rather than porches with bikes.
It was a scary leap for me. I'd come from Romema, where I had neighbors everywhere. One would hear my baby crying in the morning and offer to watch him while I davened, another would taste my Yom Tov food at midnight if I wasn't sure if it was well-spiced, and I never had to worry if I ran out of sugar mid-baking. Suddenly, I was moving to an area without a single frum Jew, and none of the easy camaraderie I'd enjoyed my entire married life.
But I was determined to do whatever I could to change that. I started telling anyone who would listen about this new area.
"What type is it?" they'd ask.
"The nice type," I'd assure them.
And people listened (we weren't the only ones having a hard time finding a home in Lakewood). Friends and acquaintances started look for homes in the area.
Meanwhile, our own move wasn't going as smoothly as we'd hoped. The owner, Bill, died four days before we were supposed to close, so everything ground to a halt. We had to wait until his children legally inherited it so we could buy it from them.
Apparently, we were very convincing. By the time our house mercifully closed, many friends had already signed on houses. When we finally entered our home, we had several frum neighbors. A few short months later, our home began hosting a minyan every single Shabbos.
As soon as we'd unpacked, I set out to get acquainted with everyone on our block. I love baking, so I knew just what to do. Food is the universal language. I baked a dozen challos, then knocked on every door, bearing a gift.
"Hi, I'm Nicky," I'd say (I wasn't going to ask them to try to pronounce Nechama). "I moved into Bill's house, and I just wanted to say hello."
I quickly learned that Bill had been the neighborhood bully. He was an ornery fellow who would snoop on everyone, and report every infraction — or imagined infraction — to the authorities. Everyone was thrilled to see someone else in Bill's house, which made them really happy to see me on their porch. (I'd like to think the challah helped too.)
Many of the new neighbors would chat with me, and a few confided that they were looking to move. One house, a colonial on the corner, was a steal. I mentioned it to an old coworker; called someone from my old neighbor to let her know; told a relative about the newest house on the market.
The house ended up going into a bidding war — and three of the four bidders were people I'd tipped off. One of them snagged the house.
At which point I said, to myself, Hey, looks like I know what I'm doing here. I'm helping people anyway; I may as well do it professionally.
to be continued…
Keyed In
Interview your real estate agents before you start working with them. Know what to expect from them (e.g., how the process works), and what they expect from you (exclusivity, response time, etc.). Your agent should know what you're looking for before the two of you are outside some stranger's home.
(Originally featured in Family First, Issue 799)
Oops! We could not locate your form.
>