| The Current |
Class Struggle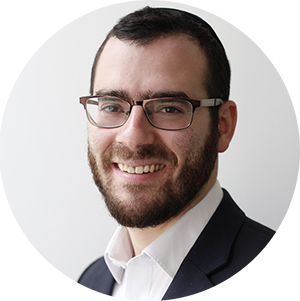 | March 29, 2022
With public school doors wide open, will these Ukrainian refugee children get locked out of a Torah education?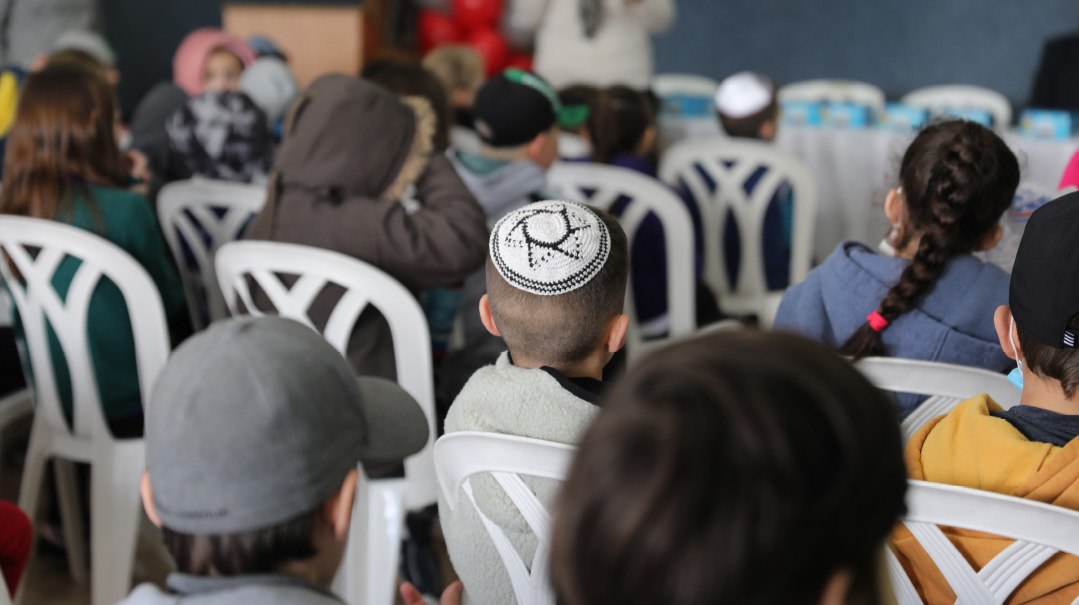 Photos: Menachem Kalish
Walk into the Plaza Hotel in Nof HaGalil, a small town in northern Israel, and you can see the misery of the Ukraine war up close.
The large venue, which normally hosts Christian pilgrims who visit adjacent Nazareth, is now home to a group of refugees. Sitting quietly amid the faded '90s décor of the lobby, clutching documents and new Israeli IDs, their status is unmistakable.
The meager possessions make a mockery of a luggage cart standing around. The menfolk are noticeably absent — left behind fighting or unable to leave. But it's the refugees' expressions that really give them away, a certain resignation, and an intense sadness about their eyes.
"We never thought that Putin would actually invade — he'd been threatening Ukraine for years," says Dima, a young software engineer from Odessa, and due to his eye problems, one of the few men allowed to leave. "It all began so suddenly."
The scene is being duplicated at hotels and absorption centers across Israel, as hundreds of refugees arrive daily, in the largest wave of immigration since the fall of the Soviet Union.
It's not only the numbers that bring to mind the mass aliyah of the '90s. There's a quiet struggle around the future of the children who've come to Israel. It's reminiscent of the similar effort three decades ago as Communism collapsed — and this small town is in the center.
The battle is focused on children like those chasing each other round the hotel's lobby. One or two look religious, the majority far from it — but all are offered the same default schooling option.
"Twice over the last weeks, children who were in Jewish schools in Ukraine were directed to nonreligious schools here, because the mayor sees an opportunity to raise the number of Jewish children in the public schools, which have a large Arab population," says Rabbi Chaim Mikael Guttermann, director of Shuvu, a veteran network of schools for Russian-speakers. "It was only after intervention that we managed to get the children transferred."

Ruined Lives
We try to get a conversation going with the refugees, but it's slow going. It's not just the halting translation — there's simply no easy way to talk with a group of people whose lives have been shattered overnight.
"At 4 a.m., the bombing started," recalls Lena, who fled her Kyiv home two weeks ago. "We were in shock, hardly able to believe that this could happen in the 21st century. For nine days, my husband and I, together with our ten-year-old son, lived in fear, sheltering near our apartment's strongest wall."
For Tanya, a mother of two children, the bombing visible on the other side of the Dnieper River that bisects Kyiv wasn't even the worst thing. "It was horrifying to see the videos of dead children being carried out of the ruins," she says.
Living in a town outside Kyiv, she and her husband were fortunate to own a house, not an apartment. Pictures on her phone show their basement in the first week of the war. Her young son sits at a computer, the screen time a welcome respite from the upheaval all around.
As Russian missiles screamed overhead, the basement became a safe haven for others. "In a space of only a few square meters, we had five mothers and their children with us," Tanya recalls.
For both families, normal life ended overnight when Russia attacked, making work intermittent, and requiring hours on line just to buy basics.
Lena continued to work at her job in a post office, while her husband did his best to continue his small business.
Hela, who speaks English and is there to translate, was at home in Odessa when the first strikes hit at 5 a.m., an hour after those in Kyiv. While her daughter is in Switzerland, her 16-year-old son Konstantin — in his last year in high school — has come with her.
He glances up from his laptop and pile of notebooks long enough to inform me that he's just starting a biology class. For him at least, the upheaval is tempered by the fact that he's able to finish his schooling — Covid-style, long-distance to Odessa, where life has adjusted to the tempo of war.
For younger children and for their parents as well, who can't retreat into a world of books and exams, things look bleaker.
"I didn't want to leave Ukraine, but I had to think of my child," says Lena. "My son Sasha is friendly with Tanya's son — they were in a Jewish school together. She called and said 'We have Jewish roots — let's go to Israel.' "
Open Door
In the context of Russian and Ukrainian Jews, many of whom have mixed parentage, that reference to Jewish "roots" is amorphous. Given the Israeli government's open-door policy to the Ukrainian refugees — officially admitting many non-Jews — there's no guarantee that these mothers are Jewish at all. And only a few of the dozens of refugees clustered together in the lobby look religious.
Coming to Israel isn't the only option that refugees have. There's a small chance of getting to a Western country, and many will end up receiving asylum in Eastern Europe. But the chance of homecoming — or "repatriation" as Hela says — makes Israel the primary choice.
As the Arabic on stores all around testifies, Nof HaGalil — which until 2019 was known as Upper Nazareth — has a large and growing Arab population. The local mayor, Moldovan-born Ronen Plot — who has expertise in immigration as former director-general of the Absorption Ministry — is delighted with the latest wave of immigration, which could redress the town's demographic imbalance. The policy so far has been that by default, children are sent to local public schools.
At least some of these refugees are halachic Jews, which is something that the schools have clarified.
"What we learned from the Russian aliyah wave 30 years ago," says Rabbi Guttermann, "is that if we get the children into religious schools, we can help the rest of the family as well."
But it's been an uphill battle to get the children into religious frameworks.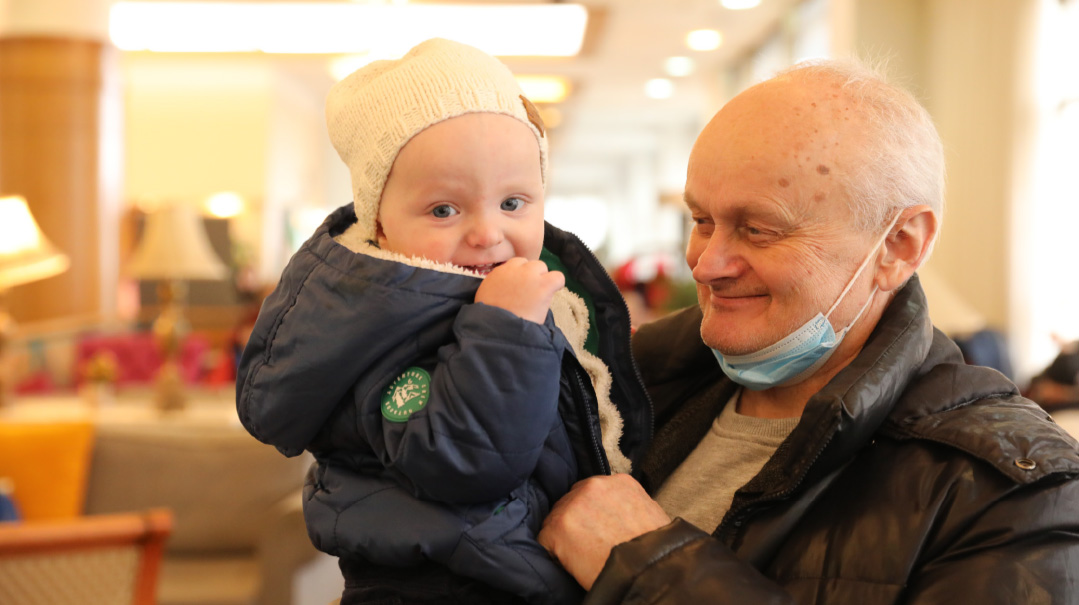 "They Need Warmth"
Fighting that tide are people like Diana Rivkin, who is responsible for the fact that both Lena and Tanya's children are in religious schools.
A working mother herself, she's taken it upon herself to go around local hotels in the evenings to talk to refugee mothers about placing their children in either Shuvu or Chabad.
"I have no official standing or knowledge of how many children have come," she says, "but because I'm a Russian-speaker myself, we get into conversation about their journey, and then I try to get a sense whether they are Jewish based on connection to a community."
When she met Lena and Tanya, both had enrolled their children in secular public schools. "They don't look religious, but their kids were in Jewish schools in Kyiv. They definitely didn't want their children in schools that were majority non-Jewish, which is the reality here.
"These children also need warmth and individual attention after what they've gone through. There is no way the public schools can provide that. So, I explained to the mother about Shuvu and Chabad. Then I had to fight the municipality on their behalf."
Diana has won with these mothers, but it's an uphill battle.
"The municipality thinks they can decide what's good for the refugees. They put a 16-year-old religious girl, who was in a Chabad school in Ukraine, into a secular school. They don't provide parents with any information, and never tell them that the religious schools exist.
"These mothers are in shock. They're in a foreign country, and have no idea whether they can even choose where the children should go."
The scale of the incoming wave is such that in Nof HaGalil alone, the WhatsApp group of new families who have sent to religious-oriented schools contains 37 members.
"But I don't know how many cases I'm missing," she says. "There was a group who were registered in public schools on Friday, when I was looking after my family, and once that has happened, it's generally too late to get the children out."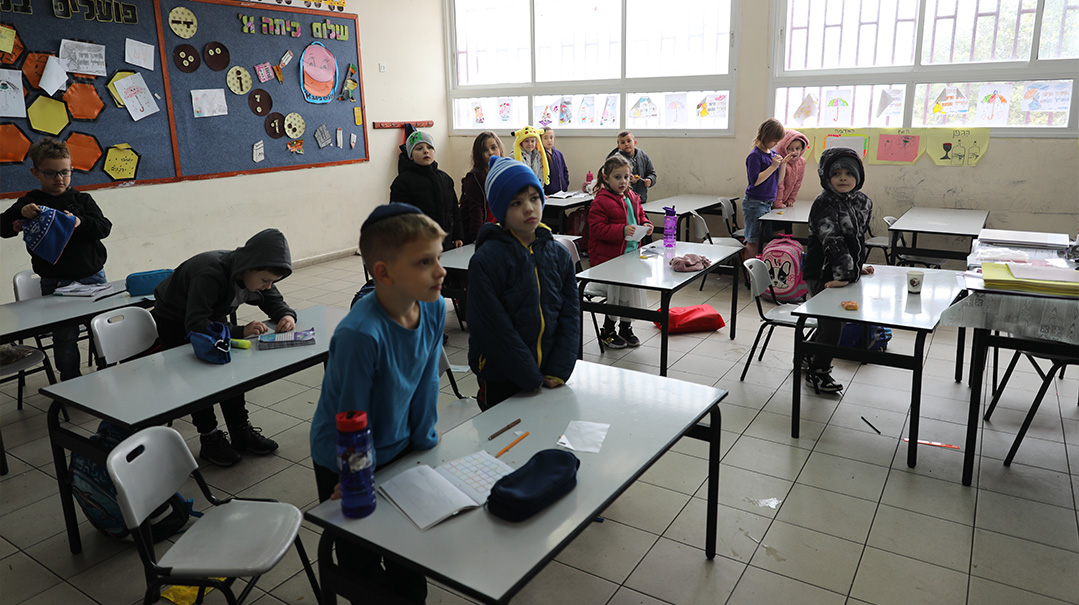 Returning Home
Driving from the Plaza Hotel to the Shuvu-Renanim school and adjacent Chabad kindergarten, we see the deep green hills of the Galil, verdant after a rainy winter. It's a view that fully justifies the "Nof" part of Nof HaGalil.
Clustered around the religious schools are apartment blocks that are positively Soviet in their decrepitude. Together with the street signs, which feature Russian alongside the Hebrew, it's a reminder that it's not the first time a surge of Russian-speakers has hit this town.
We negotiate entrance to the school by way of the jovial guard, and the atmosphere instantly lifts.
Shuvu — a school network for Russian-speakers founded by Rav Avrohom Pam zt"l, rosh yeshivah of Torah Vodaath — offers a signature blend of high academic standards, small class sizes, and a warm religious atmosphere.
In any of the 77 branches catering for 6,000 students, the children could have gone to a local public school, but their behavior — and often tzitzis — indicate that the values they're getting are out of the ordinary.
"The story of the Nof HaGalil branch is actually very symbolic," says Rabbi Guttermann. "There were 100 parents here who wanted us to set up a school in the '90s, but we had no funding. When Rav Pam heard that, he said 'If they need it, we can't deny it to them — Hashem will send the money.' "
Some of that spirit is now called for as the overtaxed, underfunded network that is starved of the resources lavished on the public-school sector becomes the obvious destination for the Ukrainian refugees.
In one class room containing just 15 children, the school's ethos is on display as the boys and girls stand and greet their visitors, and explain what they're learning.
One little boy — recently arrived from Ukraine — is too new to understand most of the instructions in Hebrew. But the teacher's warmth is unmistakable as she communicates with him.
Down the corridor, the children are older, and are still excited about the previous day's happenings. Provincial as it is, the school came first in a national cyber-skills competition arranging by the Ministry of Education, beating over 1,300 other participants including prestigious Tel Aviv schools.
Shuvu's educational attainments are a draw for parents, and Mayor Ronen Plot is happy for his town to bask in the school's glory. But when it comes down to assigning students, suddenly religious schools take a backseat to their secular counterparts.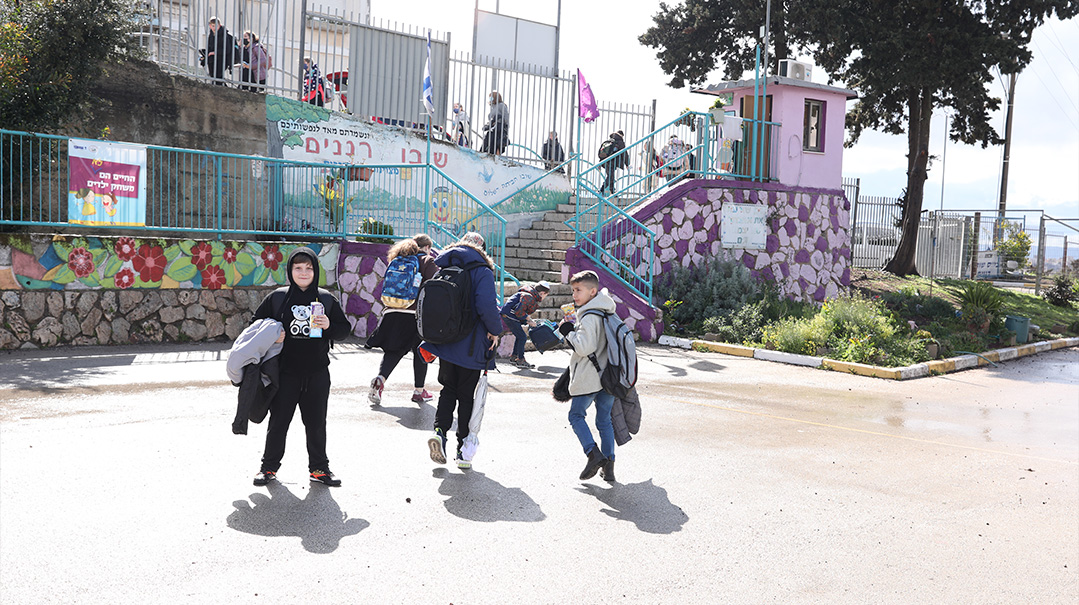 Familiar Struggles
Morah Sofia understands exactly what her pupils are going through.
The English and Hebrew teacher, who only retired last year, has been drafted in again for reserve duty, as she jokes, to help with the latest influx of Russian speakers.
"I fled Uzbekistan in 1991, when fighting there threatened to engulf the Jewish community. We had nothing, like these girls today."
Her class consists of two students, Mushka and Nikola, both around ten years old.
The two typify the range of pupils who are now arriving in the school. Mushka's parents, as her name suggests, were part of the Chabad community, and actively sought a religious school. Nikola was less affiliated.
After ten days in their new environment, the girls have picked up a few words of Hebrew, and they talk proudly of the school's victory in the cyber tournament.
But as Sofia assigns them work in a grandmotherly way, she says that the students' trauma is obvious.
"One girl just mentioned in passing while working that her family had just begun renovations and had bought a new computer when the war began. They've lost everything."
That natural empathy between Russian-speaking staff and pupils is what makes Shuvu uniquely equipped to handle the Ukrainian aliyah, says Rabbi Guttermann.
"We have this infrastructure in place already. The work that we've done for decades has given us the tools to handle this emergency that nobody foresaw."
Over in America, where individuals and organizations have marshalled significant Orthodox funding for relief efforts, efforts are underway to coordinate and channel resources to the right addresses.
"It's important that donors realize what we've seen for three decades," says Rabbi Gutterman.  "Once a child is in school, the school itself is uniquely equipped to help the rest of the family, both materially and physically. It can really transform whole families."
For Lena and Tanya, mothers sitting in the hotel lobby whose children are in the warm confines of their new schools, that process of healing can only partially begin.
"Our husbands are trapped in Ukraine," their interpreter Hela speaks for all of them. "Half-here and half-there, we're too shocked to really plan for the future."
(Originally featured in Mishpacha, Issue 905)
Oops! We could not locate your form.
>