| Whats Cooking |
Chicken, in Five Ingredients or Less
| December 7, 2021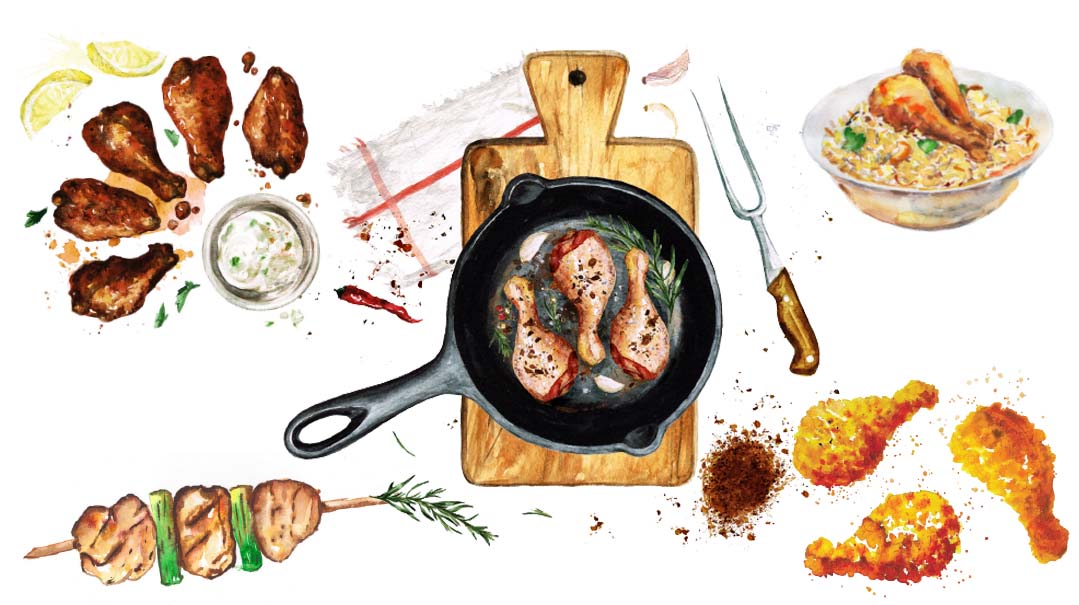 We all love those recipes that come together in no time. Here are the chicken recipes we pull out when we're looking for quick and easy — requiring five ingredients or less!
"Shabbos Chicken"
This comes in at four ingredients (okay, five, if you include the chicken), not including the salt and pepper!
1 or 2 chickens, cut in eighths (that's how I buy it)
salt, pepper, garlic powder, onion powder, and paprika, to taste
duck sauce
Place the chicken pieces in a pan. Sprinkle with spices and liberally pour duck sauce over them. Pour a little water in the pan. Bake uncovered at 350°F (175°C) for 1.5 hours to 1 hour and 45 minutes, depending on how well done you like it. Everyone loves it!
—Nina Feiner, sales manager
Marinated BBQ Cutlets
Lately I've been marinating chicken cutlets in olive oil and Rivky Kleiman's Big Bold BBQ Spice Mix. It's incredibly tasty on the outdoor grill or even on a grill pan. I make extra to serve in salad for the next day's lunch too.
—Miriam (Pascal) Cohen, recipe columnist
Easiest Grilled Chicken Marinade
I got this "recipe" from my cousin Meira Katz when she made it for us for supper after I had a baby.
The marinade is just olive oil, balsamic vinegar, and a cube of frozen basil. I marinate it for about 30 seconds, 'cuz who has time? Works amazing for grilled veggies too. Don't ask me for amounts, it's a total eyeballing and forgiving recipe.
—Esther Kurtz, copy editor
Simply Duck Sauce
Here's my simplest and most delicious chicken, which I've probably shared in these pages before.
Slice an onion and a little fresh garlic and place on the bottom of a pan. Add chicken pieces. Smother in duck sauce. Place in the oven and bake for 1.5 hours covered and 0.5 hour uncovered. That's it!
I make this when I'm having a very hectic Shabbos and just want something very easy. Everyone loves it and can't get over how simple it is to make!
—Brynie Greisman, recipe columnist
One-Pan Chicken and Rice
This is another favorite that I used to make often when my kids were young. It's their favorite until today. It's a great all-in-one.
Take 1 cup of rice (or more, depending on how many pieces of chicken you have) — I use round brown rice, but I've done it with basmati white rice and even plain white rice — and pour on the bottom of a pan. Place chicken pieces on top. Sprinkle generously with onion soup mix. If desired, sprinkle canned mushrooms on top. Add water proportionately to the rice.
Cover and bake for 1¾ hours, then uncover and bake another 15 minutes.
—Brynie Greisman, recipe columnist
Duck Sauce Chicken
Clean four chicken bottoms and place in a 9×13-inch (23×33-cm) pan. Smear with mayonnaise and sprinkle with cornflake crumbs. Cover pan and bake at 350°F (175°C) for 1 hour. Remove from oven and pour duck sauce on top. Bake for another hour, uncovered.
—Chaya Perel Nojowitz, graphics
Pressure-Cooker Chicken and Rice
I have an electric pressure cooker that I'm crazy about for quick suppers. (Think Family Table's question: You forgot to defrost chicken for supper, now what?)
Throw in water, rice, some canned mushrooms, chicken (even frozen), and top the whole thing off with spices, whatever your family likes. Press start (I use the soup mode, which is about 25 minutes), and voila, supper in a half hour!
Just don't forget to let the pressure cooker cool down before opening! Learned the hard way. 🙂
—Faigy Peritzman, columnist
Marinated Dark Meat Cutlets
My family has an aversion to chicken on the bone. And white meat. And anything fancy. So we make this chicken for Shabbos basically every week. (If a chicken recipe calls for more than five ingredients, it usually isn't in my lineup anyway.)
2 lbs (910 g) dark meat cutlets
2 Tbsp olive or avocado oil
2 cubes frozen garlic, defrosted
2 cubes frozen dill, defrosted
salt and pepper, to taste
Mix together oil and spices and marinate the cutlets. Preheat oven to broil.
Lay cutlets in an aluminum pan sprayed with cooking spray. Broil on one side for 8 minutes, then flip over and broil 5–10 minutes on the second side, until done (depending on the thickness of your cutlets).
—Chaia Frishman, columnist
Breaded Teriyaki Chicken
Here's a recipe I adapted from Rivka Parizad's Table for Two. The original calls for chicken cutlets, with instructions for frying, but I use bone-in chicken and bake it, and it comes out amazing, with half the effort!
¼ cup teriyaki sauce
¼ cup orange juice
2 Tbsp honey
1 tsp mustard
1 cup cornflake crumbs
3–4 chicken bottoms
Combine teriyaki sauce, orange juice, honey, and mustard. Marinate the chicken in the mixture for about an hour, if you have time. Place in a pan, sprinkle with cornflake crumbs, then cover and bake for about an hour and a half.
—Chaya Baila Lieber, copy editor
Honey-Mustard Chicken with a Twist
You know how sometimes there's a recipe that the whole world makes and you've seen a million times, but then someone tells you about a simple addition, and suddenly, wow! That same old recipe is transformed? That's what happened with this recipe.
The standard honey-mustard chicken is one part mustard to two parts honey, smeared on the chicken. But then I saw a cool addition: 1 tsp curry powder. That's all it took to give the chicken a more pungent, Middle Eastern flavor with a deeper, richer color. Bake one hour covered and half an hour uncovered.
—Bassi Gruen, managing editor
Good Old-Fashioned Spiced Chicken
As boring as this may sound, my family's all-time favorite chicken is a good old-fashioned, well-spiced piece of chicken. The trick to very flavorful chicken is not to skimp on the spices!
sliced onion on the bottom of the pan
chicken
salt and pepper
smoked paprika
garlic powder
pinch of cumin
Cover the chicken and bake at 350°F (175°C) for 2–3 hours.
—Chaya Suri Leitner, recipe contributor
"Pink" Chicken
When my kids where little, they loved my "pink" chicken. It's salt, pepper, garlic powder, and paprika, and I'd rub it in with olive oil. They still ask me to make it. Simple and easy and definitely a go-to recipe.
—Naomi Nachman, columnist
Lemon Chicken
This is a simple, very tasty chicken recipe that freezes nicely.
1 chicken, cut in pieces
beaten egg
bread crumbs
¼ cup lemon juice
¼ cup sugar (I use demarara, which is light brown cane sugar)
1 tsp paprika
½ tsp pepper
Dip each piece in egg and bread crumbs. Bake in oven, uncovered, at 350°F (175°C) for 20 minutes.
In the meantime, mix together lemon juice, sugar, paprika, and pepper. Pour over the chicken and bake for another 40 minutes.
—Lori Friedman, administration
Cornflake Crumb Chicken
One of my favorite chicken recipes is seasoned chicken on the bone. Drizzle generously with Italian dressing. Coat with cornflake crumbs and bake uncovered for 1.5 hours at 350°F (175°C).
—Rivky Kleiman, recipe columnist
Oven BBQ Chicken
This is the recipe that I go straight to on the weeks I have no time to think. (Given to me by my sister. Thanks, Elisheva!)
1 chicken, whatever pieces you want
1 bottle of your favorite barbecue sauce
Lay the chicken pieces in a pan and bake for 45 minutes at 350°F (175°C), covered. Remove from the oven and cover (very generously) with barbecue sauce, then bake uncovered for 30 minutes.
—Devorah Cohen, graphics
Quick and Easy Cutlets
Obviously quick and easy cutlets means baking and not frying. Here's a favorite adapted from Susie Fishbein's Kosher by Design Teens and 20-Somethings cookbook. (Reproduced with permission of the copyright holders, ArtScroll / Mesorah Publications, Ltd.) Mix equal parts honey mustard and chrainnaise. Dip cutlets into the mixture and then into French-fried onions and bake at 350°F (175°C) for about 8 minutes on each side.
—Esti Vago, production
Just Chicken
This is really a technique and not a recipe, but the chicken comes out delicious and it uses no other ingredients! (Did I win?)
Take chicken pieces, leaving the skin on, and place in a Teflon or other nonstick large skillet. (This will not work in a stainless steel or aluminum pot, only nonstick.) Cover and turn the heat to medium-low. Do not add water or other liquid! (You can add spices, but it's unnecessary — trust me.) The chicken will "fry" in its own fat and juices — the lower temperature the better; too high and it will burn.
Once the chicken looks cooked, the juices start to turn reddish-brown and get very thick. At this point, if you want to cook the chicken a little longer or flip the pieces, you can add a little water and watch it turn into a bubbly brown gravy. Let the gravy boil out until it thickens again. The chicken will get an incredible red-brown color and crispy skin, and it will taste amazing. (You can add the drippings, which are pretty salty, to mashed potatoes or rice for a yummy side.)
Note: This is best served fresh. Once it's refrigerated, it loses some of that great barbecued flavor and gets a little tough.)
—Rachel Ginsburg, associate editor
Quick Shawarma Chicken
I love buying ready-made shawarma chicken from my butcher, but it's not always available. The last time I wanted to make it, I cut dark meat chicken cutlets into small pieces. Then I added a shawarma spice blend, mixed with Rivky Kleiman's new chili lime spice. It was delicious, and the chili lime added an amazing kick!
—Chanie Nayman, food editor
Classic Schnitzel — My Take
Shnitzel is a classic and so easy. All you need are cutlets, eggs (I like to add almond milk and sweet and sour sauce to the eggs to give it a creamy flavor and a kick), and spices with bread crumbs. Fry, or bake for a healthier version.
—Zahava Alexander, production
#1 Chicken in My Home
Coat skinless chicken bottoms with 1 part mayo to 2 parts each of ketchup and Dijon mustard, cover with cornflake crumbs, and bake on 375°F (190°C) for about 1.5 hours.
(Trick to skin your chicken — pull it off with a paper towel — works amazing!)
—Hadas Stern, production
(Originally featured in Family Table, Issue 771)
Oops! We could not locate your form.
>