| This Way That Way |
Chestnuts
| November 1, 2022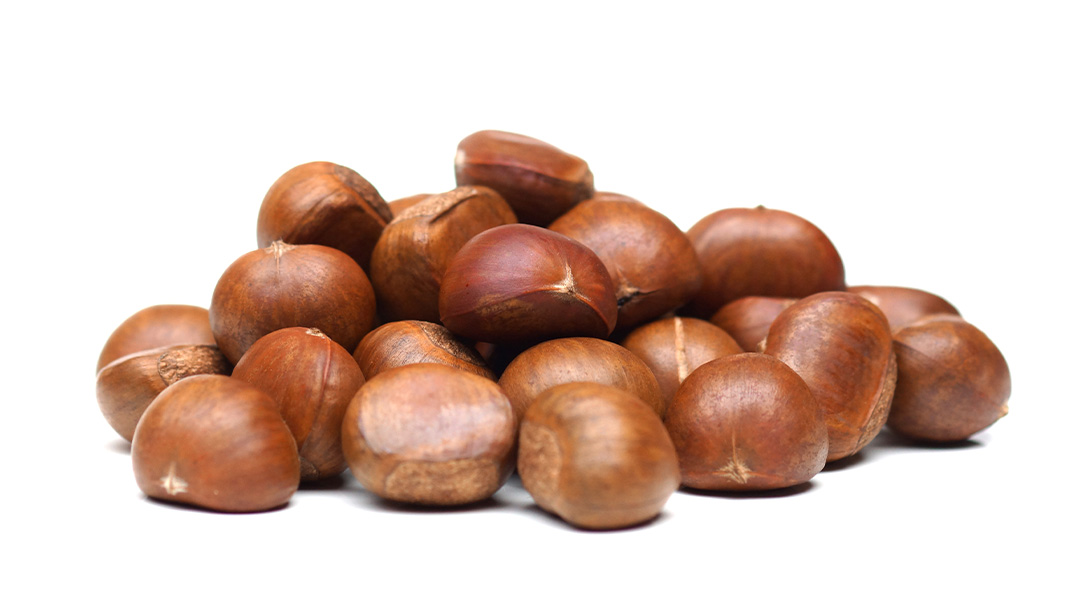 If your list of classic fall flavors begins and ends at pumpkin spice, you're missing out on the deliciousness that is the chestnut. Chestnuts are a great addition to your menu or snack plate. They go well with sweet or savory flavors and can be paired successfully with meat or dairy. Often said to have a flavor reminiscent of sweet potatoes, their sweetly buttery flavor is really uniquely all its own.
From Soup to Chestnuts
Go Nuts
Despite their soft texture, chestnuts are indeed a nut, and should be avoided by those with tree nut allergies.
X Marks the Spot
When roasting at home, make sure to score each chestnut so it won't explode due to pressure buildup inside the shell.
Make a Point
Edible chestnuts come to a point at one end. Horse chestnuts, their poisonous cousin, have no point, and will cause gastro distress and other issues if ingested.
Chestnut Red-Wine Beef Soup
Recipe by Chaia Frishman
My warmest food memory involves watching my father, a"h, score raw chestnuts with a paring knife to roast in the oven on fall evenings. Luckily, we can get them prepped in a bag and use them to add depth to this hearty meat soup that, in a pinch, can pass as a stew.
SERVES 8–10
2 Tbsp oil
1–2 extra-large onions, chopped (about 5 cups)
6 stalks celery, chopped (2 cups)
6 carrots, peeled and chopped (2 cups)
4 cubes frozen parsley
2 cups beef broth
1 cup cabernet or merlot wine
2 tsp salt
1 lb (450 g) boneless flanken (see tip)
2 5.2-oz (150-g) pkgs peeled chestnuts
Heat oil in a pot and add vegetables. Sauté for 5 minutes. Add parsley cubes and mix until soft. Add broth, wine, salt, and flanken. Bring to a boil, then simmer for 2 hours or until veggies and meat are soft. Crumble chestnuts and stir in. Cook for 10 more minutes.
Tip: You can also use kolichel as a budget-friendly flanken alternative. Cut it into smaller pieces so it will cook faster.
Honey Garlic Squash
Recipe by Michal Frischman
I don't usually gravitate toward roasted tomatoes, but something about the fresh tomatoes and roasted tomatoes together really works! Even if you're not usually into chestnuts, they're worth a try here. Chopped, their texture is very similar to chickpeas, but with a sweeter, nuttier taste.
SERVES 8
2 acorn squash, sliced into rings, seeds removed
3 Roma tomatoes, sliced into rings
2 red onions, sliced into rings
2 Tbsp olive oil
2 Tbsp honey
4 cloves garlic, grated
2 tsp salt
Chestnut Salad Topper
3½ oz (100 g) roasted chestnuts, roughly chopped
8 oz (225 g) cherry tomatoes
¼ red onion, diced finely
2 Tbsp fresh chopped parsley
1½ tsp olive oil
½ tsp salt
Preheat oven to 400°F (200°C). Lay sliced veggies on two baking sheets lined with parchment paper.
In a small bowl, combine olive oil, honey, garlic, and salt. Brush over vegetables and bake for about 40 minutes. Assemble into vegetable stacks.
To prepare the salad topper, place all ingredients into a medium bowl. Combine and let stand at least 10 minutes to allow flavors to meld. Spoon over roasted veggies.
Oven-Roasted Chestnuts
Recipe by Faigy Grossmann
Preheat oven to 425°F (220°C).
To prepare your chestnuts, cut an X into the "belly" or rounded side of each one. Make sure to cut all the way through the skin. This allows steam to escape during roasting.
Place chestnuts on a baking sheet, cut side up. Roast for about 20 minutes, giving the pan a bit of a shake halfway through.
Remove the chestnuts from the oven and wrap them in a towel for about 10–15 minutes. (This makes them easier to peel.) Peel while still warm.
(Originally featured in Family Table, Issue 816)
Oops! We could not locate your form.
>