| Side-by-Side |
Caramelized Onions
| January 24, 2023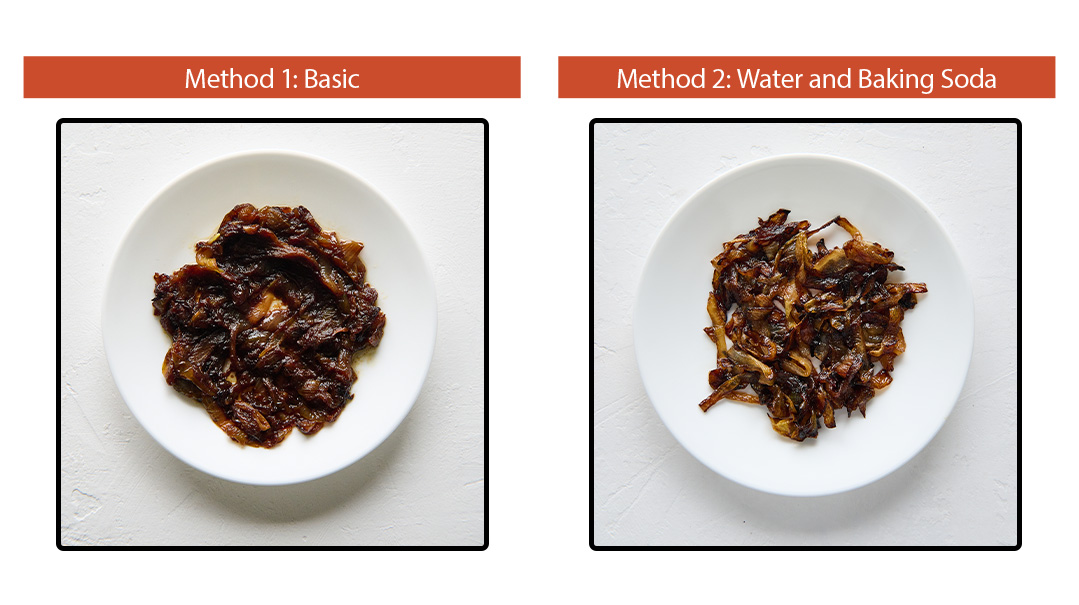 Photo Credit : Sina Mizrahi
Deeply bronzed caramelized onions are an awesome flavor bomb. Their complexity enhances just about any dish. And, of course, who isn't on board with the thought of French onion soup?
Transforming that onion from raw to melty takes time and attention, and there are many avenues to get there. I wanted to find the one that's the most foolproof (no singed edges) and easy.
Caramelized Onions
Recipe adapted from Cook's Illustrated
3 lbs (1.36 kg) onions (about 6–8 onions), sliced pole to pole (vertically)
2 Tbsp oil
¾ tsp sea salt
¾ cup + 1 Tbsp water, divided
⅛ tsp baking soda
Method 1: Basic
This method is basic and straightforward: onion, oil, salt.
Heat a 12-inch (40-cm) skillet over medium heat. Add onions, oil, and salt and cook until translucent. Reduce heat to medium-low and cook, stirring frequently, until desired doneness (at least 25–30 minutes, up to 45–60 minutes).
Method 2: Water and Baking Soda
Heat a 12-inch (40-cm) skillet over high heat. Add onions, oil, 3⁄4 cup water, and salt. Bring to a boil, cover, and cook until the water evaporates, about 10 minutes. Uncover and reduce heat to medium. Press the onions against the sides and bottom of the skillet. Let sit for 30 seconds without touching and then stir and scrape. Repeat until softened, well browned, and caramelized, about 15–20 minutes.
Combine 1 Tbsp water with the baking soda and add to the skillet (this helps balance the pH level). Cook until the water evaporates.
My Verdict
Both versions tasted delicious. I didn't feel like the baking soda helped make the onions sweeter (despite the claim that they change the pH level). Method 2 yielded onions that were softer and meltier, whereas in method 1 the onions kept their shape and had more bite. I found that adding water made it easier to prevent the onions from burning and helped quicken the cooking process.
(Originally featured in Family Table, Issue 828)
Oops! We could not locate your form.
>