| PlateArt |
Caps Off! | June 13, 2023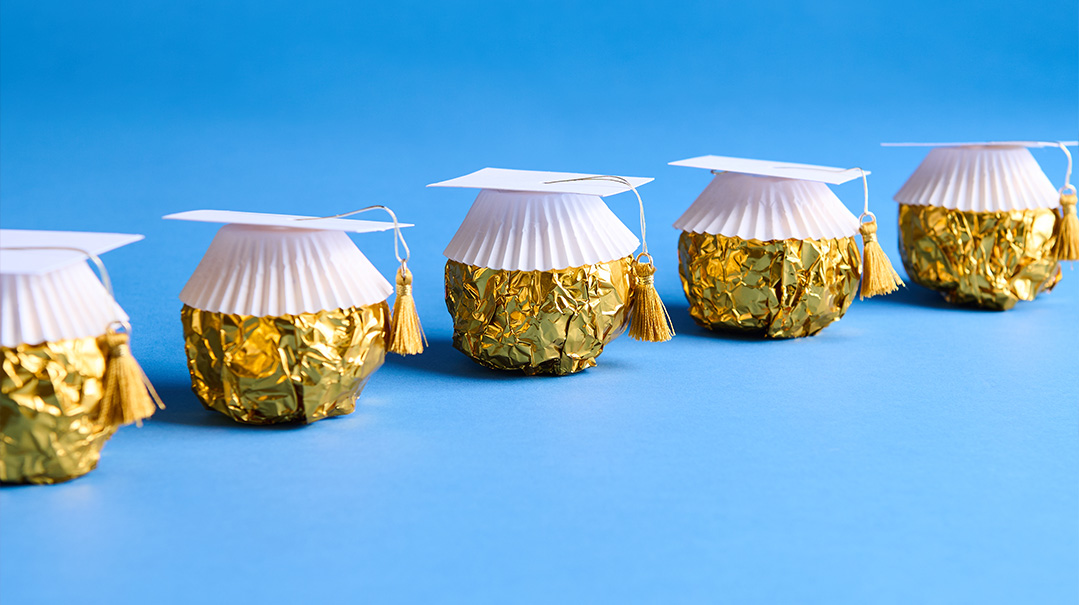 Text and Styling by Esther Ottensoser
Photography by Sina Mizrahi
Whether you have a graduate finishing preschool, elementary school, or high school, it's a time to celebrate their accomplishments. Enjoy these easy and fun treats that will take your celebration to the next level.
Graduation Treats
You can't go wrong with these adorable graduation treats! Wrap any treat of your choice in foil wrap and decorate with a white cap. I used Crunchy Marshmallow Peanut Butter Balls (recipe below), but you can also use peanut chews, Rice Krispies treats, rum balls, etc.
You will need:
treat mixture of your choice
6-inch gold candy foil wrappers
small size cupcake holders
0.8-inch mini tassels (available on Amazon)
gold thread or wire
cardstock, cut into 2-inch squares
1/8-inch hole puncher
tape or glue
Roll the treat mixture into balls, approximately 2 inches in diameter. Wrap balls in foil wrappers.
Cut the gold thread or wire to 5-inch pieces. Add the tassel to the center of the thread or wire and then fold the thread in half.
Use a hole puncher to punch a hole in the center of the cardboard square.
Place doubled thread or wire through the hole and secure with tape.
Tape or glue the cupcake holder to the square and then tape it to the wrapped treat.
Crunchy Marshmallow Peanut Butter Balls
YIELDS APPROXIMATELY 15
7 oz (200 g) Marshmallow Fluff
1 cup peanut butter
1½ cups Rice Krispies
melted chocolate
Combine Marshmallow Fluff and peanut butter. Stir in the Rice Krispies.
Roll into balls and dip into melted chocolate. Allow to dry.
Store in the freezer.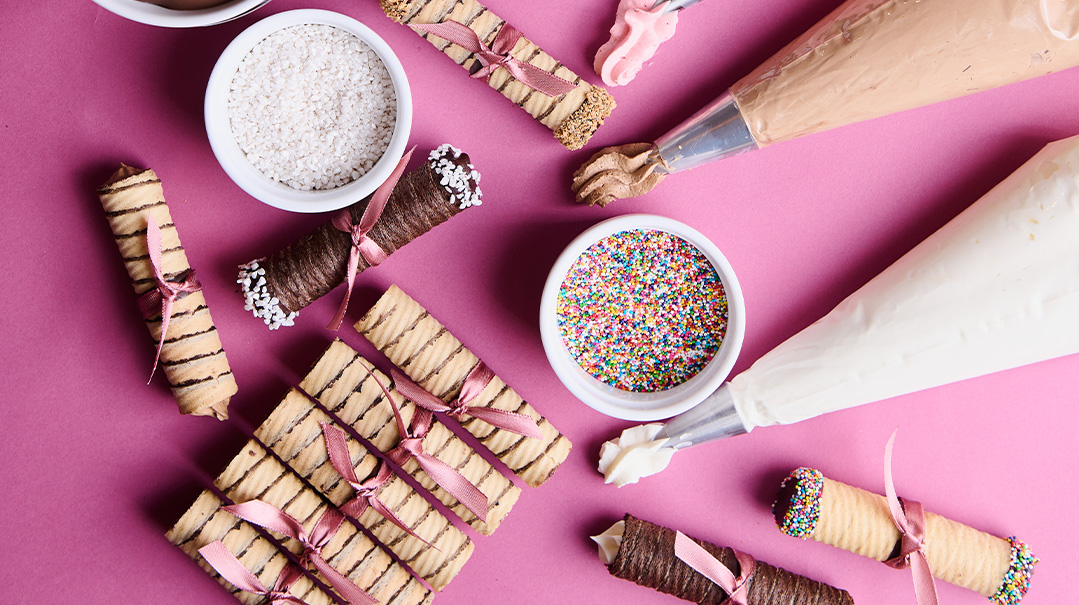 Cannoli Bar
I've always wanted an opportunity to feature a cannoli bar, where everyone has a chance to fill cannolis with a filling of their choice. What could be a better time for that than a graduation party, especially since you can attach two cannolis together to make them look like actual diplomas! Use this idea as a graduation party activity or serve readymade as a dessert in honor of your graduate.
You will need:
cannolis
fillings of your choice (I used chocolate mousse, whipping cream with vanilla custard, and strawberry mousse [recipe by Miriam Pascal Cohen's Napoleon Trifles in Something Sweet])
melted chocolate or cookie dip
assorted toppings
21-inch disposable decorating bags
1M star tips
ribbon
Dip one end of a cannoli in melted chocolate and attach to a second cannoli. Allow to dry.
Tie a ribbon around the center of the "diploma."
Fill a piping bag with the filling of your choice and squirt the filling into one end of the cannoli. If the filling doesn't fill the cannoli fully, fill it from the second side too. You can fill it with two different creams if you'd like. Or leave the cannolis empty and let your guests fill their own!
Note: To set up a cannoli bar, arrange cannolis on platters. Party attendees can fill their cannolis with the filling of their choice and decorate with toppings. Add food signs to your bar for extra detail and charm.
(Originally featured in Family Table, Issue 847)
Oops! We could not locate your form.
>