| Whats Cooking |
Camp's Out, School's In | August 26, 2020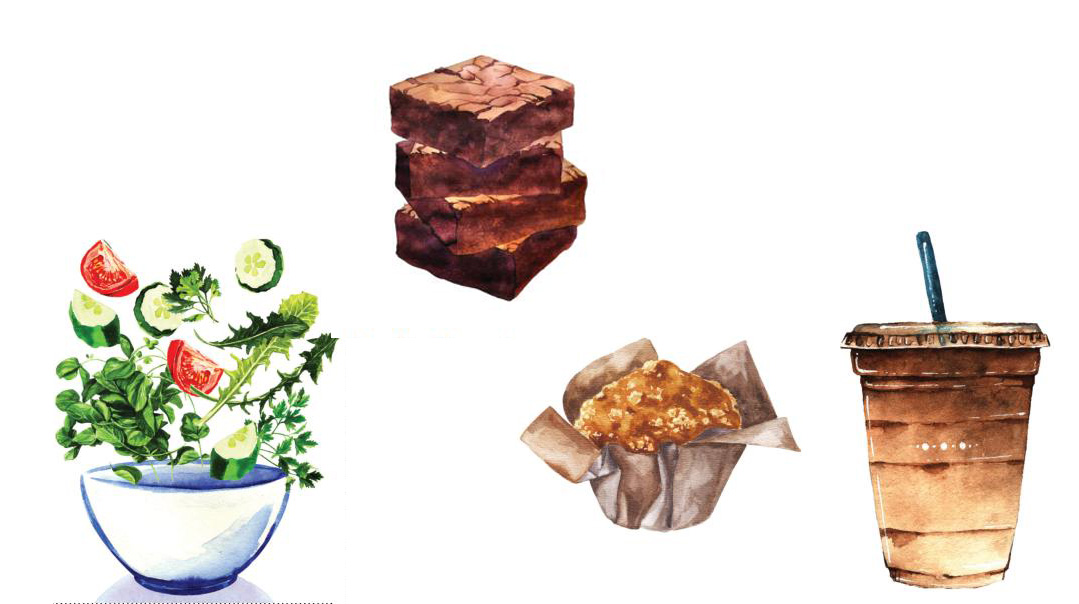 After months in the house, our kids are more than ready to head back to school. Need some dependable, tasty, and nourishing food options that are easy to prepare and will excite the people of your household? Here are some of our surefire successful school lunch and snack ideas.
Pancake Lunches and Other Fun Stuff
Ooh, we have such a fun time with lunch! Monday is usually waffles or pancakes — we serve a big brunch on Sunday, and there's always leftovers. That becomes Monday lunch; I think of it as our IHOP lunch. We send pancakes or waffles with a small container of maple syrup and a container of cut-up melon or fruit. It's one of my kids' favorite lunches!
Another good one is a hollowed-out bell pepper with either mac 'n cheese or tuna inside. My friend once told me that her husband, a rebbi in the school, always gets a kick out of my son's lunch when he sees him across the lunchroom biting into a whole pepper. I had to clarify that there's food in there too, and he's not just eating a bell pepper!
The day after we serve tacos for dinner is always tacos for lunch — it tastes fine even if it isn't heated up, so I send a container of crumbled taco meat, with containers of corn, shredded lettuce, and some other cut-up vegetables they like, and the best part of all — a taco shell. —Rachel Bachrach, associate editor
After-school Snack Hack
Two slices banana, sandwiched with nut butter, then frozen. —Rivki Rabinowitz, copy editor
Healthy Brownies
I make the Brownie Cake from The Kosher Palate. I healthify it by using kamut flour, vanilla almond milk, 1⁄2 cup less sugar, no vanilla extract, and coconut oil. I slice it and put it into ziplock bags in the freezer. The kids grab one each day. —Toby Vogel, writer

Homemade Granola
Great for a quick breakfast with yogurt or a smoothie or as an anytime, energyboosting snack. Mix 11⁄2 cup oats, 4 tablespoons (or squirts) of maple syrup, 1 cup brown sugar, 1⁄4 cup any ground or crushed nuts, and 1⁄4 cup oil. Spread onto a baking pan and bake for 15 minutes. Mix after 8 minutes. Freezes and doubles well. —Daniela Thaler, editor, TeenPages
Fluffer-Nutter Sandwiches and Healthy Muffins
When I was a kid, if we didn't want to bring bread to school for lunch, we stuffed peppers with tuna salad, wrapped it in foil, and brought that along instead. I remember loving it, although it was messy to eat. We also treated ourselves to real "FlufferNutter" sandwiches — not healthy at all, but every once in a while... It was Marshmallow Fluff, peanut butter, and banana slices! (Never had it? It's yum — try it!) These days, I keep a constant batch of healthy oatmeal muffins for those who can't stomach an early breakfast and need to grab and go. I end up baking a double batch monthly, since I take them to work too! —Faigy Grossman, recipe contributor
Salad to Go
I always loved to prepare different salads with the dressing in a separate cup. One of my daughters and her friends liked the idea so much that they each picked a day of the week and prepared a large salad to feed a crowd. It was a great way to share great friendship and great food. —Rivky Kleiman, recipe contributor
Healthy Deli Roll
When it comes to packing lunches, I seriously feel like I run a restaurant because everyone wants something different. The one thing I know will please everyone in my house is homemade deli roll. I either use my gluten-free dough mix or the spelt multipurpose sourdough recipe in place of puff pastry (because we all know how I feel about that!).
For one roll I'll use 12–14 oz of dough. The gluten-free dough has to be rolled out between two pieces of parchment paper, but the spelt can just be rolled out on an oiled counter.
I brush a mixture of my homemade creamy dressing and mustard on the rolled-out dough. Then I lay out Empire brand's no-nitrate and antibiotic-free turkey and pastrami. I'll top it with sautéed onions and carefully roll it up, then brush with egg wash and sprinkle with sesame seeds. I bake the gluten-free dough at 350°F (175°C) and the spelt sourdough at 400°F (200°C). Both take between 30–45 minutes, depending on the size and how much they're filled.
Some of my kids just want to take deli roll with a side of mustard. Others want a few slices over a salad, and another will take it with a bag of cut-up veggies. The best part is that the deli roll freezes beautifully, so sometimes I'll make a batch of either dough and make a bunch of rolls as backup to pull out of the freezer on those nights when you just have zero energy to start prepping.
—Rorie Weisberg, health columnist
Protein Snacks
With small eaters (kids are petite, and they have appetites to match), I'm obsessed that whatever does go into them have protein. That said, we don't have much luck with insulated bags. I like to freeze a yogurt or some string cheese and tell my kids that it's for their morning snack. They might trade with their friends for chips, but at least I can say I tried. —Chaia Frishman, columnist
Oatmeal Muffins
Nothing beats a bowl of hot oatmeal for breakfast. These muffins are a close second, and you can just pop one in a bag to take along to school. Whether you decide to make them as I did with carrots, or personalize them with zucchini or other ingredients you favor, they're a storehouse of nutrition. And they taste delicious, even fat free!
YIELDS 14 MUFFINS
2 cups whole wheat pastry flour
1 cup quick oats
1 Tbsp baking powder
1⁄2 tsp baking soda
1⁄2 tsp salt
heaping 1⁄2 cup brown sugar
11⁄2 tsp cinnamon
2 eggs
1⁄2 cup oil or applesauce
11⁄2 cups sour soy milk (see note)
1 tsp vanilla extract
3 carrots, grated (approximately 1 cup)
Preheat oven to 350°F (175°C). Line a muffin pan with paper liners. Mix together flour, oatmeal, baking powder, baking soda, salt, brown sugar, and cinnamon in a large bowl. Make a well in the center. Pour in the eggs, oil, sour soy milk, and vanilla. Mix just until combined. Add carrots and mix just until incorporated.
Pour into lined muffin pan and bake for 25–30 minutes or until golden brown on top. Remove from pan and let cool. These muffins freeze beautifully.
Note: To make sour soy milk, pour 11⁄2–2 Tbsp vinegar in the bottom of a measuring cup. Add soy milk to the 11⁄2 cup line and let it sit at room temperature until mixture curdles. Alternatively, use buttermilk for fluffy, airy muffins.
Tip: Use this recipe as a base and add or sub mini chocolate chips, raisins, grated or chopped apples, etc. Top with cinnamon and sugar or sliced almonds if desired. —Brynie Greisman, recipe contributor
Power-You-for-Hours Iced Coffee
I know this set focuses on the kids, but mothers also need fuel. This is for you to enjoy once you get all the kids out! I created this drink this summer and have been having it nearly every day. It's far more than a drink — it's nearly a meal. It does take a little advance planning, but it's so worth it.
SERVES 2
2 tsp coffee granules
1 tsp sugar or sugar substitute (I use Splenda)
1⁄2 cup hot water
2 cups milk
1 banana, sliced and frozen
1 Tbsp wheat germ
2 Tbsp oats
1 Tbsp chia seeds
1 Tbsp peanut butter or peanut powder
1 Tbsp date spread or two dates
Mix coffee and sugar with hot water. Add milk. Freeze for several hours (either prepare it the night before and then let it defrost slightly, or make it as soon as you get up and then enjoy this as a mid-morning snack). You can freeze your banana at the same time (I freeze a few at a time).
Transfer the nearly frozen coffee to your blender. Add all the remaining ingredients. Blend until smooth. Enjoy!
Note: This makes two portions. Anyone who sees it will want some, so it's good to have extra on hand.
Variations: I've subbed the date spread with halva spread and it was excellent. Blueberries were not a good addition. I plan to try wheat bran instead of wheat germ. Mix and match to your heart's content. —Bassi Gruen, managing editor
(Originally featured in Family Table, Issue 707)
Oops! We could not locate your form.
>