| Jr. Feature |
Camping in Style | June 28, 2022
Glamping — a combination of "glamor" and "camping" — is the new way for non-outdoorsy folks to enjoy nature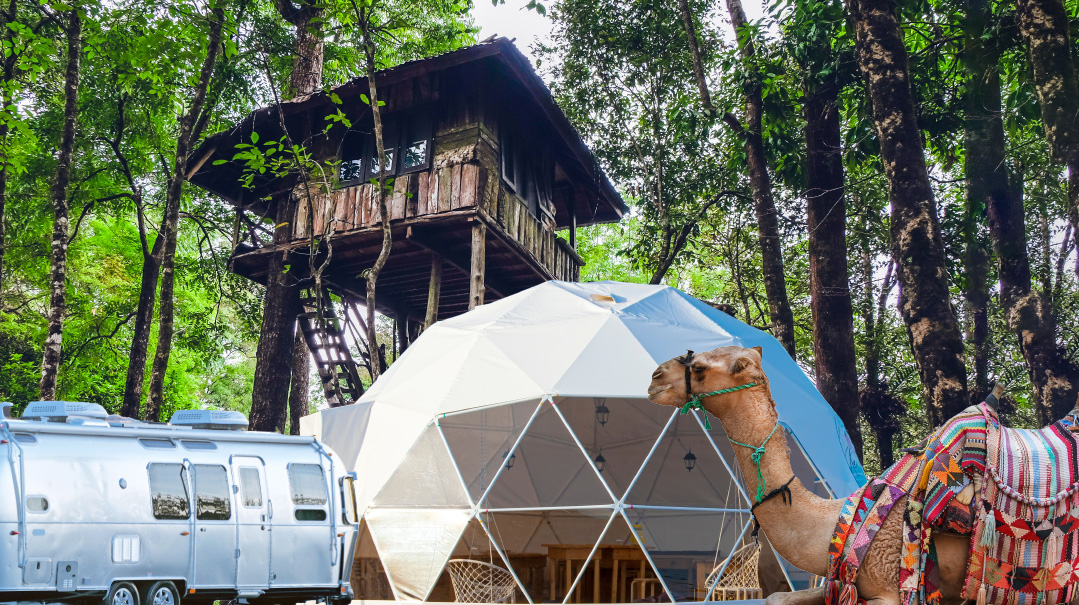 Have you heard about the treehouse resort that's opening this summer in Tennessee? Of course you have! You read all about it in Newsworthy (Issue 908). As it happens, the new treehouse resort (where you get to camp out in real live treehouses) is just one of the many glamping resorts all over the world.
Glamping — a combination of "glamor" and "camping" — is the new way for non-outdoorsy folks to enjoy nature. If you love roughing it in the wild, go ahead and stick to your amenity-free tent. But if you like the idea of immersing yourself in nature while still having access to your creature comforts (hello, running water), then turn the page for some virtual glamping experiences.
YURTS, NESTS, AND TREES
Over in Big Sur, California, there's a treehouse resort that's ready and waiting. Okay, so the Treebones Resort doesn't exactly have the flashy treehouses that the new Sanctuary Treehouse Resort in Tennessee is promising (those will have slides, trap doors, drawbridges, and copper clawfoot bathtubs), but it does have something that the Sanctuary doesn't — yurts!
Yurts sound cool, but what are they exactly? A yurt is a large, round tent that is built over a wooden frame. So it's like a tent, but sturdier and more permanent. It also sounds way more exotic, which is always a good thing when you're on vacation.
Perched on ledges that run among the cypress trees, the yurts aren't exactly treehouses but they're close enough. Each yurt comes with fresh linen and towels and has proper furniture — no sleeping bags for you. There's also a sink with hot and cold water, but toilets and showers are in a separate building. Still, the yurts offer a stunning view of the Pacific Ocean, which you can enjoy from the Adirondack chairs on your very own deck.
If you absolutely must have your own facilities, then you can check into one of Treebones' two autonomous tents. An autonomous tent is just as fancy and hi-tech as it sounds. It looks nothing like a tent. It looks more like an airplane hangar from outer space, with a curved white exterior. The interior is huge, with 12-foot ceilings, wooden floors, and a bathroom. And the Adirondack chairs on the deck come with a fire pit for roasting s'mores.
For those brave souls who want a different camping experience, Treebone also offers human-sized nests. These are literally nest-like wooden structures that contain absolutely nothing. There is just enough space for visitors to lay out a sleeping bag. The resort recommends you pitch a tent nearby just in case it rains. It's the exact opposite of glamping, but still pretty cool!
TRAILERS WITH TRIMMINGS
There isn't an RV lover out there who doesn't dream of sleeping inside an Airstream. Airstreams are RVs that became popular in the 1980s and have remained iconic ever since. The metal trailers are strong and durable and many of the original vehicles are still around. Airstreams have an irresistible vintage vibe that makes them the perfect choice for a nostalgic getaway.
But if you don't want to schlep an Airstream around on a road trip, you can always check out an Airstream glamping resort. And you don't even have to travel far — there's one in the Catskills.
Autocamp in Saugerties, New York is a resort that offers cabins and Airstreams. The Airstreams are newly renovated with clean white interiors and all the trimmings you need for a comfortable vacation: a small kitchenette, bathroom, bedroom, and pull-out sofa bed. The Airstreams are permanently parked, so you can't explore the mountains in them. But after a long day of hiking, you can enjoy the comforts of the iconic trailer and relax on the private terrace outside.
TINY HOUSE
It seems that the Catskills has a lot more than just camps and bungalow colonies. There are all sorts of cool camping and glamping opportunities upstate, and Autocamp is just one of them.
The Tiny House Resort, located in South Cairo, New York, is an all-inclusive resort consisting of 18 tiny houses. The tiny houses are basically a cross between a cabin and a trailer, and they're all newly renovated and modern. There's a selection of different sized houses which offer views of Catskill Creek or the woods. The most popular tiny houses are the ones that sit right next to the creek. Give me a minute — I'm feeling zen-like right now, listening to all the water gurgling downstream.
Don't worry about being cooped up with your family in a tiny house all day. The resort offers so many different activities, you won't have time to trip over each other in the house. There are water activities like kayaking, tubing, and a resting raft, several giant-sized games (to balance out the tiny parts of the resort), a gym, spa, and pool, and friendly animals like goats, chickens, and rabbits for you to play with when your siblings become too much.
THE GYPSY LIFE
Don't know about you, but the Tiny House Resort has given me a taste for the tiny life, so naturally the next step is to play gypsy — or rather "Roma," which is what the ethnic group prefers to be called. And that is totally possible at a special glamping park in Somerset, England.
Romani people are known for traveling from place to place. Today, many Romani have settled in permanent homes, but there are still traveling tribes. They're also known for their flamboyant style, so you can only imagine what their wagons look like. Except that you don't need to imagine any longer.
At the site in Somerset, a n authentic bow-top gypsy caravan (which is actually called a "vardo") sits in a charming apple orchard. In true Roma style, the vardo is painted in bright, eye-catching colors. It is really small and only sleeps two people, and there's no kitchen or bathroom inside. Instead, the facilities are located in a nearby shepherd's hut. Any cooking you want to do can be done on the open firepit outside, which is exactly what the Romani do. They do their laundry outdoors, too.
I don't blame you if you feel like Roma life is too strenuous for what's meant to be a vacation. But you're in luck, as the vardo shares the orchard with a more modern caravan that is outfitted with a gas cooker, oven, and fridge, and some more sleeping berths.
The orchard is so secluded, your only neighbors will be the sheep and ponies in the field next door.
MOUNTAIN PODS
If you've ever wondered what it's like to live in an igloo, then the Whitepod resort in the Swiss Alps is the perfect getaway for you. At Whitepod, the classic Swiss chalet is passed over for simple white pods that have been erected on an idyllic mountainside with fabulous views. The dome-shape structure of the pod resembles an igloo, while inside there are all the comforts of a typical hotel room. Luckily, this igloo isn't made of ice, so you can visit the resort all year round.
With four different types of pods to choose from, there is something for every budget. The family pods are super cool. Kids get to sleep on the mezzanine floor, which is kind of like your own secret loft. Fireplaces keep the pods nice and toasty in the winter, while air-conditioning units help keep the summer heat at bay. The front half of the pods is all windows, so it's almost like you're sleeping outdoors.
During the day, the resort offers a range of activities. There's a private ski slope for skiing and snowboarding. But if you don't ski, you can go use the toboggans or snowscooters instead, and the huskies are always available for a sleigh ride. But while Whitepod is pure magic in the winter, summertime at the resort is pretty awesome too. There are loads of fun attractions in the region, and the resort offers some on-site options as well — like hiking with huskies and a forest escape game, which is like an escape room but in the forest.
You guys can take a hike with the huskies. I'm just going to lie here in my pod and admire the view.
THE WHEELS ON THE BUS
This glamping site tops the charts for originality! How would you like to visit Wales and sleep in a red double-decker bus?
The bright red bus is located on a private 22-acre nature reserve, and guests are encouraged to roam the grounds, climb trees, play in the stream, make dens, and check out the owl boxes. The bus itself is similar to any other RV, just spread out over two floors. Oh, I forgot to mention that the bathroom is in an outhouse outside, but you'll totally be fine!
And if sleeping on a double-decker isn't enough of a dream come true for the little boys in your family, there's also a small boat that's dry-docked on the property and sleeps two guests. All aboard!
Double-deckers are quintessentially British, but over in Ash, England, is an all-American yellow school bus that has retired from the school run and now serves as an off-grid glamping site. On the outside, the school bus looks exactly the same as it did when it first began work in the 1970s. But the inside has been transformed with modern grey and wood décor and cheerful yellow accents.
Excuse me while I marvel at the fact that the claustrophobic and bumpy school bus can actually be very roomy and comfortable.
DEEP IN THE DESERT
Deep Desert Israel does glamping with a difference. The company offers custom glamping opportunities in the Negev Desert. There is no resort that you can drive into one day and say, "Hi, I'd like to stay for the night." Instead, Deep Desert Israel creates the resort according to your specifications. How awesome is that!
Obviously, this is best suited to large groups, like an extended-family vacation. You tell the company how many people are coming, and they do the rest. You can choose from two types of tents; the deluxe has earth beds (a mattress laid on the ground) and the premium has real beds — yes, all the way in the desert. You can also add various amenities to your pop-up glamping resort, like hot showers, hot tubs, beverage bars, and bonfires. You can choose to entertain your guests with all sorts of wilderness activities, like stargazing, camel riding, jeeping, and outdoor yoga sessions. You can hike to the campsite, or the company can arrange for more interesting transportation, like camels, jeeps, or helicopters.
No trip to the desert is complete without a visit to a Bedouin camp so you can experience the nomad life for real. I have a feeling that their tents aren't nearly as luxurious as the ones that Deep Desert Israel provides.
With so many stylish options, doesn't camping suddenly sound like something you'd actually want to do? Now the only question is: yurt, pod, or vardo?
TRIVIA
Yurts may look wispy, but they were invented in Mongolia where winter is very harsh.
Every Airstream is handmade in Jackson Center, Ohio.
The Airstream's nickname is "Silver Bullet."
The Catskills is named after Kaaterskill Creek. "Kaaterskill" means "wildcat" in Dutch, and the name probably relates to the bobcats in the area.
The Roma originated in India and have been persecuted for hundreds of years.
Europe has the largest Romani population, but they live on every continent.
An expert can build a full-size igloo in one hour.
The first double-decker bus was created in 1847. It was a horse-drawn coach.
American yellow school buses are 70 percent safer than other vehicles, even though they don't have seatbelts.
The Negev is part of a larger desert that stretches from Egypt, through Israel, to Jordan, and Saudi Arabia.
(Originally featured in Mishpacha Jr., Issue 917)
Oops! We could not locate your form.
>