| Side-by-Side |
Brownies
| September 29, 2021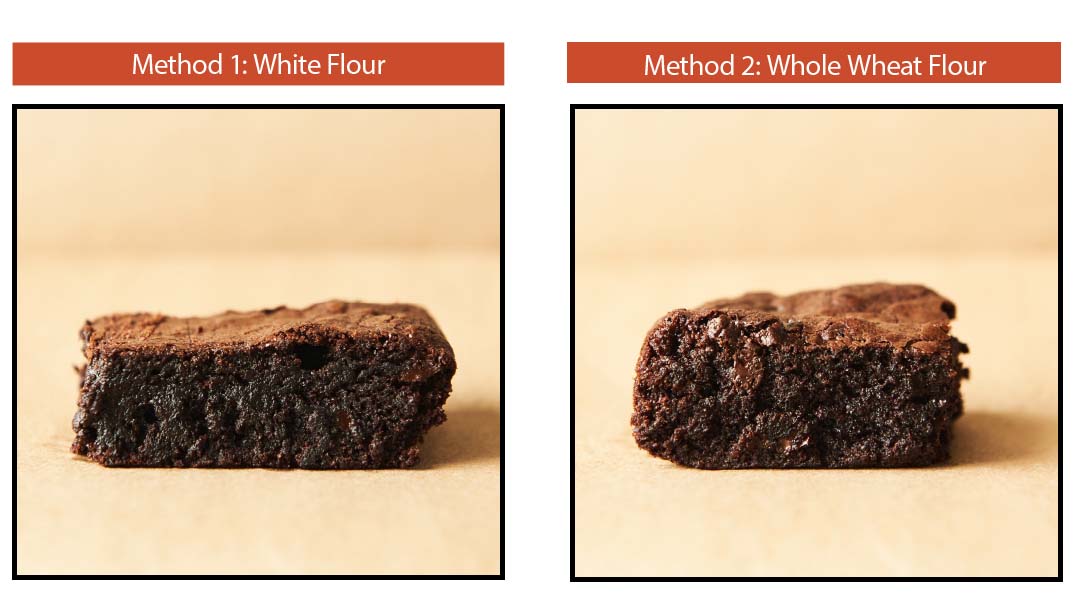 Ihad ambitious plans for how I was going to feed my children: healthy, whole, organic, free of refined sugar. Of course, that was before I even had children. Once my little humans had a taste of candies and sweets as colorful as the rainbow, well, they were no longer impressed by homemade fruit leather.
Nevertheless, I try to make subtle swaps in my home baking to maintain a semblance of nutrition. Plus, said baked goods can double as breakfast, and I won't feel like a completely irresponsible mother.
I figured I would start with brownies, since the chocolate flavor is pronounced and can mask any substitutions. I didn't mash an avocado or black beans in there, but a simple swap of whole wheat for white flour contributes heft and fiber. The question was whether it would go undetected.
Easy Brownies
¾ cup neutral oil, such as canola or avocado
1 cup granulated sugar
½ cup powdered sugar, sifted if lumpy
2 large eggs
1 tsp vanilla extract
¾ cup flour, all-purpose or white whole wheat
¾ cup cocoa powder, sifted if lumpy
½ tsp sea salt
½ cup chocolate chips, preferably mini
Method (for Both Versions)
Adjust rack to the middle of your oven and heat oven to 350°F (175°C). Line an 8-inch (20-cm) square baking pan with parchment paper or foil.
In a mixing bowl, mix oil, sugars, eggs, and vanilla extract until combined. Stir in flour, cocoa powder, and salt until a smooth batter forms. Fold in chocolate chips.
Pour batter into pan and bake for 28–30 minutes or until a toothpick inserted in the middle comes out clean. Do not overbake! Cool completely before cutting and serving.
Note: I wouldn't recommend reducing the sugar. I aim for desserts that are just-sweet, but if you want to take things further, swap the sugars for coconut sugar.
My Verdict
I don't think I'll be making brownies without whole wheat flour again. I couldn't detect a difference in flavor between the batches. And I tried hard. I was surprised that, despite the extra heft, the whole wheat flour produced a brownie that was aerated yet fudgy. The swap worked incredibly well because the different elements of chocolate take center stage.
And oh, do they shine. This brownie satisfies the most zealous chocolate lovers.
(Originally featured in Family Table, Issue 761)
Oops! We could not locate your form.
>