| Eye on Europe |
Britain's Cost of Living Crisis
| October 25, 2022
Britain's chareidi community hard hit by economic crunch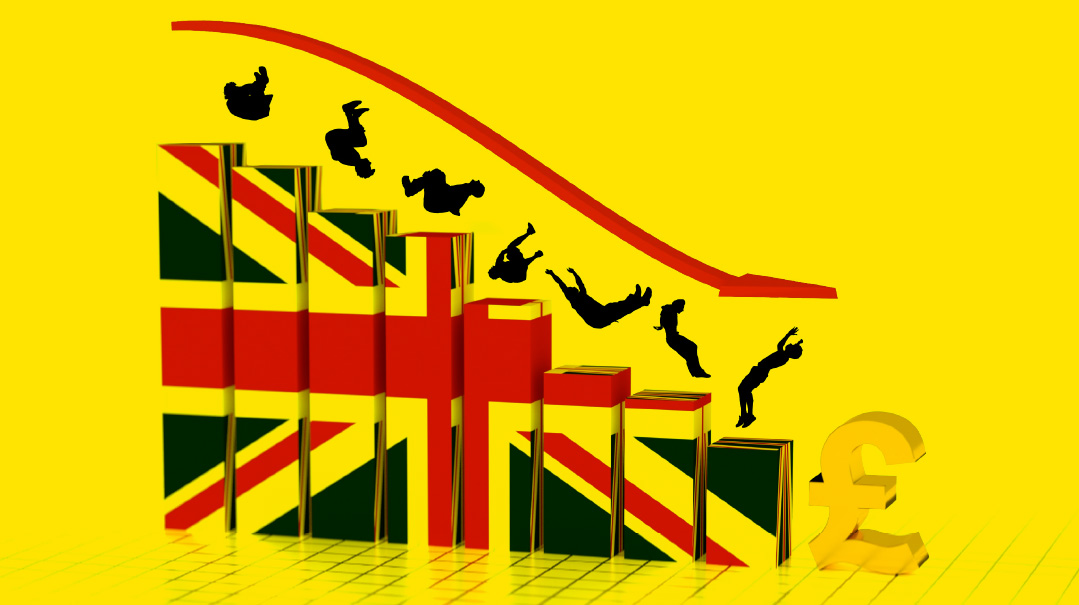 A
mid political and economic turmoil that includes three prime ministers in 49 days, Britain is facing a cost-of-living crisis not seen in generations — and the country's fast-growing chareidi community will be particularly hard hit by the economic headwinds. A triple whammy of skyrocketing costs for housing, energy, and food are adding pressure on already-struggling households.
Inflation in the UK, fueled by soaring energy costs, is already at 10.1%, though higher living expenses for frum families means it is felt more acutely in the chareidi world.
"The amount we've had to award families turning to us for assistance has increased by 25% to 30% to meet the rising costs," says one representative of a UK-based tzedakah organisation.
"People are trying to maximize their incomes because they simply can't make ends meet, and I have to tell them that there are no more benefits that they can claim," says Rabbi Avrohom Sugarman, welfare advisor at the Jewish Community Council of Gateshead, who's being contacted by people with low incomes from across the UK.
"There are multiple grants and subsidies available, but not all of them are easy to access, and while they amount to £1,000 in total, it's insignificant when energy bills are set to exceed £5,000," says Bayla Perrin, CEO of the Paperweight Trust, which provides advocacy and assistance to households and individuals in financial and legal distress. "Already six in ten people are struggling to meet their payments."
For the elderly and vulnerable, the situation is grimmer still. "Kosher food banks are reporting record users," she says.
While economies have been battered across the developed world in the wake of Covid and the Ukraine war, the previous government's disastrous interventions have added to Britain's woes.
Last month, Liz Truss's outgoing government unveiled a mini-budget that took a wrecking ball to the UK's fiscal credibility. It contained generous spending increases, large tax cuts, and no indication of how they would be paid for. Spooked by the budget's lack of fiscal restraint and independent scrutiny, the markets descended into chaos. In the days following the mini-budget, sterling plummeted, mortgage rates soared, and government borrowing skyrocketed.
As it became clear that the mini-budget was politically toxic, Truss replaced freemarket radical Chancellor Kwasi Kwarteng with the more moderate Jeremy Hunt, who axed £32 billion worth of tax cuts.
A universal scheme to cap energy costs for two years has been cut to six months, after which it will be means-tested. This could leave households ineligible for government support with a 400% annual increase in energy bills.
In addition, the government hinted it may retract its commitment to the decade-plus status quo of increasing pensions in line with either inflation, earnings, or 2.5%, whichever is highest. This has fueled concerns that elderly people will be unable to heat their homes this winter.
Incoming prime minister Rishi Sunak faces a situation much more complicated than that faced by his immediate predecessor — in no small amount thanks to her policies.
 A Vicious Cycle
As interest rates rise to combat inflation, mortgage rates have been ticking upward, but the market's panicked reaction to the government's tax-and-spend policies sent them into stratospheric — and unaffordable — territory. As investors predicted sharper falls in disposable income and higher borrowing costs, the risk to lenders increased, so mortgage rates rose higher than expected. They are universally above 5% now, something not seen in many years. This represents an increase of hundreds of pounds per month in mortgage payments.
This is affecting homeowners and renters alike. Hundreds of mortgage deals have been pulled since the mini-budget, and thousands of applications rejected as lenders tighten mortgage eligibility criteria. Those who do have mortgages face the prospect of huge increases to monthly payments when their current deals come to an end. Landlords who lease mortgaged properties are being forced to increase rents for their tenants just to cover the mortgage.
"Real estate is a very Jewish sector," says one landlord with a portfolio of multiple properties. "For many people, it's their main parnassah, and lots of people buy property as an investment to supplement their income."
One seasoned developer contacted by Mishpacha with experience in several countries maintains that it is mostly inflation, rather than rising interest rates, that has caused lenders to be more hesitant when offering mortgages, both to consumers and developers. As well as being far more exacting in requirements for borrowers, and withdrawing offers at the first sign of anything irregular, lenders now require larger down payments, which shuts out those on lower incomes who have less capital for a deposit.
Though this is a global problem, the developer observed that UK banks are a lot more hesitant to lend than their American or European counterparts. He adds that as banks anticipate reduced profits from developers due to increased costs, they have in turn lowered the amount they are willing to lend, disincentivizing further development.
Cumulative Impacts
The combination of imminent spending cuts and increased borrowing costs for consumers has hit already struggling households hard.
The current squeeze follows a decade of welfare cutbacks, and a move away from targeted support for working families, many of whom rely on tax credits to make ends meet. In the early 2010s, under the Cameron-Osborne austerity program, benefits were frozen instead of keeping pace with inflation, resulting in a real-terms cut to incomes. In 2017, the two-child cap was introduced, limiting child benefits to just the first two children.
"Because the impact of this is cumulative," Rabbi Sugarman says, "chareidi families will be feeling its effects for many years."
He adds that during Covid, support policies were the same regardless of family size, signaling the governing Conservatives' aversion to targeting welfare.
"I used to see people in their forties who had maxed out their benefits," he says, "and now I'm seeing people in their twenties, just starting families, who have reached that point. And it's not like they're claiming a large amount in welfare — benefits have halved since 2010."
Rabbi Sugarman is quick to clarify that most of these people are already working. Instead of adequate benefit increases, the government has legislated for a higher minimum wage, but under current welfare rules, this is not benefitting those on lower incomes.
"I'm even considering making some referrals to our community's tzedakah fund," he says. "This is unlike anything we've seen. Even during the financial crisis of 2008, inflation was not an issue. The fall in the value of the pound has hit frum consumers hard, too, because many of the things we buy are imported."
(Originally featured in Mishpacha, Issue 933)
Oops! We could not locate your form.
>