| Recipes |
Break on Buns 
| July 31, 2019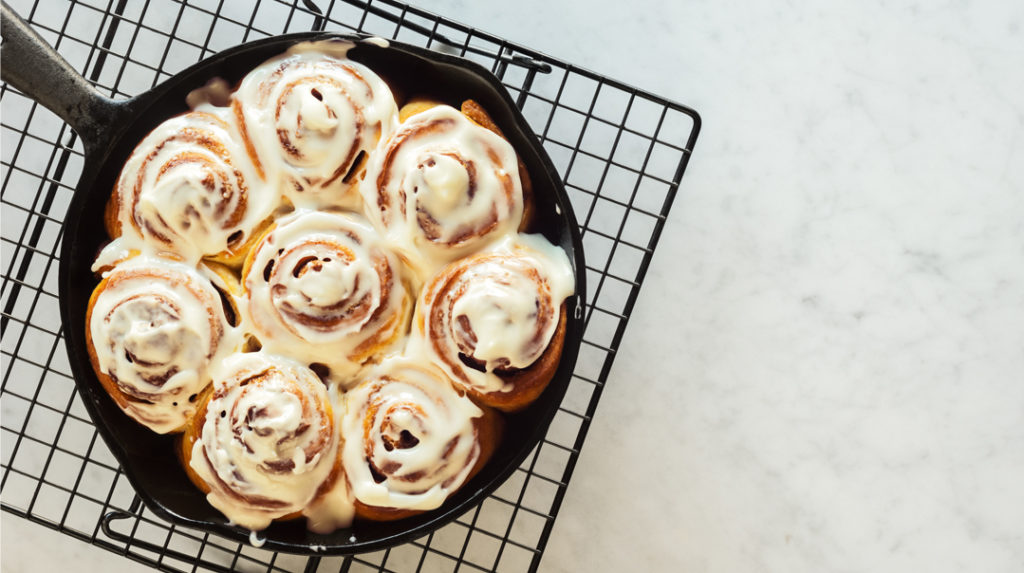 Your definition of comfort food may range — it may be influenced by nostalgia, food trends, the weather, or magazines. But there is one comfort food that takes the cake, year after year, as the quintessential post-fast palate pleaser: cinnamon buns.
We've rounded up the best buns — get busy!
With thanks to friends from Nachal Nachson, Beit Shemesh for testing these recipes. 
Rich Cinnamon Buns Submitted by Maidy Davis, Yerushalayim 
I enjoy cooking and baking, and even more so, having others enjoy what I've made. My favorite recipes are those I have collected from others over the years. I've even compiled and printed my own 129-paged cookbook with the recipes that I use most often. It's a real hit, and many people have asked me for copies. Hope you'll enjoy these fantastic cinnamon buns! 
DOUGH 

2 oz (50 g) fresh yeast
1 cup warm water
6 eggs
1 8-oz (225-g) pareve whipping cream + 1 tsp vinegar
1 cup milk or coffee whitener
10 cups flour
1½ cups sugar
1¼ cups (2½ sticks) margarine
FILLING 
oil
2 cups sugar
 5 Tbsp vanilla sugar
4 tsp cinnamon
GLAZE 
1 cup confectioners' sugar
2 Tbsp oil
1 Tbsp boiling water
1 Tbsp coffee whitener
Dissolve the yeast in warm water. Let stand for 5 minutes. Then, add the rest of the dough ingredients, and mix together (dough will be slightly sticky). Let rise in refrigerator overnight. Preheat oven to 350°F (175°C). Divide dough into four parts. Roll out each part, then smear with oil. In a small bowl, make the filling by mixing sugars and cinnamon. Sprinkle dough liberally with filling, and then roll up the dough, jelly-roll style.
With seam side down, slice rolls into 1⁄2-inch (11⁄2-cm) slices. Place laying down on a parchment-lined baking sheet, and bake for 20-25 minutes, until golden. Mix the glaze ingredients together. Drizzle buns with glaze.
Quick-Rise Cinnamon Buns Submitted by Fradel Levin, England 
I'm always on the lookout for new cake or biscuit recipes so I can stock my freezer with snacks for my girls to take to school. These cinnamon buns won the award with my husband and kids. The first time I made them, they were all devoured before getting to the freezer. You can even bake them 95 percent, then stick them into the freezer, and when you're ready to use, them take them out, and then re-bake to serve like fresh! Once, we were out of milk and butter, so I just substituted orange juice and margarine, and it came out just as delicious and worked perfectly as a pareve alternative. Hope you enjoy them as much as we do! 
2¾ cups flour
3 Tbsp sugar
1 tsp salt
2¼ tsp instant yeast (1 packet)
½ cup water
¼ cup milk
2 Tbsp unsalted butter
1 large egg
FILLING
 ¼ cup (½ stick) unsalted butter, softened to room temperature
2 Tbsp cinnamon
¼ cup brown sugar
GLAZE 
1 cup confectioners' sugar
1 tsp vanilla extract
2-3 Tbsp milk or coffee
To make the dough: In a large bowl, mix the flour, sugar, salt, and yeast, until evenly dispersed. Set aside. In a small microwaveable bowl, heat the water, milk, and butter together in the microwave until the butter is melted (about 30-45 seconds). Stir the butter mixture into the flour mixture. Add the egg, and knead more My laying by hand or with a standing mixer for 3-4 minutes, or until the dough is no longer sticky. Place in a lightly greased bowl, and let rest for about 5 minutes. Preheat the oven to 200°F (100°C), and turn off after 10 minutes or just before placing rolls in the oven. After the dough has rested for 5 minutes, roll it out into a 9*15-inch (23*38- cm) rectangle. Spread the softened butter (from the filling) on top. Mix together the cinnamon and brown sugar, and sprinkle it over the dough. Roll up the dough tightly, and cut into 9 (large) even pieces. Place in a lightly-greased 9-inch (20-cm) or square pan, and lightly cover with aluminum foil or plastic wrap. (Alternatively, cut it into 12 small pieces, and place it in a 9*13-inch (20*30-cm) baking pan.)
Turn off the oven, and place the cinnamon buns in the oven to rise for 20 minutes. Remove the foil or plastic from the baking pan (leaving the cinnamon buns in the oven), and set the oven temperature to 375° (190°C). Bake for 15-20 minutes or until golden, and top with glaze. To make the glaze: In a small bowl, mix the confectioners' sugar, vanilla, and milk or coffee until smooth and lump free. Drizzle over warm rolls.
Fluffy Light Cinnamon Buns Submitted Chavi Wealcatch
I love to bake — especially for my family and for simchahs. My father a"h was a caterer, so I'm sure he's shepping nachas. When the rebbetzin of our shul sent us these cinnamon buns for our simchah, I knew I had to get the recipe. Now, many years later, I still haven't found a recipe that comes close — step aside, Cinnabon! 
5 cups warm water
4 Tbsp dry yeast
2 cups sugar
2 cups canola oil
4 tsp salt
5 lb (2½ kg) bread flour
FILLING
oil
dark brown sugar
cinnamon
vanilla sugar
GLAZE (OPTIONAL) 
1 cup confectioners' sugar
boiling water
In a large bowl, place the warm water and dry yeast. Add the sugar, and wait until the mixture bubbles and a thick foam appears. Add oil. Mix the salt into the _lour, and add into the yeast/oil mixture. Mix everything together for 5 minutes. Allow to rise for 45 minutes. Cut dough into four pieces. Roll out all pieces onto a counter into long, wide ovals. With a pastry brush, brush oil over each rolled out piece of dough. Sprinkle with a generous amount of brown sugar, then sprinkle with cinnamon, then sprinkle lightly with vanilla sugar. Roll each oval into a jelly roll, starting at the long end, to make a long roll. Finish rolling all the pieces of dough before cutting. Immediately cut each roll into 1-11⁄2-inch (21⁄2–31⁄2-cm) slices. Place slices directly onto your choice of baking pan. Allow buns to rise 20 minutes before baking. Preheat oven to 350°F (175°C). Bake for 30-35 minutes until buns begin to turn light brown.
Allow buns to cool. To make the optional glaze, add boiling water by the teaspoon to the confectioners' sugar until a thick but squeezable glaze appears. Place glaze in small ziplock bag, and cut off the tip of one corner of the bag. Drizzle back and forth over cooled buns.
NOTE: These cinnamon buns freeze beautifully, but I prefer to freeze them without the glaze and glaze them once defrosted.
(Originally featured in FamilyTable, Issue 653)
>