| Whats Cooking |
Break-Fast Basics | July 13, 2021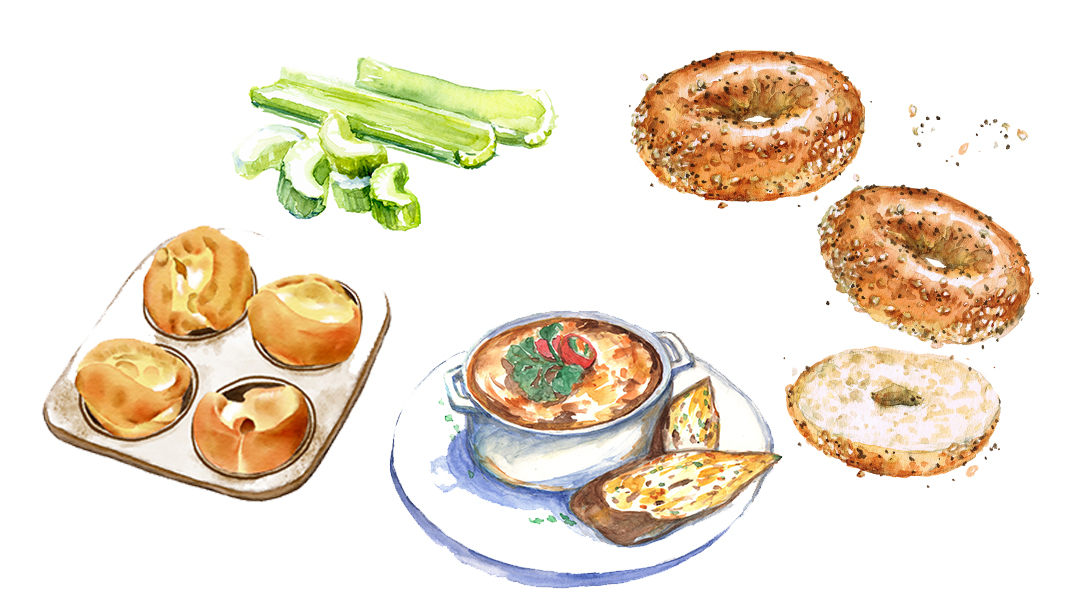 Much to the surprise of no one, many of us get busy in the kitchen midday on a fast day. Although cinnamon buns seem to be the post-fast mascot, there are so many comforting dishes — sweets, treats, and savory — that we prepare time and again in our households. Here are the basics that we keep returning to.
Chocolate, Vanilla, or Cinnamon Rugelach
I often make rugelach with my kids on the afternoon of a fast. I clipped this recipe from a Hebrew magazine called Eim Haderech. The dough is so easy to work with, and the kids roll it out and fill it themselves.
2.2 lbs (1 kg) flour
1½ cups canola oil
½ cup sugar
2 Tbsp dry yeast
2 eggs
2 cups water
Preheat oven to 350°F (175°C).
Combine all the ingredients and knead the dough until soft. Let it sit for 10 minutes before dividing into balls and rolling out. (Divide the balls among your children — you can make as many as needed.)
Roll each ball into a circular shape, like a pizza pie, and sprinkle the dough with chocolate milk powder (shoko powder, in Israel), vanilla pudding powder, or cinnamon-sugar. Cut into eighths and roll up each one from the wider end. Bake for 15–20 minutes.
—Sara Bonchek, associate editor
Home Fries and Eggs
We love making eggs and home fries for the end of a fast. It's almost like kids look forward to the fast just to eat these, but the message of the fast days prevents them from fighting over them. Phew.
Here's my method: I prepare the potatoes before the fast and sometimes crack the eggs and cover them the day before too.
Cube the potatoes into marble-sized chunks and toss with avocado oil, salt, and tons of paprika. Put a thin layer of salt in a frying pan and heat it up. Add potatoes and salt and oil and fry over low heat, covered, for 20 minutes.
Uncover the pan. Remove the potatoes, draining most of the oil. Return the potatoes to the pan and cook over a medium-high flame until the potatoes get crunchy. Mix continuously to prevent burning. Remove from heat and serve with scrambled eggs.
—Chaia Frishman, columnist
Gluten-Free Bagels
Baking is my favorite way to pass time any day, so as long as I'm feeling well I love to get in the kitchen and make a bag of my gluten-free dough and shape them into bagels or twists (or both). Eggs, bagels, and veggie soup is our traditional break-the-fast meal, so having fresh homemade bagels on hand is the best.
—Rorie Weisberg, health columnist
Banana Muffins with Add-ins
We looove banana muffins from Sally's Baking Addiction, and I add in blueberries and/or white chocolate (chopped, never chips). Elite has a caramelized white chocolate bar that is truly next level in baked goods. If you can find that, use it.
YIELDS 12 MUFFINS
1½ cups all-purpose flour or whole wheat flour
1 tsp baking powder
1 tsp baking soda
½ tsp salt
1 tsp cinnamon
¼ tsp nutmeg
3 large ripe bananas (about 1½ cups mashed)
6 Tbsp unsalted butter, melted (or melted coconut oil)
⅔ cup packed light or dark brown sugar (or coconut sugar)
1 large egg, at room temperature
1 tsp vanilla extract
2 Tbsp milk
1 cup chopped walnuts, pecans, or chocolate chips (optional)
Preheat oven to 425°F (220°C). Spray a 12-count muffin pan with cooking spray or use cupcake liners.
Whisk the flour, baking powder, baking soda, salt, cinnamon, and nutmeg together in a medium bowl. Set aside.
In a large bowl or in the bowl of your stand mixer, mash the bananas. On medium speed, beat or whisk in the melted butter, brown sugar, egg, vanilla extract, and milk. Pour the dry ingredients into the wet ingredients, then beat or whisk until combined. If adding nuts or chocolate chips, fold them in. Batter will be thick.
Spoon the batter into liners, filling them all the way to the top. Bake for 5 minutes at 425°F (220°C), then, keeping the muffins in the oven, reduce the oven temperature to 350°F (175°C). Bake for an additional 16–18 minutes, or until a toothpick inserted in the center comes out clean. The total time these muffins take in the oven is about 21–23 minutes, give or take. (For mini muffins, bake 12–14 total minutes at 350°F.)
Allow the muffins to cool for 5 minutes in the muffin pan, then transfer to a wire rack to continue cooling.
—Michal Frischman, recipe contributor; chief of staff, US office
Hearty Tomato-Vegetable Soup
I love the "everything but the kitchen sink" aspect of this soup — you can add extra veggies or skip some when you're out. It'll still be delicious and flavorful!
2 jars marinara sauce
1 cup corn (fresh, frozen, or canned)
1 bag frozen cauliflower
chopped carrots, celery, and onion
1 small sweet potato, chopped into bite-sized pieces
2 squash, cut into bite-sized pieces
1 bag frozen broccoli (add at the end)
Pour marinara into a large pot. Fill each jar with water and add to the pot. Add all veggies except the broccoli. Cook for 3–4 hours, or until veggies are soft. Add frozen broccoli in the last 30 minutes of cooking.
—Sarah Faygie Berkowitz, columnist
Soup, Onion Rolls, and Cherry Pie Squares
I usually made a vegetable soup of some sort for after the fast. My family likes minestrone — a soup packet plus loads of diced veggies: carrots, onions, celery, zucchini, potatoes, and sweet potatoes. Nothing extraordinary, but filling and good after a fast! I sometimes make challah too, and use some dough for mini onion rolls.
I also often make cherry pie squares (from Dining In) as a fast-breaker.
—Faigy Grossman, recipe columnist
Brynie's Onion Board
This recipe ran in FF years ago. Serve smothered in cream cheese or topped with cheese, sliced tomatoes, and a wisp of salt. Can I get a yum?! Brings me back to the bungalow-colony days of my youth, buying onion board and other baked goods out of the back of a truck. Bonus points for freezing beautifully.
Yields 1 large onion board and 1 small onion board; total 10–12 servings
¼ recipe challah dough
1½ large onions, diced (sauté if you prefer)
paprika, to taste
kosher salt, to taste
pepper, to taste
poppy seeds, to taste
3–4 Tbsp oil
Mix together onions, spices, and oil in a medium-sized bowl. Set aside. Roll out dough into one large rectangle and one smaller rectangle. Press down with your fingers around the perimeter of the rectangle about an inch from the edge to form a rim (similar to the edge of a pizza). Smear each rectangle with the onion mixture.
Let rise for half an hour. Halfway through the rising, preheat oven to 350°F (175°C). Bake for 30 minutes, rotating trays midway through the baking time.
—Esther Kurtz, copy editor
Quinoa Rolls
We make heaven quinoa rolls from my cookbook Cooking Inspired.
—Estee Kafra
Babka Like Never Before
My marrieds wait for this and the soup that I send to them after every fast. It's a chazakah many times over! I've tried this with white spelt flour and coconut oil, and it was light, fluffy, and absolutely delicious.
Yields 3 large babkas (approximately 10 slices each)
1½ cups very warm water
¼ cup sugar
50 g (2 oz) fresh yeast, or 2 Tbsp + 1½ tsp dry yeast
1½ cups warm soy milk (low sugar, regular, or vanilla)
3 tsp vanilla extract
3 egg yolks (save the whites for the glaze)
additional ⅓ cup sugar
9 cups flour (I use whole wheat pastry), or more if necessary
1 Tbsp + 1 tsp kosher salt
1 rounded Tbsp dough enhancer (optional)
⅓ cup + 1 Tbsp oil
Filling
1½ cups sugar
2 full Tbsp cinnamon
scant ½ cup cocoa powder
Streusel
¼ cup oil
1 tsp cinnamon
⅔ cup confectioners' sugar
½ cup + 2 Tbsp flour
In a mixing bowl, dissolve 1/4 cup sugar in water. Add fresh yeast and let proof for 15 minutes in the covered bowl. (If using dry yeast, proof for 5 minutes.) Add soy milk, vanilla, yolks, additional ⅓ cup sugar, and half of the flour. Beat on medium speed for 2 minutes. Add the salt, dough enhancer, oil, and remainder of the flour. Continue kneading for 10 minutes until a soft, smooth, and elastic dough is formed.
Put a little oil in a large garbage bag. Pour dough into the bag, covering it with oil. Tie it closed. Let rise in a warm place until doubled, about 1 hour.
Mix filling ingredients together in a small bowl. In a separate bowl, mix together streusel ingredients until you have a sand-like consistency.
Punch dough down. Divide into three even parts, then divide each part into two. Roll each part into a medium-sized rectangle. Brush surface lightly with oil. Sprinkle generously with filling. Roll up jelly-roll style. Twist two pieces together to form a babka, pinching the ends closed, and place in a standard-size loaf pan lined with parchment paper.
Brush tops with reserved egg whites (freeze the rest for later use; I add it to omelets or kugels) and sprinkle with streusel topping. Let rise for 45 minutes.
Toward the end of the rising time, preheat oven to 350°F (175°C). Place babkas in the oven and bake for 40 minutes or until done. Remove from pan after 5 minutes, and transfer to a rack to cool completely.
—Brynie Greisman, recipe columnist
Mock Asparagus Soup
Toward the end of any fast day in my house, my teenagers — like most others — are busy experimenting with recipes for all the foods they've been craving all day. I try to find a little corner of the kitchen to prepare the "boring food" — a good soup, a big salad, and homemade rolls or bread from the bread machine.
Fast-forward a few hours later, and the cheesy creations are sitting there half-eaten, while everyone's asking for seconds and thirds of the soup…
This soup is an old recipe from my mother, and don't ask me why it's not called Celery Squash soup or Green Vegetable Soup. Maybe Mock Asparagus sounds fancier?
The amounts here are in no way scientific. Any amount of these vegetables will give you a delicious, wholesome soup that's really easy!
oil, for sautéing
4 onions, sliced into circles
1 head garlic, chopped
5 squash, unpeeled, cut into big pieces
1 bunch celery, cut into sticks
4 potatoes, peeled and cubed
1 kohlrabi (optional)
1 bag fresh dill
salt, pepper, and ground herbs (parsley, basil, cilantro), to taste
Sauté onions with garlic until soft. Add squash, celery, potatoes, dill, and kohlrabi (if using) and continue to sauté for 20 minutes over low heat, until soft.
Add seasonings and raise the heat, stirring for 2–3 minutes. (I always add salt twice, because this soup tastes really bland if it's not salted well.)
Add water to cover the vegetables. If you like a thicker soup, just cover the veggies. If you like a more watery consistency, cover another 2–3 inches past the veggies.
Bring to a boil, then lower the flame and cook for 45 minutes. (You can leave it cooking for an hour or more, as long as the flame is on low.) Blend with an immersion blender and serve hot with fresh bread. (This goes really well with melted cheese, too.)
—Nomee Shaingarten, chief digital and marketing officer
Onion Soup with Depth
During the summer, I rarely serve soup. But at the end of a long fast day, there's something comforting about delicious, filling soup — and this one is our favorite. Onion soup is always popular, but I've found many recipes to be somewhat flat. This version has several interesting additions that give it a robust flavor and rich color.
4 Tbsp butter or olive oil
6 large yellow onions, diced
4 large red onions, diced
2 tsp salt
10 cups water
2 Tbsp pareve chicken soup mix
2 pareve beef bouillon cubes
1 cup red wine (if making during the Nine Days, omit)
2 Tbsp soy sauce
2 tsp dried parsley
2 tsp dried thyme
2 bay leaves
1 tsp pepper
1 Tbsp balsamic vinegar
Melt butter (or heat olive oil) in a large pot. Add yellow and red onions and salt. Cook over medium heat, stirring frequently, for 40 minutes or until onions are caramelized and a golden-brown color.
Dissolve the chicken soup mix and beef bouillon cubes in hot water. Add to pot along with water, wine (if using), and seasoning. Cook for 30–60 minutes over low heat. Remove bay leaves and add balsamic vinegar. Cook for 5 more minutes.
Serve with shredded cheese, and croutons or crusty bread.
—Bassi Gruen, managing editor
Dina's Spinach-Onion Quiche
While I take 0% credit for this recipe, that's also a sign of how good it is — no tweaks necessary whatsoever! Feel free to make it without the crust for a less rich version.
3 onions, diced
1 Tbsp oil or butter
10 oz (280 g) or ¾ lb bag frozen spinach, defrosted
1 lb (450 g) cottage cheese
2 eggs
½–1 tsp salt
¼ tsp pepper
8 slices Muenster cheese
2 frozen pie crusts
Preheat oven to 350°F (175°C).
Sauté 3 onions in oil or butter. Once translucent, add in frozen spinach. In a separate bowl, combine cottage cheese, eggs, salt, pepper, and cheese. Mix spinach-onion mixture into the cheese mixture and stir to combine.
Pour into frozen crusts and bake for 45–50 minutes.
—Rivki Rabinowitz, editor, Family Room
Oops! We could not locate your form.
>