| Recipes |
BREADED FLOUNDER WITH CREAMY LEMON SAUCE | July 31, 2019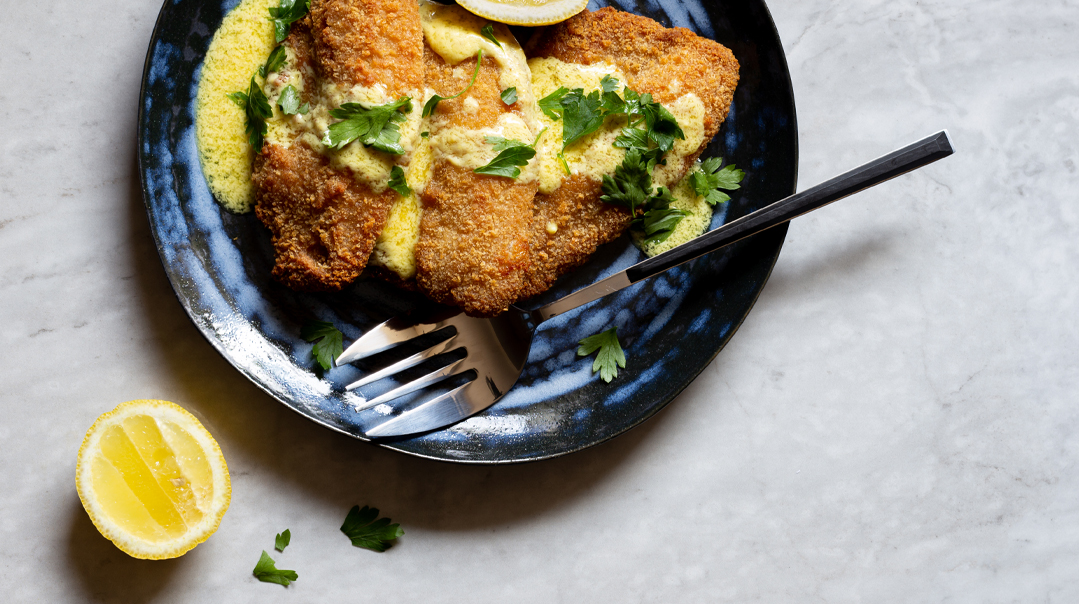 Food And Prop Styling By Renee Muller Photography By Moshe Wulliger
BREADED FLOUNDER WITH CREAMY LEMON SAUCE 
Dinner ideas are always a challenge during the Nine Days. Here is a no-fuss recipe that you'll find yourself using all year round. 
Serves 4 
4 frozen breaded fish fillets (flounder or tilapia)
4 Tbsp butter
¼ cup heavy cream
2 cloves garlic, crushed
2 tsp Dijon mustard
1 Tbsp lemon juice
salt and pepper, to taste
1 Tbsp dried parsley
2 scallions, finely chopped
lemon wedges, for garnish (optional)
Preheat oven to 350°F (175°C). Spray a 9*13-inch (20*30-cm) baking dish with cooking spray. Lay the breaded fish fillets in pan in a single layer, and spray with cooking spray. Bake on the center rack for 10 minutes. Meanwhile, prepare the creamy lemon sauce. In a small pot, place butter, cream, garlic, mustard, lemon juice, salt, pepper, parsley, and scallions.
Cook over low heat, and stir until mixture is melted and smooth. Pour sauce over the fish and return to the oven to bake an additional 10–12 minutes. Check fish for readiness, and bake for an additional few minutes, if necessary. Garnish with lemon wedges, if desired. Serve warm.
TIP: You can prepare this recipe using fish you've breaded yourself. Omit the first baking time and, according to the fish's thickness, possibly add 2–5 minutes to the baking time. Otherwise, follow the same directions as specified above.
(Originally featured in FamilyTable, Issue 653)
Oops! We could not locate your form.
>