| Recipes |
Best for the Best | February 12, 2020
Investing time and money in those special few mishloach manos makes a statement to their recipients, telling them how much you appreciate their efforts on your behalf. Our children's rebbeim and teachers play a very important role in our lives, and Purim is a time when we can express our gratitude and admiration. The curated gift boxes presented here combine gourmet treats with elegant gift items, resulting in packages that send a special message.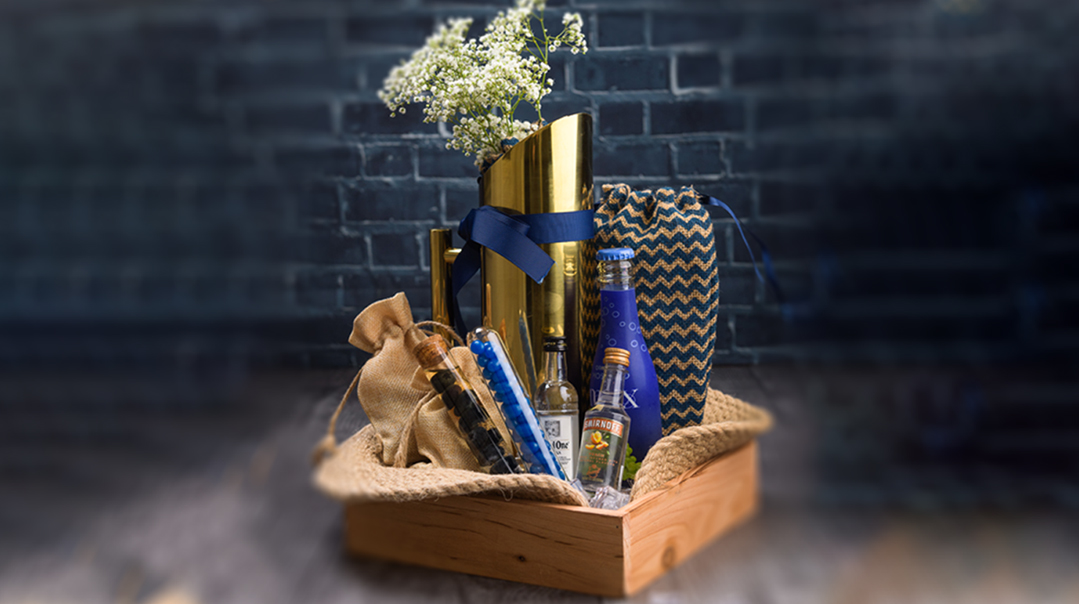 Royal Blue Champagne Package 
Gold and blue exudes royalty, which is right in the spirit of Purim. This eye-catching package includes the ingredients for an individual-sized cocktail drink mix. Place the recipe in your package so your recipient can mix it and enjoy it on Purim day.
INCLUDED HERE:
1 187-ml bottle sparkling Moscato
1 200-ml bottle vodka
1 50-ml bottle orange- or citrus-flavored liqueur
gold vase with flowers
vodka-infused blueberries (recipe below)
clear tube with blue candies
Champagne Punch Drink Mix
Recipe for individual-sized drink:
1 375-ml bottle sparkling Moscato
50 ml vodka
2–2½ tsp flavored liqueur
ice
vodka-infused blueberries (optional)
Vodka-Infused Blueberries
Put these vodka-infused blueberries in a small container, since a small amount goes a long way.
To make, Add fresh blueberries to a clear jar. Fill with vodka until the berries are completely covered. Allow to infuse on the counter for three to five days.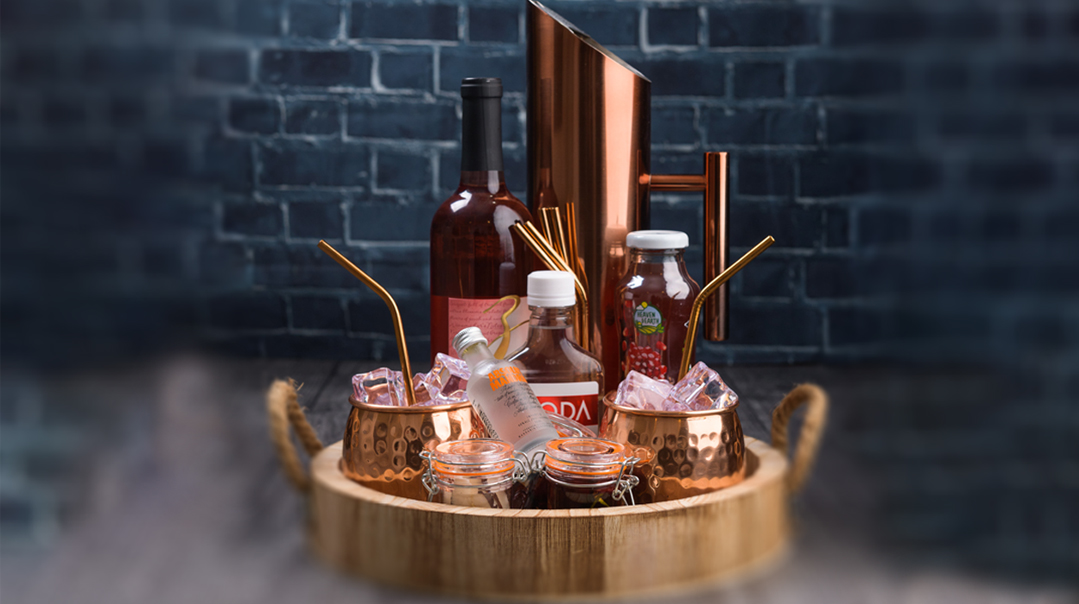 Cocktail Tray for a Crowd 
Cocktails and flavored punches make a festive addition to the Purim seudah. This mishloach manos includes the components for the Pink Champagne Punch Cocktail recipe below, along with a few upscale gift items. Include the recipe in your package so the drink mix can be prepared on the spot and enjoyed by your recipients.
INCLUDED HERE:
metal pitcher
wine mugs
stainless steel stirrers
1 750-ml bottle pink champagne
1 200-ml bottle vodka
1 50-ml bottle orange-flavored liqueur
1 bottle pomegranate juice
bourbon-infused cherries (recipe below)
dried coconut shavings, for garnishing
acrylic ice cubes
Pink Champagne Punch Cocktail 
This recipe is enough for a pitcher/ crowd.
1 750-ml bottle pink champagne or sparkling rose wine (use your desired sweetness)
1 200-ml bottle vodka
1 50-ml bottle orange- or citrus-flavored liqueur
splash of pomegranate juice (optional)
ice
orange and lemon wheels, for garnish (optional)
Bourbon-Infused Cherries 
1¾ cups bourbon
½ cup sugar
1 lb cherries
Place bourbon and sugar in a medium-sized saucepan. Simmer over low heat until the sugar dissolves. Remove from heat and let cool for 15–20 minutes. Place the the cherries in mason jars. Pour the syrup over the fruit until the fruit is completely covered. Seal the jars tightly and store in the fridge. Wait 1–2 weeks before serving.
(Originally featured in Family Table, Issue 680)
Oops! We could not locate your form.
>