| Recipes |
Beef and Broccoli Bowls
| November 30, 2021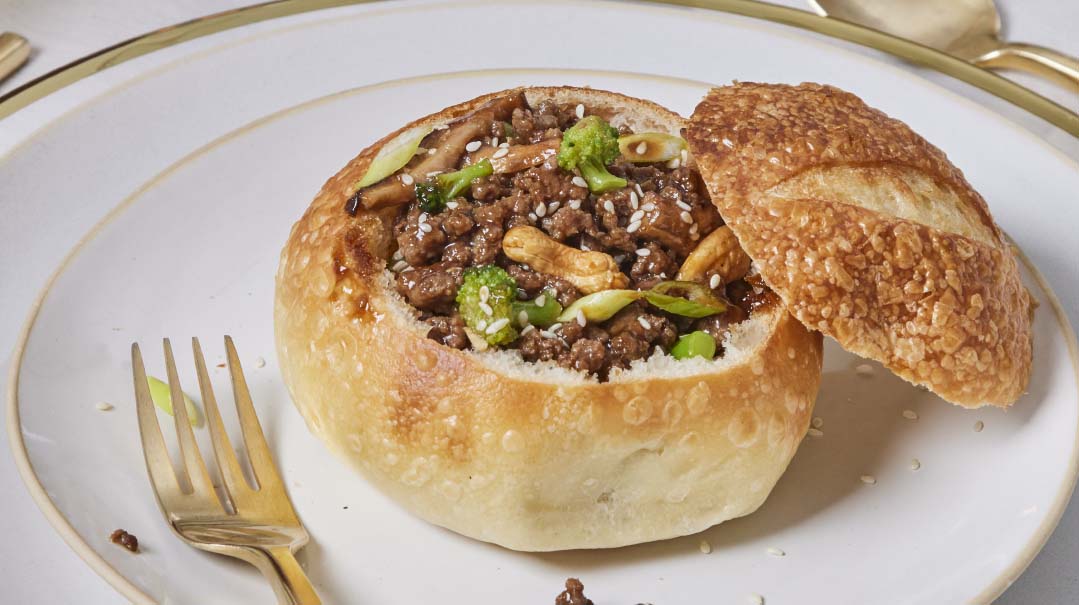 Here's an appetizer that's just as delicious as it is show stopping.
SERVES 6
6 hard bread buns (sourdough, ciabatta, or pretzel buns)
6 Tbsp hoisin sauce or asian bbq sauce
4 Tbsp soy sauce
3 Tbsp rice vinegar
1 Tbsp sweet chili sauce
1 tsp sesame oil
1 Tbsp light brown sugar
½ tsp sriracha sauce
8 oz (225 g) shiitake mushrooms, sliced
1 Tbsp canola oil
1 lb (450 g) ground beef
4 cloves garlic, crushed
½ tsp ginger
10 oz (280 g) frozen broccoli florets, cut in small pieces, or riced broccoli
cashews, sesame seeds, and sliced scallions, for topping (optional)
Soy Glaze
3 cloves garlic, crushed
1 inch (2½ cm) piece of fresh ginger, peeled and cut into thick slices, or ½ tsp ground ginger
¼ cup honey
¼ cup soy sauce
3 Tbsp rice vinegar
2 Tbsp hoisin sauce or asian bbq sauce
1 Tbsp sesame oil
½ tsp sriracha sauce
1 Tbsp water
1 tsp cornstarch
In a small bowl, stir together the hoisin sauce, soy sauce, rice vinegar, sweet chili sauce, sesame oil, brown sugar, and sriracha. Add the sliced mushrooms and toss to coat. Set aside.
Heat the canola oil in a large skillet over medium-high heat. Add the beef and brown, stirring frequently and breaking up any large pieces, for 5 minutes. Add the garlic and ginger and stir for 30 seconds. Add the mushrooms with their sauce and the broccoli and cook until well coated and cooked through.
Place all the glaze ingredients except the water and cornstarch in a small pot and bring to a boil, then cook uncovered for 5 minutes. Remove the ginger slices and discard. Mix the water and cornstarch in a small cup to make a slurry and add it to the pot. Continue to boil the mixture until it thickens. Set aside until ready to serve.
Cut off the top third of each roll (in the width). Remove all the bread inside, leaving ¼ inch (½ cm) to the edge. (The bread you remove can be dried and used as bread crumbs, or cubed and made into croutons.)
Fill each bread cavity with the beef and broccoli mixture. Garnish with toppings of choice, then top with a drizzle of soy glaze. Serve immediately.
(Originally featured in Family Table, Issue 770)
Oops! We could not locate your form.
>